Bill Nye the Science Guy taught 90's kids about physics, biology, and chemistry through skits and experiments for the better part of a decade. He has reemerged in recent years after Bush-era politics ingrained a new skepticism towards even conventional science. What's Bill Nye's latest theory? We should be talking about weed a lot more.
In a new interview with Rolling Stone, Bill Nye talks about cannabis in the laboratory, and how Jeff Sessions should be more careful about what he says. Asked what he thinks about Jeff Sessions saying 'good people don't smoke marijuana,' probably one of Sessions more modest attacks on cannabis, Nye responded: "I don't really see eye to eye with Jeff Sessions on this issue. If you want to smoke marijuana you should be able to smoke it. We should have the same controls that we have on other substances."
Nye covers the subject of marijuana in his recent Netflix series, Bill Nye Saves the World, which recently began its second season. It isn't very good, but I'm glad he's keeping busy. The weed episode featured a panel of Washington Liquor and Cannabis Board member Rick Garza, Columbia University professor Dr. Ziva Cooper, and stoner director Kevin Smith.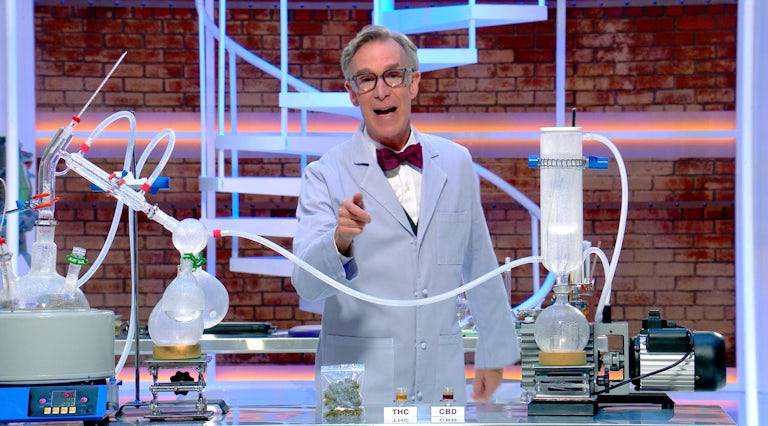 In the Rolling Stone interview, Bill Nye's stance seems in many ways synonymous with famous cannabis scientist Raphael Mechoulam, who he mentions as a luminary in the field. More than anything, before Nye bites on to the hype of marijuana, he wants to see more research being done. Lots of it.
"Scientific study is of great value, and I think marijuana is worthy of scientific study," said Nye. "Nobody is quite sure how it works. That right there is a chin-stroker."
Of marijuana's many mysteries, Nye is most convinced of its abilities as a pain suppressant. He says it should be considered a viable alternative to pharmaceutical painkillers since it, well, grows like a weed, for one. Nye said he began to come around on weed after a former co-worker's wife had cancer and cannabis pills helped her through the chemotherapy. Nye wondered how cannabis might have affected his own mother's experience with breast cancer in the 1980s. "My mom didn't try it because she was not of that age," said Nye. "I think it was a generational bias. But if it works, let's go."