I'll have some of what they've been having, please. A group of English hikers on Saturday got so stoned, they were unable to hike back and required a major mountain rescue operation.
Lovely day for a mountain hike…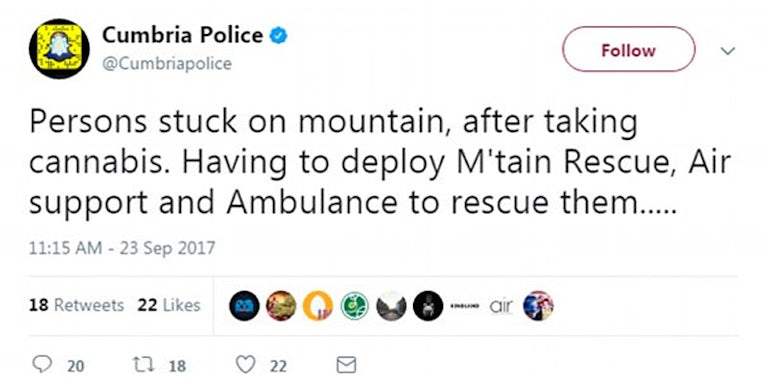 "Words fail us," police officers from the Cumbria force tweeted. The four men had called for assistance at Hardrigg Gill on Scafell in the Lake District, located in the county of Cumbria.
Persons phoning Cumbria Police because they are stuck on a mountain, after taking cannabis. Now having to deploy M'tain Rescue, Air support and Ambulance to rescue them. Words fail us. – Tweet from the Cumbria Police
Mountain rescue teams from Wasdale and Duddon were called out just after 6:30 pm on Saturday. The stoned group of hikers was eventually brought down to safety at about 9:45 pm.
Taking alcohol or any other substance that could impair your judgment significantly increases your risk of getting into trouble. It has no place on a mountain. – Supt. Justin Bibby, Cumbria Police
Scafell Pike reaches 978 meters.
The mountain rescue team had a particularly busy day yesterday dealing with this incident. They are volunteers, they do an amazing job and are always there to assist those who get into difficulty. – Supt. Bibby
Social media users were quick to criticize the "idiotic" group of hikers. Facebook users didn't hold back with their comments on Cumbria Police's page:
There should be a mandatory financial charge for this sort of thing. – Facebook comment

Really? What bloody idiots. They should pay you for rescuing them in these circumstances. – Facebook comment
Superintendent Justin Bibby of the Cumbria Police Supt. Bibby said getting stoned and hiking just wasn't a wise mix. After 40-plus years of heavily mixing the two activities without incident, this reporter must disagree.