So much happened in 2017. We had a solar eclipse. Nuclear war threats. Nonstop hurricanes. Baby hippos. Legal weed. More nuclear war threats. It was a lot to take in. As we forge on into 2018, it's important not to let the most important thing from last year slide from your memory. A year ago, when 2017 was fresh and new and people were hoping for a year free from strife and musician deaths, two heroes stood up for what was right. 
Zachary Cole Fernandez and Sarah Fern, a couple and artistic partners, took to the Hollywood sign to make it say "Hollyweed." Dressed in camo and armed with rope, tarp and metal clamps, the two climbed up the double 'Os' to install white and dark sheets to transform the iconic sign into an even more iconic sign.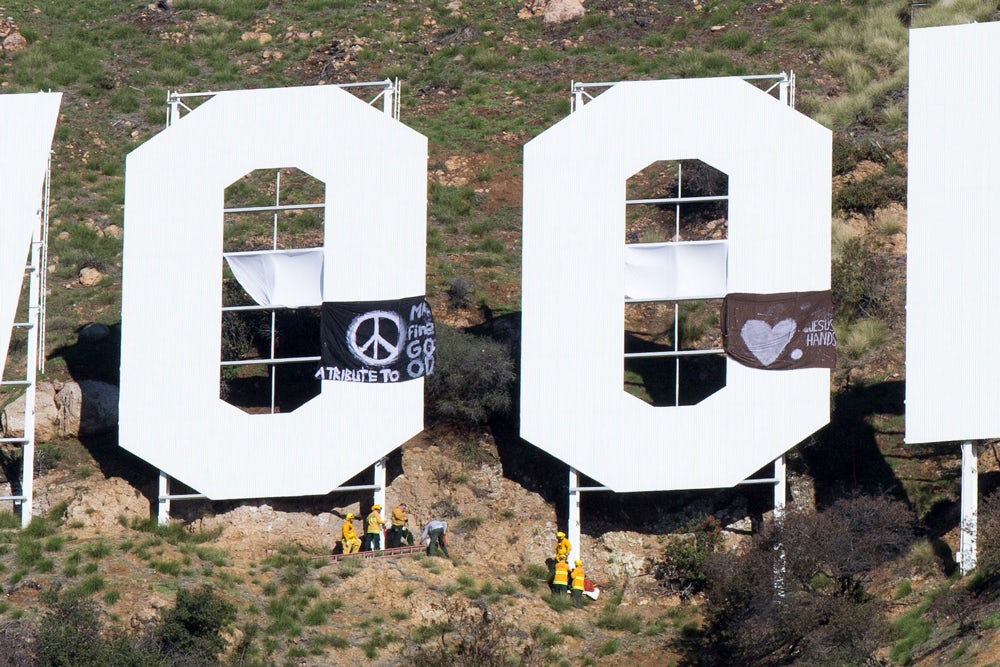 "Any way I can bring positivity into the world, or guide or steer people away from the negativity or bad parts of life, even if it's a little bit risky, I'm down," Fernandez told VICE about the Hollyweed stunt. "I just want to make sure the message is clear. It's about being and staying youthful and living in the purest form. I think this project really allowed me to express that."
Fernandez and Fern were not the first to see the resemblance between "Hollywood" and "Hollyweed." Their modification was partly an homage to Daniel N. Finegood, an art student at Cal State Northridge who pulled the gag for a project on New Year's Day in 1976. He got an A. "His parents were up early that morning to catch it," said Bonnie Finegood, Daniel's wife. "They were very proud that Danny had thought up this."
Daniel Finegood passed away in 2007.
Finegood wasn't the only inspiration for last year's Hollyweed stunt. A couple months prior, in November 2016, California legalized recreational marijuana. Those plans went into full effect this year, on New Year's Day, when recreational sales began across the state. Where were Fernandez and Fern this time around? I have a pretty good guess…