TV personality Montel Williams has mounted a lawsuit against several "scam" medical marijuana companies in Arizona he says used his likeness to sell products without his blessing.
A network of companies including Secrets of ISIS and Advanceable Technology are accused of using Montel's face to sell scam cannabidiol oil and lure customers into buying products that may not even contain any CBD, according to the complaint, reports Business Insider.
The companies are linked to former bodybuilder Timothy K. Isaac, who in 2009 pleaded guilty to several charges including one related to selling misbranded drugs. Isaac is named in the suit as a defendant.
CBD, currently being sold over the counter by several American companies despite its debatable legal status, has medicinal but not psychoactive properties. That's why CBD merchants say their product is legal everywhere, while those containing THC, the main psychoactive component in pot, are not.
Montel Williams Has his Say
Williams, a longtime medical marijuana advocate, started using cannabis in 1999 to ease the symptoms of his multiple sclerosis.
He founded Lenitiv Labs, a medicinal cannabis company, earlier this year. Lenitiv is aimed at the California market, with plans to eventually expand to other green states.
Williams said his name and face started appearing on the internet earlier this year on ads for CBD products he had never endorsed. Some of the products in question had names like Revive CBD Oil and Hemptif CBD.
According to reporter Janet Burns, a freelance Forbes contributor who first wrote the story of Lenitiv's founding, websites misleadingly designed to look like a Forbes contributor page and an ABC News article used parts of her original story, and doctored quotes from Montel and other celebrities, as false testimonials for the CBD products.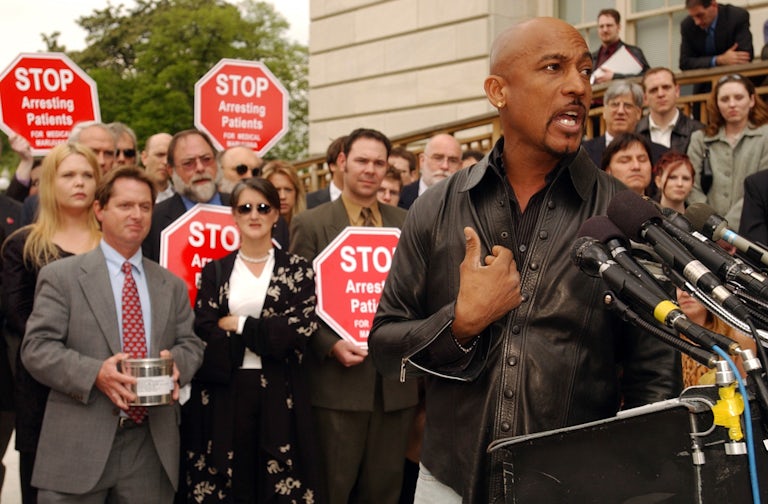 Celebrities Names Used as Fake Testimonials
Whoopi Goldberg, Bill Gates, Dr. Dre, Lady Gaga were also used in fake testimonials.
At least 12 websites hosted the ads, linking back to the sites which are connected to Isaac, according to Williams' complaint.
Customers had started complaining to Montel about the CBD products they had purchased, according to the complaint, even though he had nothing to do with the products.
After customers signed up for what was advertised as a "free trial," they were locked into an automatic credit card billing scheme with no way to cancel, the complaint avers.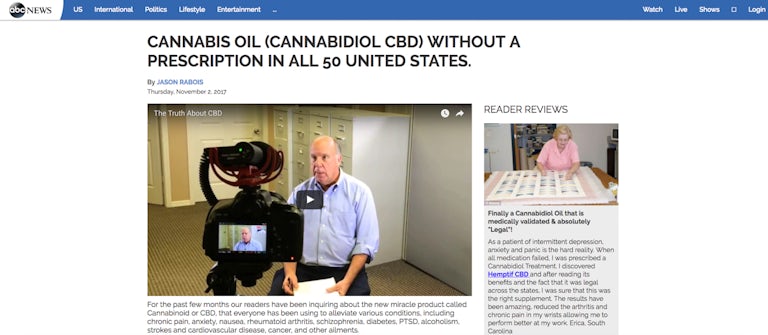 'Tired of Being Blamed For Stupid Things'
Isaac denied on Wednesday that he ran the rads. "I'm tired of being blamed for stupid things," he snapped at the Phoenix New Times. "I'm tired of people trashing my name."
Isaac had pleaded guilty in 2009 to a number of federal charges related to a company he ran importing a Viagra-like drug from China without prescriptions, the Phoenix New Times reported that year. The law firm that Montel hired, Davis & Gilbert LLP, "very successfully" handled a similar case in which Dr. Oz's face was used to endorse scam products, according to Jonathan Franks, a spokesman for Williams and Lenitiv Labs.
"This suit was an easy decision for us because it's true to the principles that underly Montel's advocacy and on which the Lenitiv brand was founded," Franks said. "Mr. Williams has instructed his attorneys to pursue this litigation aggressively. We intend to name more defendants as we learn the identities of the scammers involved.

"It's important to remember that these scams are anything but victimless. They are, in fact, calculated to prey on vulnerable consumers, many of whom have chronic illness or other disabilities. As explained in the Complaint, we heard from elderly customers and veterans on fixed incomes who incurred unexpected overdraft fees as a result of these scams.

"This was the deliberate theft of Mr. Williams' name and reputation to weaponize it against sick people."
According to Forbes, one of the companies, Advanceable Technology, has already earned an "F" with the Better Business Bureau and is featured on Ripoff Report.