From Cheech and Chong to Seth Rogen and James Franco—the archetypical weed enthusiast has pretty much always been a dude. But according to one report, it's women, not men, who actually smoke the most weed.
In fact, the Cannabis Consumers Coalition's (CCC) 2017 report, which found that women smoke more weed than men, received a whopping 58.35 percent of female respondents compared to 41.65 percent of men—more than a 15 percent margin. This was the case even though men are reportedly more likely to participate in these types of online surveys.
The report is based on an anonymous survey conducted using "internal lists and social media contacts" and the help of other cannabis organizations like Humboldt's Finest, Merry Jane, and BioTrackTHC, among others. The results are based on 537 cannabis users, most of whom live in a state with some form of legal marijuana. Respondents from all 50 states were polled in the survey.
As the report reads, "…the fact that there are more women cannabis consumers than previously thought shows that women are a force to be reckoned with in the new industry on a multitude of levels." The report also finds that women cannabis enthusiasts "mirror…national trends and statistics in traditional markets, where women make the majority of purchasing decisions, including 80 percent of family healthcare decisions." With this in mind, considering that cannabis can be a medicinal substance, the predominance of women cannabis users makes a lot of sense.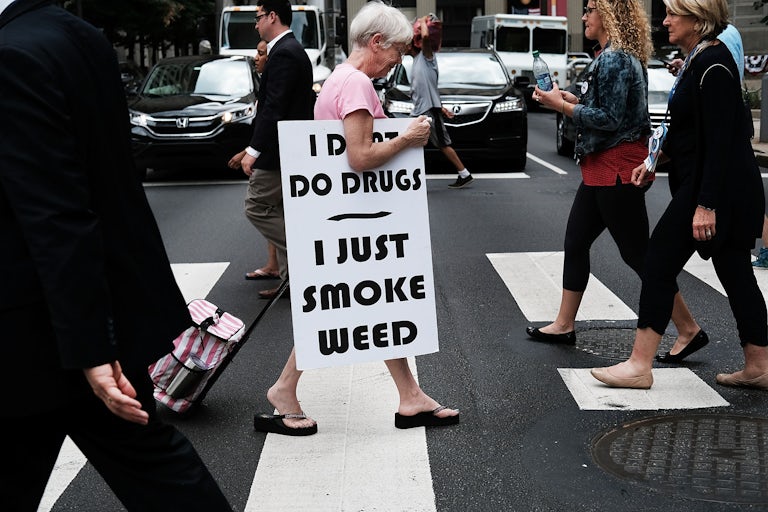 As Troy Dayton, the CEO and co-founder of a cannabis-focused investment and market research firm recently told the New York Times, "A lot of women have this family recipe, or they were making a certain kind of tincture for a loved one who was suffering. Now that pot is legal, they're like, 'Wow, that thing you were making for Grandma could be a real product.'"
While the CCC's report is only based on a survey, studies in the past have also shown that women build a faster tolerance to THC than men. Another study, from Columbia University, has also shown that women are more likely than men to abuse cannabis and develop what's called "Cannabis Use Disorder." 
Still, other reports have shown the exact opposite—that men actually smoke much more weed than their female counterparts. But as Washington State University points out, it's worth mentioning that "most clinical drug trials have been conducted on men," which skews the data.
More research is necessary to paint a definitive picture of the average cannabis user. But so far, it looks like women are not only emerging as entrepreneurial forces to be reckoned with in the cannabis business world, but also in casual smoke sessions across America.