Suzeanna and Matthew Brill's son, David, suffered from multiple seizures a day. His parents feared for his life and tried everything available to help him. After prescription medication and cannabis oil didn't work, the Georgia couple decided to see if smoking cannabis might help David. Thankfully, it did.
"For 71 days he was able to ride a bike, go play, lift weights," Matthew said, speaking to the New York Times. "We were able to achieve that with David medicated not from Big Pharma, but David medicated with marijuana."
Though the Brills had discussed their last-ditch efforts with David's doctors, who were on board, not everyone was. They were also honest with the boy's therapist, who called the cops. All three family members were drug tested. David and Mr. Brill, who had tried the flower they'd obtained to see what he was getting his son into, tested positive.
The Brill's admitted to the police that they'd given David cannabis, at which point they were told to stop. Lo and behold, upon cessation of medical cannabis dosage, David immediately had a severe seizure and was rushed to the hospital.
To really dial up the abhorrent irony of the situation, this all happened on 4/20. Since then, David has been in the custody of the Georgia Division of Family and Children Services in a group home, deprived of cannabis and the service dog he used to use to sense oncoming seizures.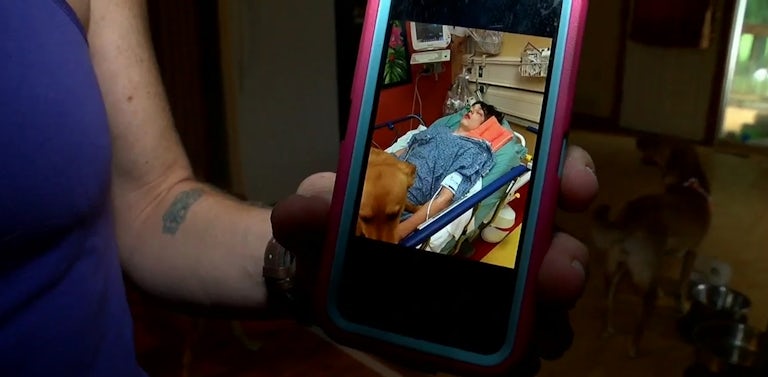 Both parents were arrested and charged with reckless conduct, a misdemeanor, spending just under a week in jail for it. Mr. Brill lost his job doing remodeling work, and now delivers pizzas, which doesn't quite pay for the lawyer they need to get David back. Mrs. Brill works several jobs and picked up extra shifts to help. Now, they're crowdfunding money to hire one.
Despite the misery endured for their choice, neither regrets it. "Nothing else was working," Mrs. Brill told USA Today. "I can't have my kid dying because nobody wants to listen."
It's unclear whether David was part of the state's medical cannabis program. However, it likely doesn't matter. Georgia's medical marijuana program only allows low-THC cannabis oil, which may be effective for some conditions, but is not for many others. Even then, there's no system set up for cultivation and distribution, leaving it up to people like former state Representative Allen Peake—a Christian conservative businessman turned unlikely cannabis advocate—to come up with "creative" ways to import it.
Indeed, even if the Brill's get their son back, there's very little hope of him finding legal treatment in Georgia. While the state's MMJ program was recently expanded to include intractable pain and PTSD—a huge win for vets—it didn't allow any different products (or set up a system to actually get them to patients). Time to move, perhaps, although it's unclear how a couple delivering pizzas, doing odd jobs, and crowdsourcing money to pay for a child custody lawyer can afford to.
But then, Rep. Peake got his start helping families in need of medical cannabis move to Colorado, specifically one with a 4-year-old girl suffering from debilitating seizures.
Maybe he could help them out?