Democratic lawmakers in New York State are trying to secure funding for marijuana research, a measure that was included in Governor Andrew Cuomo's January 2018 budget proposal. But Republican lawmakers in the state have made it clear they don't want this research to move forward.
Currently, in the New York State Legislature, the Assembly is controlled by Democrats, while the Senate is controlled by Republicans. The Assembly and Senate have expressed different opinions about whether marijuana research should receive funding.
The funding proposed in Cuomo's budget would allow the office of public health to conduct studies, "in consultation" with other state agencies, in order to review the impact that a legal marijuana program would have on the state's public health, the criminal justice system and economy (among other things). No dollar amount has been specified for this potential funding. Cuomo has called this a "feasibility study," suggesting he might be open to allowing a legal marijuana program to move forward—a break from the hard-line positions he's expressed on recreational marijuana in the past.
But while the state's Assembly adopted this marijuana research measure in their budget resolution, the Senate excluded it from theirs. "The Senate denies the Executive recommendation to…allow for DOH to study regulated marihuana," reads the Senate's budget resolution.
Despite his budget proposal's inclusion of funds for marijuana research, many have criticized Cuomo's positions on marijuana as well. While Cuomo has allowed some reforms on medical marijuana to move forward, even these policies have been restrictive. Cuomo also rejects recreational marijuana legalization altogether.
As recently as 2017, the Democratic governor referred to marijuana as a "gateway drug," echoing sentiments from anti-pot U.S Attorney General Jeff Sessions, and saying he remains "unconvinced on recreational marijuana." The gateway theory of marijuana has been repeatedly debunked, and even the National Institute on Drug Abuse has disputed this theory on the government's own website.
According to Marijuana Moment, in 2014, Cuomo also refused to sign a medical marijuana program into law unless it was limited to a small number of medical conditions.
But with a gubernatorial election coming up in November, Cuomo's stance on marijuana has been put under the spotlight. In recent interviews, Cuomo appears to be increasingly influenced by the policies of surrounding states like New Jersey, where governor Phil Murphy has promised to work on passing a recreational marijuana bill before the end of the year.
"The world is changing all around us. New Jersey is talking about legalizing recreational marijuana. Massachusetts has legalized recreational marijuana," said Cuomo in an interview with a local New York news channel.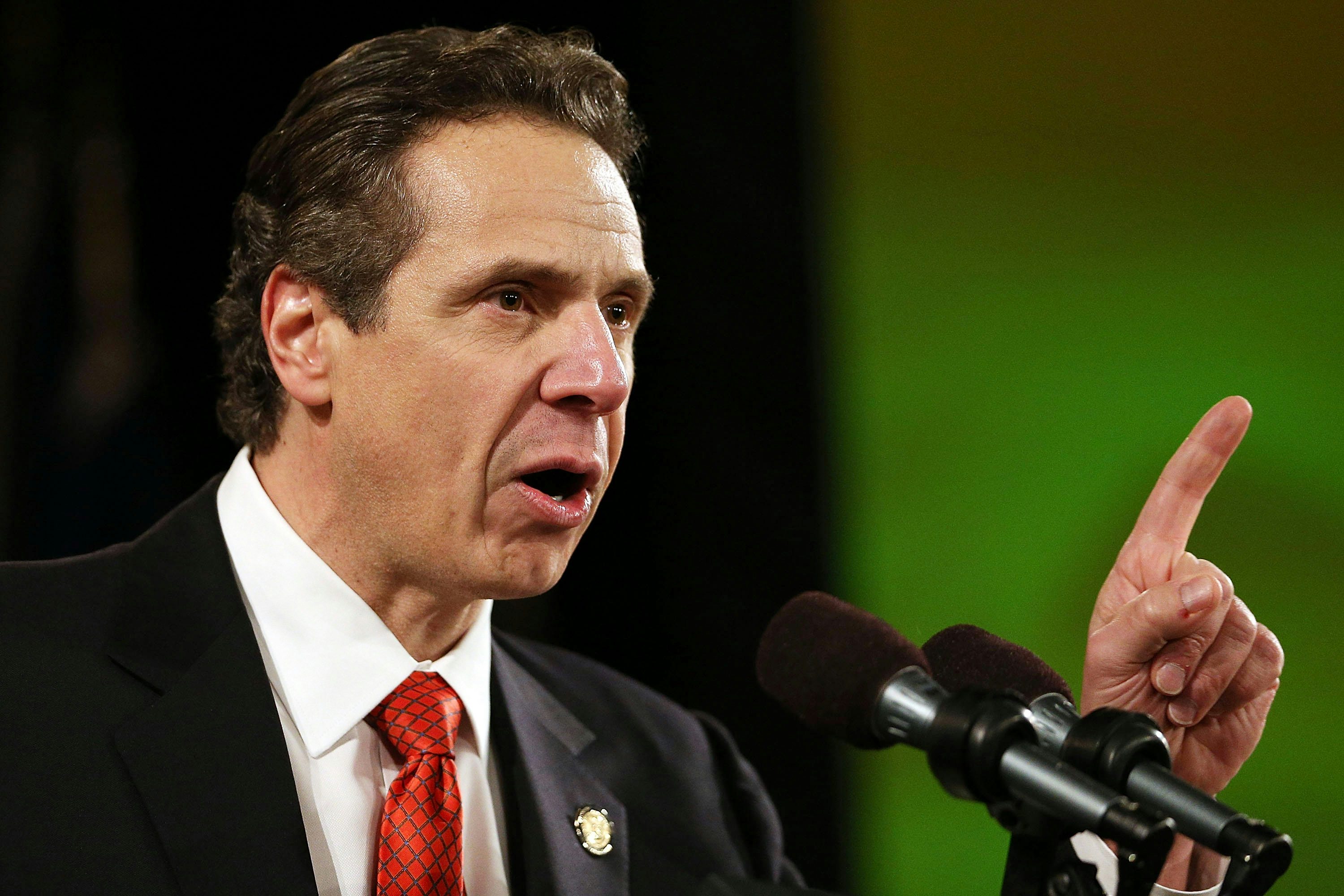 However, Cuomo's approach to marijuana reform remains calculated and apprehensive. Even his proposed funding of marijuana research, for example, would include consultation with the New York State Police.
For many marijuana proponents, consulting with the police, who are known for making a high volume of arrests for simple marijuana possession in the state, seems antithetical to the goal of reforming the criminal justice system. In 2016, under Cuomo's governorship, the NYPD arrested 18,136 people for marijuana possession, up nearly 10 percent from the previous year. In 2013, the Drug Policy Alliance found that the New York Police Department used "approximately one million hours of police officer time to make 440,000 marijuana possession arrests" between 2002 and 2012.
These arrests persisted despite the fact that New York State decriminalized personal possession of marijuana all the way back in 1977. "Ongoing arrests for low-level marijuana possession show that decriminalization hasn't worked for New Yorkers," Melissa Moore, Deputy State Director for the Drug Policy Alliance, New York, tells Herb. "Ending marijuana prohibition is a crucial way to remove simple marijuana possession as the basis for an arrest that can have lifelong negative consequences. The Governor and New York legislators should make clear that arresting people for marijuana possession will no longer be tolerated and instead create a legalized framework for marijuana."
According to Moore, New York State doesn't need more research to know that marijuana prohibition has depleted valuable law enforcement resources by unnecessarily arresting marijuana users, the disproportionate number of whom have been Black or Latino.
"The fact that the racial disparities in these arrests remain extreme year after year—with 85 percent of those arrested being Black or Latino, despite similar rates of use across racial and ethnic groups–points to Governor Cuomo's failure to sufficiently shift marijuana enforcement policy. It's clear that there are statewide enforcement resources going into marijuana prohibition that could be much more adequately used for public safety measures," says Moore.
Given Cuomo's tentative approach to marijuana reform and longtime opposition to recreational legalization, it's also possible that his research proposal is an attempt to placate marijuana advocates and build a broader base of support leading up to the gubernatorial election in November. After all, one 2017 poll from Emerson College found that 62 percent of voters in the state support recreational legalization.
Legislation currently moving through the state's Assembly and Senate aim to make recreational marijuana legalization a reality.
In January 2017, Democratic state senator Liz Krueger introduced Senate Bill S3040, which enacts the "marihuana regulation and taxation act." A corresponding Assembly bill was also introduced that same month. Last week, the state Assembly held a public hearing on the Marijuana Regulation and Taxation Act (MRTA), which would legalize recreational marijuana for adults over the age of 21.
However, given the Senate's Republican majority, which opposed Cuomo's proposal of simply researching marijuana (let alone legalizing it), the likelihood of these measures being passed remains slim.