If you are chugging down the road with 122 pounds of weed hidden in your automobile, for the love of god, make sure that shit's secure. Earlier this month, Nebraska state patrol received reports of a truck trailer smuggling large amounts of marijuana on the I-80, one of the state's main highways. The call came from someone driving behind the truck.
How would a roadside driver notice a truck was hauling green while hauling ass? It might have something to do with the trail of pillow-sized baggies of bud the driver was leaving along the interstate.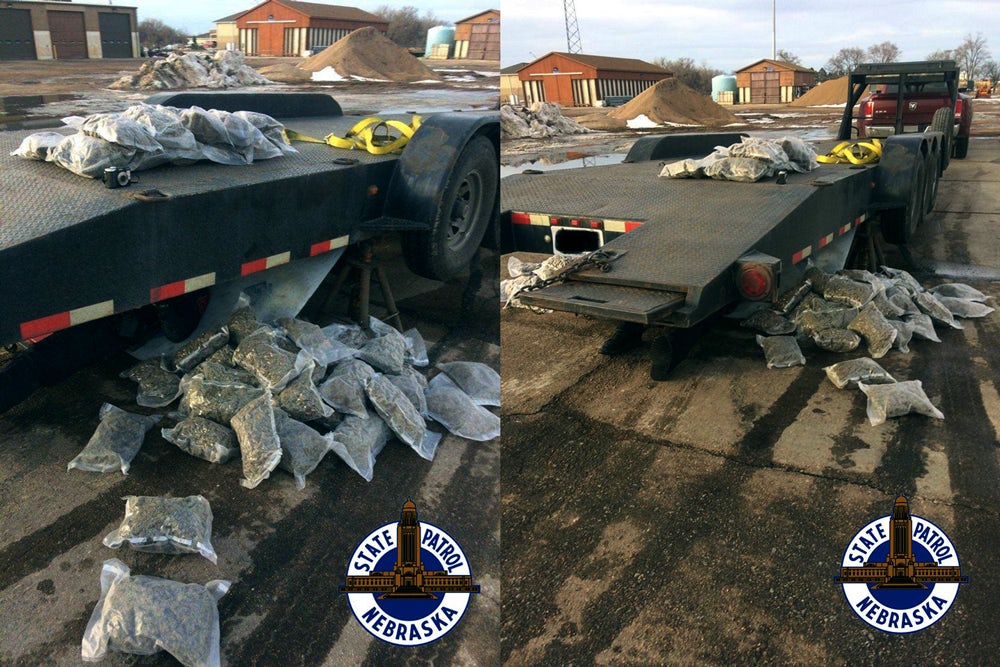 "Troopers are trained to detect signs of drug trafficking," wrote the Nebraska State Patrol in a Facebook post, "but it's not too tough to spot when bags of marijuana are literally FALLING OFF A TRAILER ONTO I-80." "Great work, Troops!," the post ended. 
The cops showed up on the scene and started investigating the car. The trailer had a "secret compartment" on the underside, where 122 pounds of weed had been stashed away. The police believe the drugs to be worth $366,000. In the Facebook post, Nebraska State Patrol show the bags of weed spilled onto the side of the road like dust bunnies from a rarely opened attic hatch.
The drugs were being smuggled by two men, a 29-year-old from Florida and a 48-year-old from Colorado (where weed is legal). They were arrested for possession of more than one pound of marijuana (they were slightly over), possession with intent to deliver, and no drug tax stamp. Both were then taken to Buffalo County Jail in Nebraska.
I do not encourage drug smuggling, but I am an advocate of double checking. So if you're planning on hiding a quarter million dollars worth of weed in your truck, make sure that door is sealed tightly.