The Pax line of vaporizers has been leading the pack since the introduction of the original Pax by Ploom. Often thought of as the Apple of the vaporizer world, Pax products feature app integration and a sleek and sophisticated portable design. While an excellent device, the new and much-awaited Pax 3 may have itself a new competitor, the Arizer Solo II. Here's how the two stack up on style and flavor:
Pax 3
The Pax 3 is one of the most popular vaporizers on the market. This vape can handle both dried flower and concentrates, making it versatile and convenient.
Sleek and stylish, the Pax 3 is smaller than four inches tall (10 centimeters) and just over an inch wide (nearly three centimeters). It easily fits in a pocket and does not add noticeable weight to a purse or book back.
This vaporizer can reach maximum temperature in a mere 15 seconds and features smartphone app technology. Consumers can adjust temperatures between 360 and 420°F (182 to 215°C), which is a fairly narrow temperature range. By comparison, the Arizer Solo II heats between 122 and 428°F (50 to 220°C).
Type: dried flower and concentrates
Temperature: 4 pre-set temperatures, customization between 360 and 420°F (182 to 215°C)
Heating mechanism: conduction
Oven and vapor path: stainless steel
Battery life: 90 minutes
Cost: $274.95
Does the Pax 3 sound like the vape for you? Grab one for a great price at Namaste Vapes online shop.
Arizer Solo II
There are a lot of people who swear that the Arizer Solo is the best vaporizer out there. The Arizer Solo II is the upgraded version and is the newest luxury vaporizer to enter the market. The Solo II is not as small as the Pax 3, but it is considered a portable vape. Though, it looks more like a miniature tabletop.
The Solo II features several impressive upgrades to the original machine. Not only is this vape smaller and more compact, but it is made from all medical-grade components. It features an all-glass vapor path and a ceramic oven, ensuring that you're getting a clean and tasty vapor every time.
The Arizer Solo II offers a dual heating system that utilizes both convection and conduction mechanisms. It can reach maximum temperature in 28 seconds. Unlike the Pax 3, the Solo II is for dry herb only. Making it slightly less versatile.
Type: dried flower
Temperature: 122°F- 428°F / 50°C- 220°C
Heating mechanism: Convection and conduction
Oven and vapor path: Stainless steel, ceramic, and glass
Battery life: 3 hours
Cost:  $249.99
Does the Solo II look like the vape for you? Check it out on Namaste Vapes online shop.
Which one has a better style and flavor?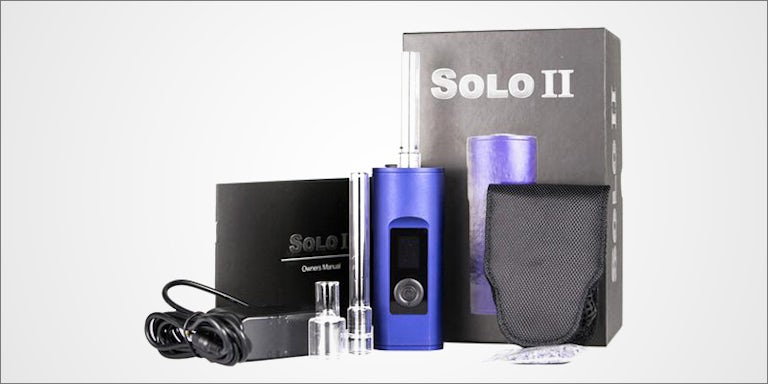 The Pax 3 and the Arizer Solo II are both excellent products and would make worthwhile investments. They may also appeal to two very different types of cannabis consumers.
Those hoping for something they can just tuck in their pocket and pull out every once in a while will likely appreciate the compact, discrete, and stylish design of the Pax 3.
The Arizer Solo II would be a great choice for cannabis connoisseurs who really want to take the time to get the full flavor and experience of a cannabis strain. Medical cannabis consumers may also prefer the Solo II for its thick vapor and pure vapor path. It's also easy to clean and has a longer battery life.
In terms of overall taste and vapor, there Arizer wins hands down. There are three main variables that contribute to the flavor of your vaporizer: the oven, the vapor path, and the temperature. Similar to picking out a nail for an oil rig, the materials used in the oven and vapor path impact the taste of your flower or concentrate.
Glass is considered the best materials to use in smoking and vaporization devices because it is inert, which means chemically inactive. Quality ceramics are also inert and are often the next top choice.
High-quality stainless steel or titanium come in third. Metals are not inert, which means that they are thought to slightly distort the taste of your cannabis. In terms of flavor, the Arizer Solo II is going to provide the best experience. Not only is it made out ceramic and glass materials, but the vapor chamber is fairly wide and gives you a strong pull every time.
Namaste Vapes has a wide selection of high-quality products to choose from, all with video demonstrations and full reviews.
Searching for a great price on a luxury vaporizer? Both the Pax 3 and the Arizer Solo II are available online at NamasteVaporizers.com.