Rappers warn against the trendy codeine-laced drink "Lean"
The purple drink has been celebrated in hip-hop circles for decades, but, amid high profile overdoses, there's a campaign to stop the consumption.

There's a growing backlash in hip-hop against a drug that's been celebrated in song for many years. It's a fun, fizzy drink that's colorful and sweet, but it's been rumored to have caused several high-profile deaths and continues to be blamed for making regular users extremely sick. It's called a few things: lean, sizzurp, drank, or simply codeine-promethazine syrup. It's made from a mix of codeine-based cough syrup, soda, and hard-flavored candy.
Chicago rapper Fredo Santana was trying to kick an addiction to sizzurp in the weeks and months before he tragically died at the age of 27 in January. His death came not too long after emo rapper Lil Peep died from drugs and sizzurp in his system. Those high-profile deaths shattered the hip-hop community, but on the flipside, they have also signaled to fans and other artists that it's time to put down their cups.
Much of the sizzurp backlash goes back to reports of Lil Wayne falling ill from the drink. He's had three public episodes including seizures and hospital visits over the past six years. His latest episode was in the fall. Following Wayne's hospitalization in Chicago, Ty Dolla $ign proclaimed "Lean is dead," to TMZ.
Lean, if taken enough, can cause users to stop breathing. It has similar effects to morphine or heroin, according to medical experts.
Other rappers have also commented on the trend. Upstart Atlanta-based rapper Trippie Redd called lean "liquid heroin" and urged people not to use it at all. The pleas to put down the codeine bottles included Gucci Mane, who said the toll breaking a sizzurp addiction takes on your body is excruciating. Even Wiz Khalifa, weed rapper extraordinaire, called lean "lame" in an Instagram video he posted calling out trend chasers who get into the habit because they watch celebrities doing it.
The movement against lean is coming at a crucial time. Many rappers, like Wayne, are learning about lean the hard way, through repeated hospital visits and damage done to their organs. Rappers like G Herbo and Boosie have detailed their harrowing plight trying to wean themselves off sizzurp too.
South Side Chicago rapper Famous Dex, who has claimed to have spent six figures on his lean addiction, also was rushed to the hospital in November. He took to Instagram to share his new thoughts on lean. "Stop the drug. The lean. I didn't say marijuana now. Don't stop smoking that marijuana baby," Dex stated in a video posted to social media following his hospitalization.
More and more hip-hop personalities are pushing back against the glorification of lean sipping. But in some ways, it's an uphill battle to come out against a concoction that's been celebrated for at least the past couple of decades.
Sipping purple drank, or lean, has spread across the country and around the world since originating in Houston, Texas. Culturally, it thrives in hip-hop. But some rappers are hoping to finally change that association.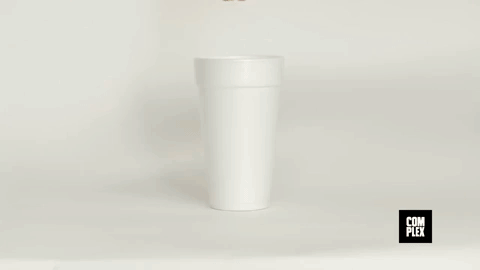 California rapper Mozzy has been one of the most vocal in hip-hop lately, and he's campaigning hard for people to drop lean or codeine-promethazine. He considers himself a victim of the drug.
Mozzy even started a social media challenge with the hashtag #KickDaCupChallenge to encourage his fans and others in the hip-hop community to stop using lean.
No matter where fans of codeine or promethazine-laced soft drink cocktails come from, the anti-sizzurp movement is in full swing. Just last month, LA producer DJ Mustard came out against purple drank on the heels of Santana's death. And t-shirts reading "Sizzurp Kills" are floating around the internet.
But, lean is iconic stuff in the rap community, tearing down the image of it being cool could take a lot of work. The good thing, though, is that a lot of influential hip-hop artists are taking the first steps to finally do that.