Spend some time chatting with Smoke DZA and the reasons for the Harlem-bred emcee's status within hip-hop culture become evident. On the one hand, DZA has a tongue-in-cheek, stoner's sense of humor (he describes his love of weed as a "long, intimate, friendly relationship"). On the other, DZA is a prolific independent recording artist whose most recent album Don't Smoke Rock was a collaboration with legendary producer Pete Rock—for whom he carries crates at one point.
Few artists blend weed culture with classic hip-hop as organically as DZA. Born Sean Pomfrey to two Guyanese immigrants in New York, DZA evolved from a battle rapper to ghostwriter for Hi-Tek and Sean Kingston to recording artist thanks to manager Jonny Shipes of Cinematic Music Group. With albums such as George Kush The Button and Rolling Stoned to his name, DZA became a staple on Shipes' annual The Smoker's Club tour, performing alongside rising stars Curren$y and Big K.R.I.T.
The Kushed God—one of DZA's best-known monikers and arguably one of the greatest rapper monikers ever—started smoking weed at 16, but didn't do so regularly until he was 18, he recalls. His stage name, which ironically predates his smoking habits, was inspired by Chris Tucker's character in the 90s comedy Friday. But these days, DZA has no hesitation describing himself as a "professional pothead."
"I get paid to smoke weed around the world and entertain my fans," DZA says over the phone from Austin, Texas, where he just performed at a SXSW show. "When I go to certain places that weed is legal, I get showered with free marijuana. So, when I say I'm a professional pothead, it's because they want to watch me smoke weed, which is really funny as fuck to me."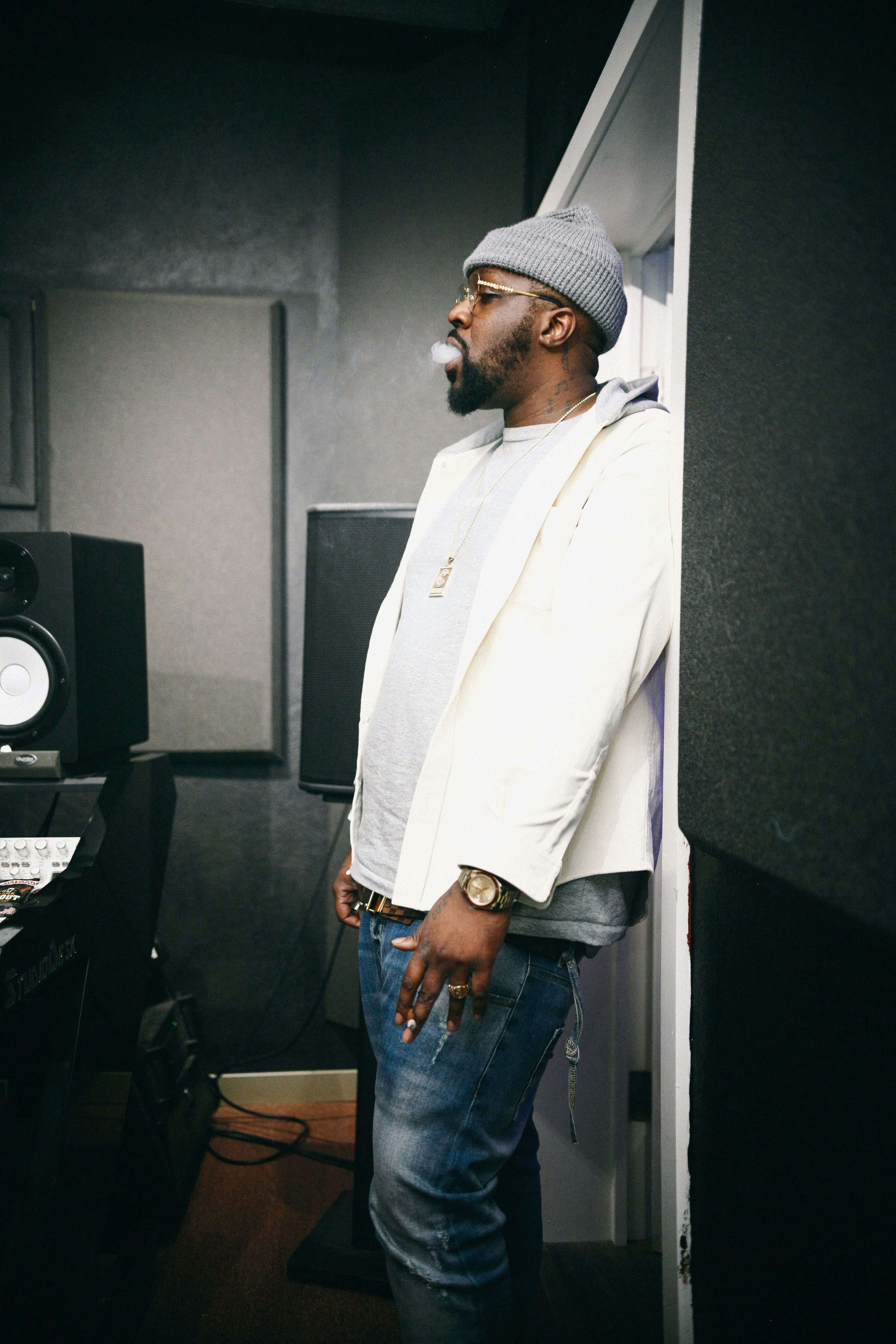 Weed played a part in cultivating DZA's relationship with Pete Rock, who he met through Shipes and eventually put out a full-length album with in 2016. "I met Smoke DZA while I was working with Shipes and we just kinda clicked and hit it off," Rock told XXL magazine during the press tour for their album. "He used to help me carry my records in the parties and stuff and I would invite him to come to the parties to chill and have a good time, and then we kind of nurtured it from there."
As much as he loves to smoke—OG Kush is his go-to strain and he prefers Backwoods—there are occasions when the weed is not up to par and DZA turns it down. He recalled a touring experience with New Orleans rapper Curren$y "when we used to chance buying weed from fans."
Curren$y wouldn't hesitate to return the bad weed to the fan, while DZA, ever the nice guy, said he'd still buy it.
"There are definitely times that I didn't partake in a fan-shared weed," DZA says, laughing. "It's turned into a phrase, so if it isn't good, we call it 'fan weed.' That's how that came about. Sometimes fans come with good pot, so no disrespect to any fans."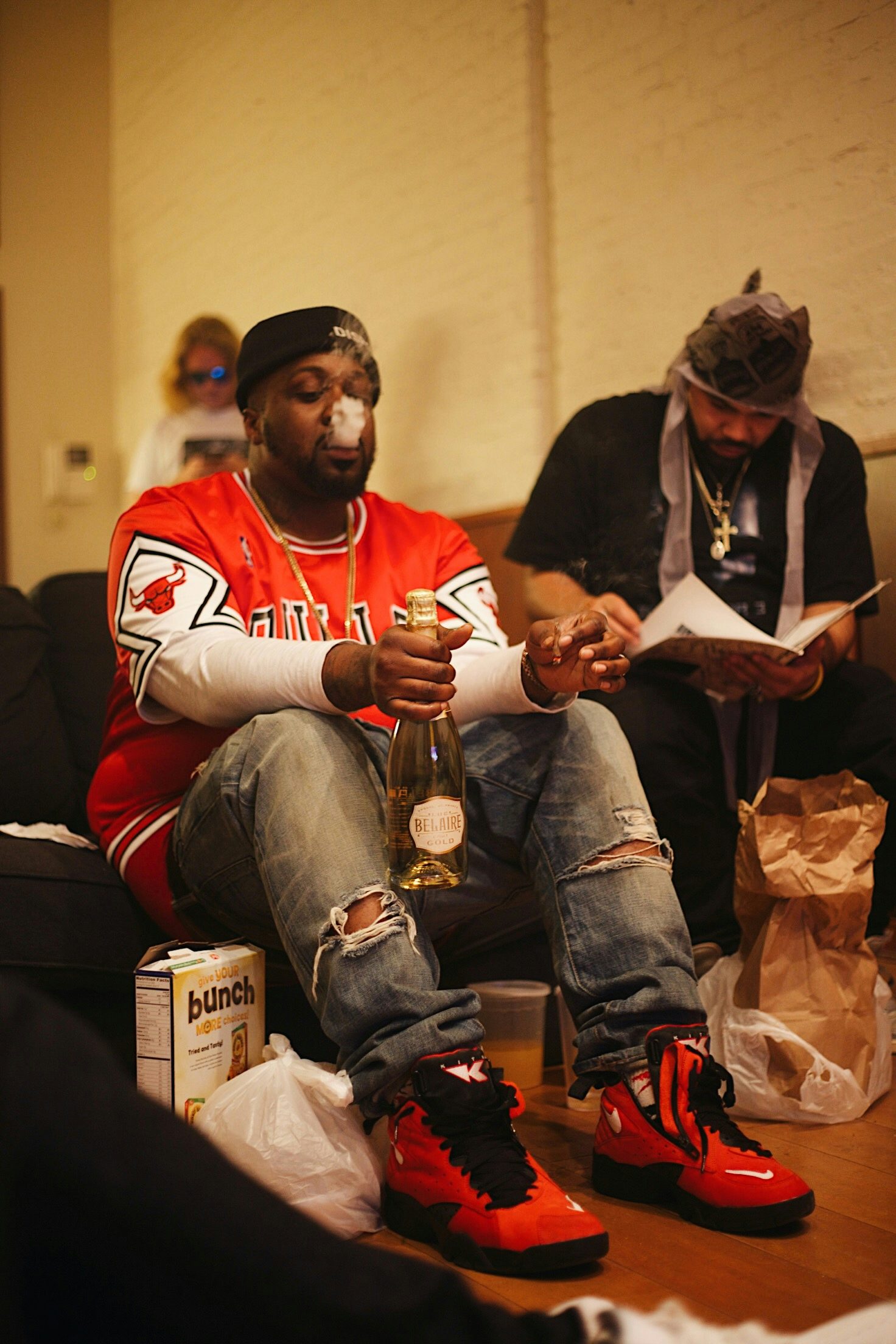 One day, DZA says he wants to open a chain of dispensaries in his home state of New York. For now, he maintains a busy touring schedule. He has also broken into acting with a role in fellow Harlemite Damon Dash's crime drama "Honor Up."
"Doing that film is not a one-time thing for me, as it was always a plan to get into movies," DZA said. "Dame was a mentor, he came up with the idea, wanting to do a film similar to a film I love, 'Paid In Full." It was a good experience and I'm actually working on some other things now."
Making music remains DZA's core competency, as he gears up to drop his next album, Not For Sale, on 4/20. The first single, "Mood," features Joey BadA$$ and samples "Guess Who's Back," the Scarface collaboration with Jay-Z.
"I consider myself a classic artist, so I don't really try to fit in with trends," DZA says, describing what fans can expect on the new record. "Like sonically how shit is moving, as an artist you got to keep up with the times and sometimes it's good to experiment. I think I stay relevant because I'm being myself. Every time I switch it up, it's just a different level of myself."