Again, Canadian authorities are targeting the Emerys. After arresting Marc and Jodie Emery, police raided seven Cannabis Cultures across the country and Toronto this morning. Now, the Emerys are facing trafficking charges relating to their business. Also, Marc Emery is facing additional possession charges. Then, on top of that, he's being accused of violating conditions from his last arrest. At this instant, the couple is in custody and are awaiting a bond hearing on Friday.
The Emery's are under arrest
A coordinated effort by Toronto police and the City of Toronto saw raids across Canada of Cannabis Culture dispensaries.
As a result, the Emery's are both facing trafficking charges. Marc, however, is also dealing with additional charges of weed possession and money obtained by crime. Not to mention, authorities are accusing him of violating conditions from a prior arrest.
For the purpose of Project Gator, an ongoing investigation, police participated in the raids in Toronto, Hamilton, and Vancouver. After around 11:30 am, 461 Church Street's Cannabis Culture put up a video of an ongoing raid at the shop.
According to police spokesperson Mark Pugash, cops carried out a total of eleven search warrants. While seven were at various Cannabis Culture spots, the other four took place at private homes- two in Toronto, one in Stoney Creek, and the other in Vancouver.
Consequently, police put five people under arrest. But as stated by Pugash, these arrests did not include the dispensaries' bud-tenders,
As long as the law is clear, and it is absolutely that dispensaries are illegal, we will continue to enforce the law.
During Wednesday evening, roughly around 7:30 pm, police put the Emery's under arrest at the departure area of the airport. Coincidently, Marc Emery took to Facebook to say that he and Jodie were on their way to Spannabis, a cannabis expo, in Barcelona earlier that same day.
Enough is enough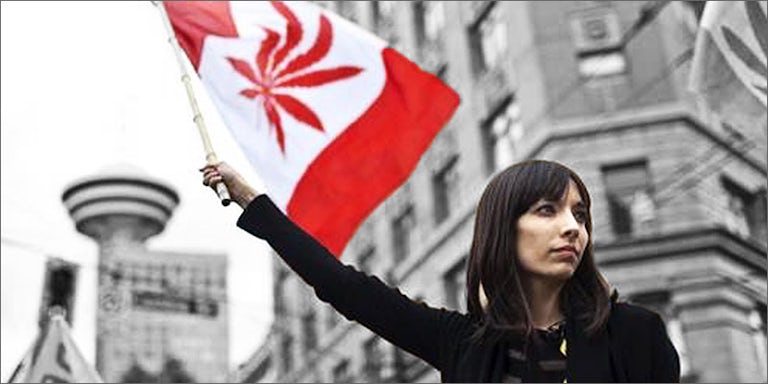 Although the couple briefly appeared in court on Thursday, they are still awaiting their bond hearings set for Friday morning at 10 am. Despite the fact that the country is gearing up to legalize the herb this spring, it's clear that authorities refuse to back off.
Police also put Cannabis Culture co-owners Chris and Erin Goodwin, along with Britney Giulia, owner of a Hamilton Cannabis Culture, under arrest. However, all except Chris are waiting to receive their charges from police. According to Chris, police are charging him with possession for the purpose of trafficking.
Notably, Erin made it known that this is not the end of the fight for legal cannabis. And as police were escorting her into the back of the police cruiser, she shared her thoughts on the matter with reporters,
I've been working to fight for legalization for a long time and i won't give up. This is an injustice that's happening across Canada… this is ludicrous.
Until Spring, it seems as though no one is safe. And according to a statement from Tousaw Law Corporation, who represents the Emery's, Canada has had enough,
Our Prime Minster has promised to legalize cannabis. That promise is now two years old. Yet the arrests continue and the harm continues to be done by this terrible law.

This is Canada in 2017, some 45 years after Mr. Trudeau's father accepted the Le Dain Commission's findings that prohibition was an abject failure that should be repealed.

In that span hundreds of thousands of good Canadians have been harmed by prohibition. Enough is enough.