It's a good day for marijuana when an 82-year-old politician admits to making cannabis tea in the House of Commons.
Like the United States, the United Kingdom (UK) has classified marijuana as a Schedule I drug, alongside heroin, LSD and other drugs believed to have no medicinal properties. But unlike many U.S. states and Canada, the UK has no intentions of legalizing marijuana anytime soon.
Paul Philip Flynn, a British Labour Party politician and MP for Newport West, considers this to be one of the UK's great shames. In October, he introduced a medical marijuana bill that is currently moving through the House. That same day, dozens of advocates and patients set up outside the Parliament in support of Flynn for a cannabis "tea party," complete with infused scones. 
Flynn has long advocated for marijuana reform in the UK, and is becoming increasingly known for his heated, norm-breaking speeches in the House. This year, Flynn made a speech in the House of Commons that encouraged medical marijuana users to smoke weed outside of Parliament.
Flynn has encouraged people to smoke weed outside of Parliament.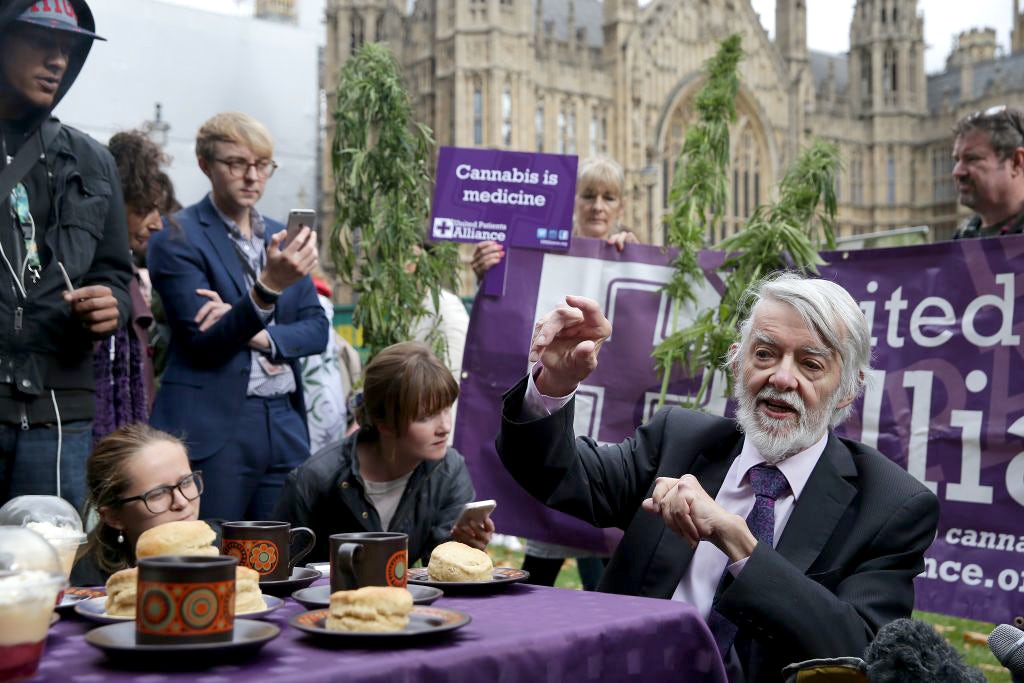 "I think we have to say to those who pudder with the barbaric stupidity and cruelty of government policy that denies seriously ill people their medicine of choice, we've got to call on those who are in this position to act in a way of civil disobedience," said Flynn in his speech. "I would call on people—and I know we're not supposed to do this as members—to break the law. To come here, and use cannabis here and see what happens, and challenge the government, the authorities, to arrest them."
Unprecedented: Flynn also made weed tea in the House of Commons
In his speech to the House of Commons, Flynn admitted to doing something that no other MP or UK politician ever has: making cannabis tea in the House of Commons.
To be sure, Flynn was helping Elizabeth Brice, a multiple sclerosis patient who long advocated for medical marijuana, to make cannabis tea for herself. According to Flynn, he's never done any illegal drugs himself. Still, he says, "According to the rules of the House, and the policy approved by the government—and, sadly, the opposition too—she would have been liable to go to prison for seven years, and I would probably have been accompanying her."
Flynn believes that taking a bold stance—whether you're an MP or UK citizen—is the only way to effectively move the dial on the debate around legalizing marijuana. And so far, despite never having smoked himself, he doesn't seem to mind being the one to carry the torch.