The northern region of Rason is not the guarded North Korea you're used to. As a Special Economic Zone, Rason is open for foreign business and tourism—mostly from China and Russia—and it's one of the few places where the lines between the country's reportedly strict drug laws are blurred.
When travel writer Darmon Richter visited Rason in 2013, he recorded his trip so that friends and loved ones back home could keep track of him. But when he stumbled upon a mountain of marijuana in a local market, the Bohemian Blog's readership exploded and international debate over the legality of marijuana in North Korea followed.
It's hardly a secret that tourists who visit the Democratic Republic of Korea (DPRK) are watched closely. For outsiders, joining a tour group is one of the only ways to gain access to the country and, according to Richter, the tours are usually so regimented that tourists rarely have time to stray from the government-approved path.
But on this trip to North Korea, Richter and the group he was traveling with were allowed to do just that when they were taken to a local market that had previously been off-limits to foreigners. They were even allowed to exchange their foreign currency for local Won.
That is when Richter stumbled on the deal of a lifetime. A tobacco vendor who displayed suspiciously green leaves among his harvest. At $0.65 a pound, $4.20 could buy six and a half pounds of what appeared to be cannabis and while Richter is certain that the giant bag he walked away with was weed, there is a catch. "It's ditch weed," he says.
"It's that familiar plant, with that taste and that effect and it's not a very strong effect and the leaves are damp and you have to shove a lot in and it doesn't want to light properly and it gives you a headache, but it does get you mildly high as well—which pure hemp shouldn't do," he recalls.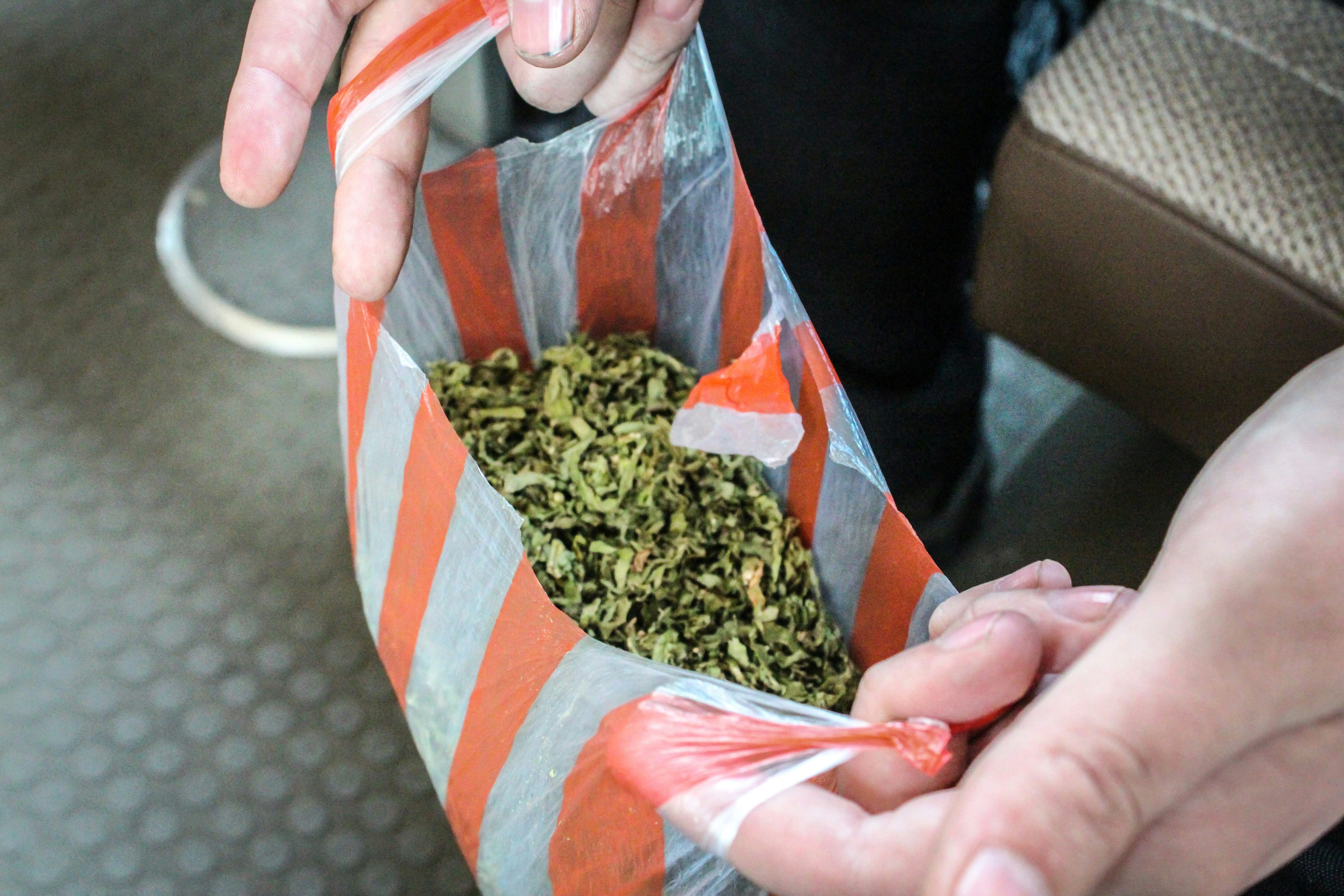 The government handler, "Mr. Kim," referred to it as the special plant and said that smoking it was mostly a working-class thing. Though it also grows in the wild, farmers who grow industrial hemp in North Korea have the quickest access to its smokable cousin. Cigarettes are actually even harder to come by. As a result, those who can't afford neatly packaged tobacco smoke pot.
Cannabis has a long history in the Korean peninsula, with pottery as old as 5000 B.C. suggesting that the region has a storied past when it comes to hemp cultivation. In fact, hemp farming was also encouraged by the dear leader of North Korea, Kim Il-Sung, to make up for a shortage in vegetable oil.
Even local tour groups feature pictures of children holding cannabis leaves while tourism guides for Rason advertise that, "You can even purchase locally grown cannabis, although the THC content is zero and it is not used recreationally."
In a country that's so strict, where outsiders are constantly reminded of their government's godly presence, Richter's discovery of cannabis at Rason offered a bit of respite. On one of the final nights of Richter's trip, the Dear Leader's gaze and even the threat nuclear war disappeared behind a cloud of smoke which filled a local—government approved—restaurant. Joint after joint covered the room in a thick haze as they celebrated a group member's birthday and unwittingly provided entertainment for the service staff who were amused by the foreigners' fascination with what they considered to be a dull weed, grown in the wild and more often used to weave cloth.
Richter's story followed him around the world for years as outlets like VICE, the Guardian and NK News tried to prove whether marijuana could really be legal in North Korea. Despite seemingly credible reports of marijuana's legality in North Korea, experts continue to insist that cannabis, the smokeable kind, is absolutely banned in the country. Richter has chosen to believe them, but after admitting to Herb that he used to smoke and even grow it himself, he's convinced it was the real thing (weak AF but real). After all, it's illegal in much of the US as well, but it's hardly difficult to find.
It's hard to know anything for sure about North Korea. But maybe Rason is a world apart from the North Korea we've come to know. In the far north, where Russian dock workers binge on rice vodka and China is just a walk across a bridge, "There is a lot you could get away with in the rural areas," says Richter, "that you couldn't get away with in Pyongyang."
And perhaps that's it, because by the end of the trip, even his government handler knew that they were just far enough removed from big brother to get away with it.
"By way of a polite gesture, I offered [Kim] a joint…very much expecting him to refuse it," Richter writes, "Instead he smiled, winked, and put his arm round my shoulder as he started puffing away on the fat paper cone."