Pineapple is a Hybrid marijuana strain now available from Barney's Farm. With above-average THC levels and a tropical fruit flavor, this strain is a real crowd pleaser. This strain often leaves marijuana consumers feeling happy, focused and uplifted, making it excellent for managing stress and depression.
Pineapple Strain Experience
This strain is an underappreciated gem. The strain is actually an F2 phenotype of Ed Rosenthal Super Bud, which is an impressive hybrid from Sensi Seeds. This phenotype expresses predominantly Indica effects, which promote drowsiness and a strong sense of physical ease.
Featuring up to 26 percent THC (average around 21 percent), this strain is one of the most potent buds on dispensary shelves. Recommended for experienced consumers, this strain is a delightful treat that provides a strong yet easy and relaxing high. The physical effects of this strain are powerful, but not typically powerful enough to induce couch-lock or cause serious sedation. Rather, this strain is a top-notch afternoon or evening strain for recreational and medical cannabis patients alike.
The hybrid heritage of Pineapple provides a nice balance for the indica effects of this strain. Pineapple is sociable, talkative, and friendly. Those venturing out to a happy hour or venturing out for a fun event with family and friends will enjoy the contented nature of this herb.
Plus, it often causes the munchies, making food more fun and delicious.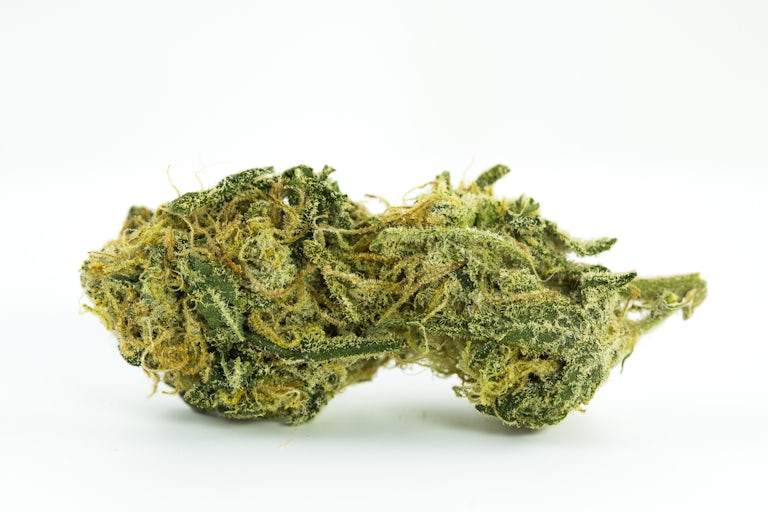 Traits of Pineapple and Pineapple Seeds
Right away, the most noticeable thing about this strain is its unique aroma. Tropical, fruity, and delicious, this strain has a strong pineapple citrus aroma. An earthiness may shine through on the inhale, but, in general, the fruity taste of this strain shines through. Excellent to use in desserts, this strain may be the new go-to kitchen herb for at-home cannabis chefs.
Not to mention, this potent flower features THC levels between 16 and 26 percent.
Pineapple seeds, now typically available from Barney's Farm, produce some good looking flower with a thick dusting of trichomes and a bevy of orange pistils. While a pretty resinous nug, this strain can typically be broken up by hand if cannabis consumers are willing to put up with some sticky fingers.
Medical Benefits of Pineapple
Medical marijuana patients will find that Pineapple is a pretty versatile plant with a variety of medicinal applications.
This strain is an excellent choice for patients suffer from anxiety and depression thanks to its mood-boosting effects

Medical cannabis patients also tend to pick up this herb for relief from muscle spasms and chronic pain

Patients suffering from a lack of appetite will rejoice — this is some seriously munchy-inducing weed