Celebrating: They Couldn't Have Grown Without You
Let's take a look at how Hempire and its fans have grown in its first year.
This month, Hempire, the popular weed farming game from LBC Studios, celebrates their one-year anniversary. Because this milestone aligns all too perfectly with 4/20, you'd think they were just celebrating another "canniversary". However, such a simple catchphrase wouldn't do the celebration justice—their excitement echoes the ongoing shift in the public's perception of marijuana and the extensive impact cannabis-centric products are having outside of their community.
In the case of Hempire, this impact is felt in the world of online gaming. LBC Studios' pioneering path is similar to Herb's mission: to distance consumers from weed's negative stigma. It's in this spirit that Hempire is participating in the creation of a modern, mainstream cannabis culture.
To Hempire's Devoted Fans
With entertainment options breeding like rabbits, it takes a lot to stand out from the crowd. Hempire's booming success over its first year — during which it witnessed over five million installs and developed a line of dope merch — can be attributed to its amazing and dedicated fanbase. It's this enthusiasm for Hempire, and the willingness of fans to share their experiences with the game, that ensures Hempire continues to evolve and grow as a game and as a community. So, on that note, below are some tips for making every "Hemperor's" experience even more enjoyable.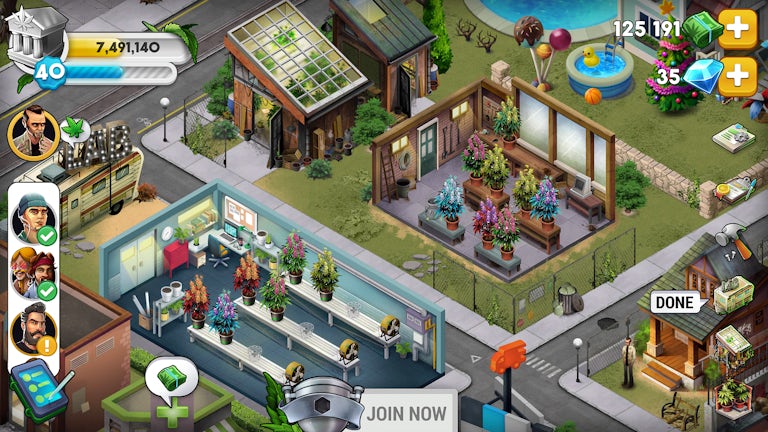 Tips and Tricks For Every Hemperor
Whether you're an experienced grower or just starting out with Hempire, here's how to take your operation to the next level.
Water Your Plants:

This is important for two reasons. First, you get an extra bud each time you water, increasing your max yield. Second, watering decreases the plant's maturity time, so you can harvest faster. Thirdly, perfectly watering your plants increases your chances of getting an Epic Bud, which you can use to Breed New Strains! Take care of your plants, and they'll take care of you.

Increase Your Strain Mastery: To upgrade the mastery level of your plants, pay attention to the graphic over the plant when you harvest it. It will tell you to maximize that plant's yield. Properly set the temperature of your A/C, water your plant at the correct times and install a light above it. As you add more lights, make sure to upgrade your AC so it can handle the extra heat. Remember, using fertilizer on plants eliminates your temperature bonus, which will hamper your bud yield.

Photo courtesy of Hempire

Make Use of the Strain Breeding Guide:

Wondering how to breed Chemdawg? Or maybe you're looking for tips on how to breed Hindu Kush? If you've hit a roadblock on your path to breeding all of the strains, here are the recipes for the first four:
Afghani + Skunk No. 1 = Northern Lights

Skunk

+ Northern Lights = Chemdawg

Northern Lights + Chemdawg = Hindu Kush

Chemdawg + Hindu Kush = Sour Diesel
Compete in the Hempire Cup:

You can unlock this competition where you get to breed your own strain through Storyline Quests. With six leagues to compete in, each player begins in Bronze, and receives 18 mother Epic buds to breed. The objective is to improve the medicinal properties of your buds by maxing out potency, mood and aroma during breeding. Doing this earns you points, and having the most points leads to prizes and promotion to the next league. The winning strain can then be grown by everyone in their league.

Improve Your City:

Investing in your city increases your net-worth and helps unlock new features, strains, and products. In order to do this, you'll need to source Spare Parts. These are bonus items that you can find to improve your growing set up or player mansion. For example, LED bulbs, LED power supplies, LED panels and solar panels are acquired by fixing potholes, and these help upgrade the lights in your Second Greenhouse. Marble, designer furniture, antiques, rare art and robot butlers are found by fixing benches, and are used to upgrade your mansion.

Tap into the Community:

If you're still stuck, ask the awesome Hempire Community for a hand! Just tap on the Cafe forum in-game to chat with the dopest group of gamers.
The Next Evolution of Hempire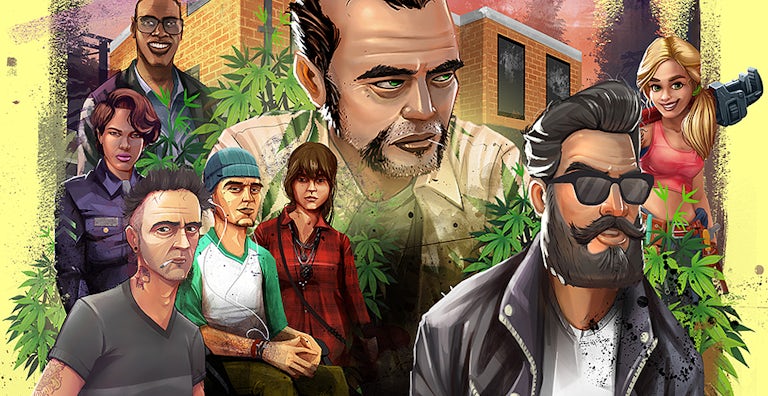 As part of their canniversary celebrations (sorry, it's catchy), LBC Studios is excited to announce the latest addition to Hempire. You can now create an Enterprise with up to seven fellow players, allowing you to share resources and dominate as a team. Donating resources to Enterprise members will earn you Enterprise Credits, which can be exchanged for Special Loot Cases. Coming soon, you will even be able to compete against other Enterprises for even more chances for success and prizes. Speaking of prizes, by signing up to our newsletter, you're entered into the draw to win 100 Diamonds—a new winner is picked every two weeks. So customize your Enterprise's name and logo today, and prepare for the Hempire stakes to be raised even higher!
Start your own Hempire today and experience the best weed farming game on your phone.