The CBD craze is real. Because CBD is non-intoxicating and legal across the globe, a lot of people feel it represents a safe way to incorporate the benefits of cannabis into their daily lives. Having a vast variety of CBD products in the industry means most people are sure to find a way to consume that works for them. And what could be easier than CBD drinks? For those that turn their nose up to the traditional tincture or don't smoke, CBD drinks are a more chill approach to feeling better.
The Benefits Of CBD Drinks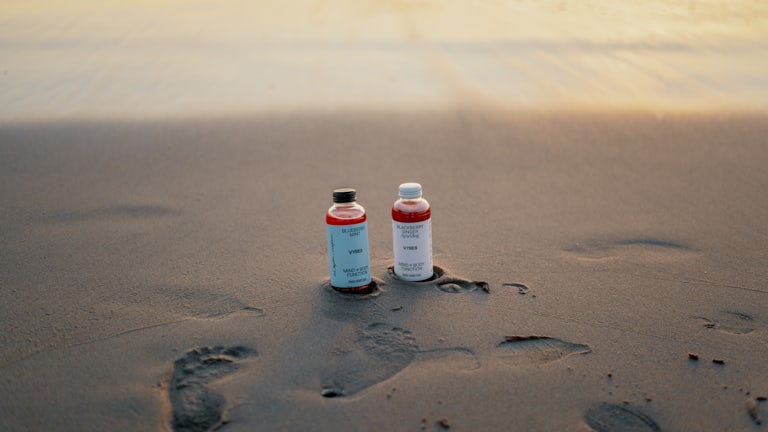 Sipping on a CBD drink feels as natural as having a glass of water. And just like water, these drinks can support your well-being in numerous ways. CBD drinks boast the same benefits as other forms of CBD, from relieving chronic pain to boosting your stamina. No matter what kind of drink you prefer, chances are you can find one that's CBD-infused, like CBD soda, CBD-infused juice, CBD sparkling water, and plenty more where those bevys dwell. Whatever you have a taste for, you can have it with a wholesome shot of cannabidiol.
CBD drinks are also low-key. It's rare to see a CBD drink with "CBD" stamped in bold across its packaging. From an outsider's perspective, it just looks like some drink they've never heard of, which means you can take them anywhere without sparking too much curiosity. They're a great conversation starter if you want them to be, but if not, you could always pour one into your favorite tumbler.
CBD-Infused Drinks: The Effects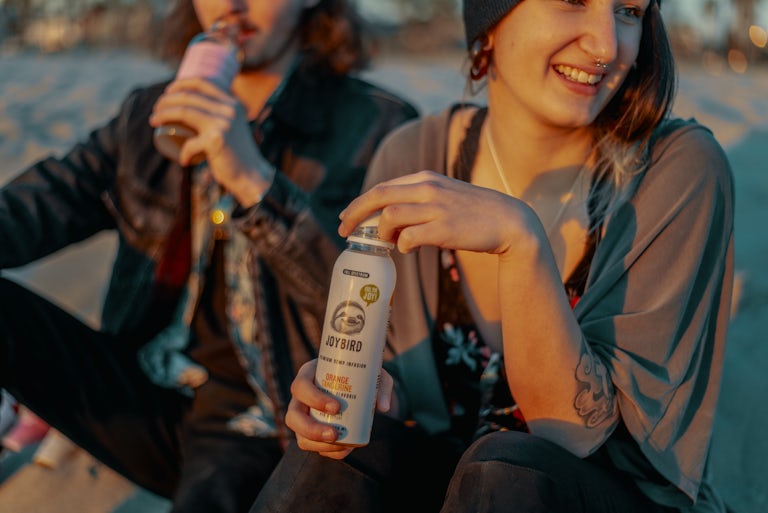 How do CBD drinks make you feel? Mostly relaxed. CBD does affect your mind and body, but not in the way THC does. Not even close. THC gets you high and can trigger anxiety and other unpleasant symptoms for some. If CBD doesn't make you feel relaxed, then you likely won't "feel" much, other than, potentially, relief from your ailment(s). That's the magic of CBD; it delivers relief without messing up your day.
The CBD in these beverages typically takes 15 to 30 minutes for it to take action, and it lasts for a long time. But not too long, just two to four hours. That makes CBD drinks easy to manage and easy to dose, also. Most CBD drinks are low-dose for that same reason. Again, CBD and THC have different goals, so the odds of you finding a bevy loaded with a ridiculous amount of CBD is slim. Even if you do, according to one study, humans can tolerate as much as 1,500 mg of CBD daily.
Best CBD Drinks
On the hunt for a refreshing and relaxing CBD drink? If so, then grab your straws because we are here to quench your thirst, fam. From CBD cold brew coffee to CBD energy drinks, we tried a fun mix of CBD-infused concoctions and picked out our favorites that we know you'll love too. Here are some of the best CBD drinks approved by the experts at Herb:
Vybes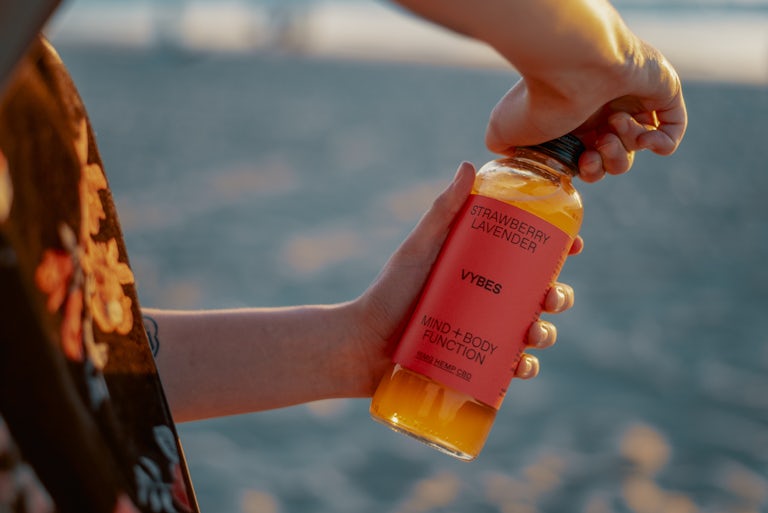 Not to be funny, but Vybes CBD drinks are a vibe. These organic adult beverages help you sleep, fight anxiety and stress, and put you in a fab mood, among other benefits. Infused with 15 mg hemp-derived CBD a bottle, Vybes comes in five fruity herbal flavors: Strawberry-Lavender, Peach Ginger, Maracuja Sparkling, Blueberry Mint, and Blackberry Ginger. Online via their website, you can only buy Vybes by the case, but trust us when we say you won't regret making the space in your mini-fridge. Vybes are natural and tasty, and great companions for any activity, whether you're skating down the boardwalk or grilling out with friends.  
Recess
Recess CBD drinks come by their name honestly. They are like little cans of freedom that help you escape from your daily discomfort. If you enjoy fresh sparkling water, then you'll love Recess. Available in Blackberry Chai, Peach Ginger, and Pom Hibiscus, and if you can't decide, The Sampler, each pop-top can of Recess is infused with 10 mg of full-spectrum hemp oil, along with American ginseng to improve focus and memory, l-theanine to reduce stress, and Schisandra to boost immunity and promote balance. In other words, these CBD drinks will keep you calm, cool, and collected. Thank heavens they come in packs of eight.  
Sprig
Soda is that sugary, calorie-packed drink you're told to stay away from, but not CBD soda. Sparkling CBD soda like Sprig is something you want to keep very, very close. Not only is it low-calorie, but also naturally sweetened with 20 mg of the highest-quality CBD. There are no artificial sweeteners here, and barely any sugar. The citrus flavor comes with a little sugar, but there's also a sugar-free version. Plus, there are there are two other sugarless flavors to choose from: lemon tea and melon.
Joybird Wellness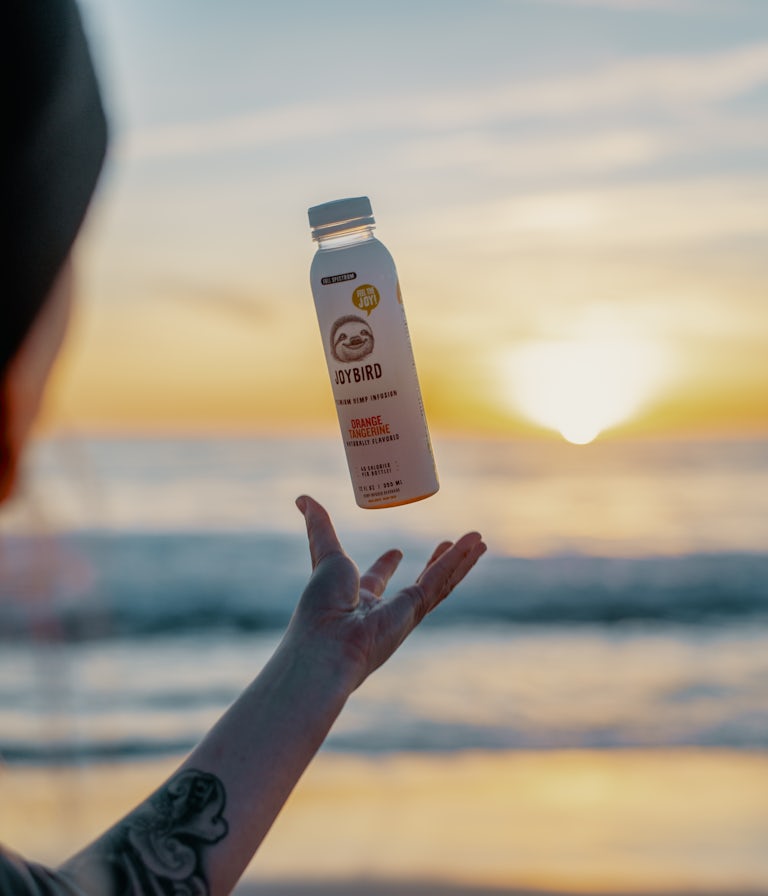 Joybird Wellness drinks are yet another example of healthful and delicious CBD drinks. They leave out all the preservatives, sugar, soy, gluten, and dairy, and are non-GMO and vegan. Not to mention, they only contain 45 calories a pop and the bottles are recyclable.
What makes Joybird Wellness CBD drinks unique is that they deliver the equivalent of 160 mg of CBD using just 8 mg! That's because their CBD is high-quality and microencapsulated, making it 20 times more bioavailable than the average container of CBD oil.   You get relief from all three flavors- Apple Cranberry, Mixed Berries, Orange Tangerine- in a matter of seconds. That's a blessing when you need to feel better fast, whether it's to reduce your post-yoga aches or calm your nerves when you're on the brink of an anxiety attack.
Mary Joe Brand
You can officially forget about your go-to bottle of Starbucks Frappuccino coffee. Mary Joe Brand has a better cold brew coffee. Infused with 15 mg of hemp extract mixed with filtered water and organic coffee beans, Mary Joe Brand CBD cold brew coffee promotes wellness, gives you a sound mind, and lifts your spirits, unlike most coffee that makes your gut rumble. It also eases the jitters, reduces blood sugar, and is anti-free radical, to point out a few more of its benefits. Why be put down by an unpleasant brand of coffee when you can have a real pick-me-up instead?
Best CBD Energy Drink:
Dram Lemongrass
If there are two things we could always use more of, it's focus and energy. It's kind of hard to do that with a typical energy drink, which either makes your head spin or makes you nauseous, or in most cases, a combination of the two. Dram Dose's Lemongrass Adaptogen CBD Sparkling Water, infused with 20 mg of broad-spectrum CBD, is how an energy drink should be. Aside from banishing brain fog and mental fatigue, it boosts energy levels and concentration, unravels stress, and turns down the volume on anxiety. It's obviously way healthier, but what makes it even better is that it's calorie and sugar-free.