For concentrate connoisseurs, there's no sweeter feeling than bringing home a brand new rig. But with there being such an array of styles up for grabs, how does a dabber even begin to choose one that's worthy of being introduced to their collection? While we can't tell you which dab rig is right for you, we can make a few suggestions to help point you in the right direction. From silicone studs to borosilicate glass beauties, here are the ten best dab rigs of 2018.
Best Dab Rigs For Convenience
Grav Labs 7″ Two-Layer Circuit Rig
To be so small, the Grav Labs 7″ Two-Layer Circuit Rig, the first device on our list of best dab rigs of 2018, is quite the ripper. Featuring a unique Water Jet Perc, this rig swishes water vigorously in circles, creating a mini vortex to cool down and filter out your smoke. Also featuring a double layered Circuit, while hitting the Grav Labs 7″ Two-Layer Circuit Rig, water stays rotating constantly. Just by glancing at this pint-sized rig, it's easy to want to underestimate it. But don't be fooled, this dab rig can pull as fiercely as an apparatus twice its size.
Nano Tree Perc Direct Inject Rig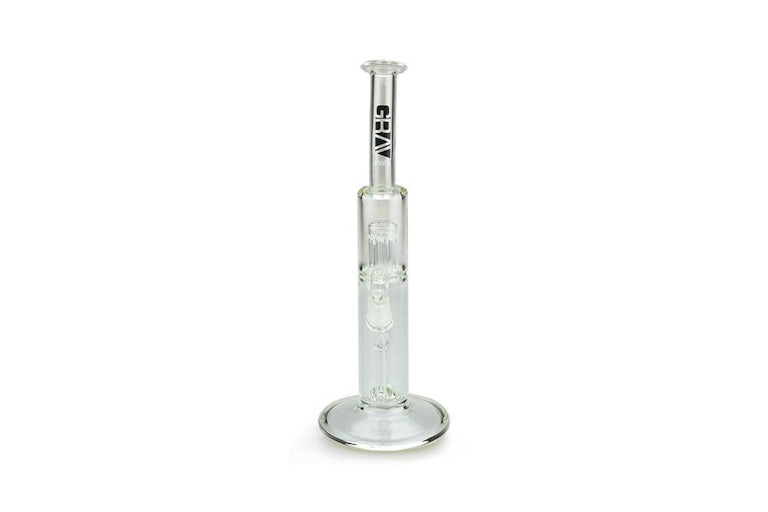 Who needs a ginormous rig when you can get mad rips from something much smaller, like this Nano Tree Perc Direct Inject Rig? Another product made by Grav Labs, this rig features a steady round base and slitted eight arm tree percolator. With its curvy glass body and its flared mouthpiece, the Nano Tree Perc Direct Inject Rig provides mega-comfortable hits that are both scrumptious and mellow. Whether standing or sitting, this rig is sure to take your dab experience to the next level.
Best Dab Rigs For Beginners
Higher Standards Rig Kit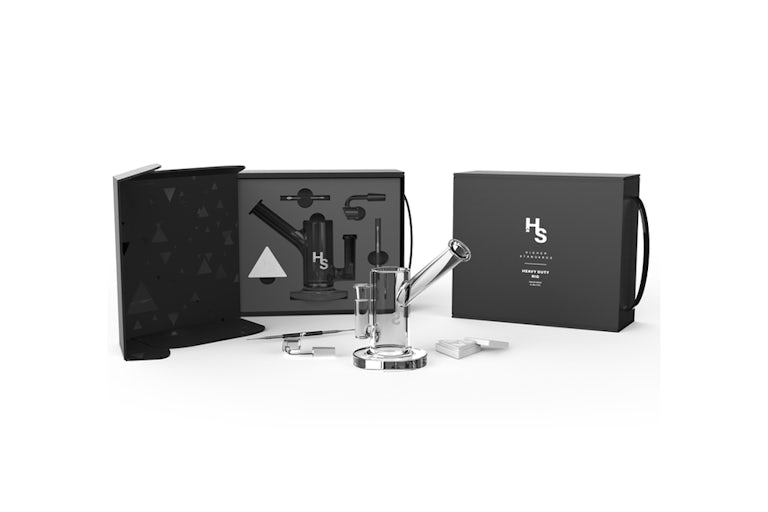 If you're looking for the whole kit and caboodle as far as dabbing goes, the Higher Standards Rig Kit, engineered specifically for the water filtration of concentrates, comes with everything you need to sesh it out with your favorite sticky extracts. Along with a powerful, medical-grade, heavy-duty rig, which with its quartz banger enhances flavors, this all-inclusive kit includes a storage container and even a set of dab tools.
Best Dab Rigs For Travellers
Eyce Silicone Dab Rig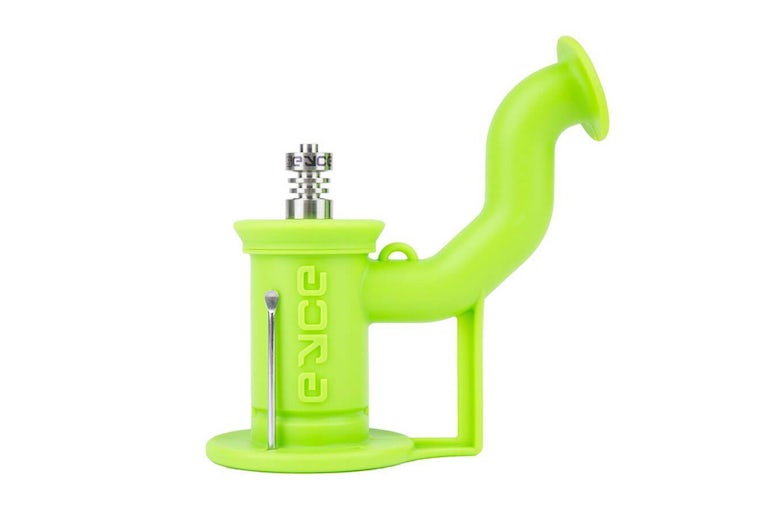 Not only is the Eyce Silicone Dab Rig one of the best dab rigs of 2018, but it's also the number one rig for traveling. Thanks to this rig, which features a built-in oil container, on-the-go dabbing just got a whole lot simpler and more convenient. In addition to its hidden stash jar, the Eyce Silicone Dab Rig's base features four tool slots to eliminate all the hassles of gearing up to do a dab. On top of all that, this rig comes equipped with a titanium nail that ensures long-lasting heat and great taste.
Best Electronic Dab Rigs
Dr. Dabber Boost Black Edition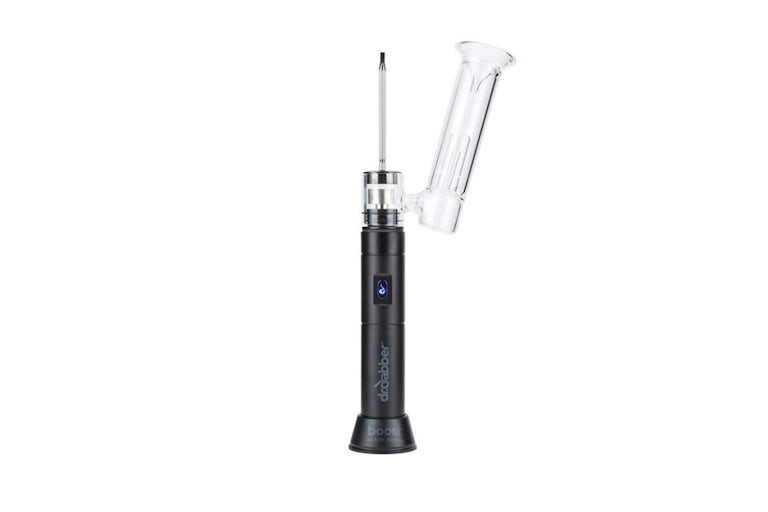 Both travel-friendly and brilliant, the Dr. Dabber Boost Black Edition offers a steller dab experience while on the move and is easier to use than it looks. With the Dr. Dabber Boost Black Edition, inconveniences like eNails and coils are not necessary. This portable rig relies on a lithium-ion battery to unleash its power. A single press of the Boost's button and roughly thirty seconds is all it takes to puff on your concentrate of choice while out in public.
Puffco Peak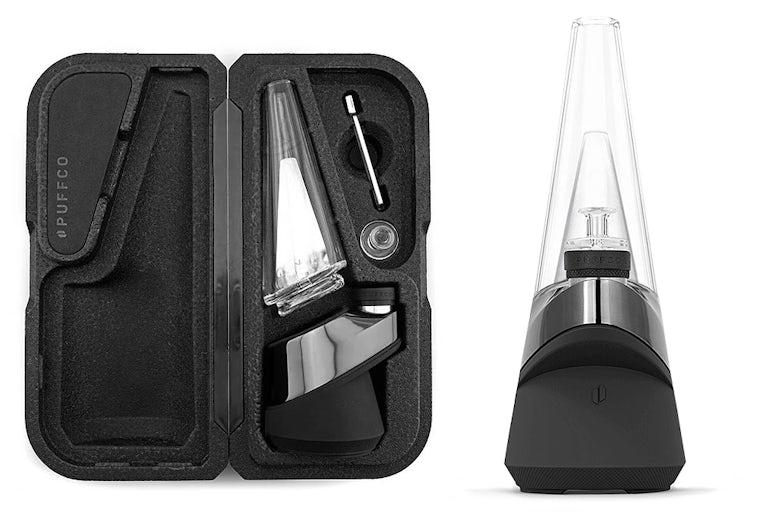 To point out another one of the best dab rigs of 2018, and the smartest at that, meet the Puffco Peak. The Puffco Peak offers a torchless way to dab. Herbivores can cold load their concentrates and quickly begin their sesh with the Peak by merely pressing a button and giving the device a short 20 seconds to heat up. Aside from getting a fast and easy dab, users get to choose from four different heat settings to customize their experience however they like it best. Even better, the Peak features an outstanding battery that lasts for up to 30 dabs.
Best Dab Rigs For Style
Famous Brandz Snoop Pounds Battleship Water Pipe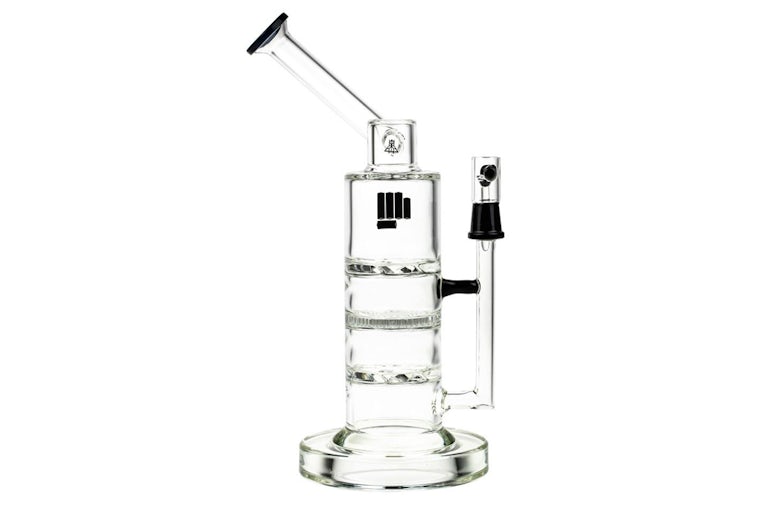 Soar high through the universe with the Battleship Water Pipe. Whether you're craving a hit of dry herb or a puff of extract, Snoop Dogg's very own Battleship Water Pipe from his Pounds line is versatile and offers the best of both worlds. The Battleship, constructed entirely of borosilicate glass, preserves both the flavors and aromas of your beloved herb, while its tilted neck, along with its flared mouthpiece, provides ultimate comfort from the time you add heat to the time you exhale.
Black Sheep – Donut Rig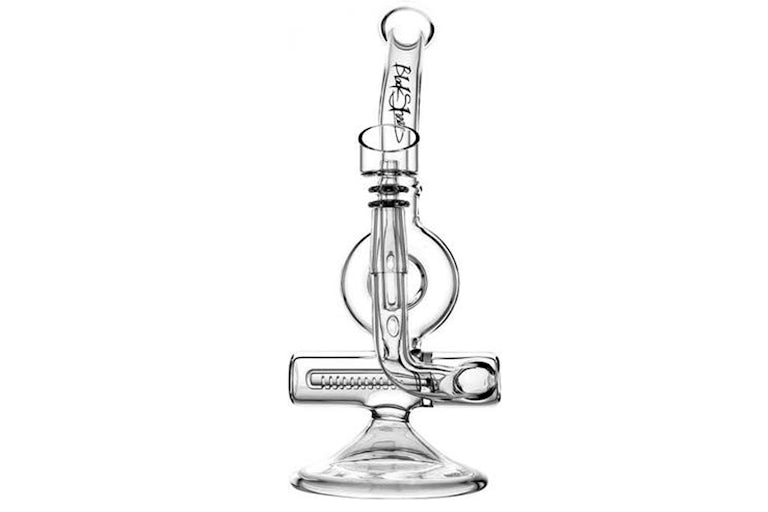 The Donut Rig by Black Sheep is one of the best dab rigs of 2018, but not because it honors your favorite munchie. The Donut Rig, in particular, features an inline percolator to kick off diffusion. While dabbing along, concentrate enthusiasts will get a thrill out of watching all the smoke traveling around its donut loop design. For a smaller piece, this Donut Rig is mega smooth, hits like a boss, making it ideal for everyday use.
7. Cheech and Chong Anthony Water Pipe Bong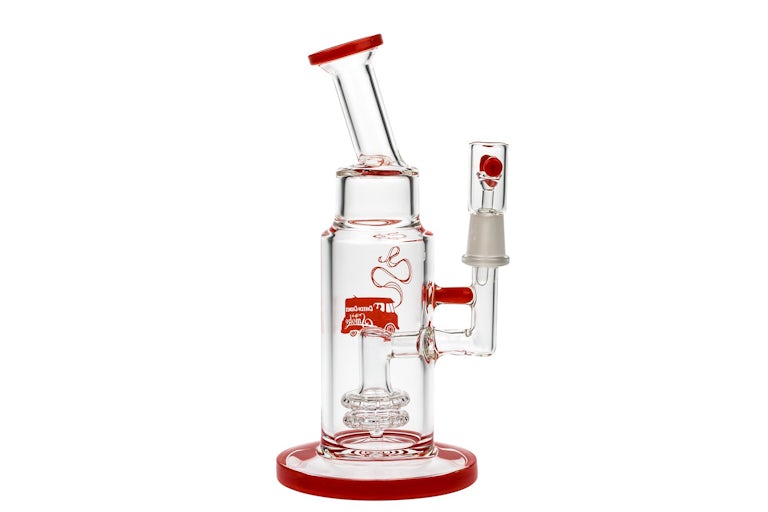 The Cheech and Chong Anthony Water Pipe Bong comes from your two favorite stoners Tommy Chong and Cheech Marin, who teamed up with FamousBrandz to create their own line of dab rigs. With that being said, you can expect nothing but excellence from this piece. From perfect percolation to five-star performance, in addition to a two-prong Dewar's joint for added durability and a bent neck and a flared mouthpiece for comfort, the Anthony Water Pipe Bong is perhaps the best and most dependable way to dab on your favorite waxy extracts.
10. Envy Glass Designs Dichro Coated Recycler – Black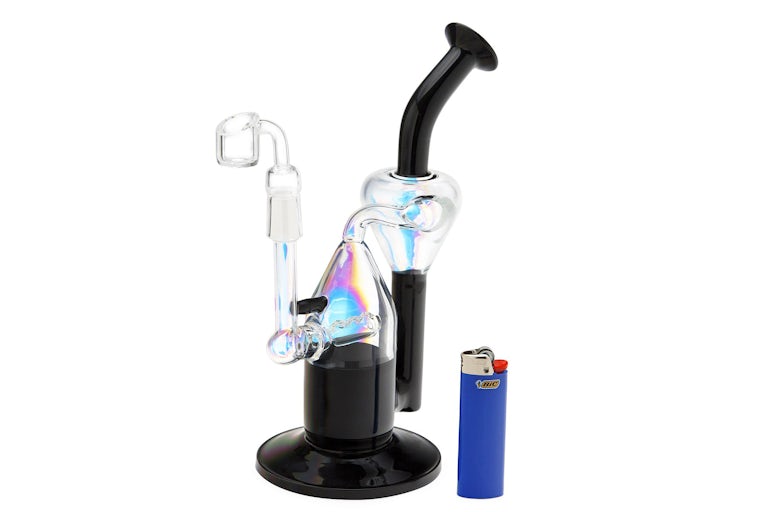 Using smooth churning action and quick drainage, the Dichro Coated Recycler by Envy Glass Designs, the last rig on the list of the ten best dab rigs of 2018, produces exceptional hits every time. With its showstopping design, which consists of dichro coating, this rig will add a dash of bold and beautiful colors to your glass collection.