Buddabox has recently joined forces with seedeSs clothing to bring you the coolest and newest 420 and 710 products. And they are pulling out all the stops for their new box that celebrates the release of the new Star Wars movie, Rogue One. This limited edition "Roll One" box contains exclusive items you won't find anywhere else. There's even a special lightsaber pipe. True cannabis and Star Wars enthusiasts can't miss the chance to own some exclusive merchandise from Buddabox, perfect for use while enjoying the epic new film.
The force is strong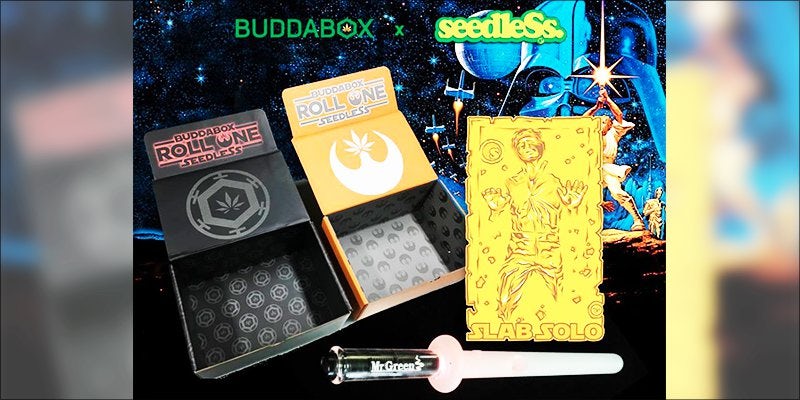 When it comes to Star Wars fans, they love their memorabilia. While it's easy to collect figurines and t-shirts, Buddabox has come up with something truly unique.
Cannabis lovers, who also enjoy Star Wars, will rejoice when they hear what's inside the latest and greatest cannabis supply monthly subscription box.
In addition to receiving a special lightsaber glass pipe, customers will also get a "Slab Solo" dab mat, a seedleSs "Roll One" leaf side, an array of smoking essentials and much, much more.
These special edition themed boxes are available to order now and will be delivered after January 1, but in a very limited quantity.
Secure your "Roll One" box today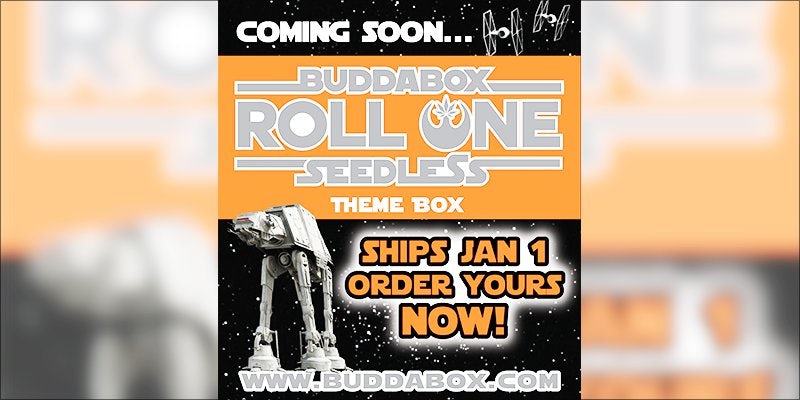 If you want to ensure you'll receive an exclusive "Roll One" Buddabox, it's best to preorder right now. Visit Buddabox.com and sign up, it's that simple. For just $24, customers can have the Star Wars themed 420Box delivered to their door with free shipping.
For true Star Wars and cannabis lovers, the 710Box is available for $59 and free shipping. The 710Box includes even more exclusive items and a guaranteed glass dab rig, sure to satisfy.
If you've been looking for a way to make every month of 2017 special, why not sign up for a yearly subscription? Customers can cancel at any time, but why would you want to?
You'll love getting the latest and greatest cannabis gifts delivered right to your doorstep each month, offering a new and exciting way to spice up every smoke session. It's like having Christmas every month.
The boxes are valued at more than double the subscription price, so if you're a serious cannabis enthusiast, you'll want to ensure your access to the highest quality of products.
Whether you choose the 420Box or the 710Box, there's no way to go wrong with Buddabox.