These days, there are more strains of cannabis than ever in history. With so many options, you can get a strain perfectly suited to your medical needs. But with such a large pool of varieties and so little standardized information, how can anyone who isn't a professional possibly find what they are looking for?
The gaps in the search system
Right now, the cannabis industry seeks to standardize the way we label strains. Some researchers are even compiling genetic databases of thousands of kinds of cannabis. But with the concentration on data for growers and dispensaries, a glaring hole has arisen.
While growers and professionals have ways to look up what they want (lineage, THC levels, etc.), patients need their own system. One based on experience, on symptoms.
Filling a need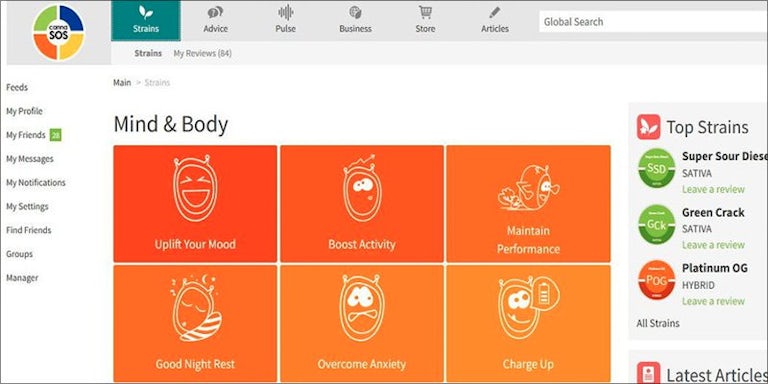 Learning how each marijuana strain might affect you can go a long way towards utilizing the plant's potential therapeutic benefits. If you want to find your perfect strain, only one site offers easy searchability and all the information you need.
CannaSOS lets you search strains according to what is important to you:
THC/CBD levels
Consumption time – unique feature
Positive/Negative effects
Flavors/Aromas
Gender/Age – unique feature
Strain Categories
Use for Animals – unique feature
Zodiac Signs – unique feature
Whether you want a strain tailored to your aches and pains or fun in your brain, the database at CannaSOS lets you tailor your results. You can share the info you find with their unique infographic system, instead of a link and a photo with text below it. Easy to search, find, and share.
3 popular medical marijuana strains for beginners and frequent users
In an attempt to help both new and frequent users determine what strain is right for them, CannaSOS has combined a short list of what they consider "go-to strains" for certain conditions.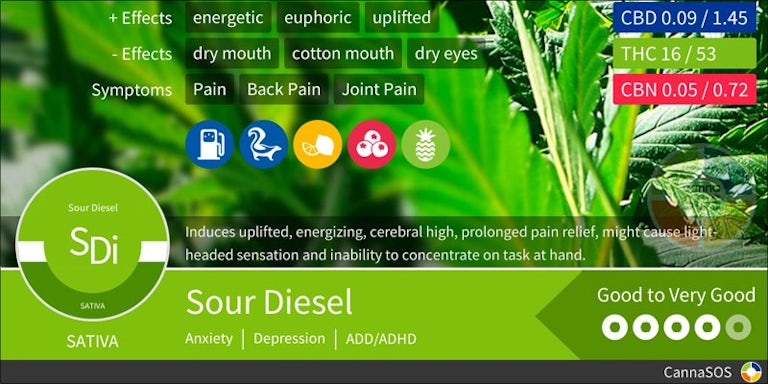 Category: Sativa
Aroma/Flavor: Lemons and pungent diesel fuel
Effect: Unique cerebral buzz
Best Used for: It is an ideal strain if you are looking for a strong, long-lasting relief of medical symptoms or for an energized, uplifting cerebral high
Medical Conditions: Anxiety, depression, migraine, headaches, lower back pain, post-traumatic stress disorder, insomnia, and arthritis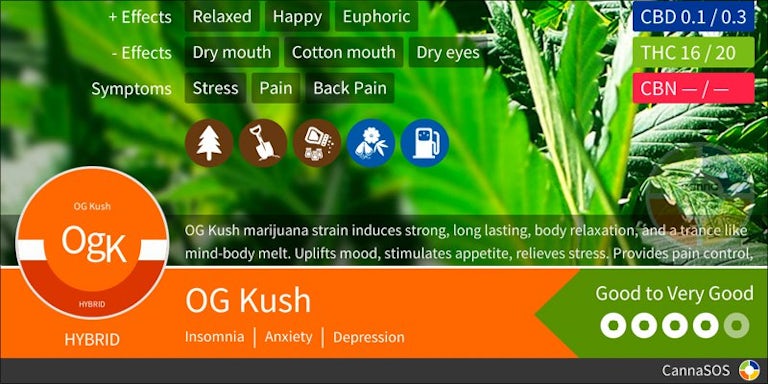 Aroma/Flavor: Pine, Earth, Spicy
Effect: Induces a strong relaxation and a trance-like body melt. You can consume it by smoking, vaporizing or as edibles
Best Used for: OG Kush provides pain control, uplifts mood, stimulates appetite, and relieves stress. Best used when lying on the couch with buddies while watching Netflix
Medical Conditions: Tension headaches, ADD/ADHD, depression and joint pain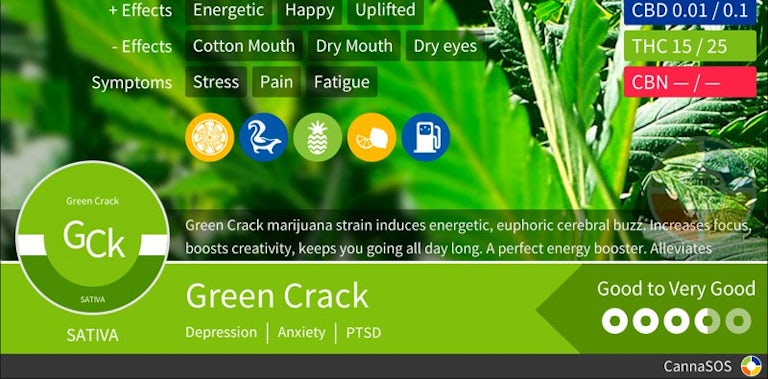 Category: Sativa
Flavor: Sweet Fruity, Tropical, Citrus
Effect: It induces an energetic, euphoric cerebral buzz while increasing focus, boosting creativity, and keeping you going all day long
Best Used for: It is an ideal strain if you are looking for an energy charge or when you are faced with a tedious task ahead
Medical Conditions: Depression, anxiety, PTSD, ADD/ADHD, joint pain, lower back pain, headaches, arthritis, bipolar disorder, and migraine
Customizing your cannabis experience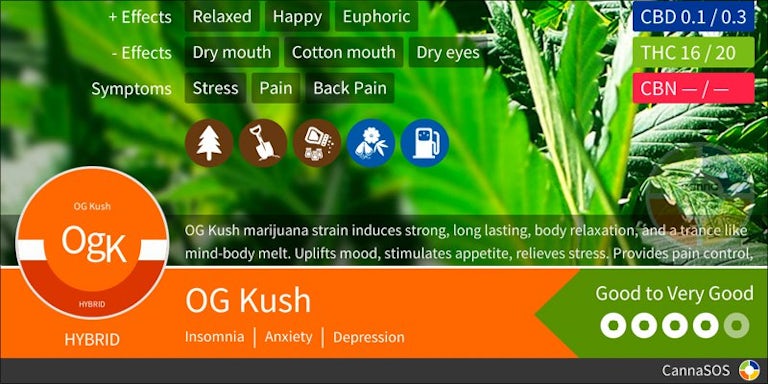 What one person thinks of a particular strain might be different from the next, so CannaSOS has taken that into account. They break down characteristics by positive and negative effects and then include patient reviews giving stats on who likes it most, and what it helps them with, by gender, age, and condition.
What makes CannaSOS really stand out isn't just the wealth of information, but how easy they make it understandable. Want an idea of the way a strain smells? Just check out the picture above, where you can see that OG Kush has hints of pine, earth, pepper, flowers, and fuel.
CannaSOS: Finding your perfect strain made simple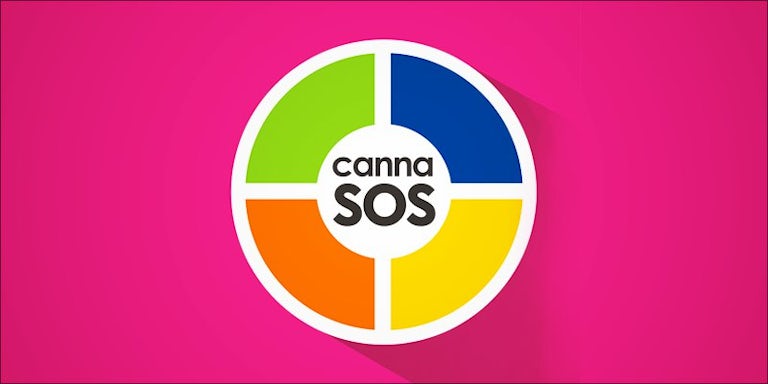 Want a truly personalized experience? The search method is simple. Go to CannaSOS to find your perfect strain. First, select your preferred strain types, sativa and hybrids, then how you do (and don't) want to feel. Then narrow the results by your medical conditions, favorite flavors, etc., and voila!
After a few short clicks, you're not left with dozens of confusing options. You'll have one strain perfectly paired to you.
With almost 2,000 strains, and more added every day, you never need another strain finder again. No platform is simpler or more informative. Even better, CannaSOS is a social platform where you can be your cannabis-loving self without getting banned.
Go to CannaSOS and see the difference. Get the information you need, the way you need it. CannaSOS invites all cannabis enthusiasts to join our stoner's social network.