How many times have we heard stories about grandma or little Billy getting ahold of one of mom and pop's "special brownies?" It's an honest mistake. After all, weed-infused baked goods look no different than something straight out of a Betty Crocker box. By leaving a fresh batch of chocolatey, irresistible space cakes exposed on the dining room table, that's pretty much an open invitation to indulge. You just don't say no to sweets.
Fortunately, these edible accidents are entirely preventable with proper storage. As a parent, guardian, or even a company that makes edibles, you should be aware of the best methods of keeping your goodies out of the wrong hands. While there are dozens of ways to store edibles, from Tupperware to wax papers, it doesn't get any safer than MagicalButter's 21UP Exit Bags.
With MB's 21UP Exit Bags, weed-infused baked goods are always safe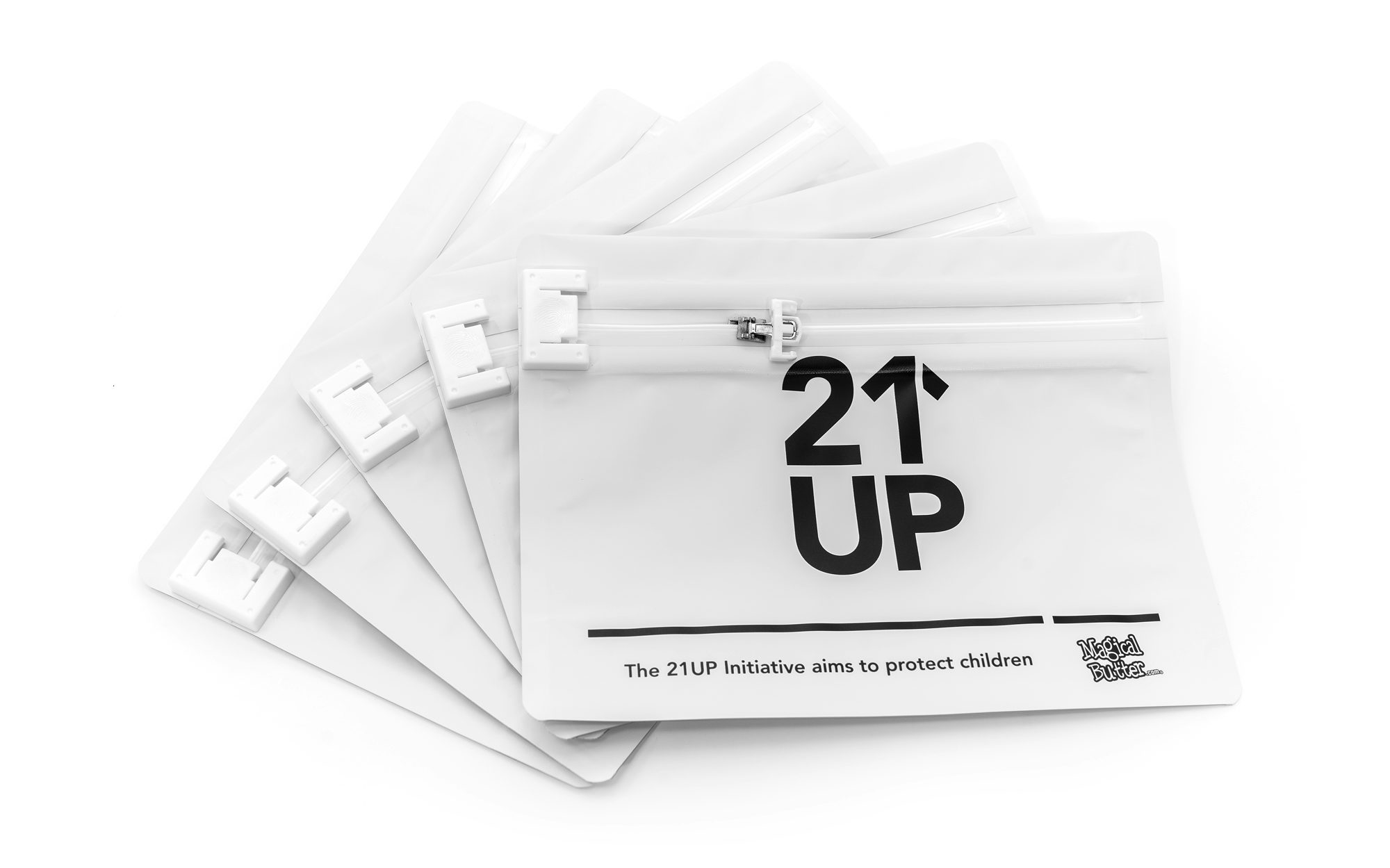 Having your edibles windup in the wrong hands can be a nightmare, especially when children are involved. Children are highly sensitive to the effects of cannabis, as their brains are still undergoing significant development. Not to mention, ingesting THC in any form when you're a minor is illegal. Let law enforcement find out that seven-year-old Sarah got into your sweet stash, and the last thing you can expect them to be is understanding.
Finding a safe and affordable bag to protect your edibles can be difficult because what works to dissuade children might not work for more mature hands. Thankfully, 21Up Exit Bags are designed to protect not just young children, but the entire family. If you happen to whip up weed-infused delights for a living, it'll even keep your product safe from any overzealous customers.
MagicalButter 21UP Exit Bags come stamped with the 21UP logo to let everyone know that weed gummies, brownies, or sticks of cannabis butter inside are for adults only. These high-quality edible storage bags are made of tamper-resistant, thick food-grade plastic. They feature an easy-to-use thumb pressure side lock that meets current child proof standards for locking, re-sealing and food safety needs.
"The 21UP Initiative is something we expect the industry and consumers to embrace, since protecting children is important to everyone. Having every medicated food item show a clear '21UP' makes it very easy to identify them," says Garyn Angel, CEO and founder of MagicalButter.com. Angel isn't just the head honcho, though; he's also a full-time father. "Keeping parents and kids safe is the goal here."
21UP Bundles come at an unbeatable price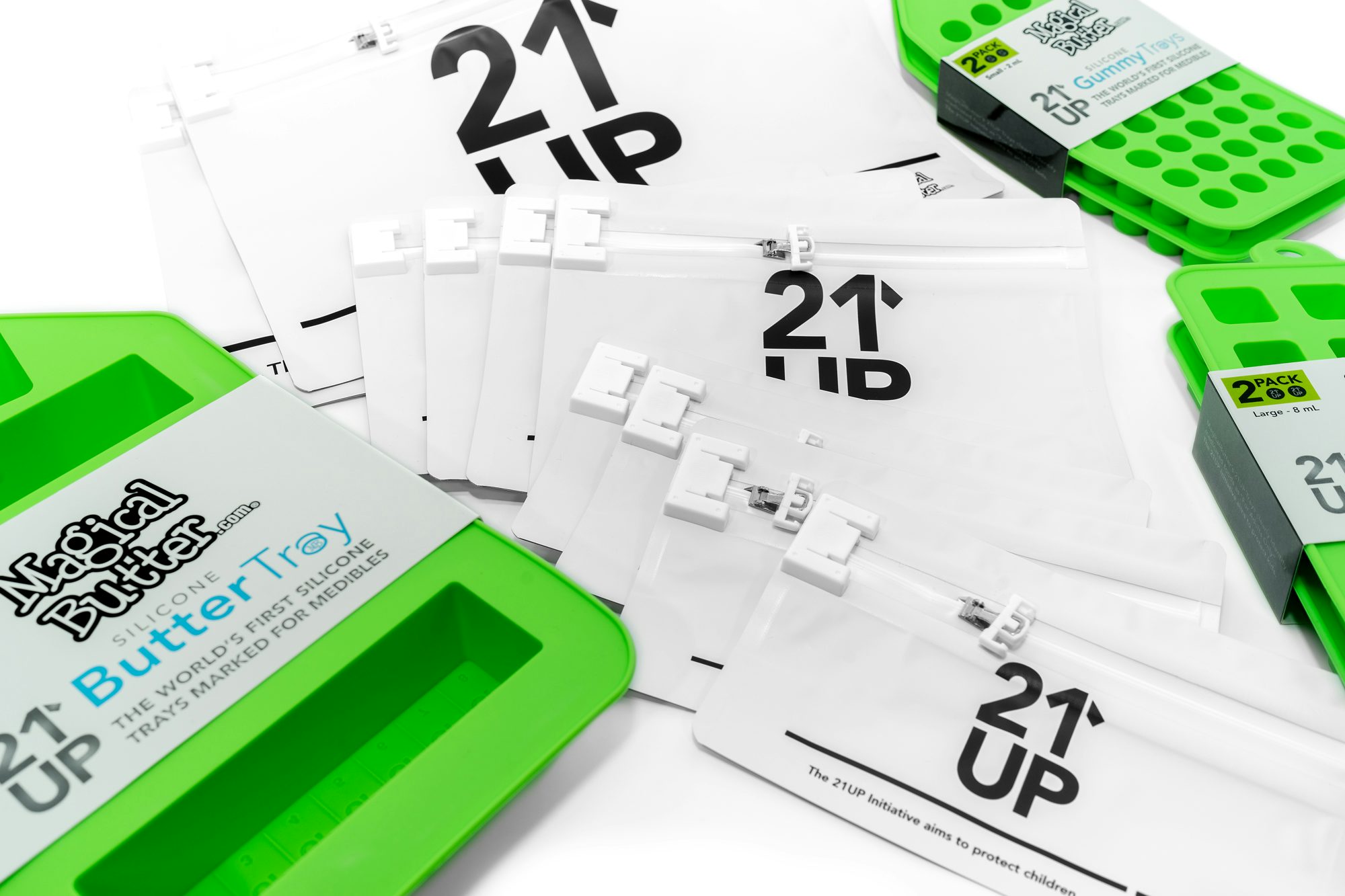 Aside from keeping your edibles out of the reach of children, MagicalButter's 21UP Exit Bags has plenty of other features to get excited about. Unlike regular zipped bags, the 21UP is air-tight and will lock in the freshness of every batch. The bags are aesthetically-pleasing, but not flashy enough to draw attention from a curious toddler or pre-teen.
Alone, MagicalButter's 21UP Exit Bags are very affordable. At most, you'll pay $12 for a pack of five large bags, or a package of five small bags for around $10. If you're really looking to save some money, the 21UP Bundles are your best bet.
The first 21UP Bundle, in particular, retails at $19.95 and comes with five 21UP Bags (1 LG, 2 MD, 2 SM) and a 2-pack of 21UP 8mL Gummy Trays. The second bundle, available for just $39.95, gets you ten 21UP Bags (2 LG, 4 MD, 4 SM), two 21UP MB Butter Trays, two 21UP 2mL Gummy Trays, and a 2-pack of 21UP 8mL Gummy Trays as well.
Like the 21UP Exit Bags, each of the flexible, nonstick silicone MagicalButter Trays unmistakably identifies medicated food — whether it be weed butter or candy — with the 21UP logo. That way, kids can tell what treats are for them, and which ones are for mom and dad. At the same time, law enforcement, parents, and dispensary owners can rest assured, knowing that their edibles won't wind up where they don't belong.