Has Trump Dug Too Deep A Hole For Himself?
A look at the numbers indicates that the Trump campaign is in dire straits — and it may already be too late for it to be saved.
Donald Trump's newly-installed campaign manager Kellyanne Conway said recently that the GOP nominee is actually winning the presidential race, due to a "hidden Trump vote" that the media purposefully overlooks. A look at the numbers, however, indicates that the Trump campaign is in dire straits — and it may already be too late for it to be saved.
National vs. State polling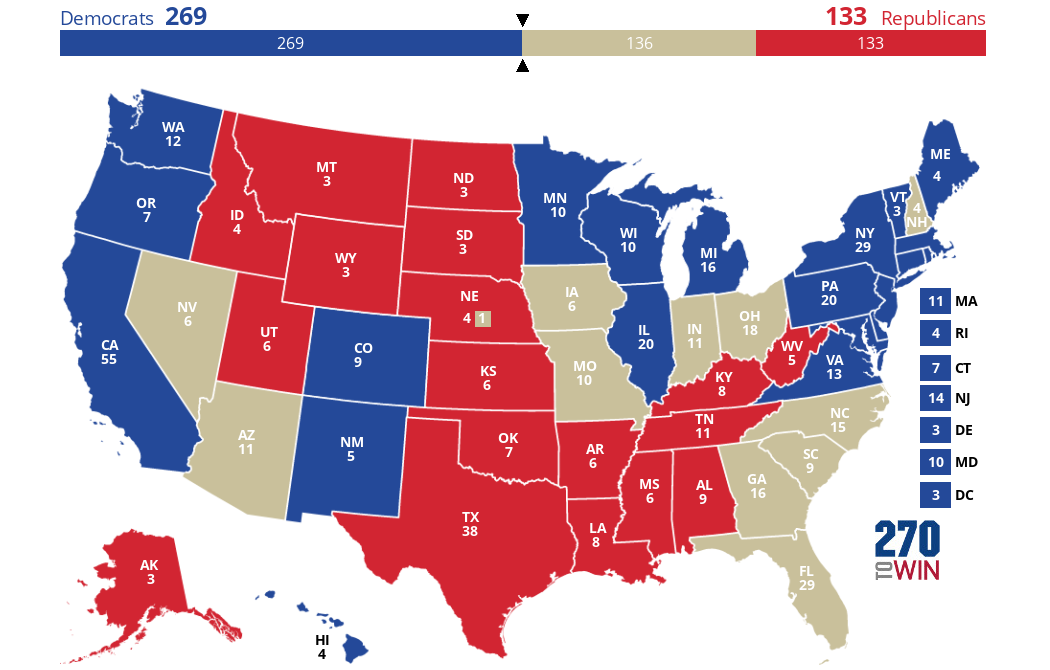 National polling indicates that Trump seems to actually have survived the dismal post-convention period in which his support appeared to have diminished following a series of unforced errors (most notably his picking a fight with a Gold Star family.)
During that time, the national numbers indicated that he was roughly 8-9 points behind former Secretary of State Hillary Clinton; more recent polling indicates that he has closed the gap, albeit narrowly, to around 5-7 points.
Yet, national polls are one thing, and state polls are another. Polling in individual states — the real barometer by which candidate leads should be judged — shows Clinton in the driver's seat to capture the Oval Office.
A quick glance at the map makes this clear: Even in the states in which Clinton has a lead of 8 or more points (marked in blue below), she is at 269 electoral votes, just one vote shy of the 270 needed to win the presidency.
In other words, all she has to do is pick off one of the remaining states — like New Hampshire, where HuffPollster's averages have her leading by a margin of roughly 5 points — in order to win.
Lack of support with key constituencies

Driving down deeper into the numbers, it's clear that Trump faces major issues with certain groups.
One example is with non-white voters. The country's changing demographics have led to the white vote — and its importance — measurably shrinking with every election that passes. As such, courting non-white voters has become that much more important to a winning presidential strategy.
Donald Trump does not perform well with non-white voters in many polls, both at the national and state levels. One recent Pew Research poll found Trump at 2% support nationally among black voters and at 26% among Hispanics.
Just how anemic Trump's performance has been with black voters was illustrated in an Ohio poll conducted in July by NBC News/Wall Street Journal/Marist, which found Trump garnering zero percent of the state's black vote.
To put that into perspective, Mitt Romney won 4% of Ohio's black voters in 2012, while running against the nation's first black president.
Trump also finds himself struggling winning women voters, particularly those who are unmarried. One recent poll found Clinton with a staggering 23-point lead among women, 58 percent to 35 percent. It illustrates the degree to which some of Trump's provocative rhetoric has served to turn off a swath of female voters.
I think the party is losing an entire generation of voters, especially young women. –  Jennifer Pierotti Lim, founder of Republican Women for Hillary.
A missing ground game

And then there is the issue of a ground game — the army of campaign volunteers across the country who work the phones, knock on doors, and do the legwork essential to driving prospective voters to the polls.
According to a recent assessment of the campaigns' respective ground games by PBS Newshour, Trump is getting clobbered when it comes to the establishment of campaign infrastructures that most campaigns would have had in place months ago.
[L]agging so far behind in infrastructure as the campaigns enter the post-Labor Day blitz is unprecedented. To win, the Trump team hopes that their candidate can rewrite the laws of the ground game.
But what about those silent Trump voters mentioned by the GOP candidate's campaign manager? Is it possible that a silent majority of Trump supporters will ride to the rescue on Election Day and capture the White House for the GOP candidate?
Kellyanne is good at this, but she's got a very damaged candidate and it's very late in the game. I think it's too late, in fact. I don't believe he can change. All of this is trying to trick voters into thinking there is a better Donald Trump out there. There is no better Donald Trump. – Tony Fratt, former George W. Bush press secretary
There is still time in this election for Trump to turn it around- the presidential debates still have yet to take place, and a major scandal or setback within the Clinton campaign could alter the dynamics. But the message is clear: Trump's campaign is on life support, and it may be too late to save it.
Do you think Donald Trump still has a chance to win the presidential election? Tell us why on Facebook, Twitter, or in the comments below.