Since joining the game, Willie Nelson's brand, Willie's Reserve, has been growing. Now, it turns out that his wife Annie is adding her own touch by launching a line of infused cannabis chocolates. Annie's Edibles are not only health conscious, but they are also strictly dosed. In fact, they are already available at many weed shops in Washington State. And if they're anything like Willie's products, then it won't be long until before they make their way to other legal states across the US.
Annie Nelson launches her own line of infused chocolates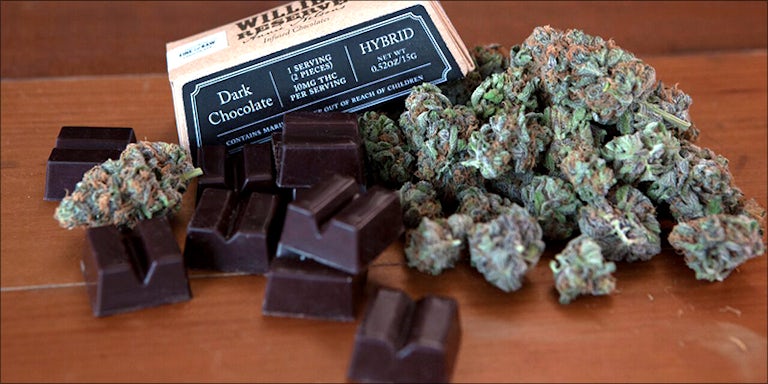 There's no stopping Willie Nelson's brand, Willie's Reserve. Now, it's expanding even further with the help of his wife, Annie.
As it turns out, Annie is creating a line of delicious chocolate edibles. Unlike most chocolates, these low-dose edibles are for the health conscious cannaisseur.
Willie's Reserve is available at various dispensaries in Colorado, Nevada, and Washington. The country singer's line will support Annie's Edible's but will feature their own unique branding.
Like Willie, Annie takes her ganja seriously. Her overall goal is to provide consumers, particularly with diet restrictions, with tasty chocolates that they can enjoy, but in a controllable way,
I make my infused chocolates for people who want to enjoy gourmet cannabis chocolate in a controllable way.

It's important that my chocolates are suitable for those with diet restrictions – whether someone is vegan, has Celiac Disease or gluten allergies, requires a low or balanced sweetener diet or if they have a low tolerance to cannabis they can still enjoy the benefits of my infused chocolates.
Annie's Edibles: for the health conscious connoisseur
If you thought Hershey made the best chocolate, then think again. Unlike Hershey, Annie's Edibles consist of carefully sourced ingredients,
Annie's Infused Chocolates are handcrafted, infused chocolates made from carefully sourced ingredients.

The chocolate comes from Fine & Raw Chocolate, who use consciously sourced ingredients and low-heat techniques to keep the chocolate's raw vitality and flavor.
Each piece comes with 5 milligrams of THC. With this in mind, users can easily control their consumption based on their tolerance.
Aside from the health conscious connoisseur, these chocolatey delights will satisfy practically any consumer. Microdosers can control their intake more efficiently, while experienced users can indulge as much as they'd like.