Yesterday, the world lost one of its most influential cannabis activists, breeders, and educators. Franco Loja, Strain Hunter and breeder at Green House Seed Company, died on January 2, 2017, at the age of 42. Franco was part of a legendary team led by Arjan Roskam which traveled the world in search of landrace cannabis seeds. Made famous by the documentary series Strain Hunters, Franco has made lasting contributions to mainstream and Intra-industry cannabis consciousness.
A memory of Franco Loja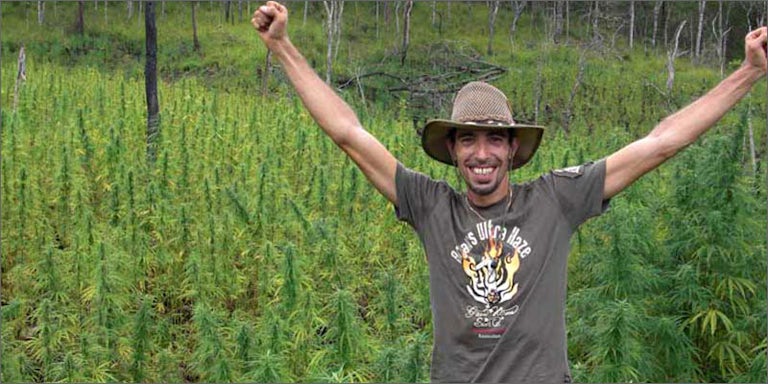 I met Franco Loja once. It was on a cold afternoon during the 2013 High Times Cannabis Cup. We sat at the back of the bustling Green House Seed Co. Coffeeshop, filled to the brim with judges eager to taste the year's entries.
The haziness of the room was amplified by streams of gray autumn light, which rushed through the seemingly revolving door. A joyous and electric buzz radiated the room, an excitement which Franco himself seemed to embody.
Franco's animation for cannabis was infectious. My colleague and I met him for an interview about Green House's Cup submissions, which included Flowerbomb Kush, a woody indica-dominant hybrid we sampled throughout our conversation.
Talking to an expert breeder about their best strains is fascinating, but it was Franco's wisdom for the cannabis plant's use in history and society that really stole the show.
Franco was a star and leader in Strain Hunters, a documentary series that chronicled the ways in which cannabis is used all over the world.
During the interview, Franco shared,
We felt that it was our duty not only to show what we do and the products we can cultivate, but also show the role of the cannabis plant in the places that we visit. […] For some people, cannabis represents the food that you put on your table every day. For others, cannabis is more spiritual, more elevated, more cultural.
The lives Franco has influenced in the cannabis space are not few and far between. Thousands watched (and will continue to watch) him on Strain Hunters. He was beloved by the international cannabis community for his contributions and expertise in the realms of growing, activism, and cannabis breeding.
Farewell, Franco
The Green House team has dedicated their website to Franco. In his honor, Green House has shared a little of Franco's philosophy, writing,
Cannabis is my passion, my bread, my home. I feel it is my duty to make sure this amazing plant is preserved and enjoyed. I am a smoker, a grower, a breeder, and a strain hunter. For life. – Franco Loja
The Green House team has added many famous strains into the world. Multi award-winning breeders, Green House is responsible for legends like Super Silver Haze, Neville's Haze, and White Widow. These strains remain some of the most popular among coffee shops, dispensaries, and growers alike.
I certainly do not know Franco well, or even at all.  However, I can say with confidence that he has been a strong positive force in the world and has provided invaluable contributions to the global cannabis scene.
Franco, you will be missed. May others continue to find inspiration in your work for generations.