If a good series and a bowl of herb sound like bliss to you, then this is the pearly gates. The world's biggest show now has some incredible strains that took inspiration from its characters. Get ready to light a fire, because winter is here.
Daenerys Targaryen + Mother of Dragons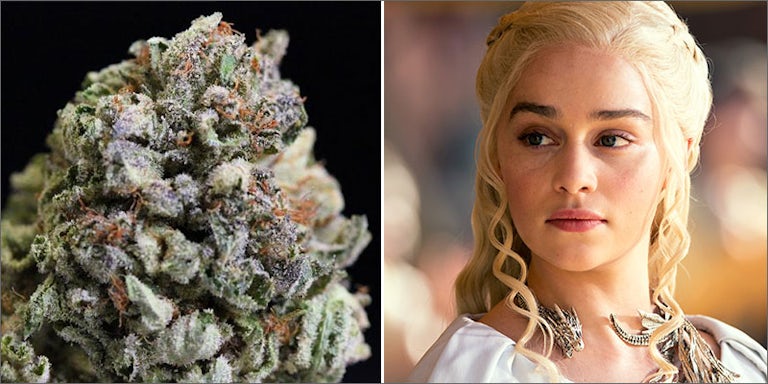 Daenerys Targaryen inspired this hybrid, a 50/50 mix of sativa and indica. The spicy grassy flavor takes the user soaring like a winged beast. Then, the skunky, kushy aromas settle the user down like a dragon resting on a pile of gold.
The high potency of 23-28% THC on average means anxiety for inexperienced smokers. The pale blue and gray buds remind one of a certain ivory figure in a flowing gown.
John Snow + Jack Frost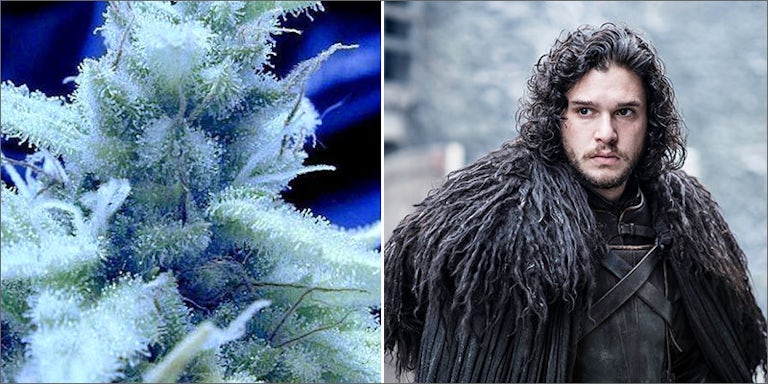 John Snow stands for good in a harsh time. Jack Frost, a strain mix of White Widow and Northern Lights #5, also uplifts the senses with an earthy, citrusy sweet aroma.
The sweet woodsy, piney flavors relax those suffering from anxiety or PTSD related to White Walkers. With a 22% THC potency and heavy sedation, it puts the user down with the quickness of a mutiny but lets them come back later for more.
Arya + Dirty Girl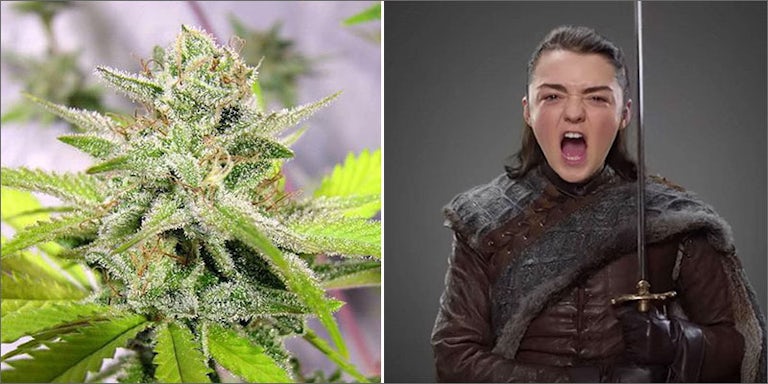 This young girl has a will of iron and a penchant for battle. Her strain is none other than Dirty Girl. A cross between Trainwreck and Cinderella 99, a perfect fit for a young woman who defies her given role to wreak havoc on her enemies.
As inspirational as the character, Dirty Girl will lift spirits with a flavor of sweet lemon candy and aromas of pineapples and citrus fruit. The strain is ideal for relieving depression and headaches, just like a spunky girl with a big knife and bigger ambition to make any father proud.
Cersei + White Siberian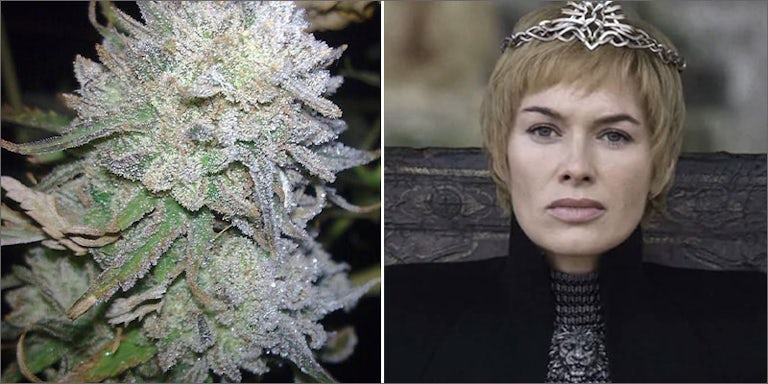 For the queen who stops at nothing, White Siberian is a perfect match. With a sweet aroma covering a bitter aftertaste, it combines White Widow with the fast flowering AK-47. High in CBD, this strain handles chronic pain like a queen, and also works for arthritis and PTSD.
Tyrion Lannister + Royal Dwarf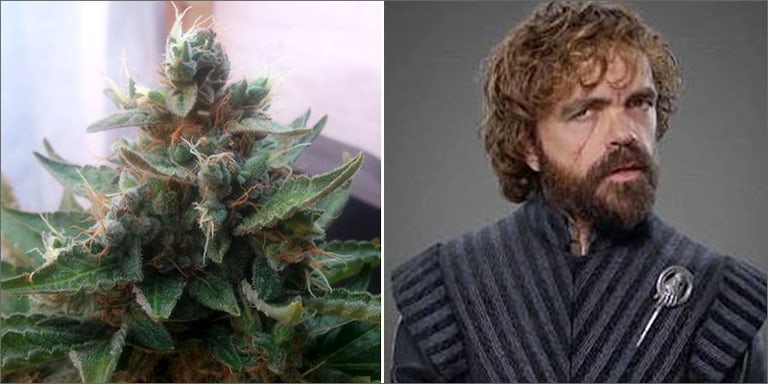 Formidable actor Peter Dinklage masters mental mayhem and intrigue as Tyrion Lannister. This character may be short in stature, but has a surprising strength, just like the strain that represents him.
Royal Queen seeds bred Royal Dwarf as a cross between Skunk and ruderalis genetics. The stout plant may flower quick and stay low to the ground, but it knows how to handle any smoking adversary. It relaxes the body from head to toe, dropping you to couch level stature. But with almost entirely physical effects, it leaves the mental faculties surprisingly sharp and clear, a clear advantage.