Pizza and weed. Name a more iconic duo – I'll wait. Grenco Science, creators of the G Pen, recently announced their latest collaboration and this one is as iconic as it gets. Celebrated Southern California eatery Pizzanista! is not your average pizza parlor. Which makes them the perfect collaborators for G Pen, as they aren't your average vape company. Check out the magic that happened when the two launched their new product on 420.
420 Pizzanista! Party
Pizzanista! is a pizza company like you've never seen. This So-Cal skateboard company doesn't sell boards, they sell pizza.
Founded in 2011 by skateboard pioneer Salman Agah, Pizzanista! is more than just a pizza shop, embracing artists, skaters, bands and the community through special events and collaborations.
In celebration of Pizzanista!'s new collaboration with G Pen, their downtown LA eatery hosted a psychedelic black light pizza party to coincide with 420 festivities, offering a specialized pizza in a limited edition pizza box alongside the G Pen Slim collection.
What was so special about the pizza?
G Pen and Pizzanista! together created the world's first cannabis leaf shaped pizza which was specially delivered to friends and tastemakers.
Doing this collaboration with G Pen is extremely timely, important, fun and meaningful. It's something I've been wanting to do for a long time, and I'm super stoked to see it come to fruition. – Agah
Pizzanista! + G Slim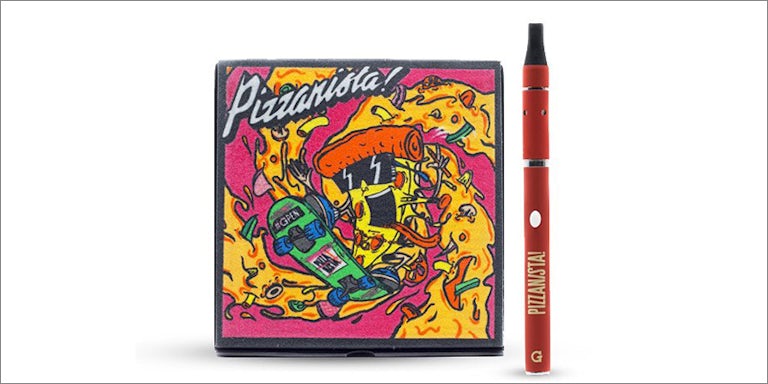 Sleek in form and specific in purpose, the G Pen succeeds to satisfy.
This limited edition G Slim vaporizer kit is delivered packaged inside a flocked blacklight-reflective mini pizza box, and includes a pizza slice-shaped grinder, rolling tray, two commemorative 3D magnets, and a resealable bag.
The Pizzanista! G Slim battery comes equipped with 3 separate tanks for ground material, liquid, and concentrates, and includes a USB charger. To accompany the kit, a limited edition Pizzanista! x G Pen t-shirt is also available, and you can buy the pizza slice grinder card separately, too.
To see more of this awesome event, and to check out the Pizzanista! G Pen Slim, go to GPen.com.