Russ Hudson knows that success is often born out of countless failures—especially when trying to break into an industry guarded by legal roadblocks. Now, Hudson spends his days smoking joints, sampling strains from all over the world, and getting paid handsomely to do so. But scoring this dream job required paying some dues.
On the long road to Hudson's now dream job as a cannabis consultant and tester, he "once lost a job at NASA for failing a drug test and later spent time in jail for cultivation and trafficking charges," according to one of his blog posts. When he was first getting into the marijuana industry in 2012, Colorado and Washington had just moved to legalize recreational cannabis. It was a watershed moment for the cannabis industry, but Hudson knew that without federal approval, the United States was a long way off from widespread acceptance. Instead of waiting out the gradual proliferation of the legal marijuana industry in the States, he decided to move to a country where marijuana laws were already fairly relaxed: Spain.
Russ Hudson is living every stoner's dream.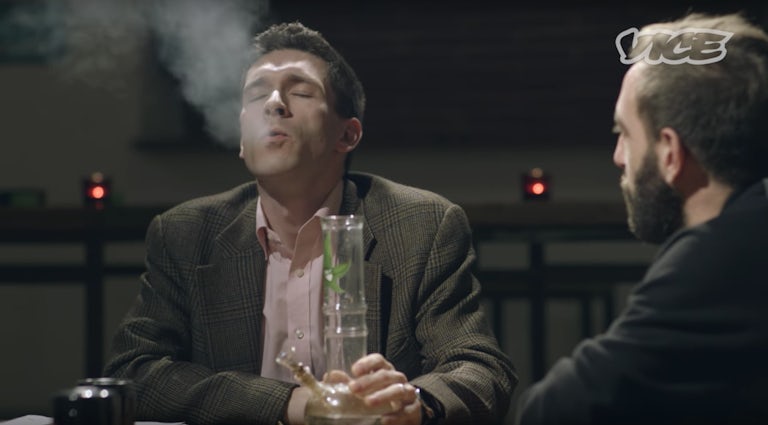 Despite its liberal tilt, Spain is home to a strange legal landscape for marijuana. Barcelona has permitted certain establishments, called cannabis clubs, to open their doors to marijuana smokers, providing a safe and legal space to consume marijuana. Marijuana enthusiasts can legally purchase five grams of marijuana per day from a cannabis club, but taking this product outside of the club crosses over into illegal territory. In Spain, transportation and cultivation of marijuana are illegal. Still, there are around 300 smoking clubs, some licensed, some not. It's in these clubs that Hudson smokes new strains of marijuana to test for quality, taste, aroma and psychotropic effects.
He wakes up, checks his email and rips milky tokes of top-tier bud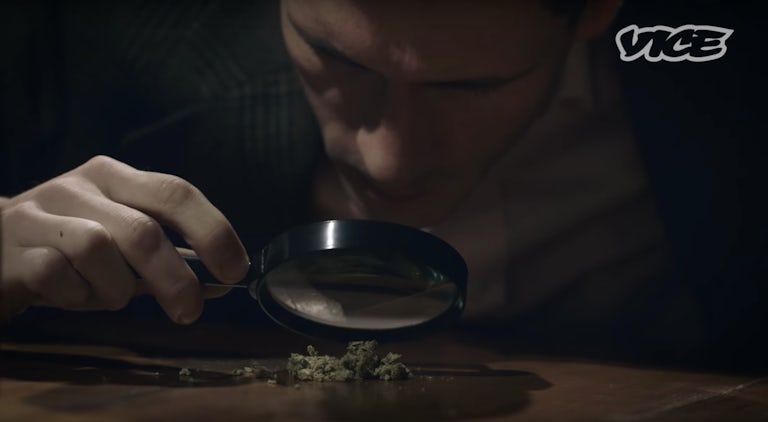 "I never thought when I was a 16-year-old kid who could barely roll a joint that one-day businesses that I respected and people that I respected would be respecting me in such a way that they wanted to know, 'what do you think of this weed?'" Says Hudson, in a video shot by VICE.
Hudson's official titles are the Director of CannaBizConsultant.com, and founder of MarijuanaGames.org. He starts his day early, checks his emails, then spends the rest of the day traveling to different cannabis clubs and meeting industry insiders. At the cannabis clubs, Hudson smokes out of a bong, then records his observations in a notebook that he'll use later to create an online and video strain review. He breaks his review process down into a few different components: Look and feel, smell and taste, potency and psychoactive effects, duration.
He also takes high-quality photographs of the marijuana.
Hudson's website is complete with a dispensaries, marijuana coffee shops, marijuana lawyers, and cannabis clubs directory. He hopes that this resource can be helpful to other marijuana enthusiasts and medical patients, like himself. Hudson uses medical marijuana to treat his PTSD from growing up homeless, and without parents. He's been self-medicating with marijuana since he was 13 years old. And even then, he was dedicated to sharing the medical marijuana experience with others: in a picture on marijuanagames.org, Hudson shows the truck he used to transport marijuana from Mexico to the Northeast United States before he became a marijuana tester and consultant.
Hudson believes marijuana improves just about every aspect of life, from playing chess, conducting business, to just watching movies. As he says in the video, "Recreational use is medical use. It's all the same."