Blunt smoke slowly unfurled around Sean Leon's golden grillz as he stood in an Adidas tracksuit, his shaggy curls framed in the white light of an industrial window. Sean passes me the blunt and his deep-set eyes widen.
"Compromise is up there with the word snitch for me," Leon says. "There aren't writers in a room with me trying to figure out how to say something catchy so we can get a bunch of people to buy a t-shirt."
In the post-Soundcloud world of over-compressed hi-hat stutters and mumbled codeine soliloquies, Sean Leon is a black sheep. He is one of the few upcoming rappers that act on the belief that truth-telling is more valuable than Instagram lifestyle porn. He also might be the only rapper in existence to credit The Smiths as a musical influence.
The chronicle of Sean Leon began among the uniform flatness of suburban sprawl. While the suburbs might conjure visions of stability for past generations, for Leon, the spaced brick homes of Ajax are associated with the type of loneliness that is unique to childhood. Growing up as a middle child, you can often feel alienated from your oldest and youngest siblings. You're not praised unless you do something outstanding. Nothing is handed to you. Growing up as the only boy in a household of four sisters only further complicates things.
Leon's brother was incarcerated, a point which is still hard for him to talk about. "A lot of the rappers that I grew up with were affected and destroyed by the war on drugs," Leon says. "It's tough growing up without your dad there or your brother there to show you the ropes."
Hip-hop has always taken the failures of the war on drugs and realities on the ground and transmitted them to those whose social status or geography sheltered them. In a 2013 interview with BuzzFeed, Marco Rubio likened rappers in the 90's to reporters documenting the lives of the people caught in the violence and social problems of LA and South Central. And while some of the viral hip-hop of today–the Gucci Gangs and the Pandas–have shifted the messaging of the music in a way that aligns more with the excesses of the privileged than the voices of struggling neighborhoods, Leon isn't about to let the most powerful function of Hip Hop die. In Canada, black people are incarcerated at a rate that is three times greater than their representation in general society. "I think a lot of times we can get tricked into wanting the success that other people want for us." Yes, Leon wants to build a legacy– but he won't build one that's cheap or hollow.
"In this race, I see racist faces
They wish to erase me, and leave no traces"
–Sean Leon, The Rat Race, C.C.W.M.T.T.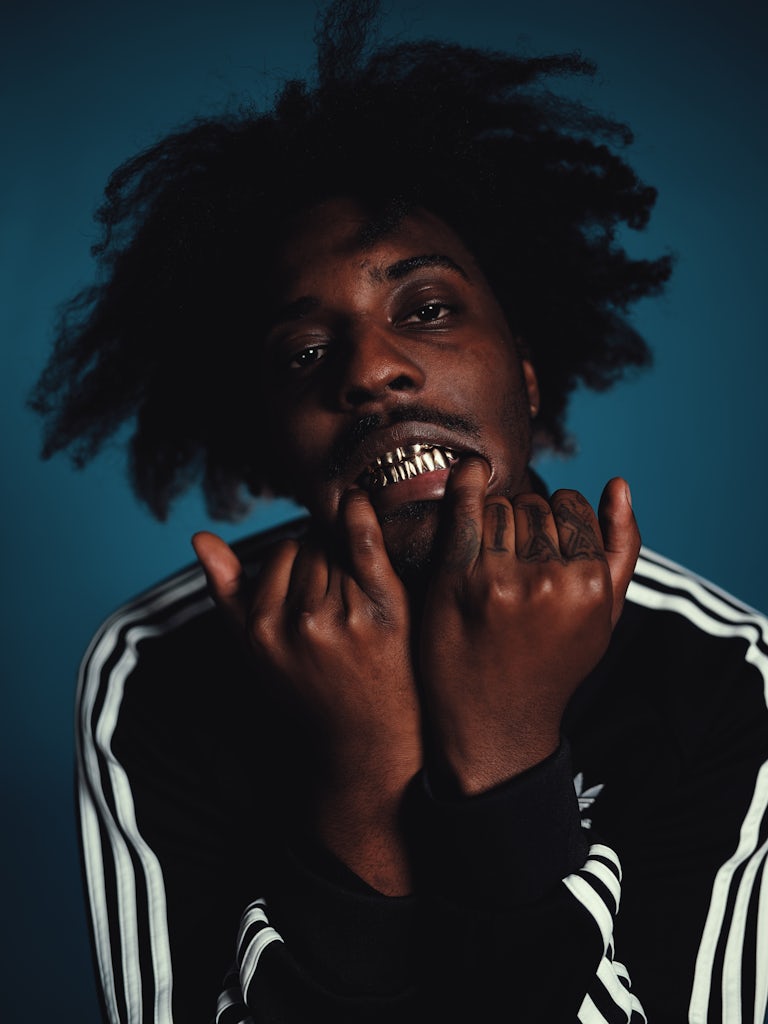 Photo by Connor Fyfe
Sean Leon turned his attention to music in ways that might seem extreme. He dropped out of school to spend 20 hour days at the studio. He went to house parties only to sit on the couch writing verses. He didn't mind missing out on things others deemed important. He lost a lot of friends.
"I have just always felt like the black sheep. I don't know if it's something I do to myself or if it's just the way fate has had it."
Since the release of Narcissus, The Drowning of Ego in 2014, Leon has existed below the waterline of popular culture. "We call the East End the Deep End because it can feel like you're drowning,"  says Leon. With an ominous visual and sonic tone, the release connected with the city's rap fans in a way that his previous releases hadn't. It transposed into music the mixture of frustration, listlessness, and debt that millennials trying to make their come ups were marinating in.
Taking chances is fuckin' up my credit up
I'm in debt so much at least the VISA debit up
I don't stress it, I won't let it get to us
Flexing with my next of kins and working like a Mexican
–Sean Leon, Laying Low, C.C.W.M.T.T.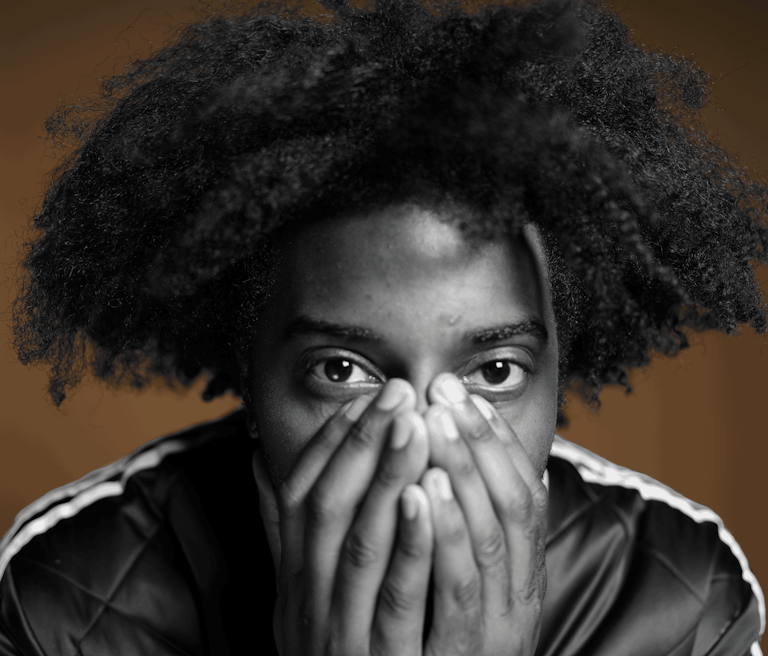 Image by Connor Fyfe
Just a year earlier, Leon had founded the IXXI Collective in his mother's basement, an artists collective that would include his friend Daniel Caesar. "It was never about being a rap group or a music group. It was a collective of people who wanted to make things. You could be whatever you wanted to be or make whatever you wanted to make. It was a bunch of kids that wanted to do it differently."
On the surface, in the post-Pop&B landscape of Toronto, staying independent would appear in some ways to be a radical act. Toronto has for all musical purposes become a two-party system—OVO Sound and XO, both recruiting and endorsing R&B and rap artists bubbling up from the city's underground. But to an artist like Leon, who exerts the same control over his work that a director would exert over their film, staying independent until the right moment feels more natural than walking the party line.
In the East End, "the only thing to do was fuck, smoke weed and go to the movies." As a teenager, Leon found himself working as a projectionist. Perched in the little glass window, he watched films run so many times he practically studied them. He soon became a musician that thinks like a director. He became involved in every part of the process of his art beyond writing: art direction, engineering, show-booking. He began seeing his music as a multi-sensory experience. Which makes sense—what many people don't know about Sean is that he has synesthesia. When he listens to music, he sees colors.
Leon talks to me on the phone over the buzz of a tattoo machine. He was getting ink in celebration of the release of C.C.W.M.T.T. –the second installment of The Black Sheep Nirvana Trilogy. And while his time is fast approaching, he remembers the sacrifice it took to get here.
In 2016, Sean Leon was kicked out of his mother's house following repeated disagreements. He had recently become a father. He remembers pushing his daughter in a stroller past brown-bricked buildings and the discolored signs of last-leg variety stores thinking about the day the asphalt would stop softening under his feet. He was homeless at the time, trying to balance the new responsibility of fatherhood and the struggles of remaining an artist in one of the most expensive cities in the country. He remembers the day his cell phone got disconnected. He remembers the nights he spent sleeping at McDonald's.
At the time he was working on I Think You've Gone Mad (Or Sins Of The Father). "I put everything into that album because I wanted it to save my life," Leon says, "and in a way it did." In many ways, the album was a litmus test. How many forces of doubt can an artist suffer and still remain uncompromised? "That was a scary time, but it made me closer to the ground. I still feel like it was my way up or my way on or my way out. Doubt is such a vital part of being an artist and the best part of making music is when the dust settles and you realize you have surprised yourself."  The gentle hum of the tattoo machine stops. "You know, diamonds are made under pressure."
How do we connect?
If I ain't pay my phone bill in some time
How do we connect?
Standing for public WiFi
Waiting for my phone to reconnect
How do we connect?
–Sean Leon, King St. West, C.C.W.M.T.T.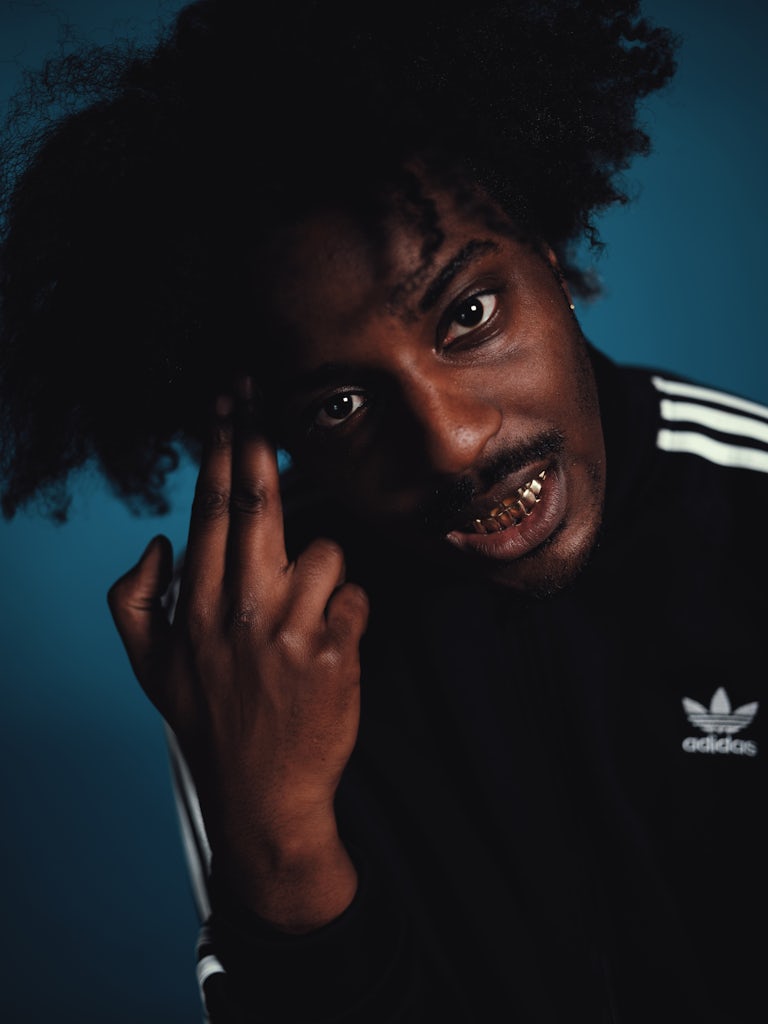 Photo By Connor Fyfe
Sean Leon now lives in Parkdale, a neighborhood you can almost watch change in real-time as gentrification creeps through the city. Parkdale has long served as a starting point for transplants, immigrants, and refugees. Now, ethnic grocery stores are giving way to chic cafes with minimalist aesthetics. As rental prices rise, artists are moving west in search of affordable apartments.
His latest release C.C.W.M.T.T. is in many ways a departure piece. The album opens with lush harmonies and Sean's pitched up voice nearly crying "I hope you know before I leave, I tried. Let my tombstone read, I tried". It reminds me of something Leon said to me earlier that day. "Sometimes not getting any help is the biggest help. It makes you self-sufficient, it makes you an independent thinker, it makes you an individual and that counts for something." This album isn't about coming to terms with trauma. His past work has accomplished that.
C.C.W.M.T.T. is about pouring salt over his shoulder and leaving the past where it belongs– behind him.
As smoke uncoils from the tip of the golden blunt, I try to catch Leon's attention to pass it back to him. His eyes look at the glass buildings beyond the fire escape. He isn't thinking about the cameras in the room, or the people six stories below or the piney flavor of the OG Kush.
He's thinking about how far into the distance he can see. He knows what happens next.