Sipping on your weed isn't exactly an unprecedented way to get high. From pot-infused coffee pods to cannabis water, you can spike practically any form of liquid with THC. Heck, you can drink a fancy cocktail that contains the good ol' chronic. On the other hand, we all know combining weed and alcohol often produces effects that are way too intense. Rebel Coast is here to help.
Introducing alcohol-free, weed wine for a classy high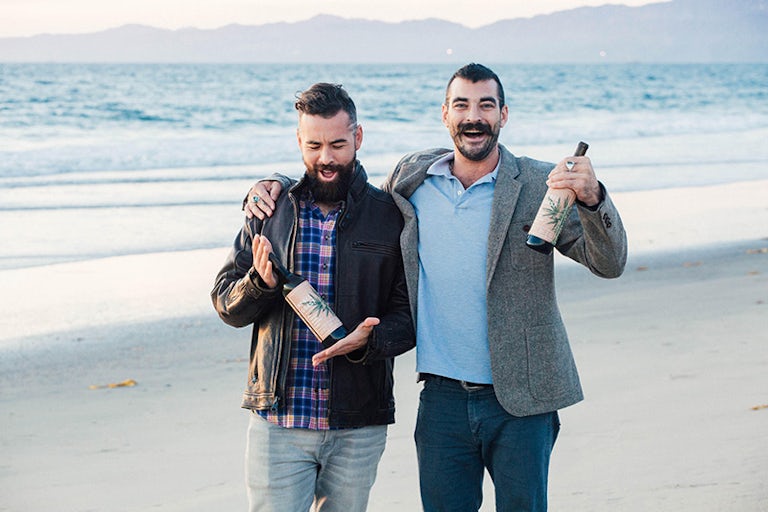 Who doesn't love puffing on a joint and sipping on a glass of fine wine? Between the combination of flavors and the lovely little buzz you get from the two, many fans will agree that weed wine is a natural invention.
In fact, the grapes that are used to make wine and marijuana happen to enjoy the same climate. The plants harvest around the same time as well. That's made it pretty easy for winemakers to spend time merging the two into a single product, but weed wine has not come without its hurdles.
At the present time, marijuana and alcohol can legally never be in the same place at the same time. Although products do exist that contain both pot and booze, most have a THC content as low as one percent and aren't designed to get you high.
There's also the fact that combining alcohol with cannabis can lead to some pretty undesirable and overly intense effects. And often times, a killer hangover the next day.
So is there a way around this madness? Can a drinkable high be achieved without adding alcohol? Why yes, it can, thanks to the world's first alcohol-free weed wine, a THC-infused sauvignon blanc.
"Why don't we make the wine, remove the alcohol, then infuse it with marijuana?!"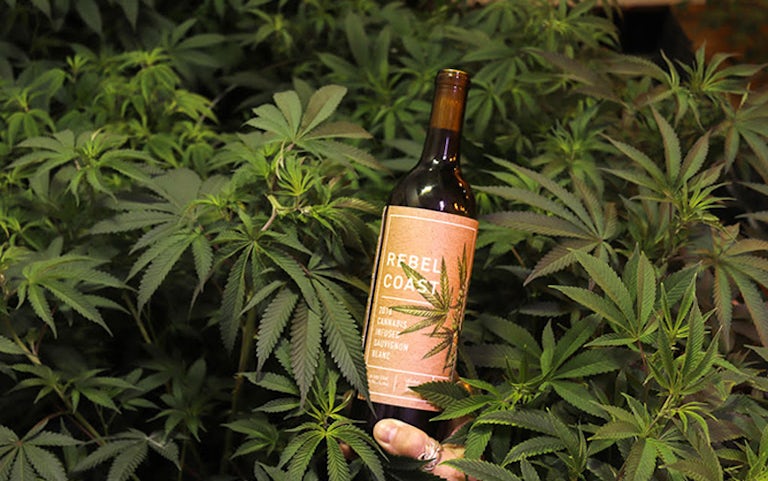 Talk about the pinnacle of human achievement. Come January of 2018 (hopefully), Rebel Coast Winery will launch the cannabis sauvignon blanc in California as the state's new recreational weed laws go into effect.
Each bottle of their weed wine contains 16 milligrams of THC, which equals roughly 4 milligrams a serving. So yes, you will catch a nice buzz, but nothing over the top.
"Our goal is not to kill you after you've had a few glasses," says Rebel Coast. On the contrary, the goal is to "get giggly and naked with someone. We set out to mimic the experience you'd find with traditional wine; a couple glasses will put most people in a great place," according to the company.
Will it taste like weed? Nope, but you'll definitely catch a whiff of that herbal aroma you know and love. According to the website, the weed wine is an authentic California Sauvignon Blanc, meaning it has bright citrus flavors with a crisp, clean finish. "The sauvignon blanc powers the mouthfeel, while the marijuana powers the nose," says Rebel Coast.
Where do you sign up?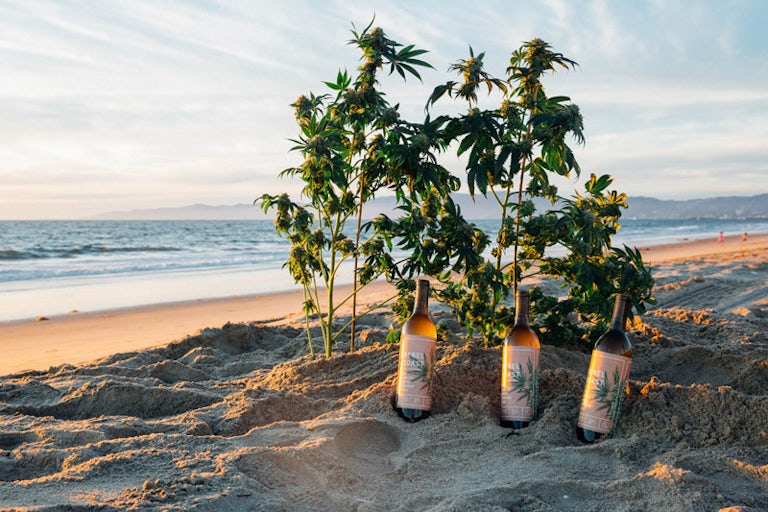 As for the price tag, the cannabis-infused sauvignon blanc costs way more than your average bottle of Barefoot at $59.99, to be exact. But for a bottle of wine that gets you high and contains zero alcohol, we'll take ten.
To grab a bottle of Rebel Coast Winery's weed wine, despite it being booze-free, you will need to be at least 21 or older. (That will be the case for all adults in California who want to buy recreational marijuana products in 2018.) California residents can get their pre-orders in early and have their bottle delivered right to their door come January. The winery also plans on having the cannabis sauvignon blanc stocked in over 500 dispensaries across the Golden State.
As for folks in other states, stay tuned. Rebel Coast plans to get a bottle, or several, into your hands sometime in the near future. In the meantime, you can enjoy some of the company's non-infused wines like their "Sunday Funday Rose" or "Lost By Choice," a red blend. There are also CBD-infused wines to look forward to, which contain all the medicinal potential of CBD without the high.