Brides and grooms-to-be filled Denver's Point Gallery on Sunday for the historic, first ever 21+ Cannabis Wedding Expo. Vendors from all over the state attended the event to display cannabis friendly options for food, drinks, gifts, flowers, and photography for couples interested in a marijuana themed wedding.
Since marijuana has been legal in Colorado for two years, couples now have the option of incorporating marijuana in their special day.
All three floors of the Gallery were packed with over 25 different marijuana-friendly vendors, showing off a variety of marijuana themed wedding options, including marijuana-infused refreshments, budtenders to serve wedding guests the perfect bud for the perfect occasion, ganja-inspired decorations, and of course, cannabis style party favors.
Nice day for a Weed Wedding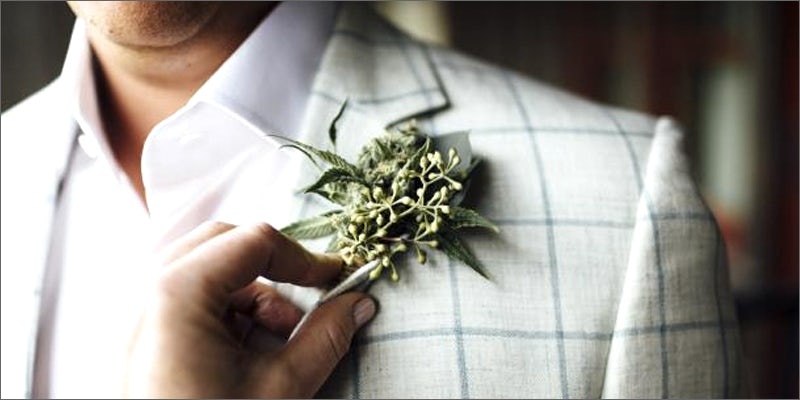 Bec Koop, a florist who lives in Denver, Colorado, came up with the idea for a cannabis themed wedding back in 2014. Koop started Colorado's first cannabis florist, Buds & Blossoms, selling a unique variety of cannabis incorporated wedding flowers with everything from bouquets to boutonnières
As demand increased for cannabis-themed wedding flowers, Koop decided to start Cannabis Concierge Events, a wedding planning company, which would help couples incorporate cannabis into their special day.
On January 17, Koop joined together with Love and Marij, a marijuana-friendly dating site, to sponsor the world's first cannabis wedding expo, and the turnout was remarkable.
Don't forget to tip your budtender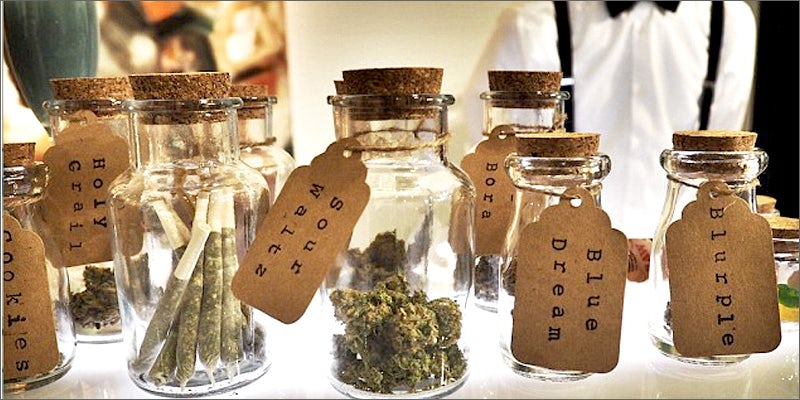 The Cannabis Wedding Expo allowed couples to get a sneak peak into what is called, a "bud bar." Each "bud bar" will be run by a budtender, a sort of bartender if you will, who will advise guests about the various marijuana strains available to them. Guests will then be able to choose a strain that best suits them and best suits the occasion.
For couples who are planning their wedding at a non-smoking venue, alternatives to smoking, such as edibles, are available as well.
Alternatives for the non-partakers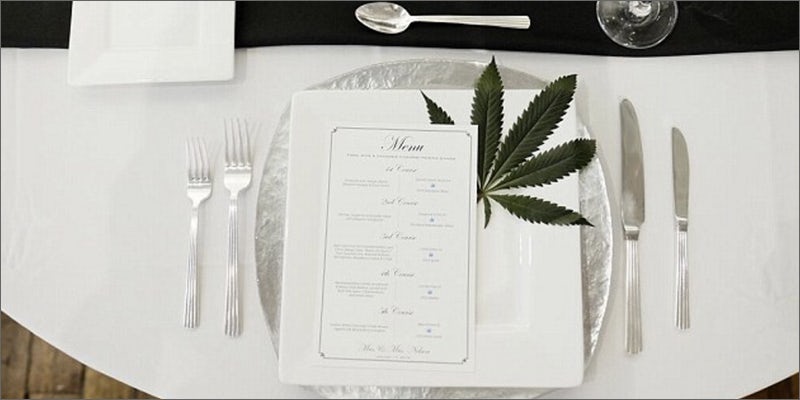 Expo Attendees also learned that they can still incorporate cannabis into their weddings even if their guests do not part-take in marijuana-like activities.
From table decorations to candle holders, couples discovered all of the unique ways to make marijuana a part of their special day without getting high.
For wedding guests coming from out of state, non-THC options for party favors, like hemp products, could be given out as well. For Guests, who may be recovering alcoholics, or even the bride and groom themselves who don't want any alcohol at their wedding, cannabis weddings are the perfect alternative for those who want to consume marijuana instead.
Cannabis weddings are certainly taking off, and as more states legalize marijuana, more weddings will surely become cannabis friendly events.
Would you incorporate cannabis in your wedding? Let us know on social media or leave us a note in the comments section below.