While California cities can't exactly avoid legalization—personal possession and use is still legal, regardless—they are allowed to ban weed stores. This has created a patchwork of pot availability throughout the state.
The general trend is that more liberal coastal areas have opted to allow pot shops, but many more conservative towns in the interior have banned them. There are still areas in California where you have to drive for hours to find the nearest legal marijuana for sale. And there are areas where there are seemingly weed outlets on every corner.
Here are the 10 cities which have issued the most retail licenses to sell cannabis per 10,000 residents. (This pot shop ratio analysis excludes cities with fewer than 10,000 residents.)
Top 10 Cities In California With The Highest Pot Shop Ratio
1. Shasta Lake: 5.78
Scenic Shasta Lake is far and away the "highest" city in California when it comes to the number of pot shops per 10,000 people. Shasta Lake (the body of water, not the town) is the largest reservoir in the state, at 30,000 acres. The town has a population of 10,386. With six licenses awarded, that's a pot shop ratio of 5.78 licenses per 10,000 residents.
2. Desert Hot Springs: 3.78
Riverside County's Desert Hot Springs is home to 29,111 residents. With elevated views of the Coachella Valley and surrounded by thousands of acres of gorgeous mountains, "DHS," as the locals call it, is considered a spa destination. It's also a marijuana destination, with a pot shop ratio of 3.78 licenses per 10,000 residents.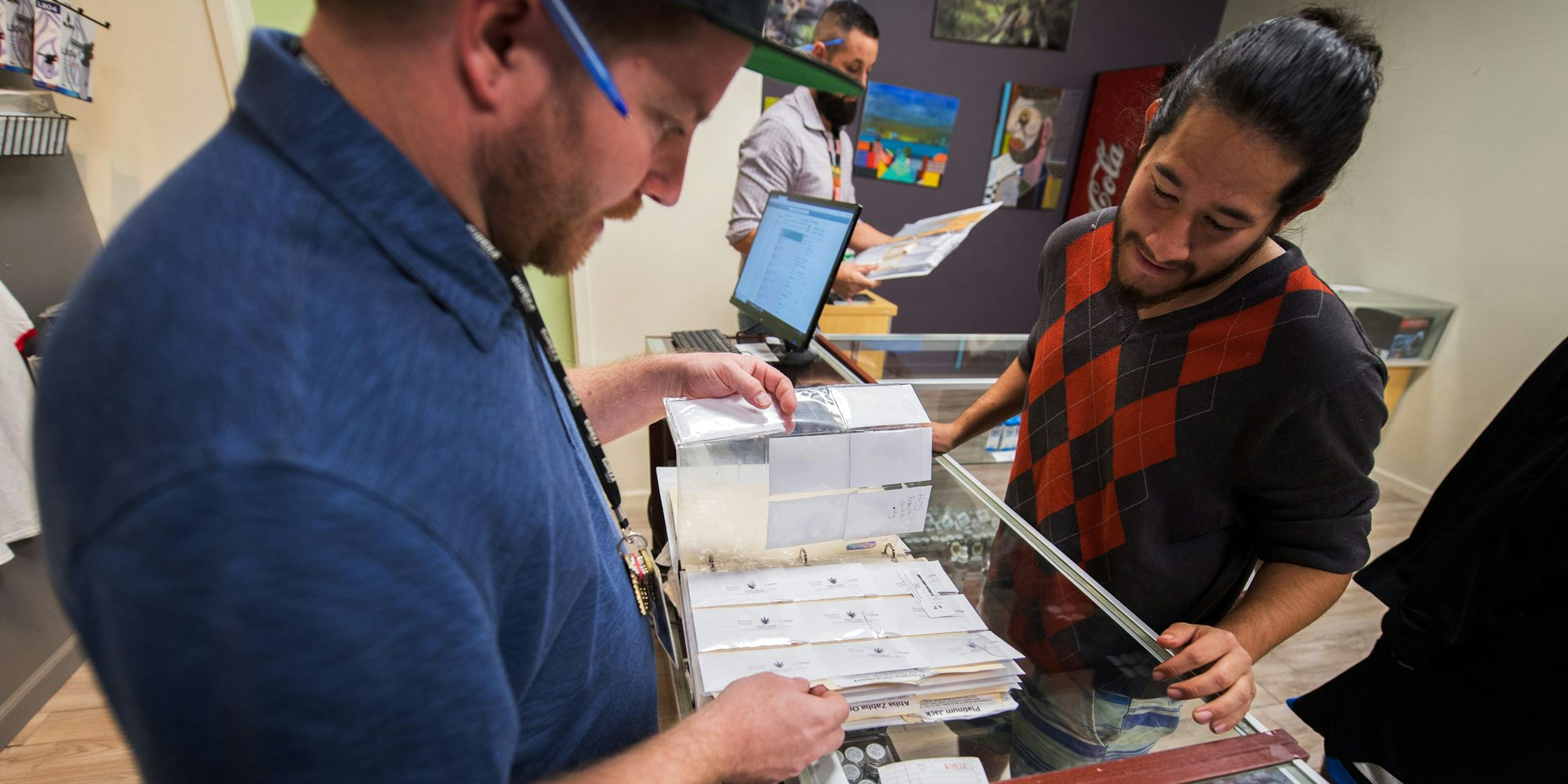 3. Cathedral City: 3.67
Hot on fellow Riverside County rival DHS's heels is Cathedral City, with a pot shop ratio of 3.67 licenses per 10,000 residents. It's an impressive ranking for a municipality of Cathedral City's considerable size, at 54,557 residents. That's the second biggest population in the Coachella Valley, behind only Indio.
4. Ukiah: 3.06
Ukiah may have only 16,314 residents, but those residents have plenty of places to buy weed with a pot shop ratio of 3.06 licenses per 10,000 people. The county seat of weed-friendly Mendocino County, Ukiah has historically also been associated with a major wine production industry. Let's hope those pot shops feature plenty of that sweet Mendo weed.
5. Patterson 2.20
Unassuming Patterson, California, a town of 22,730 in Staislaus County, does have at least one claim to fame. It's known as the "Apricot Capital of the World." Every year, the town holds an Apricot Festival to highlight that fact. Now the celebration can incorporate weed, as well, with a pot shop ratio of 2.20 dispensaries per 10,000 residents.
6. Palm Springs: 2.11
Desert resort city Palm Springs already attracted plenty of tourists before legalization with its scenic canyons, hiking, mountains, and an aerial tramway. The town now also has a pot shop ratio of 2.11 licenses per 10,000 residents. With 47,379 people living there, that means there's yet another good reason to visit and enjoy the scenery.
7. Vallejo: 1.85
Vallejo, with 118,280 residents, is the biggest city so far in the Top 10, measured by pot shop ratio to population. A waterfront city in Solano County, Vallejo is located in the North Bay subregion of the San Francisco Bay area. Local attractions include the Six Flags Discovery Kingdom and the San Pablo Bay National Wildlife Preserve. Well, that and the fact that it's got a pot shop ratio of 1.85 licenses per 10,000 residents. That means there's about 20 pot shops in town.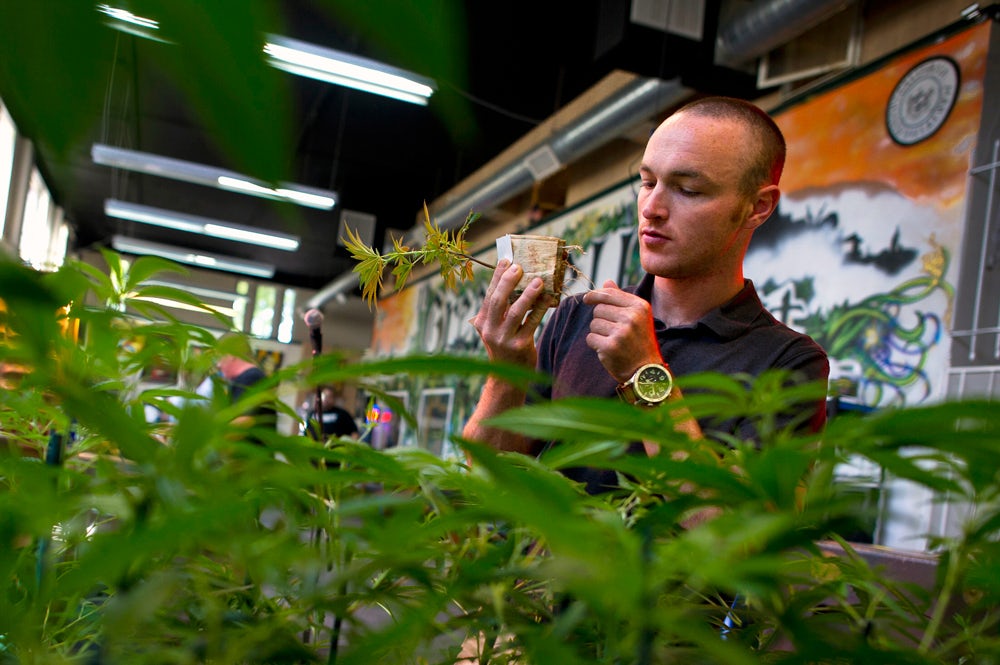 8. West Hollywood: 1.67
West Hollywood, affectionately called WeHo, is home of the legendary Sunset Strip. Besides the glitz and glamor, the city is also considered a vibrant center of LGBTQ culture. Unsurprisingly, WeHo has no shortage of dispensaries, with a pot shop ratio of 1.67 licenses per 10,000 people and a population of 35,882.
9. Santa Cruz: 1.54
Santa Cruz is situated on the northern edge of Monterey Bay, about 75 miles south of San Francisco. The Santa Cruz Beach Boardwalk and Santa Cruz Wharf provide iconic seaside amusements, including souvenir shops and eats. The city also boasts a pot shop ratio of 1.54 licenses per 10,000 residents. With 65,070 people in town, that means good weed access.
10. Eureka: 1.47
Eureka is the principal city and county seat of legendary Humboldt County, home of some of the finest cannabis in the world. It's not a major metropolis, with just 27,120 people, but it does have a nice pot shop ratio at 1.47 per 10,000. If you visit one of those pot shops, ask for something locally grown.