Let's get personal for a moment here. If you love bud and you love sex putting the two together has only taken you higher and higher, right? Pot has been being used as an aphrodisiac as far back as the 12th century.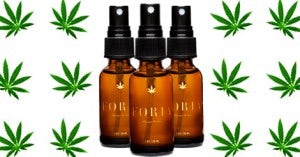 Aphrodite Group, a California medical marijuana collective that specializes in making new and exciting ways to get you high, recently developed a product called Foria. Foria is a therapeutic oil specifically made to use as a lubricant. It's made of 100% natural liquid coconut oil and completely purified medical-grade cannabis oil. It is designed for women but can be used as a topical lubricant for men and women and can be ingested as well.
Foria is:
– Scent-free!
– Good for your skin!
– Antimicrobial
And is offered in:
– A 30 ml spray bottle = about 30 servings ($88)
– A 5 ml spray bottle = about 5 servings ($24)
Women who smoke regularly reported little psychoactive effects when using it as a topical lubricant. What a bummer… however, if taken orally you will experience a similar high to eating pot edibles! Each spray of the lube has 2mg of THC and Aphrodite Group suggests 6 sprays as the serving size. Just 30 minutes of foreplay will have you and your partner higher than your favorite bubbler – but don't forget that letter of recommendation from a doctor in California!
Foria. The First Marijuana Infused Personal Lubricant for Her Pleasure is Here. from Foria on Vimeo.
Sources:
Cannabis Culture
By: Ashley Stuteville