If all goes according to plan, July 1st will mark the first day of legal recreational marijuana sales in Las Vegas. The city is poised to reap significant economic benefits and additional tourism that could even usurp 2016's record-breaking 42.9M visitors to the area. Given Las Vegas' perplexing combination of conservative vs. Sin City values, residents, and tourists are wondering what they can expect from the world's adult playground once recreational marijuana into the mix.
Are Las Vegas dispensaries ready to handle thousands of new customers?
To get a handle on this, HERB caught up with a major player in the Nevada cannabis industry scene, Andrew Jolley. Jolley is the Nevada Dispensary Association president, the CEO and Board of Director for Nevada Organic Remedies which owns The+Source medical marijuana dispensary's two Vegas locations.
He has also been appointed to the Nevada Green Ribbon Advisory Panel, a group responsible for reviewing, analyzing and making reasonable recommendations toward the establishment of retail marijuana. Hands down, Jolley is the go-to guy for the best insights on the future of cannabis in the Las Vegas valley.
On July 1, medical marijuana dispensaries will divide their inventory into recreational and medical. I asked Jolley how prepared The+Source and other dispensaries will be to handle the slew of new customers and which measures The+Source, in particular, is taking to handle the influx.
Within the medical marijuana program, all of the facilities I am aware of have been built out with a lot of attention to detail and have placed efficiency and attention to detail as a high priority.

So, the existing medical dispensaries who will also do a license as recreational will be able to handle the influx of customers very well. Just from a traffic and flow perspective and customer experience perspective, I think we'll be in very good shape.

The other thing we've done is make sure we have enough product and to make sure we have enough staff. All the people I've been talking to have been hiring new employees to accommodate the future expansion. – Jolley
What will the numbers look like?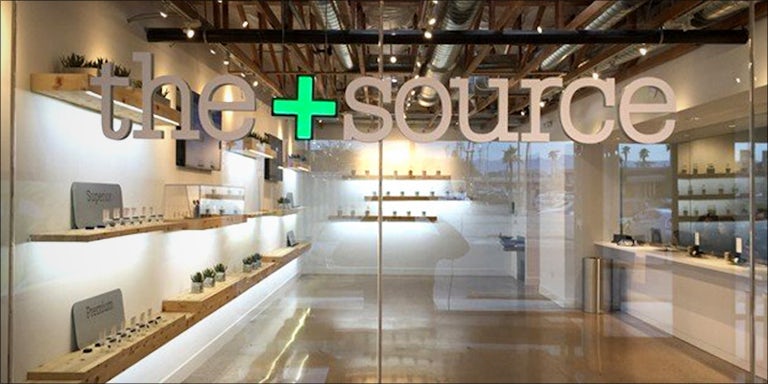 As far as volume goes, Jolley says it's hard to predict how many customers Las Vegas dispensaries will see, but he's optimistic about the numbers after looking at states like Colorado, Washington, and Oregon as examples of turnout for rec sales.
My personal feeling is that we'll see a 2-3 times increase overall but I could be way off. The medical program has been way smaller than predicted. We only have about 27,000 enrolled in the medical program and everyone expected that to be at least double that number, so it remains to be seen.
Jolley points to the fact that a great deal of Las Vegas residents regularly use marijuana for medicinal purposes, but haven't wanted to go through the process of getting a state-issued MMJ card.
I think those people will come out of the woodwork, in addition to the recreational user.
Will all products available to medical marijuana patients be available to recreational users?
When asked about what consumers and tourists can expect as far as product availability, and potential limitations on those products, Jolley says that overall customers should have access to all of the same products currently carried under Nevada's medical marijuana program.
However, there will be a few distinctions with respect to dosing requirements for edibles and cannabis-infused products.
As of June 13, Nevada's Governor Brian Sandoval has signed off on a bill (SB344) that would outlaw lollipops and other edibles that could appeal to children. According to the Nevada Legislature's website,
Any packaging which bears a likeness of a real or fictional person, animal or fruits including caricatures or cartoons.
Otherwise, Jolley states that "Product selection from flower, to concentrates to edibles to vapor will stay pretty much the same."
When will people be able to smoke marijuana on the Strip legally?
As with other states that have legalized recreational marijuana, public consumption and use in gaming establishments will continue to be banned until further notice, making it especially difficult for Vegas tourists to take advantage of the new law.
With other newly recreational states struggling to make social smoking avenues a reality, I asked if he sees an opportunity for Vegas to lead the way on this issue. Jolley doesn't see this happening overnight but is optimistic that elected officials and community leaders will eventually become more comfortable with the idea.
I do think Nevada will become a leader in cannabis issues in general and specifically in public consumption.
As part of the Clark County Green Ribbon Panel, made up of people from the cannabis industry and the Nevada gaming industry, Jolley has seen a surprising amount of support from the gaming industry for consumption lounges so that people do have the ability to consume in a legal and safe space.
I do see a very strong support for consumption lounges to address the very issue you're bringing up which is how to allow our 43 million annual tourists to consume marijuana legally given that it's legal in the state now. – Jolly
It's an optimistic position, given that the Gaming Commission said as recently as March that they don't intend to alter their stance when it comes to permitting cannabis use on their properties.
It's a thorny issue, it's an issue that needs to be fleshed out and really worked on and for that reason, I think it's going to take a few months to get there. But I think that municipalities like the Strip can pass their own ordinances allowing for consumption lounges and I am hoping that they are willing and able to do that.
Look out for part 2, where Andrew Jolley gives his views on the current anti-marijuana rhetoric coming from the Trump administration and what it could mean for Las Vegas.