New Hampshire's state Senate Minority Leader, Jeff Woodburn, wants his fellow lawmakers to reconsider legalizing recreational cannabis and he's now launched a petition to demand the Granite State embrace legal marijuana.
"We're in the business of listening to what the people want," Woodburn told the Concord Monitor, "and we need to get our heads out of the sand and recognize the reality that all of our neighbors are moving towards."
Polling from the University of New Hampshire shows that 56 percent of the state's voters approve of legalization. The issue has even split registered Republicans with 49 percent in favor of recreational marijuana.
Woodburn's petition, which was launched on Sunday (July 1st) demands that the states Governor Chris Sununu push for legal weed in New Hampshire. The Democratic Senator hopes to collect 5,000 signatures by August and another 5,000 by the fall according to the Monitor. He's also promised to introduce new legislation to legalize if he is re-elected in November, reviving a previously stalled attempt from earlier in the year.
In January, the possibility of legalization in New Hampshire looked promising with the states House of Representatives voting of 207 to 139 in favor of a bill which would have legalized possession and cultivation for those over 21.
But when the bill went back to the House Ways and Means Committee for approval in March, it was stopped in its tracks. The House then reversed its support, voting in March to send the bill to an "interim study" which is expected to be released in November.
At the time, even Woodburn wasn't exactly optimistic about the level of support legalization was receiving with his colleagues. But now he thinks there's no reason for New Hampshire to wait, despite the fact that several of his fellow lawmakers, including Democrats like House Minority Leader Steve Shurtleff, are still hesitant to make a move until the study is finalized in November.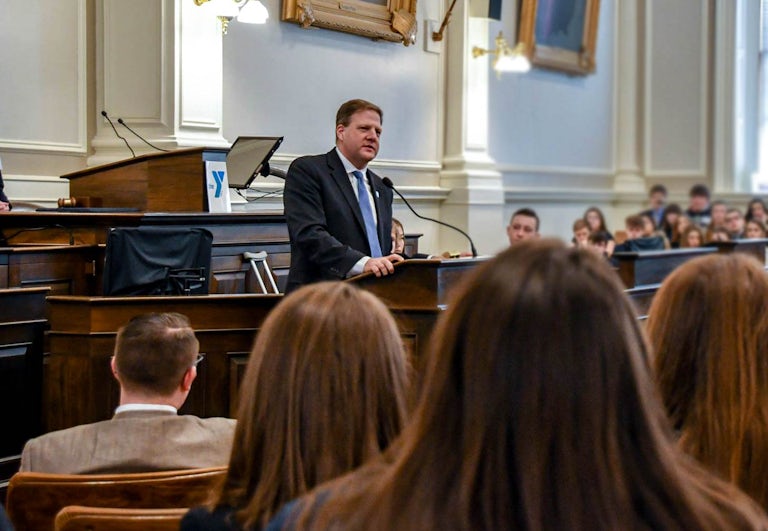 Then there is Republican Governor Chris Sununu, who voiced his opposition to legalization in January. Sununu told the Monitor that he believes that recreational cannabis is creating problems in states that have legalized.
However, in 2017, Sununu signed a decriminalization bill into law which removed prison time as a punishment for simple possession and ordered police not to arrest those who are only charged with possession. The law also lowered the fine for possession of up to three-quarters of an ounce from $2,000 to $100.
And a lot has changed since January. In June, the New Hampshire Democratic Party embraced legalization of marijuana as part of their party platform and New Hampshire is now the only state in New England not to have legalized and implemented recreational marijuana which could pressure lawmakers into falling in line with neighboring states.