Some Indicas will knock you right into the couch. For some, this herb might be one of them. For others, this silly strain provides a focused and euphoric experience. Bred by Barney's Farm Seeds, the Violator Kush marijuana strain provides a medium sedative high that promotes pleasant conversation. Pick up this strain before a dinner party—if you can handle the high, of course.
Violator Kush Experience
Unless you count giggle fits and waves of sleepiness as an assault, this strain is a pleasant and all-around good-natured flower. This strain may have an unfortunate name, but it really is quite lovely.
Bred by Barney's Farm Seeds, the Violator Kush marijuana strain is a potent yet friendly Indica that is known to stimulate conversation. This strain is sociable and talkative in low doses.
The more you partake, however, the more sedative and narcotic-like this strain becomes. If you're hoping to catch up on some sleep or relax after a long day, take at least two solid puffs of this euphoric flower.
Marijuana fans can enjoy this strain in a number of different ways, including;
Violator Kush Oil Pens may be available from select brands, like CO2 Honey Oil.

Violator Kush shatter, Violator Kush wax, and other Violator Kush concentrates are also available from a number of retailers.
Traits of Violator Kush and Violator Kush Seeds
A cross between Malana and Hindu Kush, this strain is sedative and drowsy. However, most consumers can expect some serious giggles and a jolly good time with friends.
Potent, this flower produces between 18 and 23 percent THC. Due to the high THC content and its sedative effects, this flower is recommended for those with some cannabis experience.
Novice consumers may find this bud particularly sedative and may find themselves stuck to the couch or ready for a nap.
This strain's aroma has a forest quality. Warm woody scents are met with a dusky earthiness and plenty of dank, sour pungency.
Taking strongly after its Kush lineage, this strain would make excellent hash for those who like to press or extract at home. Expect trichomes galore from these nugs! Marijuana growers can find Seeds from Barney's Farm.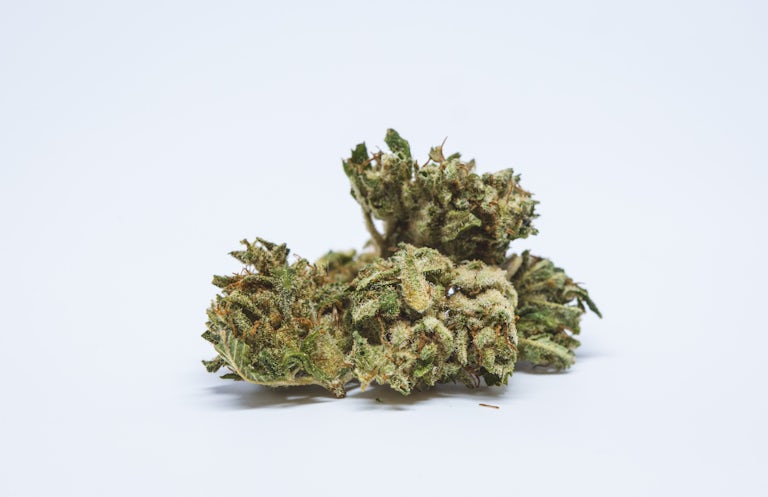 Why do people use Violator Kush?
Any type of slow, fun task that does not require too much thought would be an excellent activity to pair with Violator Kush.
Painting, easygoing gardening, fishing, lounging in the park, or enjoying a beer or two at home with friends would all make excellent companions for Violator Kush.
Many medical cannabis consumers also appreciate the pain-relieving properties of this bud. Violator Kush tends to provide an easy body sensation that is comfortably heavy and numbing.
Those who struggle with insomnia will also find a friend in this strain. Though there are heavier indicas out there, this one can cause some heavy lids, making it a great pre-bedtime treat.
Medical Benefits of Violator Kush
Far from the aggressive experience its name might suggest, this herb packs some heavy duty therapeutic effects that can help medical marijuana patients manage more chronic conditions.
Medical cannabis patients often pick up this bud for its strong pain relieving properties

The Violator Kush strain does provide a deeply physical body high, making it easier to move stiff muscles and forget about discomfort

This strain also tends to cause an increase in appetite, potentially making it useful for those with eating disorders. Of course, insomnia also does not stand a chance with this bud