For the newcomers out there, welcome. For those of you familiar with this strain, dope right? Hopefully, we can make it easy to understand and fall in love with this little nug of Wedding Cake. Although in Canada it is referred to as Pink Cookies.
The parents of this strain emphasize the indica, while also ensuring the Sativas are not forgotten when it comes to their effects. This potent mixture of both Sativa and indica creates an upbeat high that combines cerebral stimulation with strong medicinal properties. Let's talk some details about this tasty potent strain. 
What Is Wedding Cake?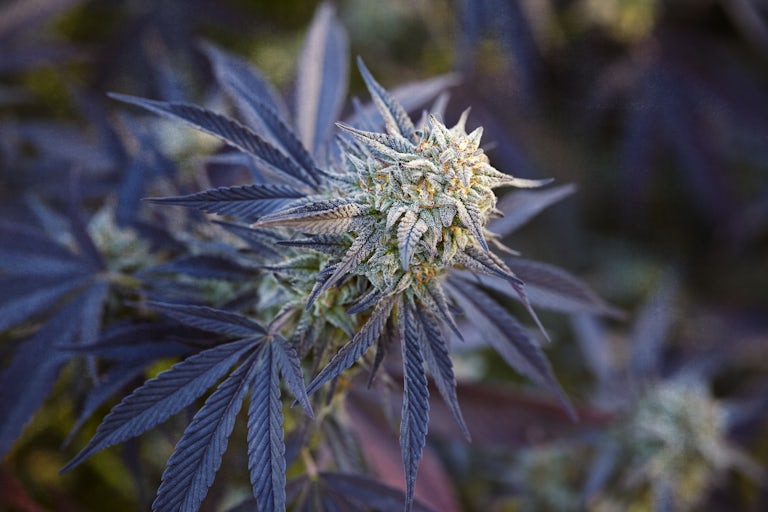 In short, it is an indica-dominant strain.
In detail, Wedding Cake is a hybrid crossed between the lovemaking of Chery Pie and Girl Scout Cookies (GSC). On the other hand, there are some growers who believe it is a cross between Animal Mints and Triangle Kush. Wedding Cake is a strain that provides relaxation and peacefulness. This flower is nicknamed Wedding Cake for its sweet, fruity aroma and taste that resembles the scent of honeyed cake.  
 This strain is recommended highly for its therapeutic properties. The indica side of the strain relaxes you while the Sativa side keeps your mind sharp, or at least coherent. It has a very high THC level of 25-27%. If a beginner or someone with a low tolerance smokes it, they will likely find themselves overwhelmed by the effects.
Wedding Cake's Effects
Knowing it is an indica-dominant hybrid is what gives aways some of its characteristics. Indicas tend to be more relaxing while the Sative traits keep you more alert. As they say, indica leaves you in da couch. Not sure if there is one about Sativa, but let's move on. 
The indica sided traits contribute to a more stoner stereotype because it leaves you with that dumb high smile we all get stuck with. It's actually quite beautiful. Your muscles will clearly feel the effect more than your mind, but that is where the Sativa comes in. 
Although not in great portions, the Sativa traits contribute greatly to the uplifting and euphoric effects of the whole hybrid. Together these characteristics help manage and/or relieve anxiety, stress, and depression. And speaking of depression, don't forget to keep some water with you, indicas are known to cause dry mouth and nobody wants that.  
Terpene Profile Of Wedding Cake
Grown in tropical conditions, this plant boasts spicy sourness and an earthy aroma that blends well with a pungent peppery taste on exhale. Wedding Cake has a peppery, spicy sourness that complements the earthy tones in its aroma. When you smoke this strain, it gives off a slightly peppery, spicy aroma along with earthy tones, which combine to create a rather pungent smell, luckily the sweet earthy tones carry through nicely.
The major terpenes Myrcene, Beta-Caryophyllene, Linalool, and Humulene contribute greatly to the earthy, citrus, and fruity aroma and flavors. But of course, the most abundant terpene is Limonene, can you guess what flavor that creates? The perfect combination of a sweet and herbal profile, this strain is quite popular as it creates a balanced high, and dynamic flavor.
Wedding Cake's Family Tree
With the massive cross-breeding that will always happen and continue to create new strains, Wedding Cake has a complex family tree. Believed to be parented from GSC and Cherry Pie, two indica dominant hybrids, Wedding Cake brings the best of both worlds. This lineage follows indica dominant hybrids through OG Kush and Granddaddy Purple, pure Sativa Durban Poison (lesser bits of Lemon Thai and Chemdawg), with a small portion of the indicas Hindu Kush and Purple Urkle. 
The Sative portion of this lovechild, Durban Poison, is the side that keeps you more alert while the bits of Lemon Thai and Chemdawg take your imagination far away. As for the indica dominant hybrid side, there is an existential list of every hybrids lineage to have to go through to understand the traits carried in Wedding Cake. It's much easier just to smoke it. Even easier to eat it.
And just like any family, there are ascendants. Wedding cake happens to be the base for a plethora of different strains. It carries this magnitude of characteristics that appeal to many stoners. Wedding Cake gives birth to Ice Cream Cake and LA Kush Cake, primarily. Again, with cross-breeding, finding something pure can be a bit of a challenge.
Variations Of Wedding Cake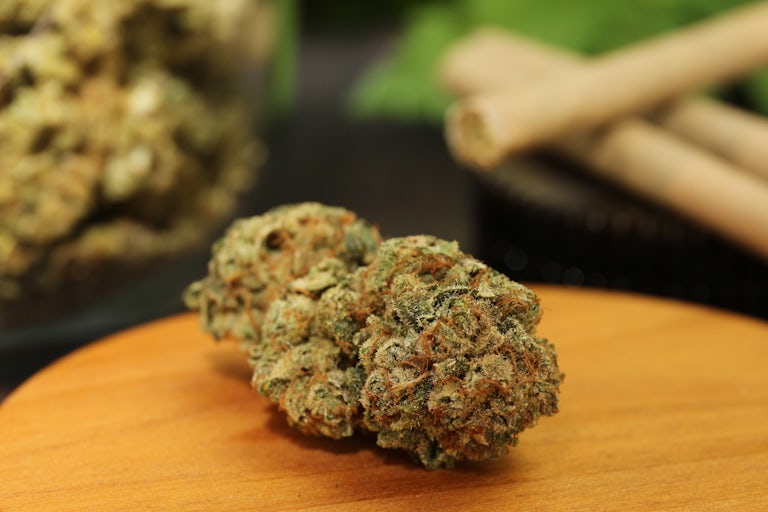 Different grow methods heavily affect the potency and variation of strains. Though the parents may be the same for some, most, none, or all, the way he/she/they was brought up is what makes him/her/them different. And if you were not aware by now, the plant can be either male or female (but we include everyone). Not surprisingly though, female plants tend to be more potent than males. But again, it all depends on its cultivation.
Some variations of Wedding Cake, as follows, can be created with the same or different parents. We all love the swingers. Most, if not all, of these, are indica-dominant strains. Few, if any, are balanced hybrids.
Birthday Cake – GSC + Cherry Pie

Gelato Cake – Wedding Cake + Gelato

Purple Wedding Cake – GSC + Cherry pie

Platinum Wedding Cake – Wedding Cake + Platinum OG

Beach Wedding Cake – Wedding Cake + Tropicana Cookies

Blackberry Cake – Wedding Cake + Black Domina + Durban

Chocolate Wedding Cake – Mint Chocolate Chip + Ice Cream Cake

Strawberry Wedding Cake – Chronic + White Widow + Cheese

Cherry Cake – Cherry Pie + GSC

Sour Wedding Cake – Sour Deisel + Wedding Cake
Growing Wedding Cakes
Just like any marriage, it takes plenty of hard work and dedication to growing Wedding Cake seeds. However, if handled with tender love and patience, you'll produce a heavy yield of white-coated flowers with a golf ball-like density that belies Cookies' genetics. 
Wedding Cake hits the spot nicely. It's a great yielder and with its pure, unadulterated potency, you'll feel like you hit the jackpot. If you're ready to exchange vows, you'll need to pass one test first, actually finding the seeds. 
Times have changed in the grow department so it actually might be easier to find seeds. Places like these offer some sick variety and greatly grow guides (try saying that 3 times fast). Following a seed banks' grow guide is extremely important to the outcome of your child. I mean, plant. Same shit. Wedding Cake may not be the first-timers go-to choice, but it really is a pretty simple flower to grow.  
Where To Buy Wedding Cake
So if you made it this far down the road, I should probably tell you where you might be able to find Wedding Cake. All these are available on Eaze and you'll get them delivered to you in no time. Use HERB30 and get $30 off your first order!
Best Wedding Cake Flower
Best Wedding Cake Pre-Rolls
Best Wedding Cake Carts
Final Words
Wrapping up, Wedding Cake is the perfect potent strain to relax while keeping your head right. Fill the tub with hot water, drop some CBD bath bombs in there, roll up a fat one, and enjoy the purest form of self-care.