So you want to order some seeds to grow dank and delicious marijuana. Sadly, not every grower has the luxury of having a seed shop in their city, but that's alright because there's still the world wide web. Ordering marijuana seeds online and having them shipped to your door is just as convenient as having a neighborhood seed bank. From high CBD seeds to low odor varieties, any strain you want in your garden, you can purchase from the comfort of your computer. Online, there are so many seed shops, too many really, where you can browse through their strain selection until you find the winners, and then, fill out your information, hit submit, and wait for your soon-to-be-flowers to arrive. But first, you have to choose the right seed bank.
Not every seed bank ships worldwide and not every seed bank has high-quality genetics, so you don't want to shop for your seeds just anywhere. It's a huge let down when you think you've found "the one," only to discover that they don't deliver to your residence. What's worse is ending up with bad seeds that will never grow because you bought them from an unreliable company. Regardless of where you reside in the world, this handy-dandy guide will steer you to the best online seed bank so that you don't waste any time and can get growing asap.
Best Seed Banks in USA
Growing weed in the US of A? If so, then you have plenty of options for online seed banks. Dispensaries in legal states sometimes sell seeds. There are also some seed banks, based in legal states, which will ship anywhere in the U.S. The most options, however, exist overseas. A lot of companies will gladly ship their seeds internationally to anyone who's of legal age (21 or older). Cannabis is still illegal on a federal level so there is the risk of having your seeds snatched by customs. But don't stress it too much. These companies ship discreetly to lower the odds. Moreover, some offer "Guaranteed Delivery" for a couple of dollars extra, which ensures that if your order is seized, you'll get another sent out for free. Below are the best online seed banks that will ship to cannabis cultivators around the US.
Best Seed Banks that Ship to USA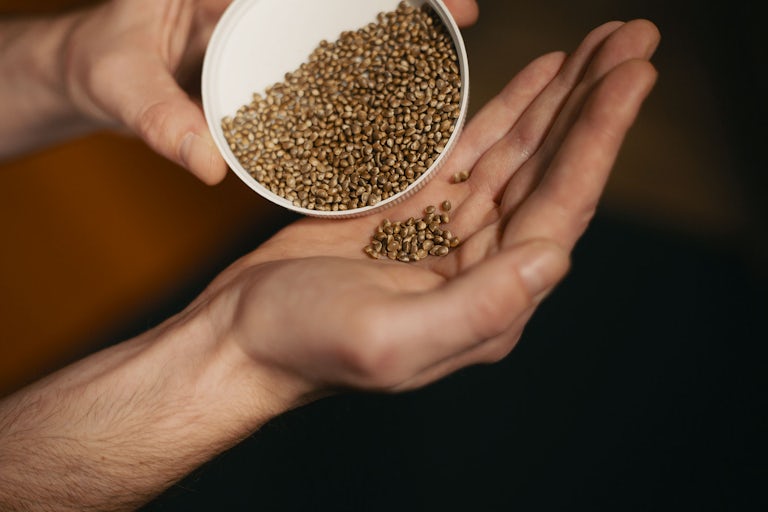 Seedsman
Based in Barcelona, Spain, Seedsman is one of several online seed banks that ships to the USA. Their seed library is extensive and features a lot of everything, from feminized to autoflowering to regular seeds. They have more precise collections, too, such as indoor seeds, high yielding seeds, low THC seeds, and much more. For shipping, they'll either send them in a plain, protective envelope, a DVD case for added security or something else for longer deliveries. Seedsman also has all sorts of promos, including one where you score eight free seeds when you spend over 50 bucks. The more you pay, the more free seeds you get.
Nirvana Shop, located in Haarlem, Netherlands, is home to a variety of top-notch marijuana seeds, all shippable to the US. While browsing, you can get super specific with your search and look up strains by their effects, flavor, THC/CBD level, grow difficulty, and more. Their selection includes over 40 different strains, many of which you'll recognize, like the legendary Girl Scout Cookies and OG Kush. Nirvana Shop also has discounts on specific strains each week. Subscribe to their newsletter to stay in the loop on all the deals and promos they have coming up.
Peterborough, UK's Seeds Supreme has some of the stealthiest delivery options to appeal to US residents, especially those in states where weed is illegal. Depending on the size of your order and what they have available, the company will either hide your seeds in a t-shirt, pen, tote bag, or a toy or gift of some sorts, sealed of course. They offer Guaranteed Delivery too which means they'll send you another order free of charge if the first is obtained by customs. Their seed selection is massive and features a Haze strain line, a Cheese line, Diesel strains, and plenty more.
GYO Seedbank is a relatively new company, but are recognized as one of the most trusted and reliable online seed banks that ships to the USA. With their 2,500 strain library, which consists of GYO Seedbank seeds and seeds from other leading breeders, you're destined to find the seeds you want, and maybe a few you didn't even know existed. Their site contains information about the history of some of the popular strains like Blueberry and Lowryder, plus info about Indicas and Sativas in general in case you need inspiration. For frequent shoppers, there's a membership available that grants you special rewards and discounts, plus free tracked shipping. But you don't need a membership to score awesome deals, there's always a special going on, so anyone can save some money at GYO Seedbank, and get free seeds to top it off.
Best Canadian Seed Bank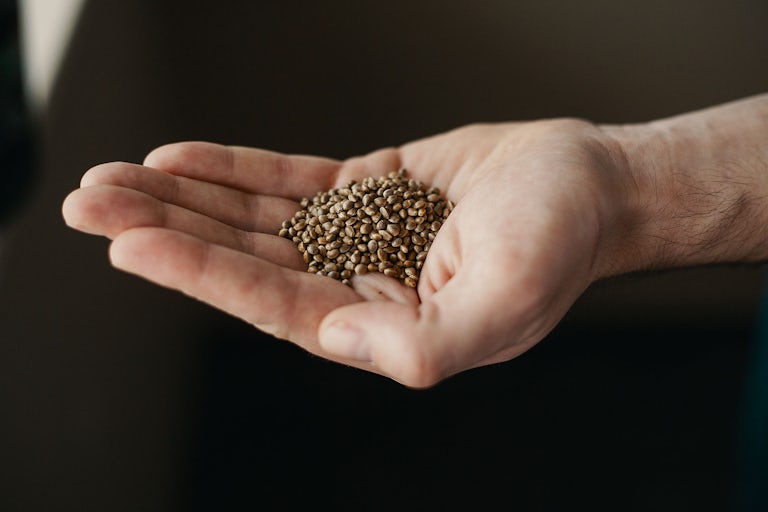 Best Ontario Seed Bank
True North Seed Bank
True North Seed Bank is Toronto-based and delivers not just to the US, but worldwide. When you spend as little as $1 at this online seed shop, you get your choice of 2 regular, 1 feminized, or 1 autofem pack of seeds free. Spend over $199, and you get even more freebies. True North Seed Bank has a comprehensive strain range that you can comb through by medical condition, flavor/taste, effect, plant height, etc. Moreover, they have Guaranteed Delivery insurance for Canadian and US citizens, as well as Extra Safe Shipping options, from metal tins to wallets.
Best BC Seed Bank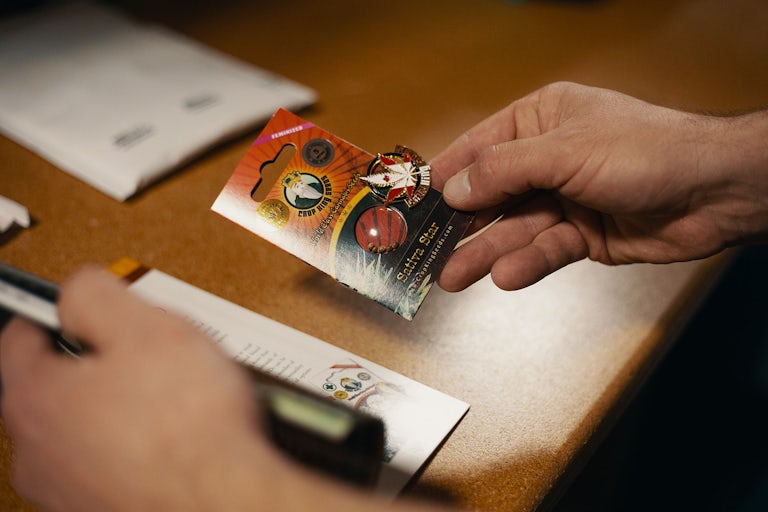 Vancouver's Crop King Seeds doesn't have the largest selection of weed seeds, but they do have some of the best for CBD, autoflower fem, fem, and regular strain types. Two of their newest releases are Sour Girl, a high-yield and high-THC 70% sativa strain, and Sativa Star, a 90% sativa strain that's versatile and can be grown inside and out. Anywhere in Canada, you can have Crop King Seeds shipped to your door. They're also available at a few select retailers in the US. Fun fact: Crop King Seeds sponsored a Trailer Park Boys movie in 2015.
Best Seed Banks in Europe
If you're a European, then shopping for top-shelf seeds will be a breeze. Some of the best seed retailers in the world are located in Europe, primarily Amsterdam. Amsterdam is the ultimate safe haven for weed lovers after all, though it is illegal to cultivate there. As for buying seeds, that's totally legal. Here are all the best online seed banks in Amsterdam.
Best Seed Bank: Amsterdam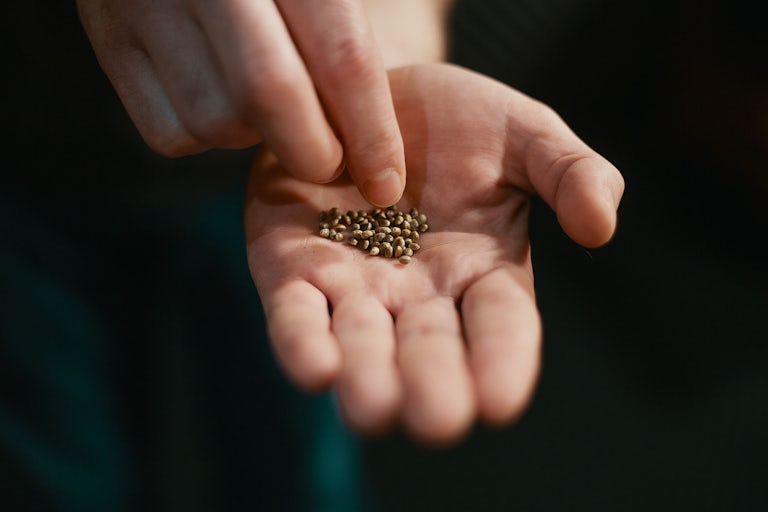 Based in three different locations in Amsterdam, Sensi Seeds is one of the best seed banks in the world and ships to most European countries, including France, Spain, Poland, and numerous others. If you're a novice grower, then Sensi Seeds has a whole roundup of beginner strains that are easy to grow and can thrive in practically any climate. They also have award-winners like Master Kush and White Haze, medicinal strains like California Indica and Northern Lights, along with different autoflowering, feminized, and regular seeds. Their packaging is plain and discreet with no logos or advertisements.
Barney's Farm is another successful online seed bank in Amsterdam that's been in the business for 30 years plus. They're famous for their Cannabis Cup and Indica/Sativa Cup champions Pineapple Chunk, G13 Haze, Amnesia Haze, Tangerine Dream, Liberty Haze, Willie Nelson, and Cookies Kush, along with Critical Kush, an indica plant that became a bestseller only a few months after it was released. Sadly, Barney's Farm will only ship to certain international countries, mostly within Europe. But if you're lucky enough to live in one of them, the company has an ample choice of seeds to collect, from Amsterdam Classics to a Chill Out Zone strain line for relaxation and relief.
DNA Genetics is a reputable seed bank in Amsterdam that has taken home over 180 awards. They've been in the game for over thirteen years and have been providing seeds to the legal cannabis market since the beginning. They ship nationally and internationally, though they don't specify where, and have more than seven pages worth of exceptional cannabis genetics, three of their best sellers being 24k Gold, Chocolope, and Holy Grail Kush. DNA Genetics has a rewards program as well. For every euro you spend, you get 1 point, and for every 25 points, you earn back 1 Euro. If not used towards your next purchase, you can collect points to receive other perks too.
Best Seed Bank in India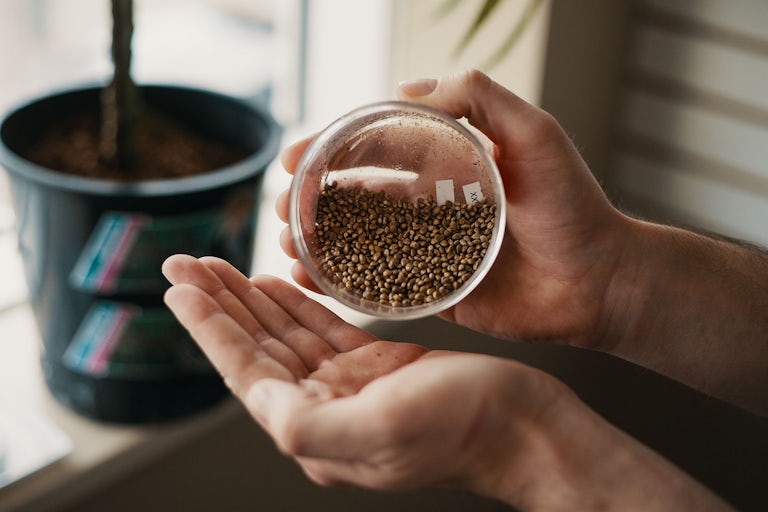 India doesn't have nearly the selection of the US, Canada, or Amsterdam, but there is one seed bank that you can rely on to get you high-quality cannabis seeds in the country. Attempting to find a local connection for your growing needs is both trickier and riskier. Cannabis is still very much illegal in India. Buying your seeds from an online seed bank isn't 100% safe either, but at least you'll get a good product without jumping through so many hoops.
Vedic Seeds was India's first hemp seed bank. They ship all over India seven days a week and offer some of the best hybrids around the world, including Grand Daddy Purple, Cinderella 99, Agent Orange, and many more, though, at this time, it's unclear if they ship anywhere outside of the country. That's a shame because right now, they're having a special. For every three regular seeds you buy, you get a pack free.