Making cannabutter is the first and arguably most important step for making quality edibles. It's also probably the most difficult step to get right. Luckily, we're about to tell you everything you need to know in order to make high-quality cannabutter, every time. But that's not all.
Once you make your cannabutter, it's time to decide what infused foods you want to enjoy. Whether you want to make some traditional "special cookies," or prefer to try your hand at a more unique recipe to really impress your friends, we're here to help you become a pro at cannabis cooking.
So, we called in the experts. Today, you'll be learning some of the world's top cannabutter and infused food recipes from Cristina Espiritu, founder of the 420 Foodie Club, and Mennlay Golokeh Aggrey, author of The Art of Weed Butter.

Cristina Espiritu sees cannabis cooking as the "wild west" of modern cuisine and launched the 420 Foodie Club to elevate the artform to new heights. Through the 420 Foodie Club, Espiritu offers cannabis enthusiasts educational and community resources to learn about cannabis cooking and cuisine.
Mennlay Golokeh Aggrey is an interdisciplinary cannabis entrepreneur, who's been cooking with cannabis for over a decade. Her clients include illustrious cannabis enthusiasts like Whoopi Goldberg & Maya Elizabeth, who she's helped develop product lines like Whoopi and Maya. Her new book, the 420 Foodie Club, will be published this December. Here's their advice on how to make the best cannabutter and cannabis-infused foods.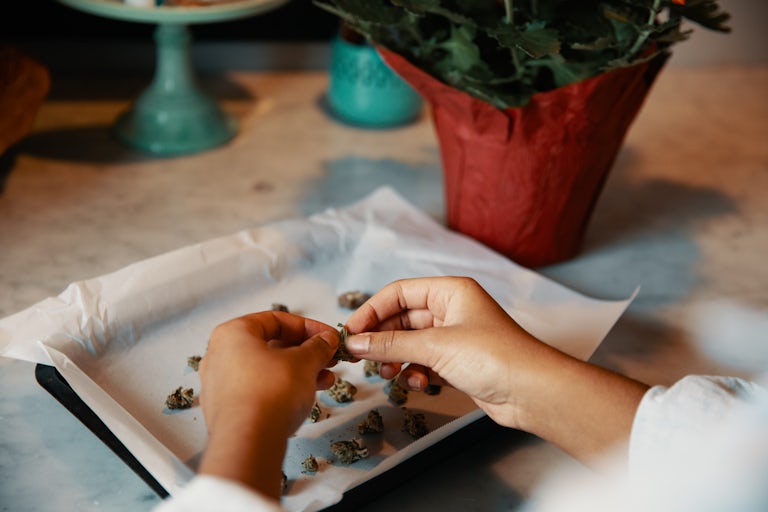 Best Cannabutter Recipes:
Chef Aggrey's Stove Top Method:
If you have weed, butter, time, and a kitchen, you can make weed butter with this method. When it comes to ease, the stovetop infusion method is supreme. It's perfect for folks who don't have a lot of extra money to spend on materials but still want good relief from cannabutter.
Time: 4.5 hours     
Appeal: Simplicity
Yield: 12 tablespoons
WHAT YOU'LL NEED
1⁄2 cup water.
8 ounces clarified butter, melted butter, oil, or fat.
1⁄2 ounce decarboxylated cannabis material.
Medium saucepan.
Wooden spoon.
Thermometer, optional cheesecloth and/or metal strainer.
WHAT TO DO
In a medium saucepan on very low heat, add the water and butter.

When the butter is melted, add the decarboxylated cannabis material. Mix well with a wooden spoon and cover with lid.

Let mixture gently simmer for 4 hours. Stir every half hour to make sure your butter isn't burning. If you have a thermometer, check to make sure the temperature doesn't reach above 180°F.

After 4 hours, strain with a cheesecloth or metal strainer into a container. Let the butter cool to room temperature. Use immediately or keep in the refrigerator or freezer.



Chef Aggrey's Sous Vide Circulator Method:
In Chef Aggrey's words: I'm a little late to the game, but sous vide is one of my favorite infusion methods. Clean, simple, with little dirty work. I was introduced to sous vide–style cooking last year by the cutest couple from Seattle, who not only have an exquisite taste for gastronomy and its culture but also know the joys of mellowing out with cannabis-infused food. They gave me a Joule sous vide circulator from their company ChefSteps and I was hooked. Sous vide infusing is hands-down the most futuristic experience I've ever had with cooking. This is the perfect setup if you're looking to infuse your weed butter, fat, or oil with garlic or other herbs — all contained in one single jar.
Time: 4 to 5 hours     
Appeal: Easy cleanup
Yield: 12 tablespoons
WHAT YOU'LL NEED
8 ounces clarified butter, melted butter, oil, or fat.
20-ounce jar or plastic bag water.
1⁄2 ounce decarboxylated cannabis material.
Sous vide circulator.
Large pot.
Cheesecloth.
Storage container of choice.
WHAT TO DO
Dice your butter into large squares and place it into a 20-ounce glass jar or a high-quality sealable plastic bag.

Add about 6 inches of water to your pot, making sure your sous vide tool is fully submerged in the water bath. If using a mason jar, close it tightly but not too tight, or your jar may burst into the water.

Set your sous vide circulator to 185°F and place your jar or bag into the water.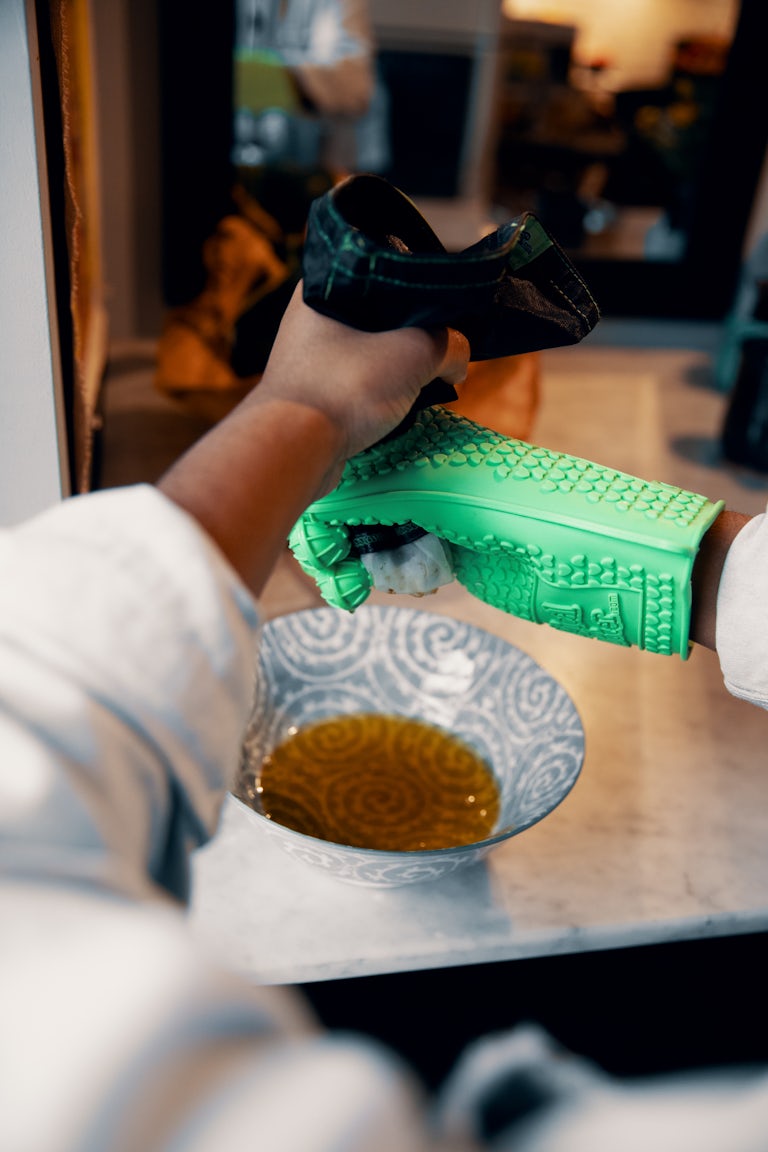 Chef Espiritu's Instapot Cannabutter Method:
WHAT YOU'LL NEED
1 cup water.
1 lb butter (use quality grass-fed butter, if possible).
1 oz cannabis (decarbed).

WHAT TO DO
Pour water into your Instapot and add the softened butter.

Add decarbed cannabis to your Instapot and stir well.

Cover and set your Instapot to slow cooker mode (low) for 6 to 8 hours.

Once the Instapot is turned off and the steam valve is released, allow your cannabutter mixture to cool for 30 minutes.

Take a glass or ceramic bowl and tie a cheesecloth around the mouth of the bowl to create a lid. Pour the mixture into your bowl. The cheesecloth will strain the cannabis from your cannabutter mixture.

Put your bowl in the fridge and allow the mixture to harden. You will see the butter separate from the water. Remove the water with a silicon spatula and discard.

Place the cannabutter in the fridge to allow it to cool more and harden.

Take your cannabutter, place it upside down on a plate and scrape off any remaining water.

Enjoy in your favorite recipe!
Tip:
Do not use a wood spatula to stir the cannabis. The smell tends to get absorbed by the wood.
You can visually tell when your cannabutter is done when the top of the mixture is thick and glossy.
Best Cannabutter Recipe: Double Boiler
Many cannabis enthusiasts like the Double Boiler method because it's a way of cooking cannabutter that applies less direct heat, making for a more gentle, even heating process. This prevents scorching and can help maximize quality and flavor.
WHAT YOU'LL NEED
Two saucepans, one large and one smaller. The smaller saucepan needs to be able to fit inside the larger pan.
Wooden spoon.
Cheesecloth.
Tupperware containers.
Large bowl for mixing.
Grinder for the cannabis.
1 pound of butter, salted or unsalted (just not margarine!)
1 ounce of cannabis (seeds and stems removed).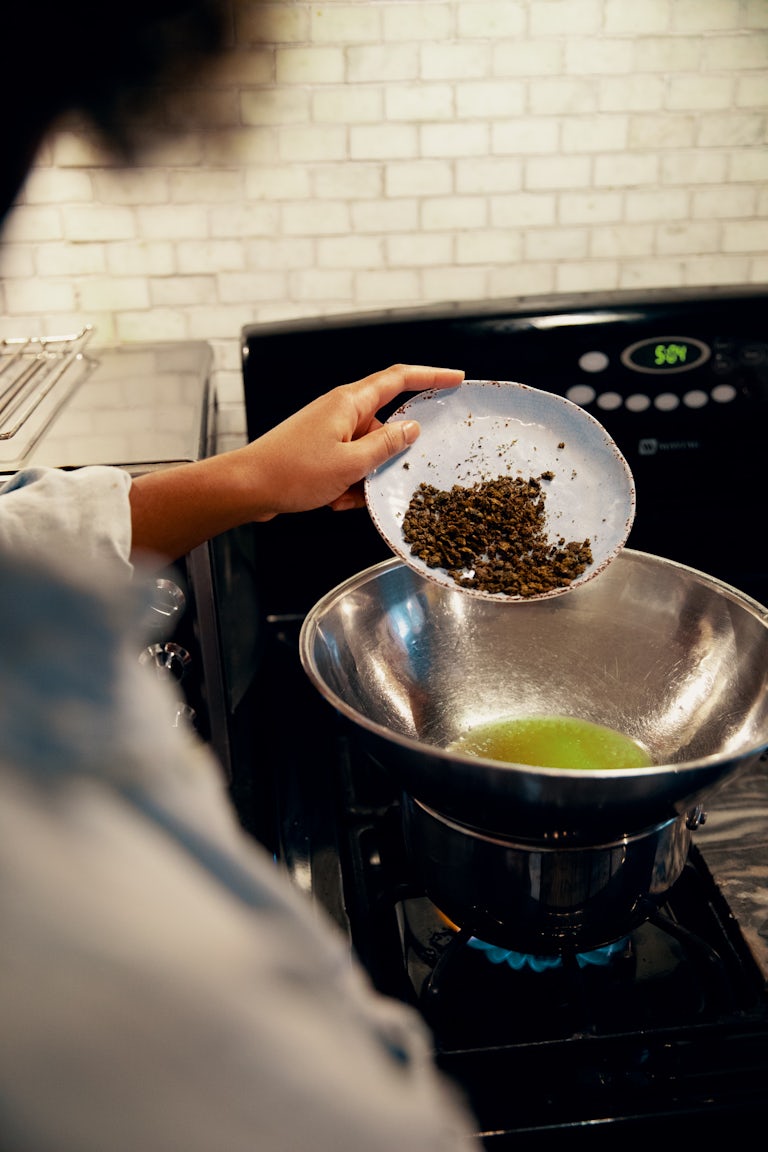 WHAT TO DO
Finely grind up all of your cannabis and put it into the large mixing bowl.

Fill your larger saucepan with 3.5 cups of water, and put it on the stove at high heat.

Put the smaller saucepan into the larger saucepan, and add the pound of butter to the smaller saucepan.

Allow the butter to melt completely. Once it's melted, reduce the heat to a simmer.

Add the ounce of ground cannabis into the smaller saucepan, and mix it thoroughly into the melted butter with your wooden spoon.

Allow the butter and cannabis to simmer for 30 – 40 minutes while stirring regularly. You'll know the butter is ready when it turns green.

While your cannabis and butter are simmering, clean out your mixing bowl, then stretch your cheesecloth over the top of the bowl. Use your rubber band to secure the cheesecloth.

After about 40 minutes of simmering your butter and cannabis, once it looks distinctly green, pour it over the cheesecloth so that any bits of cannabis are strained out, and the cannabutter collects in the bottom of the mixing bowl.

After you've poured all of your cannabis and butter mixture through the cheesecloth, carefully remove the cheesecloth from the top of the bowl, bringing all the edges together so that the clump of buttery cannabis forms a ball in the cheesecloth. Put this ball against the side of the mixing bowl, and press on it with the wooden spoon to squeeze out any remaining cannabutter (without allowing any of the collected cannabis bits to fall out into the butter).

Pour the cannabutter from the mixing bowl into a tupperware container, put a lid on it, then stick it in your refrigerator overnight to cool.

The next morning, open the tupperware container to make sure that the cannabutter has solidified. If there's any remaining oils in the tupperware, pour it down the sink so that all you're left with is a solid brick of cannabutter in your tupperware container.
Best Edible Recipes with Cannabutter
Easy Banana Bread Muffins by Chef Aggrey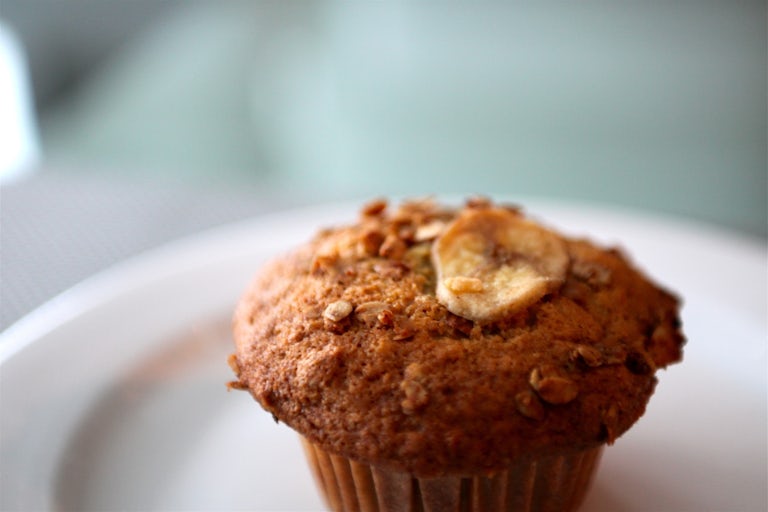 In Chef Aggrey's words: If I'm ever grabbing a cup of coffee from a local shop, I tend to treat myself to one of those little banana bread muffins. I'm usually really hungry and just not really prepared for the day and need a snack before any hanger erupts. They're so moist and you truly can't go wrong with banana bread. That's what these little muffins are to me, laced with some weed butter for extra chill vibes. Make enough for an entire week—or to share with your cranky co-workers.

Time: 40 minutes
Potency: 4.8 mg per muffin
Yield: 12 servings

WHAT YOU'LL NEED
3 very ripe bananas.
2 eggs.
2 cups flour.
1⁄2 cup brown sugar.
1⁄2 teaspoon salt.
1⁄2 teaspoon baking soda.
1⁄4 cup pecans.
4 teaspoons cannabutter.
WHAT TO DO
Preheat the oven to 350°F.

Mash the bananas until soft and somewhat even in consistency, and whisk in eggs.

Gently mix in the flour, brown sugar, salt, baking soda, and pecans until fully incorporated.

Grease a 12-muffin tin, then pour in the batter.

Bake muffins for 30 minutes and cool for 5 to 10 minutes before serving.
Smooth and Savory Shrimp and Grits by Chef Aggrey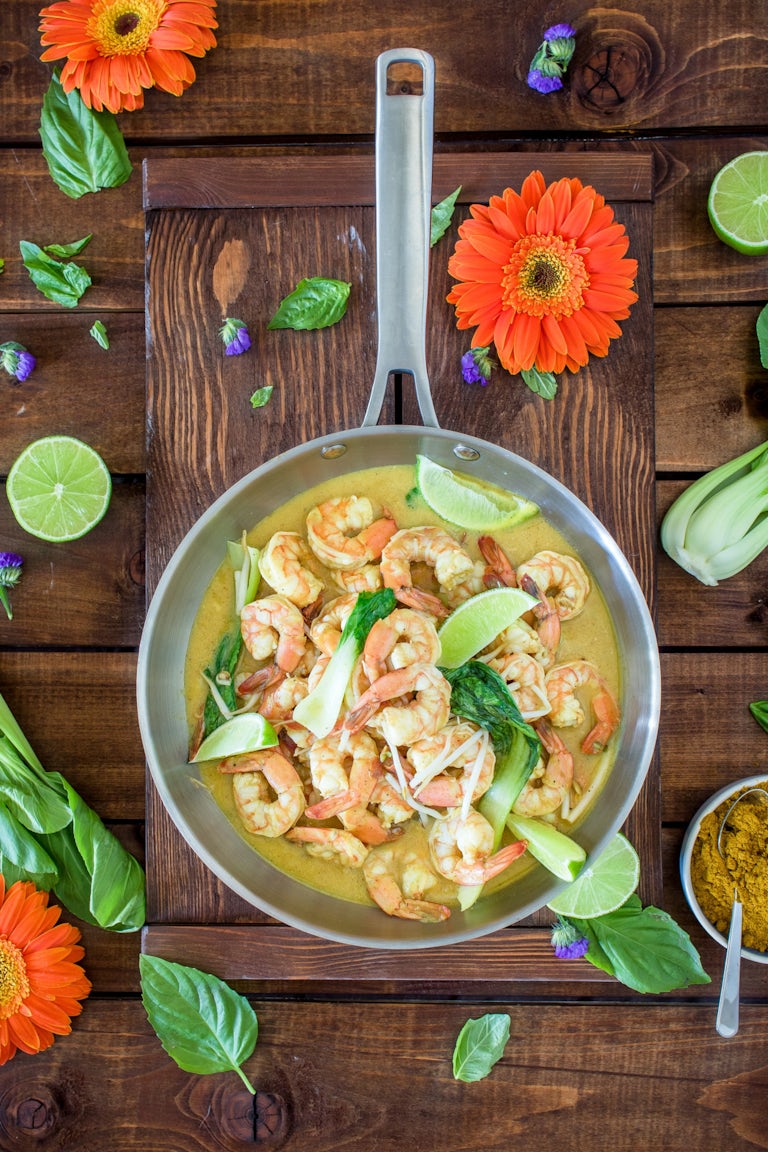 In Chef Aggrey's words: Shrimp and grits seem difficult to make but it's just sautéed shrimps in a sweet and savory tomato medley over grits. But do believe the hype, because it's pretty damn delicious. If you don't eat seafood or meat, swap out shrimp for cauliflower florets, bell peppers, and zucchini.
If you're feeling like you want to step up the meat action a notch, add spicy sausage for a complex and gratifying flavor. I started making this several years ago when I lived in Oakland, California, where there's this divine place called Brown Sugar Kitchen. After making a reservation early enough to get a table, I ordered their shrimp and grits and would crave it every weekend thereafter. Like the frugal lady I am, I decided to try to make it myself one weekend and it was easy! Years later, I thought it could be a nice stony Sunday brunch staple, and here we are today.
Time: 1 hour
Potency per serving: 7.5 mg
Yield: 4 servings
WHAT YOU'LL NEED
11⁄2 pounds tiger shrimp, cleaned and deveined.
1 teaspoon cayenne pepper.
2 cups water.
1 cup corn grits.
1⁄2 cup milk, plus more as needed.
3⁄4 stick butter, divided.
1 cup shredded sharp cheddar cheese.
2 teaspoons cannabutter or cannabis-infused coconut oil.
2 to 3 cloves garlic, chopped.
1⁄2 red onion, chopped.
1 cup cherry tomatoes.
1 bunch of green onions, chopped.
1⁄4 cup white wine or rice wine vinegar.
cilantro, for garnish.
hot sauce to serve.
salt and black pepper to taste.
WHAT TO DO
1. In a medium bowl, mix the shrimp with cayenne, salt, and pepper.
2. In a saucepan, bring two cups of water to a soft boil and add the grits. Once boiling, lower the heat to a low simmer. Add salt, pepper, milk, and 1⁄2 stick of butter, and stir frequently. Sprinkle in shredded cheese while continuing to stir to avoid clumping. Add more milk or water if necessary until grits come to a creamy yet thick consistency, about 10 minutes. Remove from heat and cover with lid.
3. To a sauté pan over high heat, add the cannabutter or cannabis-infused coconut oil along with the remaining butter. Add the garlic, red onion, tomatoes, and green onions, and sauté for about 10 minutes.
4. Add white wine or rice wine vinegar and gently smash the cherry tomatoes and garlic. Let cook for 2 to 3 minutes and add the shrimp. Turn up to a high heat and let the shrimp flash fry for about 1 minute on each side.
5. Once the shrimp turns pale pink, mix until the tomatoes, wine, and shrimp produce a nice thin sauce, 3 to 5 minutes.
6. Serve over grits, garnished with cilantro. Enjoy with a couple splashes of your favorite hot sauce.
Infused Garlic Fried Rice by Chef Espiritu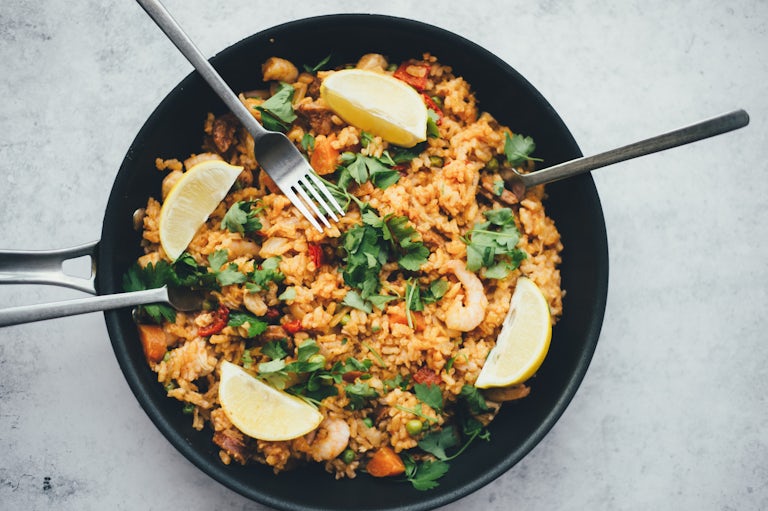 In Chef Espiritu's words: Garlic fried rice is a great way to use up your leftover rice from yesterday's dinner. This Filipino version is normally consumed with eggs or sausage for breakfast, but it is equally delicious for lunch or dinner, paired with your favorite meat dish. Note that fried rice turns out best when using day old rice that has been in the fridge. This prevents the rice from getting mushy as you fry it. The rice grains will heat up as you fry it and will result in a beautiful fluffy texture.
WHAT YOU'LL NEED
4 cups cooked white rice (Jasmine or long-grain rice preferred).
4 tbsp olive oil.
8-10 cloves of garlic, peeled and minced.
½ cup green onions, finely chopped.
3 tbsp cannabutter, softened.
Salt and pepper, to taste.
WHAT TO DO
Break rice in a bowl to remove clumps.

Heat oil in a large frying pan over medium heat. Add garlic, stirring regularly to avoid burning and ensure that pieces brown evenly. Fry garlic pieces until crisp and golden brown.

Add in rice and stir until it is evenly coated with oil and garlic.

Decrease heat to low. Add cannabutter to rice and stir, making sure to evenly coat the rice. Season with salt and pepper to taste.
Infused Banana Rolls by Chef Espiritu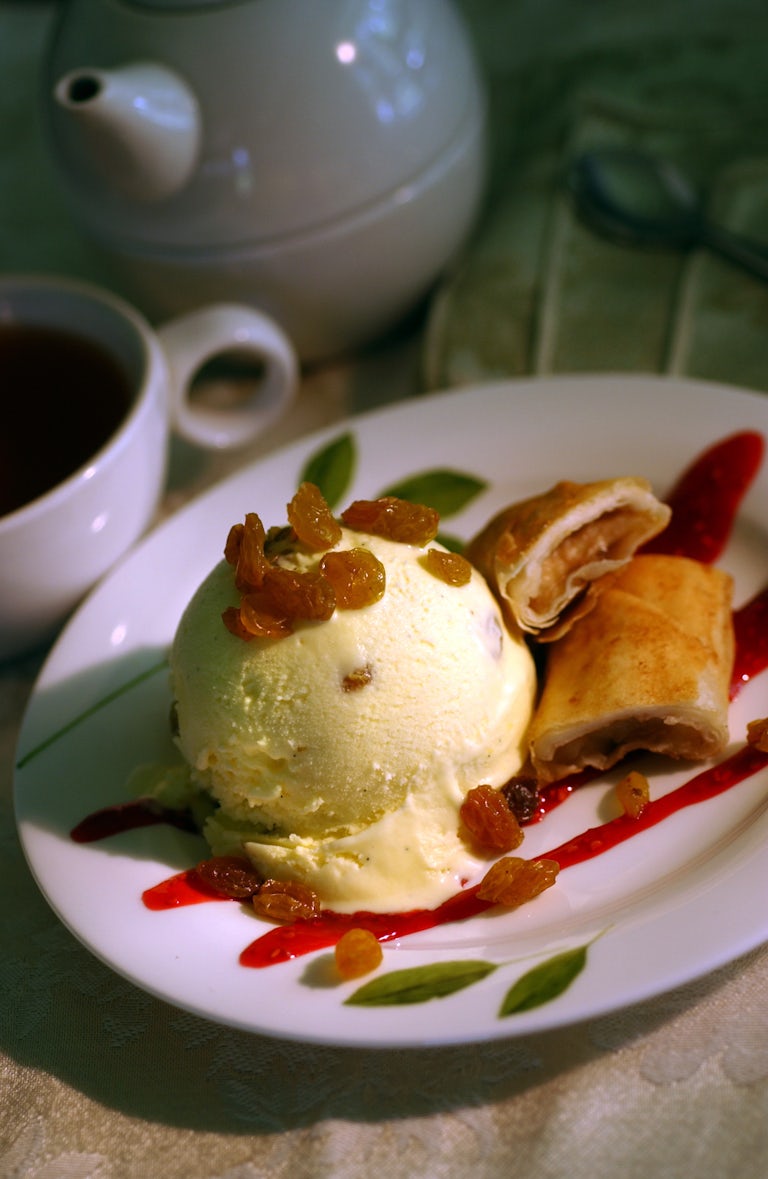 In Chef Espiritu's words: This recipe is an easy delicious way to use up your ripe bananas. Serve by itself or with vanilla ice cream for an extra decadent treat.
WHAT YOU'LL NEED
6 ripe plantains, sliced half (lengthwise).
12 pieces spring roll wrappers.
1 cup brown sugar.
½ cup cannabutter.
1-2 cups oil for frying.
WHAT TO DO
Quickly dip sliced plantain in cannabutter and shake off the excess.

Spread brown sugar evenly on a plate. Roll plantain on the brown sugar and make sure plantain is coated evenly.

Take one of the spring roll wrappers and place on a work surface in front of you in a diamond shape. Place the plantain horizontally 2/3 of the way down. Fold the bottom tip over the banana, then fold the right and left edges over it. Roll the wrapper away from you like a log. Moisten the top edge of the wrapper with water and continue to roll the rest of it. The water should act as a seal.  

Heat oil in a pan over low heat.  Fry each side about 3 minutes or until golden brown.

Drain over paper towels and allow to cool. Serve by itself or with ice cream.
Canna Bistek (Beef Steak) by Chef Espiritu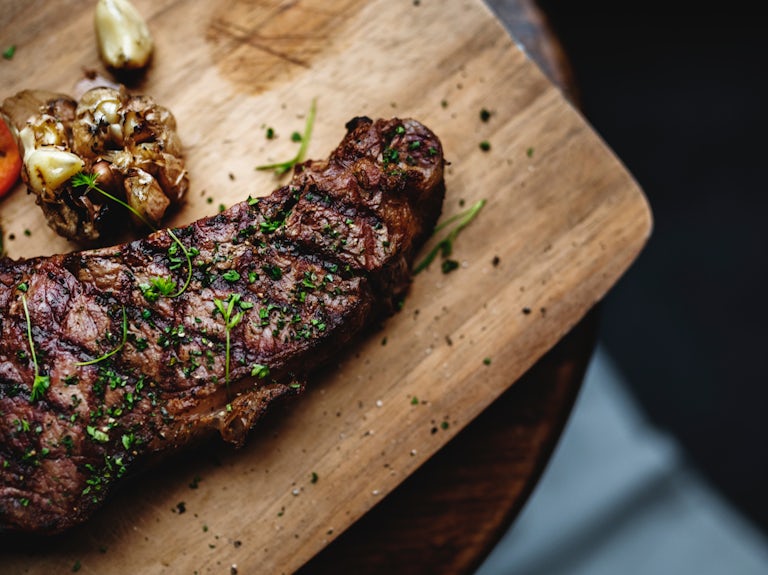 Lemon juice and soy sauce create a delightful combo in this Spanish-inspired dish. The cannabutter adds another dimension and is sure to pack a punch. Serve over a steaming bowl of rice.
WHAT YOU'LL NEED
1 ½ lbs beef sirloin, thinly cut.
¼ cup soy sauce.
Juice from one lemon.
1 large onion, sliced into thin rings.
3 cloves of garlic, minced.
¼ cup cannabutter.
2 tbsp cooking oil.
½ tsp ground black pepper.
Salt to taste.
WHAT TO DO
Marinate beef in soy sauce, lemon juice and black pepper in a non-metallic bowl for 30 to 60 minutes.

Heat cooking oil in a pan over medium heat. Stir-fry onion rings until soft and translucent. Set aside.

In the same pan, melt cannabutter over low heat, making sure that it doesn't scorch or burn. Pan fry the beef (without the marinade) until brown. Add garlic and sauté for 2-3 minutes.

Add onion rings and marinade and bring to a low boil. Simmer for about 15 minutes or until meat is tender. Add water as needed.

Add salt and water to taste. Serve over rice.
Best Cannabutter Cookie Recipes
Sometimes it's best to stick to the classics. Chocolate chip cookies are always a crowd pleaser, especially if you're high, and especially if they get you high. These chocolate chip cookies are also extremely easy to make. Here's the best, and only, cannabutter cookie recipe you'll ever need.
WHAT YOU'LL NEED
An egg.
2 teaspoons of vanilla extract.
⅔ cup of brown sugar.
1 ⅓ cup of chocolate chips.
⅓ cup of sugar.
1.3 cups of flour.
¼ teaspoon of baking soda.
¼ teaspoon of salt.
½ cup of cannabutter.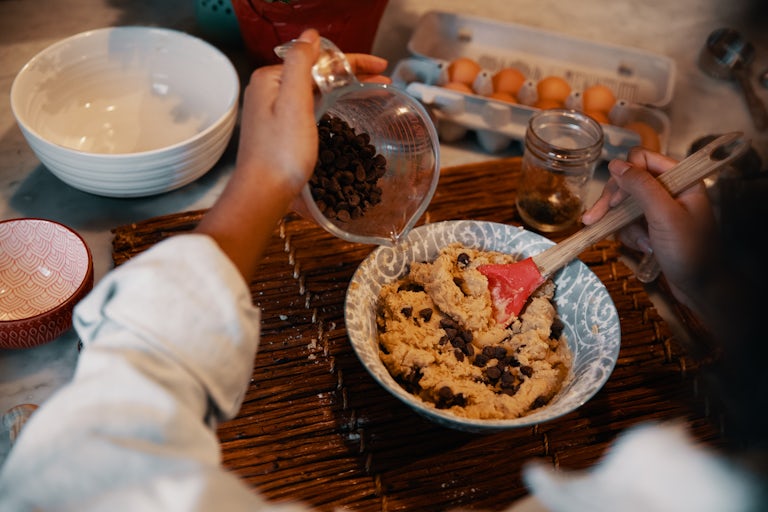 WHAT TO DO
Combine your

1.3 cups of

flour,

¼ teaspoon of

baking soda, and

¼ teaspoon of

salt in a bowl. Put it aside.

Combine your

⅓ cup of sugar and ½ cup of cannabutter in a separate bowl.

Add your egg and vanilla extract into the bowl of sugar and cannabutter, and blend them together.

Add chocolate chips to this bowl.

Combine the bowl of vanilla extract, egg, sugar, cannabutter, and chocolate chips with your other bowl of flour, baking soda, and salt. Stir all the ingredients together with a spoon. This will be your batter.

Use a spoon to divide this batter up into 60 individual portions on a baking sheet, which would equate to about 5 mg of cannabis per cookie. If you want to make fewer cookies that are more potent, just use math. For example, if you separated this batter into 30 portions, each portion would have 10 mg of cannabis.

Place the cookies in the oven and bake them at 325 to 375 degree

s

Fahrenheit

for 10 to 20 minutes, depending on how crisp you want them. Remove them from the oven and let them cool. Once they're cool, they're ready to enjoy.
Best Cannabutter Machines

Want to skip all the hassle when it comes to cannabutter? Thankfully there are some amazing devices out there that can eliminate the fuss and deliver top quality cannabutter that you can use in whichever delicious edibles you'd like. Here are our favorites:
1. Magical Cannabutter Machine
If you're looking to simplify the cannabutter making process to the point where it's virtually automated, invest in the Magical Cannabutter Machine. All you need to do is pour your decarboxylated cannabis flowers into the machine with a melted stick of butter, and a tablespoon of lecithin—and let the Magical Cannabutter machine take care of the rest.
The Magical Cannabutter Machine makes cleanups easy and keeps the cannabutter as simple as possible.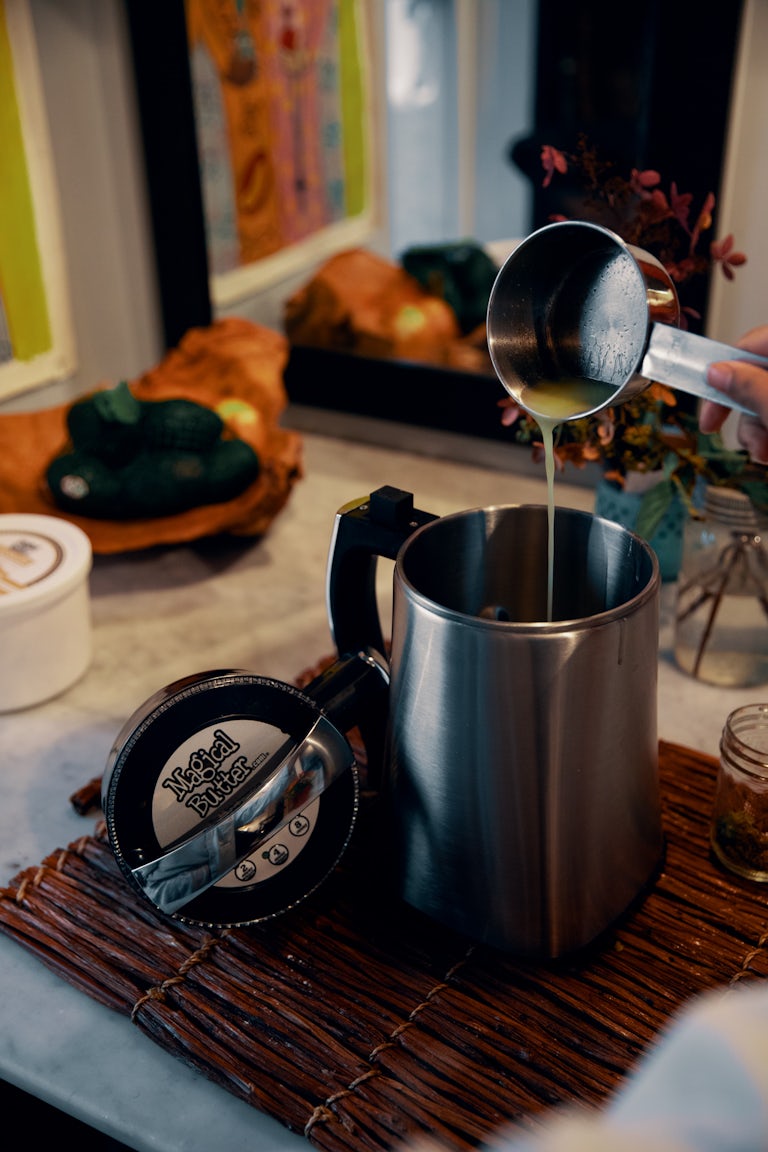 The LEVO cannabis infuser was created with the intention of making cannabutter as simple to cook as it is to brew a pot of coffee. This little machine has accomplished that. The machine is sleek, easy to use, and discreet (a plus for anyone who lives with disapproving parents or roommates).
To make cannabutter or infused oil with the LEVO, simply place your ground cannabis into the metal cylinder, place it into the metal bowl that's filled with oil or melted butter, set the temperature, and press start.