Typically, when you think of flavored papers, the word "natural" doesn't come to mind. That's because a lot of products contain chemicals and bleach, neither of which belong anywhere near your lungs. Either that or they are way too sweet, so sweet that it's like burning sugar. But there is a natural way to savor something delicious and dank in the form of a J—and that's with Juicy Jays. Both fruity and smooth, they add just the right amount of fruit to your J without masking the taste of that dank flower.
Why Juicy Jays and weed make the ideal pair
In a world full of overly flavorful rolling papers, Juicy Jays are one in a melon, pun fully intended. Juicy Jays offer a burst of sweetness, but not an entire mouthful. Unlike with other flavored papers, you can still taste the herb only you get fresh fruit on the side too.
It's no coincidence that the founder of Juicy Jays also happens to be the same founder of RAW rolling papers. After hunting for LL Cool J all over Farmers Boulevard in Queens back in the 1980's, Josh Kesselman earned the nickname "Cool Jay." When it came time to name his brand of menthol rolling papers a decade later, he went with Cool Jay's. Then, when he decided to introduce the flavor Watermelon, he called them Juicy Jay's Watermelon. Fast forward to 2018, and Juicy Jays now come in more than 30 different flavors, including Green Apple, Strawberry, and Banana. 
Flavor variety aside, Juicy Jays also roll the tastiest joints because they come bursting with 3 times more flavor than other brands. That's enough to satisfy all 10,000 of your taste buds. From the tip of your tongue to the roof of your mouth, Juicy Jays use a Triple- Dipped Flavouring System so that you can taste—and even smell—the fruity flavors all over. But not to worry, you'll still be able to savor your favorite flavor of them all alongside all the juice, which is, of course, Mary Jane.
Juicy Jays sweeten your smoke experience all-around, naturally.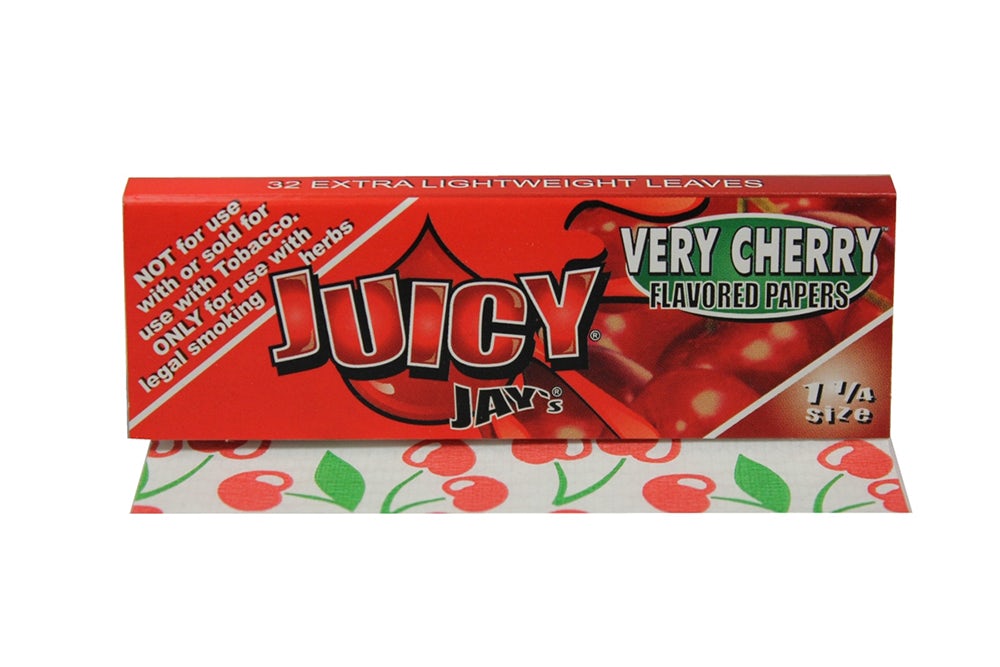 In more ways than one, these rolling papers deliver the most flavorful smoke. Not only can you taste the unique blend of fresh fruit and herb with every inhale, but you can also catch a whiff of it with every exhale. The smoke has a matching scent to go with the mouthwatering flavors of weed rolled in Juicy Jays. Talk about a well-balanced diet for smokers.
Juicy Jays also come with a special watermark designed to keep your Js from running. Not to mention, they are made of hemp and use natural sugar gum. As a result, you get the smoothest, tastiest experience possible with flavored papers.
While the distinct aroma and flavor of weed are pleasant enough to enjoy alone, sometimes it's nice to sweeten things up a little. Without going overboard, Juicy Jays turn your typical joint into a real treat. Whether you're craving a sweet, guilt-free snack or are in the mood to try something new, these papers are sure to satisfy you.