So you can't smoke weed with your dog, or you shouldn't offer them a hit off your J anyway. But there's another way you can help your four-legged friend chill, one that's much safer, and that's hemp oil. Studies show that hemp oil can be as effective for dogs as it is for you. And to set the record straight right away, it's entirely non-psychoactive, meaning no buzz for your pup, just the benefits.
Hemp Oil For Dogs: Benefits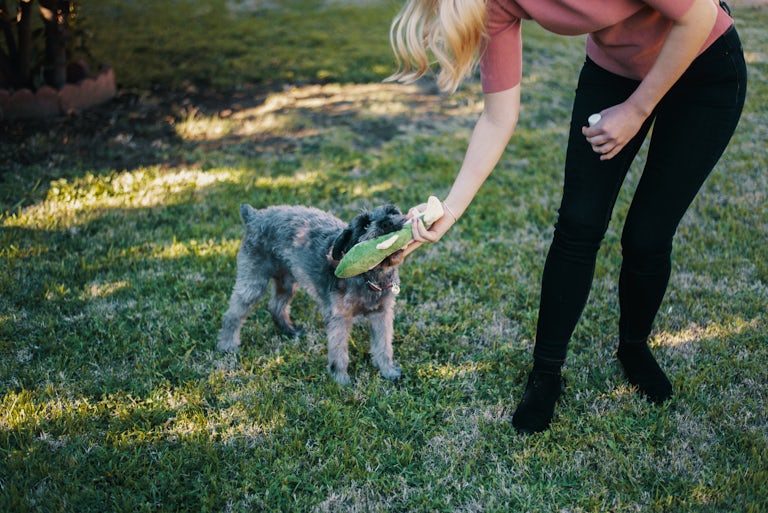 From easing upset guts after devouring too many dog biscuits, to keeping them calm during a scary thunderstorm, hemp oil can give your furry best friend the TLC they need. Primarily, hemp oil is most effective in treating pets with pain, anxiety, or stress. However, there are a few other ways hemp oil can lend a helping hand. It can provide pets with a daily wellness boost, preventing illnesses and strengthening the immune system. Or, it can assist with conditions like epilepsy, arthritis, autoimmune disease, and inflammatory bowel disease. You can also use hemp oil to soothe sleep deprived pups, boost their appetite, and more. On top of all of that, some pet owners even report that it improves their pup's skin and gives them a luscious coat.
Hemp Oil For Dogs: Side Effects
You can never be too cautious with the dietary supplement you give to your fur baby. Fortunately, with hemp oil, you can worry a lot less. Hemp oil is non-intoxicating, as long as you stick to the recommended dose. The worst it can do is make your pup a little drowsy, or, in rare cases, leave their stomach slightly unsettled. Keep in mind that your pup also needs time to adjust to the hemp oil, which can take about a week. If you're concerned about how your dog might react to hemp oil, then it's always wise to consult with a vet first.
Best Hemp Oil For Dogs
Online, you can access all kinds of hemp oil products for pups and have it legally shipped to your doorstep. The challenge is finding the right product. As with anything cannabis related, you're going to have plenty of options. Because not all hemp oil is created equal, however, we've compiled a list of the best hemp oil for dogs to help you find a remedy for your barking sidekick that works.
Best Hemp Oil For Dogs: Anxiety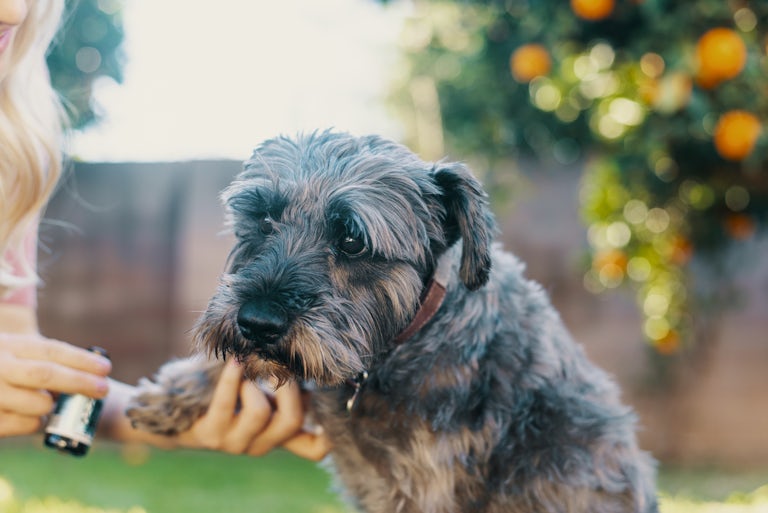 Does your dog get nervous around company? Or, do they turn into a barking monster at the first roar of thunder? Anxiety in dogs is common, but thankfully, hemp oil can help. HolistaPet has a CBD tincture that's excellent for anxious pups. A few drops can relax them and ease the aggression that comes from fear. Customers claim it's just the thing for dogs that don't do well around strangers or can't stand to be left alone at home.
To administer HolistaPet's tincture to your pet, you can add it to their food or water, or directly into their mouth, whichever is most comfortable. It comes in a variety of doses to match dogs of all sizes, including 150 mg, 300 mg, and 600 mg. Containing a combination of organic superfoods, hemp CBD, and other 100% natural ingredients, HolistaPet's CBD tincture is formulated specifically for pets to absorb quickly and gently for immediate relief. There are no additives or preservatives, and it's gluten-free, dairy-free, and non-GMO.
Best Hemp Oil For Dogs: Pain And Inflammation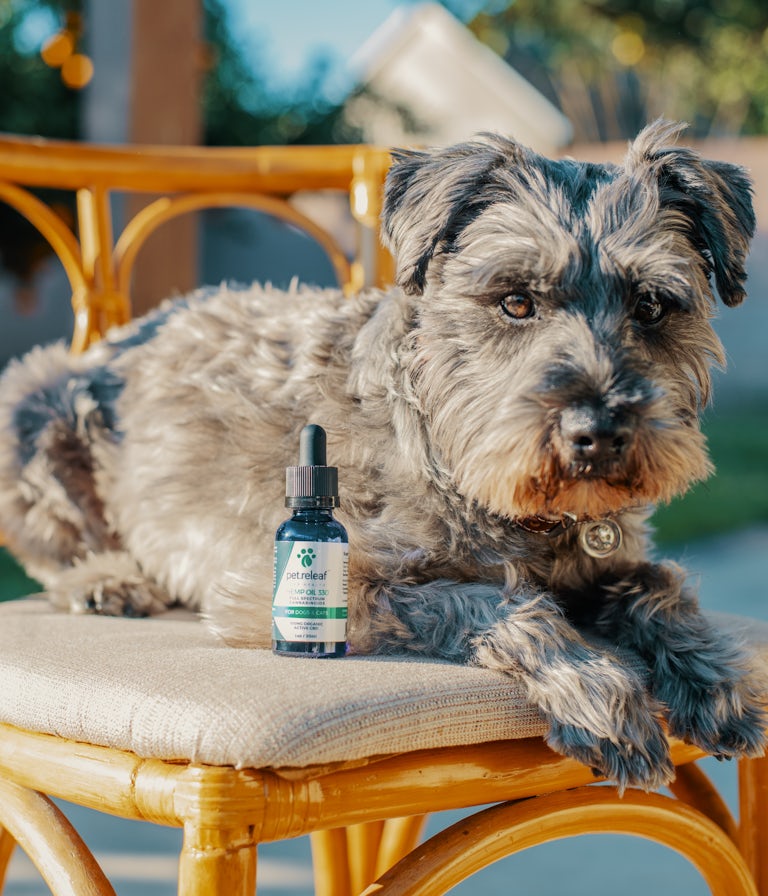 Pain and inflammation are two common conditions amongst dogs. Whether it's due to arthritis or wearing of the joints, hemp oil can relieve pain and reduce inflammation simultaneously. That way, your pup stays happy, lively, and fit.
Pet Releaf Hemp Oil, available in 330, 700, 1000, and 1700 mg doses, not only helps to support healthy hips and joints, but also relieves pain, discomfort, and inflammation., It's packed with nutrients, including 20 amino acids, calcium, zinc, magnesium, and B vitamins, plus omega-3, 6, 9s, along with vitamin E and beta-carotene. For older dogs, it could help boost their mobility and unleash their inner puppy. In addition, it's apparently helpful in treating bee stings. If you have a playful outdoor dog that's been stung by a bee, you know how scarily large the swelling gets. Pet Releaf Hemp Oil, according to reviews, shrunk a pup's swelling in just 15 minutes, saving mom a trip to the vet's office and a hefty bill.
Best Hemp Oil For Dogs: Seizures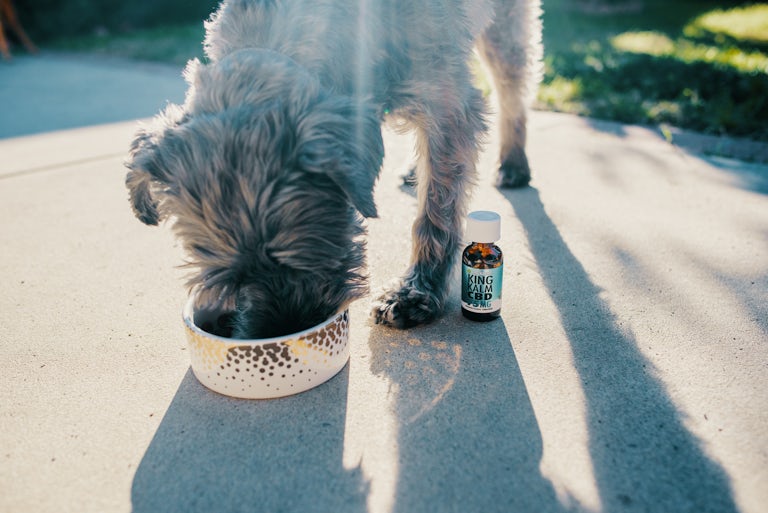 Seizures can alter a dog's life drastically, and yours too. Hemp oil might not cure your pup's epilepsy, but it can at least manage it by reducing the frequency and severity of the seizures your pet experiences. King Kalm CBD a hemp oil brand worth trying with your epileptic pup. One dog owner claims that their beloved Shih-poo has been seizure-free ever since they began using King Kalm CBD. King Kalm CBD comes in three strengths- 75 mg, 150 mg, and 300 mg- and includes a detailed chart to guide dog moms and dads in choosing the best dose. A simple syringe is the best way to administer the dose, which comes included. Lab results are also available on King Kanine's website to ensure that your pet is getting pure, high-quality hemp CBD, in addition to natural high omega-3 krill oil and natural lavender to lend an extra dose of calm.
Best Hemp Oil For Dogs With Allergies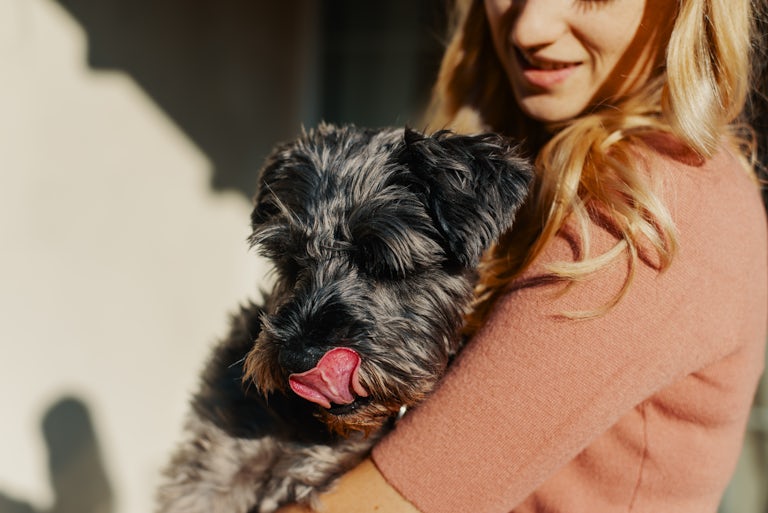 Is your dog continually biting, scratching, and licking themselves? If so, it could be a sign of allergies. Allergies can stem from all sorts of things, from parasites to foods to pollen to hormones, making pups uncomfortable. Honest Paws CBD Oil for dogs, available in 3 dose levels, reduces allergic reactions, anxiety, and other obsessive behaviors like chewing and licking. According to the site, over 8,000 dog owners trust Honest Paws. It's a 4.7-star all natural, fast acting, highly absorbable full spectrum product with 616 promising reviews to back it up.
Best Hemp Oil For Dogs: Digestion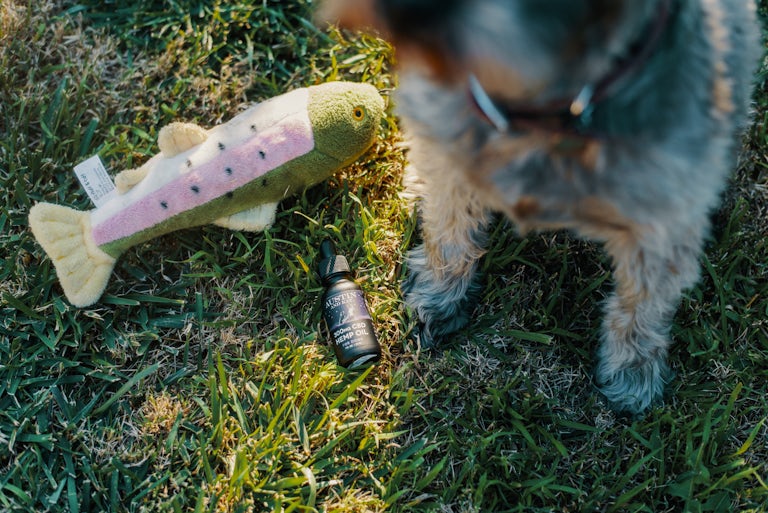 From time to time, dogs eat something they're not supposed to, resulting in nausea, vomiting, and or diarrhea. Whatever is throwing off your pup's digestive tract, hemp oil, like Austin And Kat's CBD Hemp & Salmon Oil, can help regulate the digestive system and get it back on track. If your furry companion is having difficulting eating or has had an adverse effect from food, this oil, available in 100 mg and 300 mg servings, can be integrated into their daily diet for quick relief. The wild Alaskan salmon and hemp seed oil are filled to the brim with omega-3 and omega-6 fatty acids. Plus, salmon oil is rich in EPA and DHA, which are two powerful gut repairers thanks to their bounty of omega-3 fats. That, and it gives the hemp oil a taste dogs will love.
Best Hemp Oil For Dogs With Cancer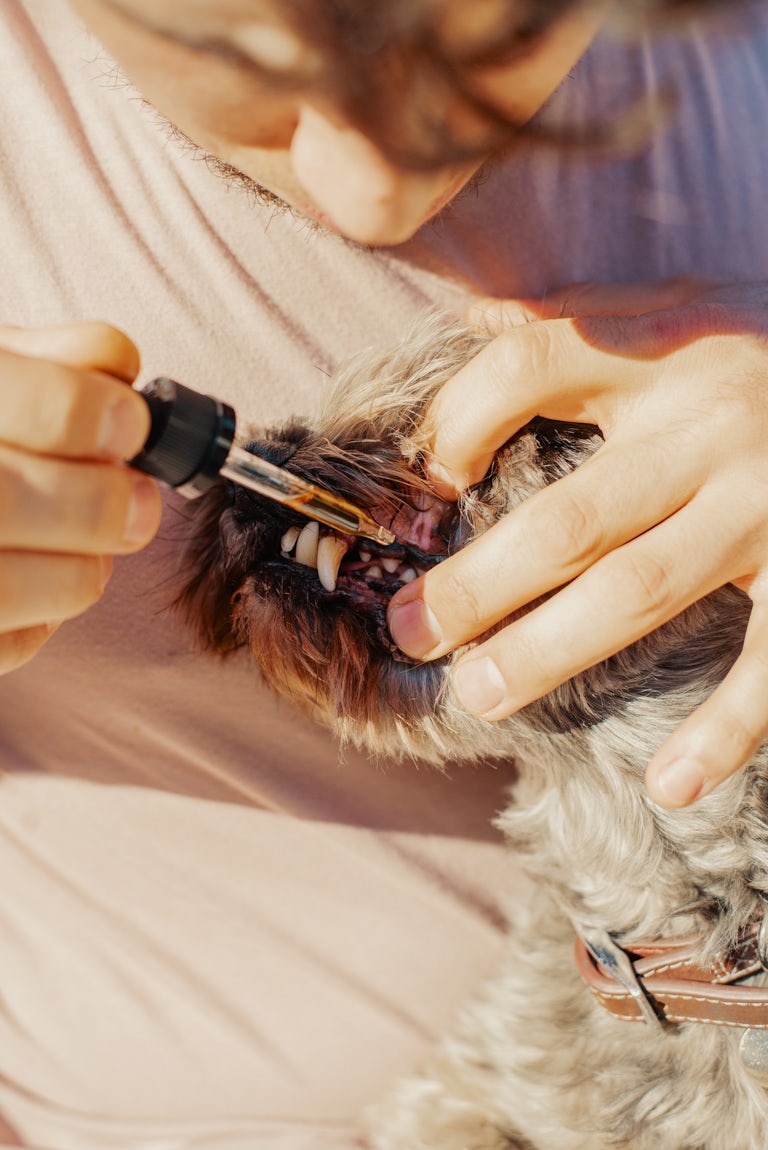 When it comes to cancer, it's important to note that hemp oil is not a cure. However, it can keep your pup as comfortable and vibrant as can be by promoting a healthy immune system, providing energy, stimulating appetite, and more. Prana Pets CBD and C-Support together are a natural treatment for dogs with cancers. In addition to the benefits mentioned, C-Support reduces systemic inflammation, inhibits abnormal growths, strengthens liver health for optimal digestion, and enhances your pup's overall well-being. It's a 100% herbal product that blends a variety of beneficial herbs, including Alfalfa, Cat's Claw, and more. As for the full-spectrum, 100% Colorado grown CBD oil, not only does it support healthy digestion and appetite, but it also relieves nausea and other digestive problems.
Best Hemp Oil For Dogs: Wellness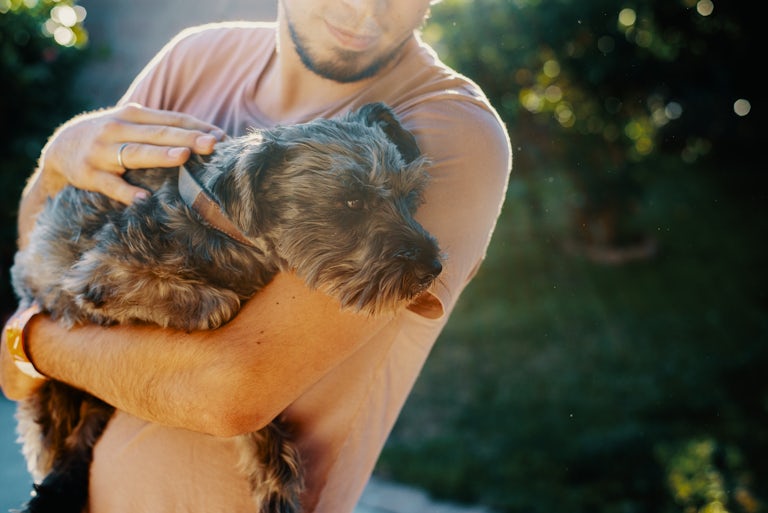 If you're interested in adding hemp oil to your pup's wellness routine to see how it helps, NuLeaf Naturals CBD is an all-natural dietary supplement that is the ultimate wellness weapon for dogs. It contains no additives or preservatives, it's 100% organic, and lab tested. From keeping barks down to a dull roar to getting them up and down stairs with ease to encouraging play, NuLeaf Naturals CBD can make all the difference in your pet's quality of life. Available in 240, 725, and 1450 mg CBD doses, large and small pups alike can benefit from NuLeaf Natural, and pet parents too. Happy dog, happy home. If in doubt, then check out the 532 customer testimonials.