What's not to love about edibles? Sure, they might sneak up on ya from time to time. But they do allow the consumer to get their daily dose of THC and CBD in a discreet fashion. Not to mention, most of them are downright delicious! On the other hand, once they enter the belly, they are no longer useful. That's why Half Lit Lollipops are about to change the game. First, you indulge. Then, you plant the stick, and before you know it, you have your very own weed plant.
Half Lit Lollipops: they get you high, and they grow weed
At first, you may feel as though you're getting ripped off with just half a sucker. But just know that with the Half Lit Lollipop, you're getting far more than just a sweet treat.
Infused lollipops are no stranger to the edible market. So what makes Half Lit Lollipops so unique? Believe it or not, the magic does not come from the part you'll be eating. It's all in the stick.
Inside the stick are cannabis seeds. And once you plant that stick, feed it, and water it, a weed plant will grow in its place in just a matter of months. Cool right?
Even better, these babies contain only the finest ingredients. No pesticides or GMO whatsoever.
Moving on to flavors, Half Lit has quite the tasty variety. There are six, to be exact, and they include Pineapple Paradise, Watermelon Wonderland, Hot Mama Mango, Lit Lemonade, Lunar Lavender, and Calming Caramel Acai. Is your mouth watering yet?
Each sucker contains precisely 25 MG of THC. For just half a lolly, that's pretty generous and will undoubtedly get you nice and buzzed.
The perks of sucking on your weed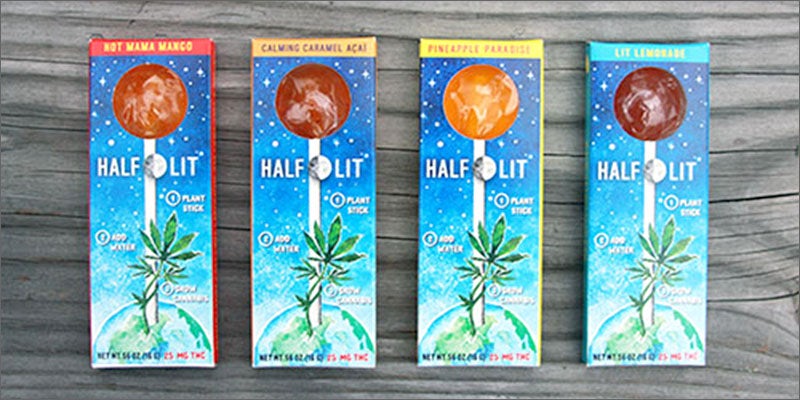 It's no secret that people love edibles, especially in states where the herb is legal for recreational use. Last year, folks consumed over $180 million worth of infused treats, according to Arcview Market Research. And that's just in California.
In Washington state, edible sales climbed 121% that same year, according to cannabis analytics firm Headset Inc. As for Colorado, sales tripled from the first quarter of 2014 to the third quarter of 2016, starting at $17 million and going up all the way to $53 million.
So, why all the hype? For starters, edibles offer a discreet way to consume THC and CBD. Not to mention, you don't have to smoke them, which is perfect for those who want to enjoy the plant but are concerned about the health of their lungs.
Last, but certainly not least, edibles provide a high like no other. Of course, their effects take longer to kick in than flower or other forms of pot. But once they hit you, you quickly realize why they're worth the wait.
While there are more edibles out there than anyone can keep up with, Half Lit Lollipops stand out from the rest. They get you high, and they grow weed. What's not to love?