There are plenty of vaporizers that claim to be portable. Some will tell you they're discreet, showing off how easy it is to store them in a bag or a pocket. Others like to brag about their battery life, claiming you'll never be without your vape when you need it most. That's all well and good, but the one thing most companies neglect is the realities of being out and about with your favorite portable vaporizer.
Matching Up with the Best Vaporizers
The AirVape X packs all the technology to stack up with the best vaporizers on the market today, at an affordable price point. You don't have to pay top dollar for a dry herb vaporizer. Just look at this product breakdown by Vapornation to see how the AirVape X stacks up to more expensive competition.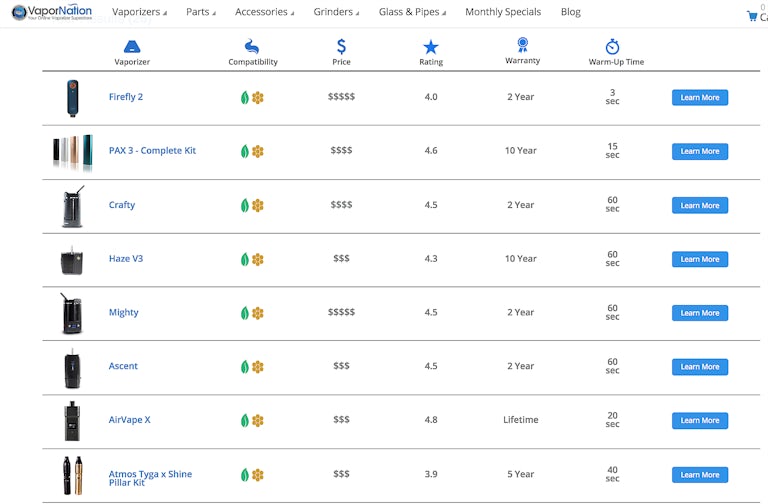 The dry herb vaporizer's heating chamber uses a combination of convection and conduction technology to evenly vaporizer your favorite dry herb strains. The combination allows rapid heating while minimizing burning. That means you can enjoy a smooth, flavorful draw without nasty tastes or harmful carcinogens entering your lungs.
The AirVape X Shell Makes This a Truly Portable Vaporizer
Few portable vaporizers talk about the elephant in the room; odor. If you're heating cannabis, it's going to produce a smell. That can be a real issue for people who want to remain discreet when they're in public. The AirVape X Shell makes the AirVape X a truly portable vaporizer by eliminating the odor. Toss the shell on and keep it in your bag without worrying about who's going to notice the scent.
Unless you're a perfect angel fresh from the pages of a magazine spread, you probably have your moments of clumsiness. You drop things on the ground, absentmindedly toss things in a bag with your keys or even worse—spill water or coffee on your stuff. Your dry herb vaporizer is no different, especially if it's going with you everywhere, like any companies claim theirs can.
Thanks to the new AirVape X Shell, you can confidently carry your AirVape X wherever you need to go, without worry about smells, bumps or bruises. After the huge success of the AirVape XS Shell, the big brother model is getting its own shell. The AirVape X portable vaporizer offers a superior punch versus its diminutive sibling, thanks to its 25% larger ceramic heating chamber and rapid 20-second heat up time.
Now you can carry it with the utmost confidence, no matter where you go. The slip-on shell is the perfect portable vaporizer case, protecting the AirVape X from dirt, dust and even water splash damage; just don't drop the thing in a lake. Take the AirVape X and its sleek shell along with you to your next concert, festival or event and don't worry about it until you need it.
The AirVape X shell even enhances the already very discreet nature of the AirVape X. This portable vaporizer shell won't prevent you from accessing the power button of your AirVape X, so you can still turn on the heating features without taking the shell off. The shell won't prevent you from feeling your AirVape X vibrate when it reaches temperature, which means you can keep your portable vaporizer discreet and protected for longer.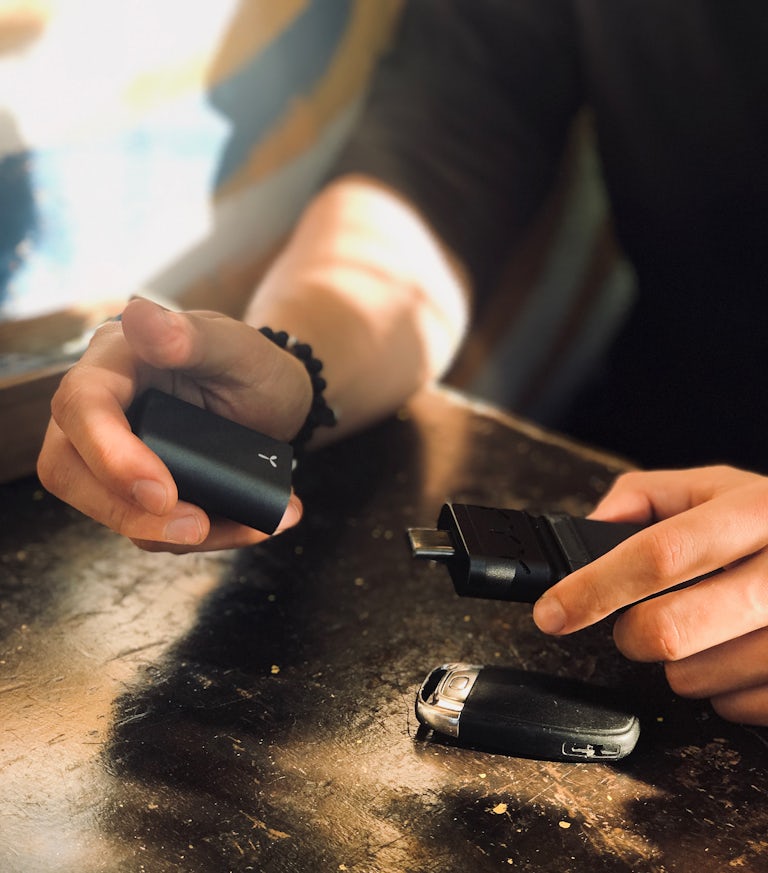 Even More Portable Vaporizer Innovation from Apollo
The AirVape NiNJAS at Apollo are always innovating. Keep your eyes peeled for information on some of their upcoming launches, like the AirVape L***d, releasing in 2019. Details on this new vaporizer are a closely guarded secret, so much so that we can't mention its name just yet. What we do know, however, is that it will have a patented functionality and state-of-the-art heating technology and a range of sensors to offer you the fullest vaping experience. Herb was told that Apollo won't develop an app for their vaporizers because customers shouldn't have to pay extra for a few unnecessary bells and whistles — these are luxury vaporizers at an affordable price point.  There's even a budget conscious AirVape Basic on the way, which packs the same great AirVape technology into a model that's under $100.
Don't miss out on the 4/20 discount available from April 10 to 20th! Use code AIRXFOURTWENTY for 20 percent off plus a free Shell for all purchasers of the AirVape X.