The bigger the vape, the sweeter the experience isn't always a valid statement. Truth be told, everyone has their own definition of a delightful vaping session. For some, it gets no better than a lengthy session at home with a hulking desktop unit. But for others, it's all about fast, sly highs from discreet, portable vapes. The beauty of small vaporizers is no doubt their versatility. Not only can you use them at home, but also while you're out and about handling business or just having fun. Since they don't take up too much room, vaping herbivores can effortlessly slide smaller vapes into their pants pocket or bag, and pull them back out whenever the time is right.
More often than not, small, portable vaporizers also come with outrageous price tags. It's not unheard of to drop anywhere from 200 to 300 bucks on a unit that's less than four inches tall. If you think about it, carrying around an expensive vape to medicate on-the-move doesn't make sense. You wouldn't sneak sips of beer from a quality glass mug while trolling around town, would you? It's only logical to bring something that's designed to deliver unforgettable experiences in smaller, more affordable doses, such as the Magic Flight Launch Box.
The Magic Flight Launch Box gives portable vape a new meaning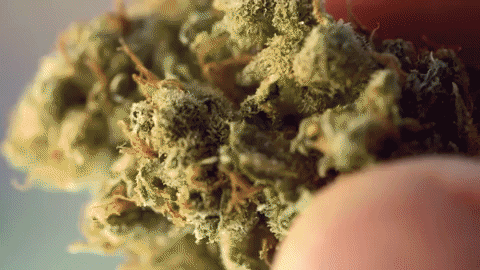 There are more so-called "portable" vaporizers out there than anyone knows what to do with, but the Magic Flight Launch Box is one of few that lives up to what it promises. That's offering cannabis consumers the most efficient sessions with the almighty herb anytime, anywhere. It may not come with any fancy features, but that only makes the Launch Box simpler and suitable to use when you're in a time crunch or merely need to sneak a quick puff before a meeting.
In so many ways, the Launch Box is unlike any vaporizer you've ever heard of or used before. For one, it's handcrafted of renewable wood. But don't think that makes this tiny vape any less compact than other vapes. The Launch Box is built to last and is as light as a feather to boot. Being that it's only 2.5 by 1.25 by 0.9 inches in size, that makes the Launch Box a genuine traveling companion, perfect for slipping into your back pocket or even storing inside your bra. Hey, you never know.
Something else that's unique about the Launch Box is that it runs on two double A rechargeable batteries. That means if you're out of town or down the street hanging out at a friend's house and your vape dies, then all it takes is two Energizers to get back to doing what you love. There are no charger cords or plugs that you have to keep track of, and more importantly, you don't have to wait for 2 to 3 hours for the Launch Box to come to life.
With on-the-go vaping, the Launch Box is the vape that makes sense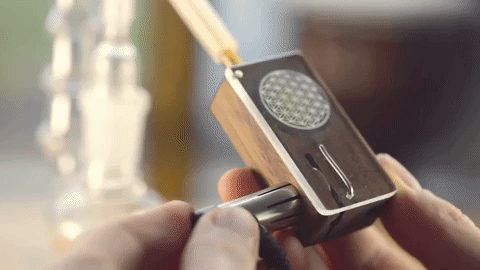 Most portable vaporizers feature a display screen to allow users to view their current heat setting, but not the Launch Box. That's because there's no need for one as controlling its temperature is done manually. To adjust the temp setting, you can either change the amount of time you hold the battery, how fast or how slow you inhale, or how long you pre-heat the vape before inhaling. That may sound complicated, but truthfully, that makes it a whole lot simpler to use in a variety of situations, like when you're busy running errands or rushing to arrive at work on time, and you're trying to catch a buzz in the midst of it all.
From loading to vaping, the Launch Box takes a mere five seconds to prepare for a stellar vape session. Although it's made of wood, it delivers flavorful draws that don't taste like you're burning a tree, at least not the kind that grows in your backyard anyway. Because it takes no time to gear up for yummy hits of herb, that also gives consumers leeway to be sneaky. Using the Launch Box is as convenient as covering the fun-size, discreet unit in the palm of your hand and inhaling the delicious vapor. And while in use, the device stays silent at all times.
Above all, the Magic Flight Launch Box is a portable vaporizer that any dry herb connoisseur can afford. From Cherry to Walnut, each type costs just a little over $100. For a reliable means of vaping herbs on-the-run at a reasonable price, the Launch Box makes the most sense. Futuristic portable vapes are undeniably cool. But unless you have an arm and leg to replace them, your better off leaving your Pax 3 at home.