For more experienced cannabis-enthusiasts, it can sometimes feel like there's nothing new under the sun. For example, there are some amazing portable vaporizers on the market. Spend too long browsing, however, and it can feel as though your eyes are glazing over. This one has what kind of oven? How many clicks to turn this one on? Do I already own this? Vapes are far from the only culprits. Bongs, spoon pipes, steamrollers, pens; all wonderful in their own way, but we've seen them all before. One company, Vapen, brings a breath of fresh air to the cannabis world with a one-of-a-kind weed inhaler.
A Weed Inhaler Unlike Any Other
Ok, so we've all probably seen an inhaler before. But we can guarantee you haven't seen one quite like this. The Vapen Clear Inhaler might look just like the ones most of us remember from school and beyond, but this one packs quite a different punch.  
The weed inhaler is perfect for people who either can't, or simpler would prefer not to smoke or vaporize. Pressurized aerosol delivers a consistent dose of pharmaceutical medicine, with each puff packing 10mg of isolated cannabinoids. With 1000mg in a canister, you can keep track of exactly how much cannabis you've consumed and not worry about getting too much (or too little). It's a far more accurate way to track your consumption than smoking, vaporizing or using edibles.
A Cleaner, More Private Way to Medicate
Far from a gimmick, the pressurized delivery mechanism wastes less than 5% of the active cannabinoids are exhaled, making this one of the most efficient and effective ways to medicate.It's even a healthy choice. Smoking isn't exactly the best thing for your lungs. Even vaporizers can produce some carcinogens when they combust dry herb. Being totally combustion free, this weed inhaler is one of the cleanest ways to enjoy cannabis.
Not needing to spark up also makes the inhaler a more discreet way to medicate. Simply take it out and give it a puff whenever you need, without worrying about prying eyes. No combustion also means no smell, another layer of privacy. If anyone asks, its just your run-of-the-mill non-weed inhaler. When you don't need it, it slips neatly into your bag, pocket or purse.
A Weed Inhaler With Endless Options
Just like you would choose different strains for different settings, Vapen's weed inhaler can meet whatever needs you might have. There are energetic THC strains, such as Sour Diesel and the legendary Jack Herer to help power you through the day. If you need something for the nighttime, Indica strains like OG Kush and Granddaddy Purple are there to help you get a good night's rest.
Whether you need THC, CBD or Hybrid strains, there are over 30 different varieties to choose from, all derived from the purest cannabis for rich, flavorful terpene profiles. Whether you're a recreational or medicinal consumer, this weed inhaler can suit your needs.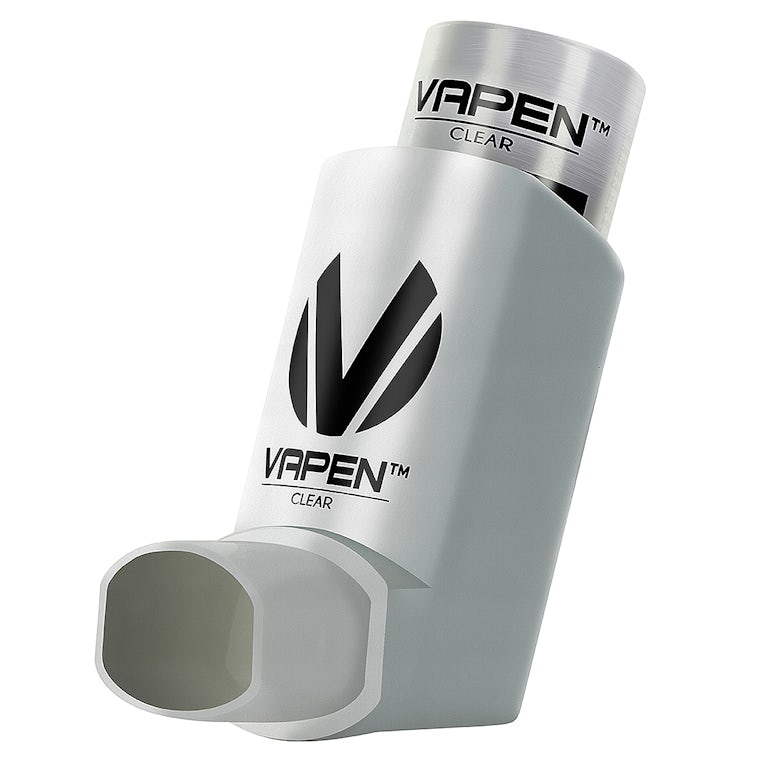 Don't Miss Out on Classic Favorites
The Clear Inhaler is definitely something new, but that doesn't mean Vapen bring the same innovative spirit to each of their products. The new Vapen Diamond Weed Pen uses two Dual Coil Tanks for heavy hitting concentrate vaporizer. Its three voltage settings let you tailor your sessions to your liking, and the powerful A Grade 650 mAh battery means you won't get caught without juice when you need it the most.
Then there are the top-selling concentrate cartridges, which utilize over 99% total active cannabinoids. Free from additives that can cause nasty side effects, these cartridges are derived from the highest grade cannabis.
Whether you're looking for something new and exciting like the Clear Inhaler, or just a great take on something more familiar like a vape pen, Vapen has something fresh for you to enjoy.