The world's largest glass bong is the latest attraction to call Las Vegas its home. Aptly named Bongzilla, the handmade glass bong is part of an exhibition in the Cannabition Cannabis Museum, a cannabis arts and culture museum that opened its doors to tourists and the general public on September 21.
The colossal glass bong towers at 24 feet tall, containing a 100-gallon water reservoir. Its bowl can hold up to a quarter pound of cannabis and sits in the museum at the crux of two spiraling staircases. Bongzilla also glows while propped underneath a black light, in front of a backdrop of Tokyo. The glass bong is entirely functional.
Even though Nevada legalized cannabis over a year ago, it's still illegal to use it in public, meaning guests, unfortunately, can't actually use Bongzilla.
In an interview with the Los Angeles Times, Bongzilla's project creator, Jason Harris, delved into the nitty-gritty details of the project. With the help of fifteen Seattle-based glassblowers, Harris and his team blew glass for eight hours a day, four days in a row.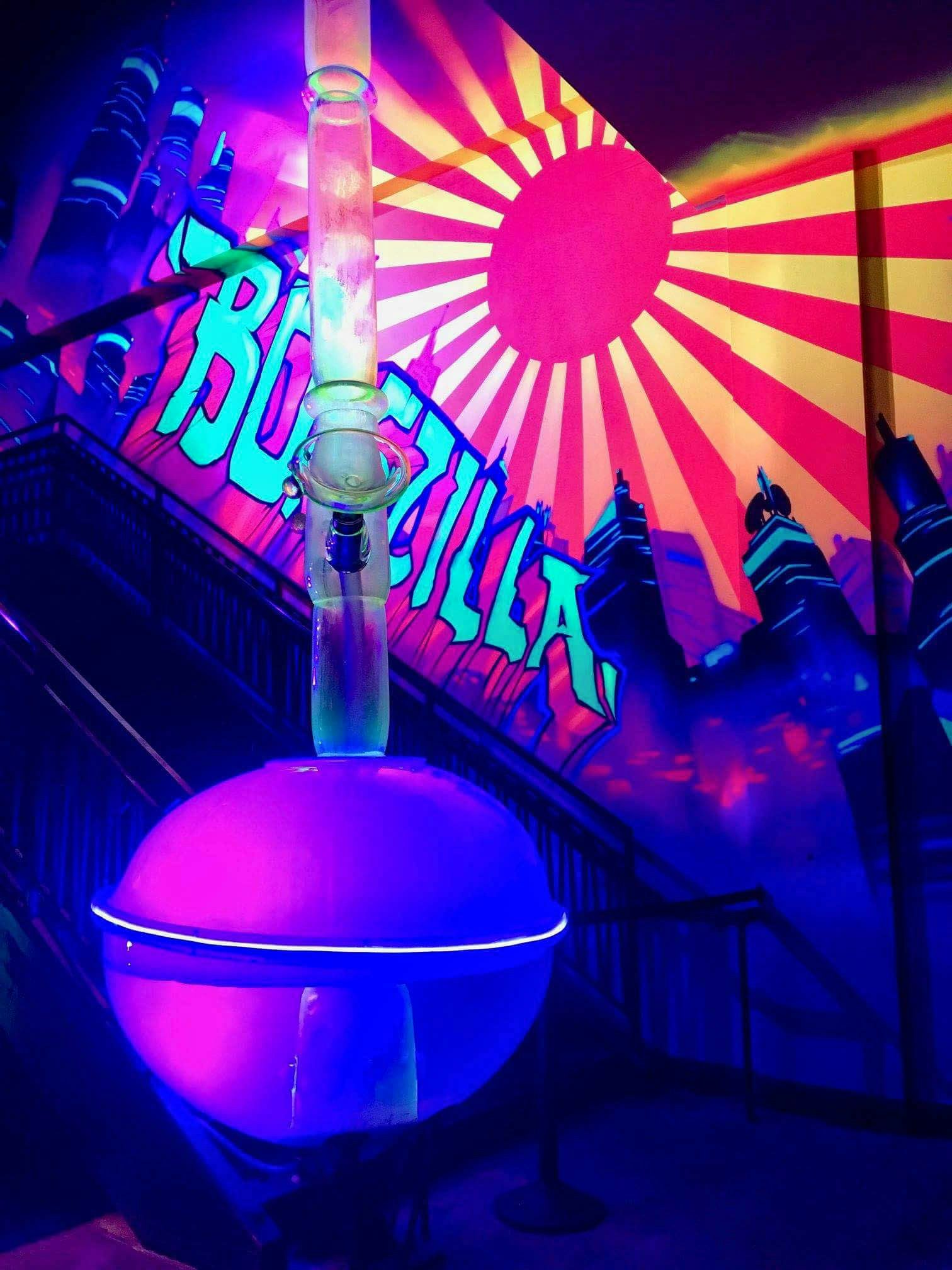 Harris has had his foot in the glassblowing game for quite some time. He even got arrested along with Tommy Chong in the Operation Pipe Dream fiasco in 2003.
Once Bongzilla saw completion, it was disassembled and made its way through four of the West Coast legalized states before reaching its Las Vegas destination.
Cannabition Cannabis Museum includes several exciting exhibits focused on cannabis, such as Hunter S. Thompson's original "Red Shark" Chevrolet Caprice, a demonstration of an indoor grow-op, and a giant pool of plush cannabis nugs. Cannabis enthusiasts can slide down into the pool once the tour is completed.
Cannabition isn't just fun and games, however. Each room contains historical information and useful facts about everything cannabis, such as historical significance, the process behind how concentrates are made, as well as the difference between indica and sativa, to name a few. Once the tour of the museum is over, visitors can enter the gift shop that sells cannabis paraphernalia and CBD products.
It seems as if Las Vegas is becoming a leading location for cannabis tourism in the United States. Last August, the City of Sin's Planet13 announced plans to open the largest dispensary in the country.