Seth MacFarlane's hit animated comedy sitcom Family Guy has referenced cannabis on several notable occasions ('A Bag o' Weed' from the episode titled 420).
But a recent appearance on Jimmy Kimmel Live saw the creative genius delving a little deeper into his stance on cannabis and if he enjoys toking up.
Host Jimmy Kimmel chatted with MacFarlane about his most recent project, The Orville, a live-action sci-fi comedy television series, and McFarlane's casual friendship with the likes of Patrick Stewart and William Shatner.
The conversation eventually veered into MacFarlane's relationship with his parents, who, surprisingly enough, seem to be the real stoners in the family.
"My parents had talked for years about the fact that they did a lot of drugs in their younger years," McFarlane recounted, "'I was on acid at Woodstock,' and all that."
"That explains your cartoons," rebounded Kimmel.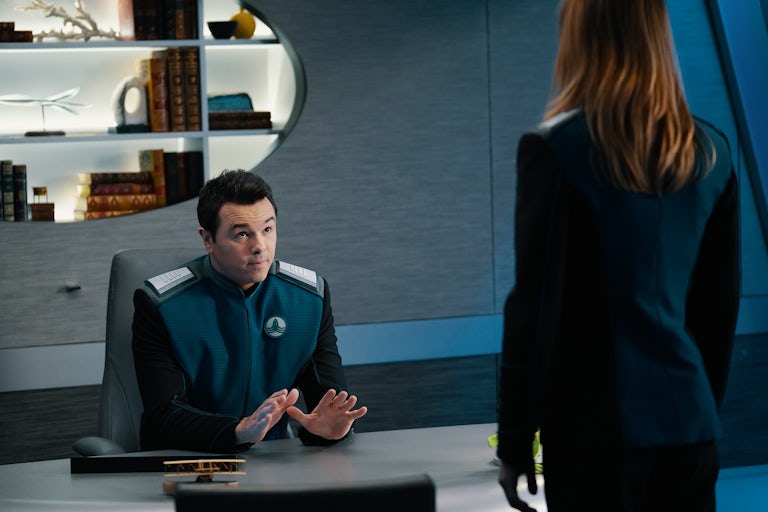 MacFarlane continued by detailing the holiday season past, explaining that he and his sister instigated the scenario.
"My sister and I brought some weed up to the house, my parents' house, and with very little coaxing, they partook.
"My mother just was laughing a lot, predictably, and my father turned to me and I instantly regretted the whole enterprise. He said 'God, Seth, this is the first time that you and I have been stoned together as father and son."
MacFarlane's recent appearance on Kimmel touched on the topic of cannabis and parenting, but an interview from three years ago, this time on The Tonight Show With Jimmy Fallon, saw the animator talking about the same incident, this time, with his father sitting in the studio audience, who quickly became part of the conversation.
MacFarlane told the story of the Thanksgiving holiday that happened years before, which saw the MacFarlane family enjoying cannabis together.
Fallon asked Seth MacFarlane if he'd ever gotten high with his father, prompting him to the same tale he would tell on Kimmel three years later.
"I remember at one point, my parents saying to me, 'it'll be normal for you to want to try drugs, and all we ask is that you do it here in this house with us present.'" MacFarlane told Fallon. "I think the idea was that it would remove the temptation, but it was something that I was too dumb to take advantage of. They were basically offering to be mules, I guess right?"
The unorthodox parenting seemed to have worked, as MacFarlane shared that he tried cannabis quite later in life.
"I didn't smoke pot until I was 28." MacFarlane said, gesturing towards his father, "Hats off, well done."
You can watch the recent interview with Seth MacFarlane on Jimmy Kimmel Live below.