When it comes to ways to utilize nature's most beneficial herb, the possibilities are infinite. Cannabis is so much more than joints and blunts. The cannabis industry is expanding at breakneck speed, and a vast array of products are flooding the market. This means that it's helpful to have a little guidance to finding what really stands out from the pack.
While some say cannabis is not for everyone, but the truth is, it can be with the right consumption method. Find what works for you using this ultimate guide to the best cannabis products on the planet.
Best CBD Coffee and Weed Coffee
When you have a cupboard full of weed coffee and CBD coffee, every day is a good day. Weed coffee wakes you up with a buzz and can make a dreadful Monday feel like a fabulous Friday. CBD coffee, on the other hand, doesn't get you high, but still makes for a feel-good cup of Joe. From lifting you up to calming you down to reviving motivation, weed coffee and CBD coffee does everything regular coffee doesn't, and more.
The Best CBD Coffee Beans
FOCUS Hemp Oil Infused Coffee- Strava Craft Coffee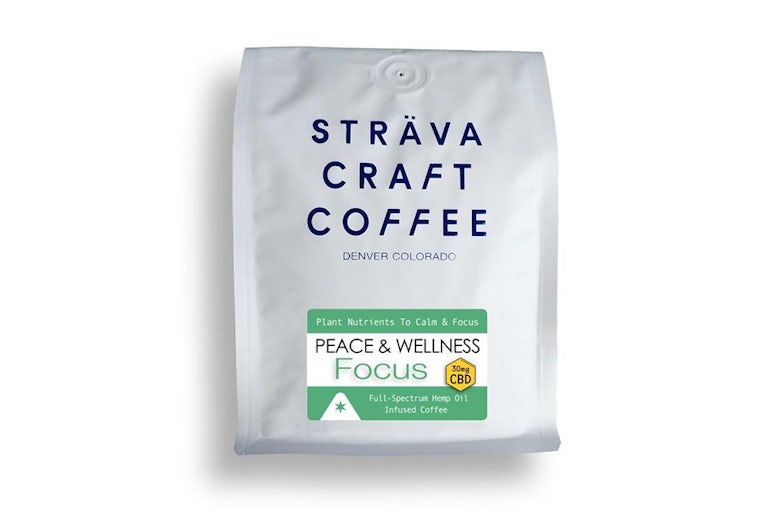 Sometimes coffee can put you on edge and make you jittery. CBD coffee, however, provides the perfect dose of caffeine and alertness, without the shakes. One of the best cannabis products for early mornings and midday pick-me-ups is FOCUS Hemp Oil Infused Coffee from Strava Craft Coffee. Each 12oz bag contains 30mg of CBD and features exceptional tasting notes of brown sugar, ripe cherry, and natural cocoa. In addition to leaving you bright-eyed and bushy-tailed after just a few sips, FOCUS whole bean coffee delivers the right amount of calm and focus, so that you start each day off right.
The Best Cold Brew CBD Coffee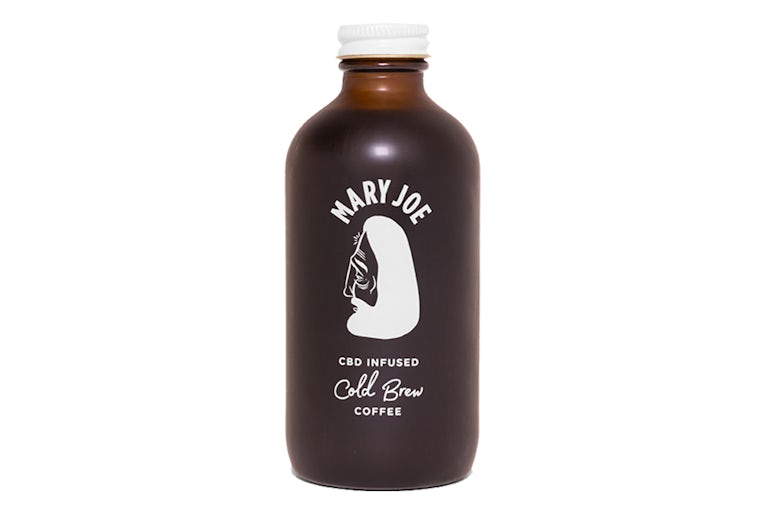 It's rare that you'll find a cold brew coffee that delivers relaxation and energy at the same time. But with Mary Joe Coffee, you get the best of both worlds. Mary Joe Coffee is a divine blend of caffeine, pure water, laboratory-tested CBD extract, and the finest organic coffee beans. Per each charming six fl oz bottle, you get a 10mg serving of CBD, smooth flavors, and the most chill, yet uplifting experience that a cold brew can give.
The Best Cold Brew THC-Infused Weed Coffee
10MG Coffee Shot- Somatik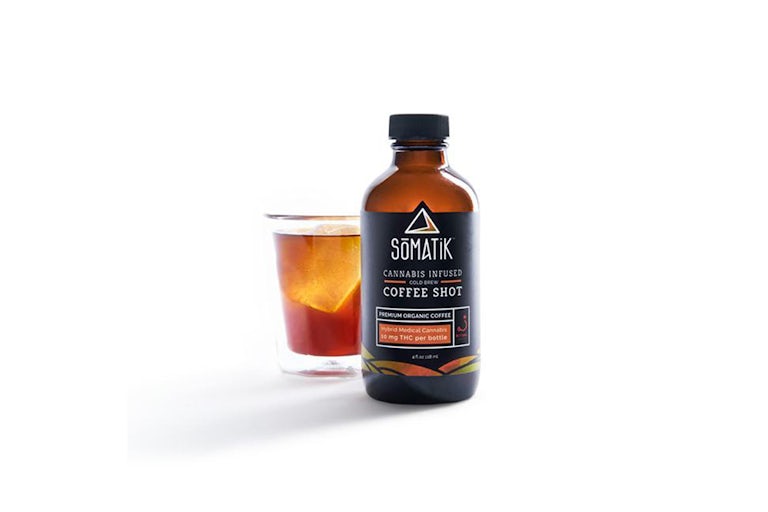 When you're a busybody with a tight schedule, it's hard to find time for anything, even if it is just a simple cup of coffee. With Somatik's cold-brew, cannabis-infused coffee shot, you can get energized, revitalized, and ready for action in little to no time. Each bottle has  10mg of THC inside, which isn't a lot but is just enough to get the job done. It delivers a euphoric, yet balanced high that won't steal away your motivation or stamina, and combines delicate flavors of cherry, herbaceous, and bright lemon for a tasty, easy-to-down beverage whenever you're in need of a light, but useful caffeine boost. No more endless lines at Starbucks.
The Best Weed Beer and CBD Beer
Wouldn't it be nice to have a beer that delivers warm and fuzzy feels but doesn't get you drunk or make you hungover the next day?  As it turns out, such a thing exists, and it's called weed beer.
If you think there must be a catch to cannabis-infused beer, then you're right. Weed beer doesn't contain any alcohol, but that's just the beauty of it. You get the same crisp flavors you love about your favorite craft beer, but without destroying your body. Instead, weed beer replaces the spins and harmful effects with a smooth high and all the body/mind benefits that come along with it. At last, there's a beer you won't regret.
The Best CBD-Infused Beer
High Flyer Session IPA- Cloud 9 Brewing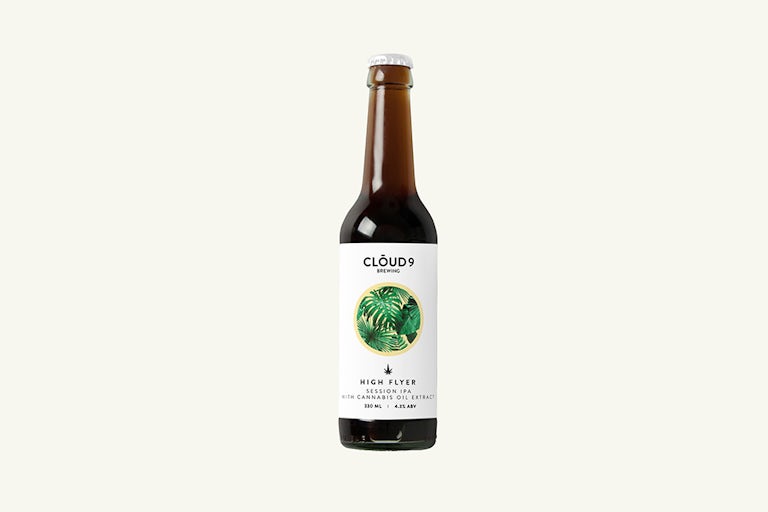 Who doesn't appreciate an ice-cold IPA on a hot summer's day, or any day of the year really? Straight out of the UK is the High Flyer Session IPA by Cloud 9 Brewing. High Flyer is unlike anything you'll pick up from your local gas station or grocery store. This beer, in particular, is filled with tasty terpenes, cannabinoids, and exotic flavors. While the hoppy High Flyer combines alcohol and CBD in one beverage, it goes down surprisingly smooth, even for those who might be new to IPAs. The aftertaste is refreshing and with citrus notes that aren't too bitter, or too sweet. This one won't get you high, but it'll take your booze-drinking experience to the next level guaranteed.
The Best THC-Infused Beer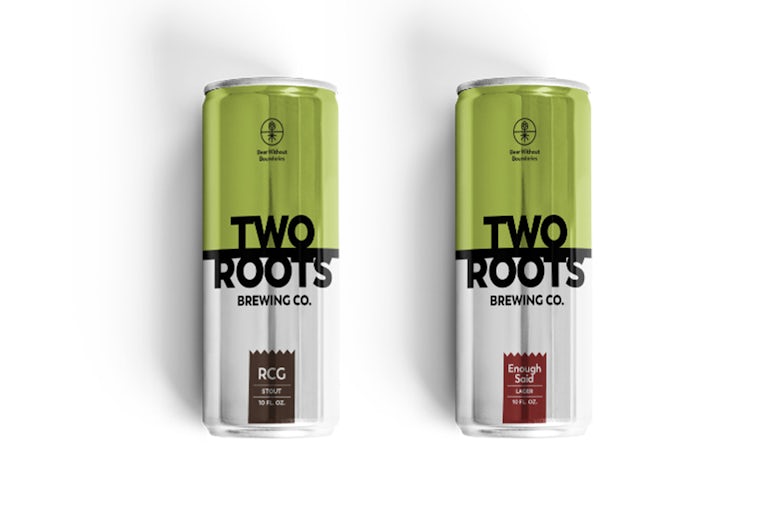 Due to current laws and regulations, THC and alcohol together is a big no-no. But if you think you can get down with a tolerable buzz instead of the spins, then Two Roots cannabis beers are where it's at. Despite having a lack of alcohol content, Two Roots is one of the best cannabis products for savoring the familiar taste of your favorite craft beer and the same laid-back high you get from smoking on a J. There are several pours to choose from, such as Blonde Ale, Wheat, New West IPA, Stout, and Lager, and each can consists of just 2.5mg THC, making the effects as easy to control as regular beer, if not easier.
The Best CBD Water and Weed Water
If you're one of those people that have been forever turning their nose up to a plain cup of water, meet the new h20, cannabis water. Cannabis water hydrates and fills your body with beneficial cannabinoids by the gulp. Of all the means of cannabis consumption, CBD and THC-infused water are the simplest. Not to mention, the most natural.
CBD water and weed water go down the same way as the next beverage. Moreover, you don't have to do any measuring or perform any trial runs to figure out your best dose, making these enhanced h20s easy to slide into even the strictest day-to-day routine. Just sip slow, as you would with any other drink, give them time to react, and go from there.
The Best CBD Water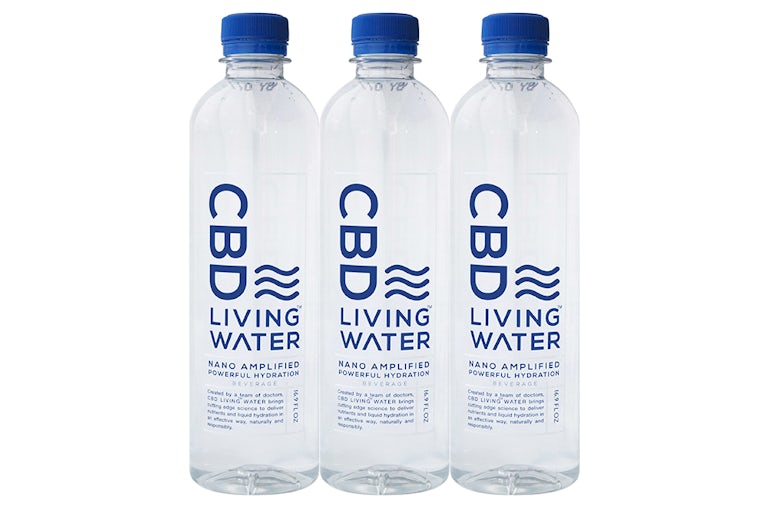 Pure h20 has always been the most valuable resource on earth. The majority of your body is comprised of it, and it's essential in maintaining a healthy lifestyle. But now that companies like CBD Living are adding CBD to it, it's becoming beneficial in ways many people could have ever imagined.
CBD Living Water is one of the best cannabis products for anyone to incorporate into their wellness routine. CBD Living Water uses nanotechnology to provide the body with not only maximum hydration but also complete CBD absorption. For those who are new to cannabidiol, figuring out the best method to consume CBD can feel intimidating, but with CBD Living Water, it can be as natural and painless as tossing back a regular glass of water.
The Best Flavored CBD Water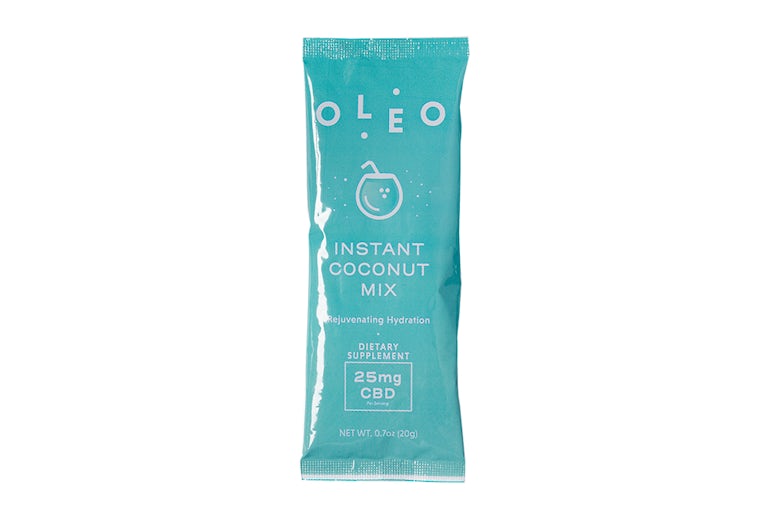 Flavor factor aside, everyone is crazy over coconut water primarily because of its countless health benefits, from promoting digestion to relieving migraines. Add CBD to the mix, and you get double the body/mind repair and recovery. Oleo CBD Infused Coconut Water Mix is one of the best cannabis products for a more potent, fast-acting CBD experience. It consists of 25mg microencapsulated CBD powder, making it more bioavailable to your body, and is loaded with electrolytes, vitamins, and minerals.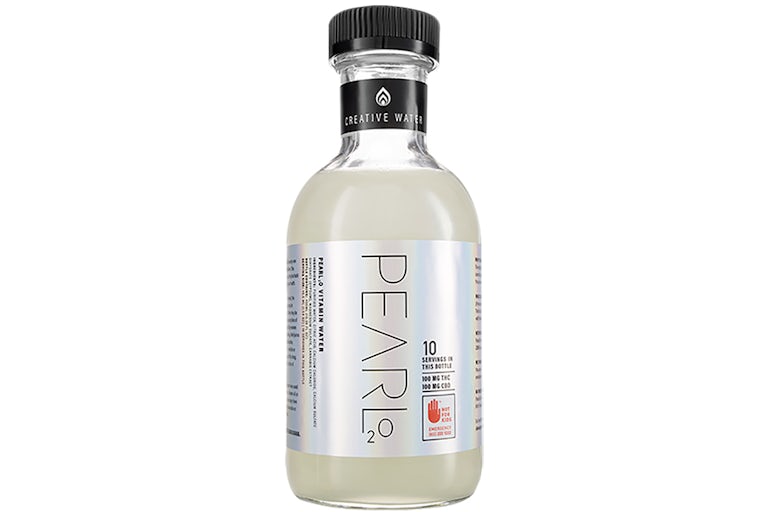 Cooking with cannabis is never going to be the same again. Pearl2o is the water solution that's changing the edible game. Pearl2o, unlike weed butter and oil, disperses THC evenly and has no weed taste or smell, or calories, sugar, fat, or cholesterol. Not to mention, it has a faster reaction time, and its effects can usually be noticed anywhere from 5 to 45 minutes after consumption.
Just like regular water, you can boil, bake, and mix with Pearl2o. One thing to be aware of is that to prevent the CBD and THC from breaking down; cooking temperatures shouldn't exceed 300 F. Still, Pearl2o is one of the best cannabis products for convenient, healthy cooking, like smoothies or a savory soups.  Pearl2o comes in an array of manageable doses, including 100mg and 50mg THC/CBD, plus 10mg THC/CBD single-serving vials/packs.
The Best Carbonated Weed Water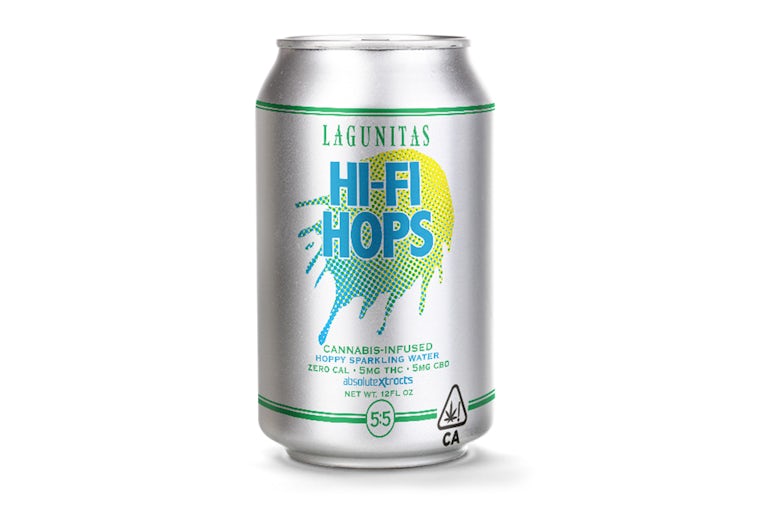 AbsoluteXtracts and Lagunitas Brewing Company recently teamed up to present Hi-Fi Hops, a cannabis-infused, calorie and carb-free sparkling water drink with IPA attributes. This dank bevy doesn't contain alcohol and doesn't taste like it either, or weed on that note. It's like sipping on a La Croix, but it's hoppy and more satisfying. Available in two doses, 10 mg THC and 5:5 mg THC/CBD,  a rush of euphoria awaits you with Hi-Fi Hops. Serve it chilled for the best vibes.
The Best CBD Soda
Who said sodas couldn't be healthy? CBD sodas are often less sugary, and sometimes sugar-free, but also may come with wellness bonuses, like stress relief and reduced inflammation, to point out a couple.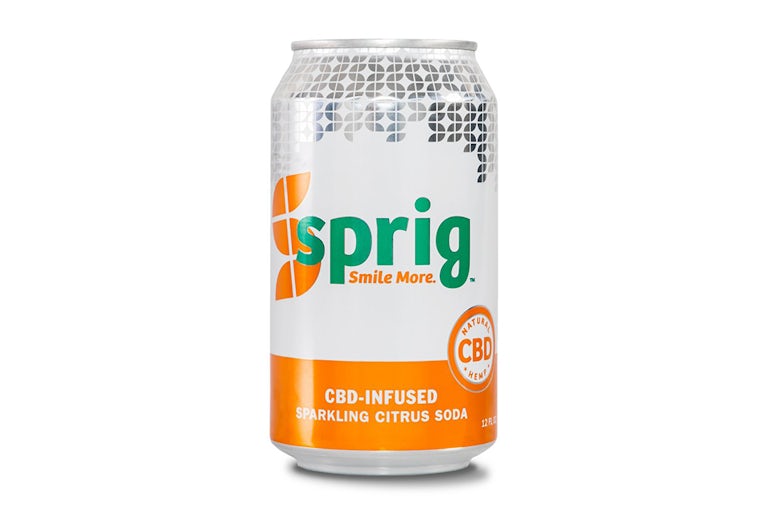 One of the best cannabis products to drink on hot summer's day is Sprig's sparkling CBD Sodas. They're also just what you need to replace Coke,  Dr. Pepper, or other sugary carbonated beverage in your routine. Sprig's refreshing options- Lemon Tea, Melon, and Citrus- come sugar-free. But if you're not against cane sugar, then there's another Citrus flavor with added sugar to fall in love with as well. Each can of fizzy goodness contains 20 mg of the highest quality CBD, comes in a pack of four and is one of few sodas made for active, health-minded individuals.
The Best Weed Tea and CBD Tea
Tea is fantastic for your body and soul. For the healing properties of cannabis minus the high, fill your cup up with CBD tea. CBD tea provides warm relaxation and awakens your senses. Weed tea does the equivalent but also adds euphoria to the mix.
The Best THC-Infused Tea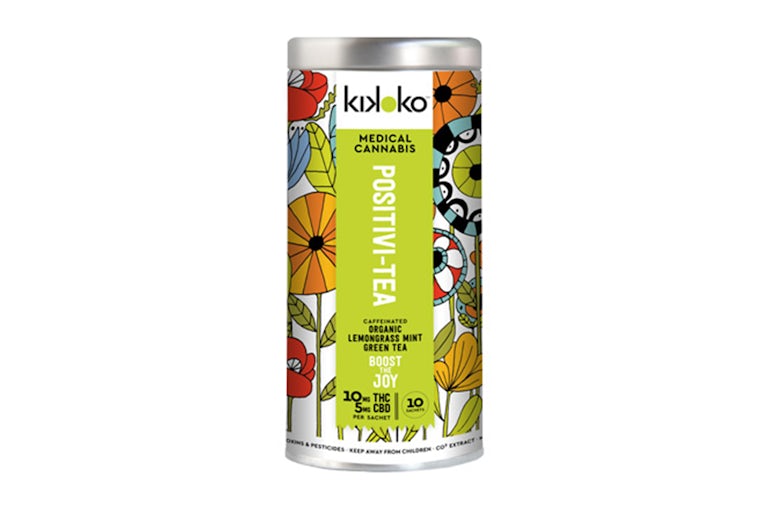 Kikoko is everyone's cup of tea. If you have some serious catching up to do on your zzz's, then a cup of Kikoko's Tranquili-Tea and its 3mg THC/5mg CBN content will put you out but won't leave you feeling groggy in the morning. For increased sex-drive there's Sensuali-Tea, which has 7mg of THC per tea bag, to rekindle the spark and bring you and your significant other back the honeymoon phase.
For battling the blues use Positivi-Tea (10mg THC/5mg CBN) and for taming the pain, give Sympa-Tea (3mg THC/20mg CBN) a try. Whatever you need, Kikoko is here to provide relief, one smooth sip at a time.
Aside from being gorgeously discreet, all Kikoko infused teas are free of pesticides and toxins. Also, they have no fat, no weed aroma or flavor, and are precisely dosed. Plus they're all about giving back. To help critically and chronically ill children who rely on cannabis as medicine, Kikoko donates 5% of their profits to non-profit organizations that give families affordable access to cannabis-based treatments.
If it's always tea o'clock in your household, then it's high time you upgrade from the same bland brew to a more buzzy blend, like Shanes Tea. These infused teas made our list of the best cannabis products not only because of their exquisite taste, but also because they offer the perfect mixture of spices, herbs, and tea leaves in every bottle. Shanes Tea is available in five incredible flavors- Chai, Raspberry, Honey-green, Mango, 50/50. Each tea has 45mg of THC and will have you smitten, stoned, satisfied, and so ready for another.
The Best CBD Tea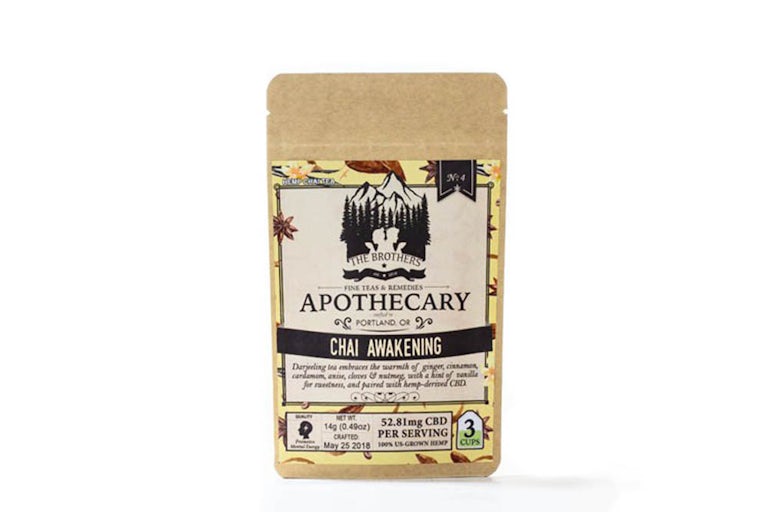 What's more relieving than a hot cup of tea? That would be CBD tea, of what I like to call "meditation in a mug". No matter if you're into green tea, kava, or something else, The Brothers Apothecary likely has what you need. In every tea bag, you get locally grown, lab-tested CBD-rich hemp, in addition to wildcrafted organic ingredients and of course, a modest dose of caffeine. These CBD teas empower both the body and mind.
The Best CBD Bath Bombs and THC Bath Bombs
THC and CBD infused bath bombs will make you want to stay in the tub an extra hour. And let me tell you, they're worth the pruney fingers. Just like regular bath bombs, they come in a variety of pretty colors and refreshing scents but come with the remedial features of cannabis. Some will relieve pain, some will help you rest,  and some even turn you on. That's all the more incentive to add cannabis bath bombs to your self-care ritual.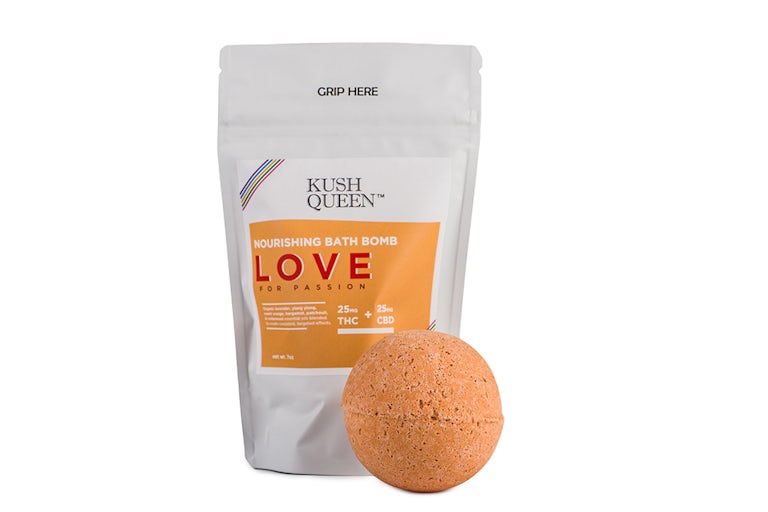 Who doesn't enjoy a hot, relaxing bath? Hold the bubble bath and make Kush Queen's CBD-infused bath bombs your new bathtime buddy instead. Kush Queen 25 mg CBD bath bombs made our list of the best cannabis products not only because they're fun to watch fizz around the tub, but also because they deliver all sorts of benefits. These bath bombs deliver benefits ranging from increased energy to increased sex-drive by combining essential oils with terpenes and full-spectrum cannabinoids. They also smell amazing and are an excellent way to calm both your body and mind.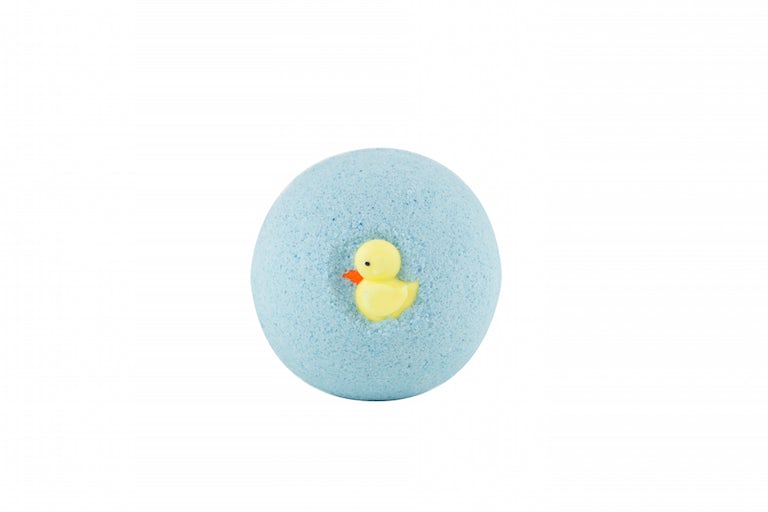 Aside from their pleasant smells, bath bombs put on an amusing show and make your water turn to beautiful colors. What's even more therapeutic than your typical bath bomb, though is THC Bombs from Cannabis Bath Company. They come in multiple aromas like Lavender, Jasmine Ylang Ylang, Bergamot Patchouli, and Coconut Lime. Each THC Bomb is infused with 20mg of THC. Unlike other bath bombs, they won't stain your tub and can provide all kinds of comfort, from worry relief to relaxation.
The Best Weed Bath Soaks
From soaps to soaks to scrubs, there are all sorts of cannabis products you can use in the shower or tub, and most are made natural and organic, meaning they won't aggravate sensitive skin or dry it out.
The Best Weed Bath Soak For Pain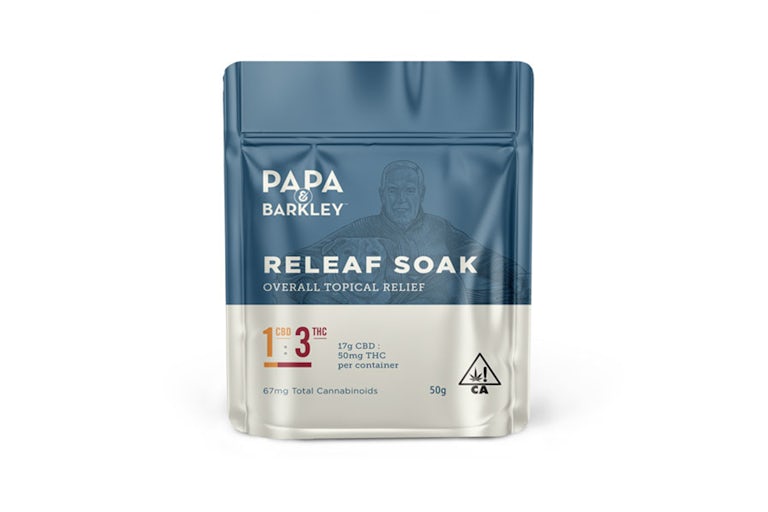 After a brutal workout, give Releaf Soak from Papa & Barkley Co. a try. The Releaf Soak is composed of imported Dead Sea salts that will give you an overwhelming sense of calm. More importantly, Releaf Soak will also soothe achy sore muscles. For the full effects of its 1:3 CBD/THC ratio (17mg CBD, 50mg THC), pour about a half a jar into a warm bath and allow it absorb for 15 to 20 minutes. And to take your experience to an even higher level, cover yourself in a medicated body scrub before bathing.
The Best Weed Bath Soak For Menstrual Cycle Relief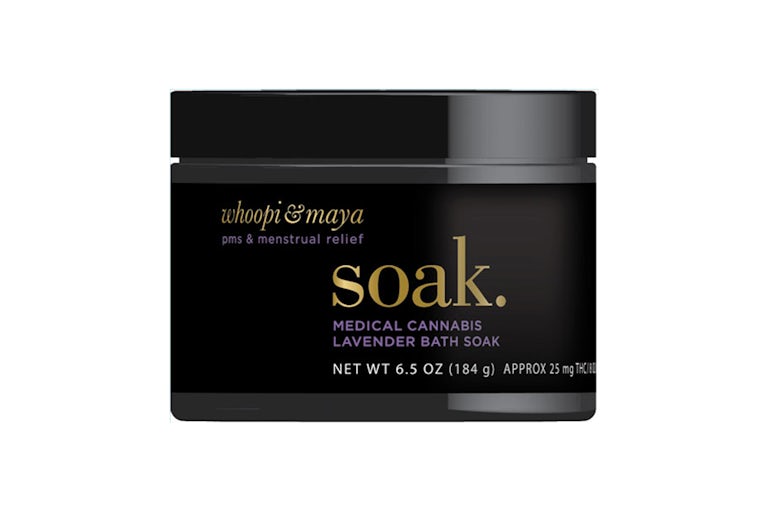 Running a hot bath is one way to relieve the awful mood swings, aches, and pains derived from a menstrual cycle, but it's only temporary. For relief, that'll last outside the tub, one of the best cannabis products for women living with painful periods is Soak. Soak by Whoopi & Maya is an infused Epsom Salt that boasts the healing and detoxifying properties of Epsom Salt with those of cannabis. It contains around 25mg of THC per container and comes in three uplifting fragrances, including Amber Moon, the brand's signature scent, Lavender, and fragrance-free.
The Best CBD Soap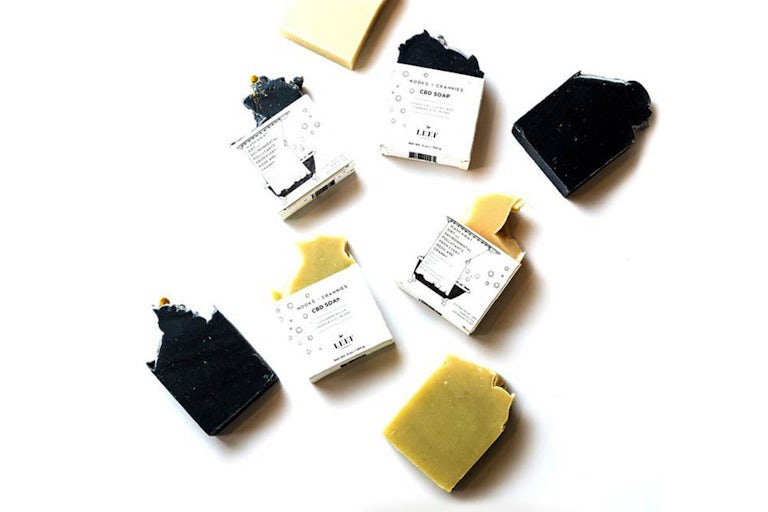 Wash away impurities and reap the benefits of CBD all over with one of the best cannabis products NOOKS + CRANNIES by LEEF Organics. Some users swear by NOOKS + CRANNIES for alleviating common skin conditions, such as eczema and keratosis pilaris. Available in Cucumber Melon, White Tea & Ginger, Charcoal & Clay, and Black Chamomile, each bar of NOOKS + CRANNIES CBD soap contains 20mg of Organic Whole Flower CBD Extract to soothe, hydrate, and re-balance even the most sensitive skin. Furthermore, this CBD soap works as both an antioxidant and an anti-inflammatory. It also features unique packaging that is recyclable and can be used to plant and grow non-GMO tomatoes.
The Best CBD Cream and Weed Topicals
Topicals are one of many ways to experience the beneficial effects of cannabis without lighting up. Topicals can aid in comforting an assortment of skin conditions, from eczema to psoriasis. Some topicals also claim to provide relief from fibromyalgia, menstrual cramps, sports injuries, and more. Not to mention, if you desire to maintain a youthful glow by diminishing fine lines and wrinkles, cannabis-infused facial creams can help.
The Best CBD Sunscreen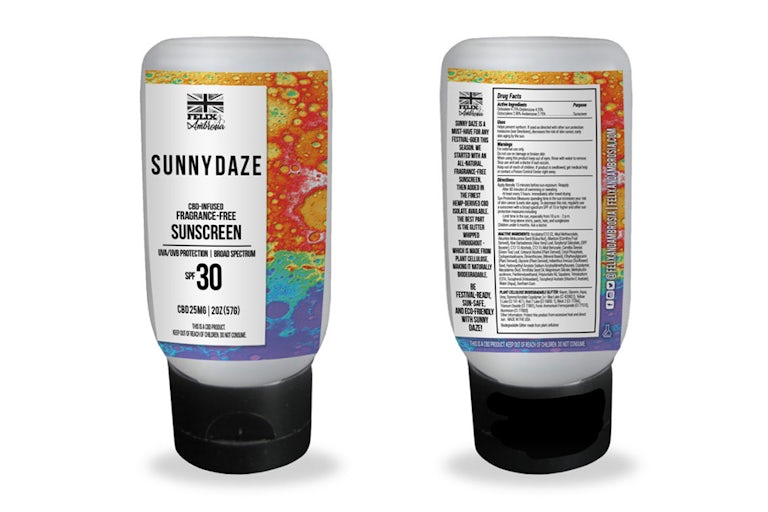 Keep your shirt off and skin healthy with Sunny Daze Sun Cream. This sunscreen by Felix & Ambrosia protects your skin from the sun's harmful UVB rays and makes it sparkle and shine.
Aside from shielding your skin from the sunshine and preventing nasty sunburns, Sunny Daze Sun Cream is a fun way to keep your face and body looking young for years to come. Each bottle contains SPF 30, eco-friendly glitter, and the finest hemp-derived hypoallergenic CBD isolate. With this CBD sunscreen, feel free to bust out the tanks and shorts as often as you'd like. Sunny Daze Sun Cream has your back all summer long… and your other parts too.
The Best Topicals For Pain
Canna Hemp X's Recovery Cream- CBD Fit Recovery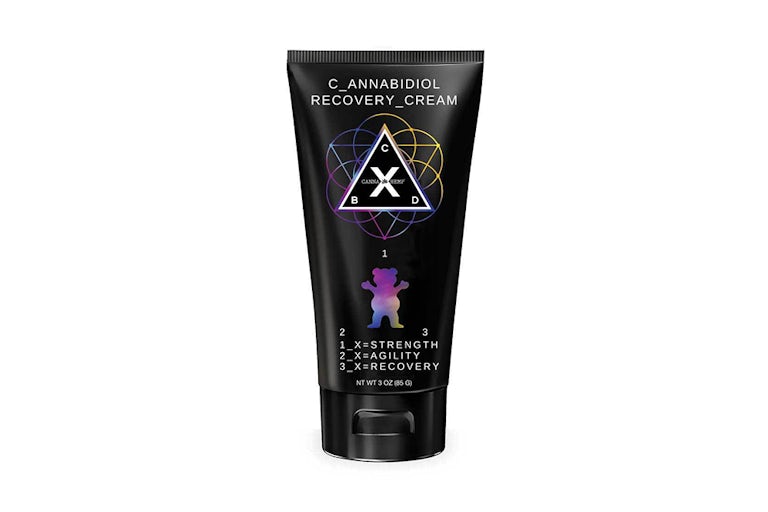 Save yourself a trip to the chiropractor's office with Canna Hemp X's Recovery Cream. From skateboarders to basketball players, Canna Hemp X's Recovery Cream from CBD Fit Recovery is one of the best cannabis products for athletes of any kind. Not only will it work to erase bruises faster, but it will also relieve inflammation, muscle spasms, cramps,  and pre and post workout soreness. It does this without any of the nasty side effects of pain pills.
If you want both hot and cold all-natural therapy, Canna Hemp X's Recovery Cream is undoubtedly it. Each bottle has 317mg of CBD, in addition to essential organic eucalyptus, peppermint, and rosemary oils for a light scent. All ingredients are organic, gluten-free and non-GMO.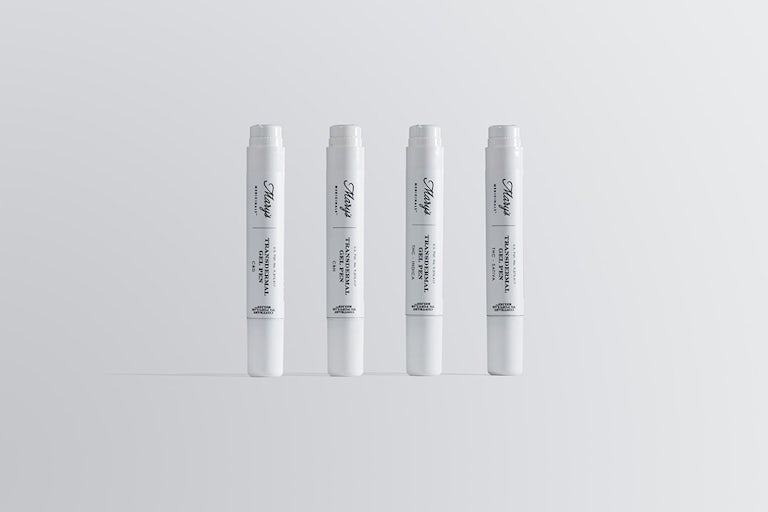 Do you have that one spot on your body that manages to stay sore? If so, then there's no need to get a topical for all-over body relief. Instead, opt for one of the best cannabis products for easing soreness and pain in specific areas, like the Transdermal Gel Pen from Mary's Medicinals. Whether you favor Sativa or Indica, you have the leeway to choose. Both kinds of the Transdermal Gel Pen dispense a 2mg dose of THC at a time for immediate relief.
The Best CBD Sleepmask for Radiant Skin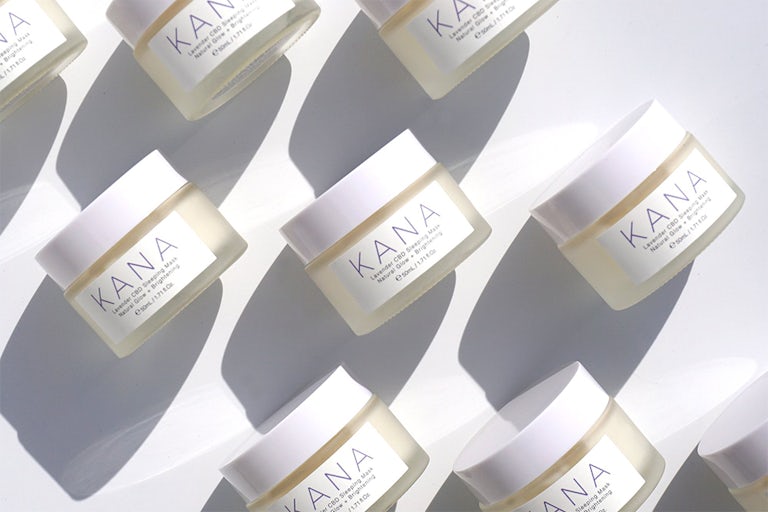 Enhance your skincare routine and sleep like a lamb with a CBD-infused lavender sleeping mask by Kana Skincare, one of the best cannabis products for nighttime skin treatments. The Lavender CBD Sleeping Mask contains 28 active botanicals, all of which heal, hydrate, and illuminate your skin. Before you head to bed, apply a small scoop of the mask onto your face and neck and give it a few pats. Once you wake up and rinse it off using warm water, you'll start your day with silky smooth skin and a beautiful, youthful glow to go along with it.
For the best results, use the Lavender CBD Sleeping Mask three times a week. Also, apply a little SPF during daylight to maintain radiant skin and protect it from sun damage all day long.
The Best Topical For Tired and Puffy Eyes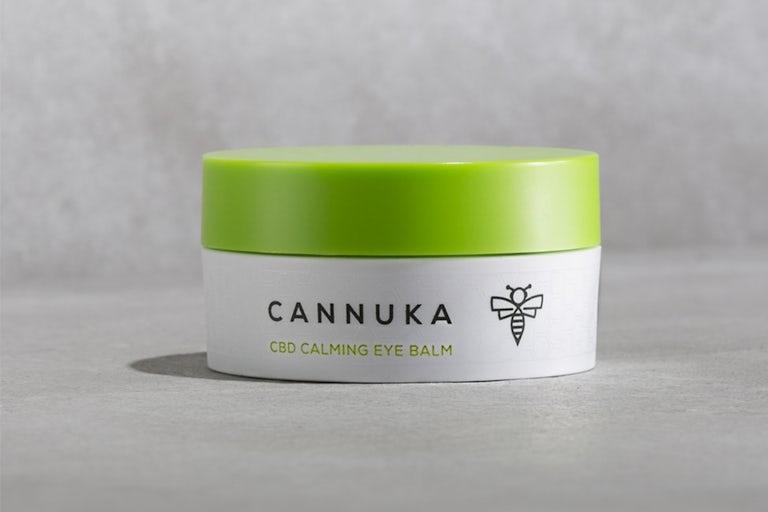 If you are looking to combat those aggravating dark circles underneath your eyes, try the Calming Eye Balm by Cannuka. The Calming Eye Balm also diminishes fine lines that come with aging and puffiness caused by things like allergies and leaving your makeup on overnight.
The under-eye area is highly sensitive, but when used twice a day, the Calming Eye Balm gently hydrates, refreshes, and protects delicate skin using the anti-inflammatory properties of CBD, essential vitamins like vitamin E, and other essential oils. Some users even say the Calming Eye Balm is a more effective addition to their beauty regime than well-known cosmetic brands. Plus it's a lot cheaper.
The Best Topical for Fighting Signs of Aging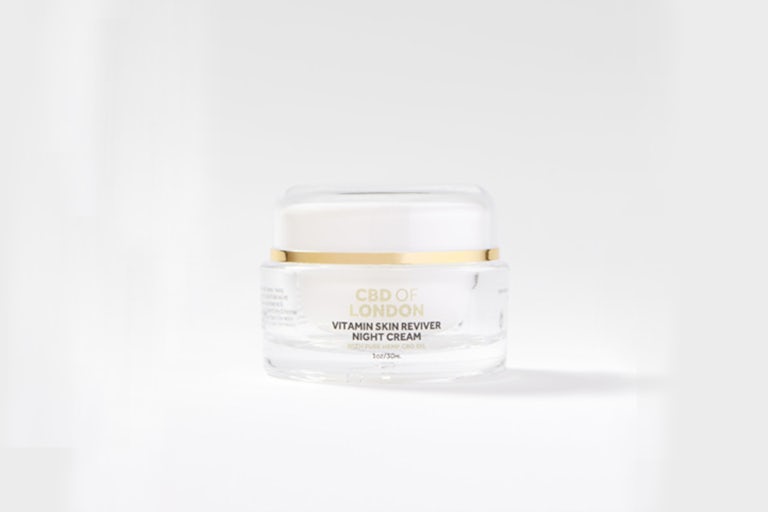 CBD of London is one of the best cannabis products for reviving aging skin. This stunning line consists of three high-end products composed of all-natural ingredients.
The Vitamin Skin Reviver Night Cream is one member of the collection. In addition to rich CBD extract, this velvety cream uses vitamins A and E, and enriched Jojoba oil, to deeply nourish the skin, giving it a more youthful appearance. Along with that, there's also the CBD Collagen + Retinol Anti-Ageing Cream, a light, yet nourishing topical packed with Vitamins A and C, that smoothens out wrinkles and plumps facial contours. Last, but certainly not least, you have the Advance Bright Eye Repair Serum, overflowing with antioxidants, aloe vera, and collagen. It is the perfect fix for refreshing tired eyes.
The Best Topicals For Discretion and Amazing Scents
Soothing Lotion- Humble Flower Co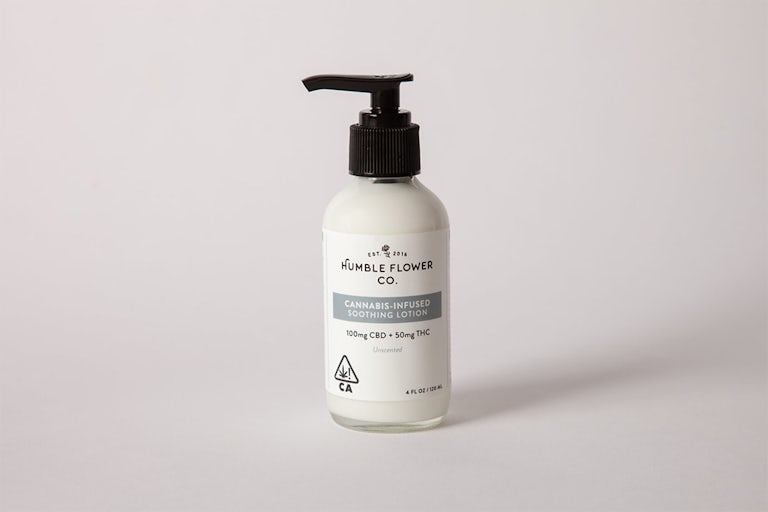 It's not rare to come across a topical that smells like weed. For those that commonly have places to go and people to see, discretion can be a must. That's why Humble Flower Company's Soothing Lotion is one of the best cannabis products for treating your skin with a combination of cannabinoids without a trace.
Soothing Lotion is both powerful and gentle. It absorbs fast, and offers an organic spa-quality base, leaving your skin feeling moisturized and restored. There are two selections of Soothing Lotion available, including a Jasmine + Rose scent, and each contains 100mg of CBD and 50mg of THC. However, if you prefer a scentless alternative, there's an unscented version of the topical as well.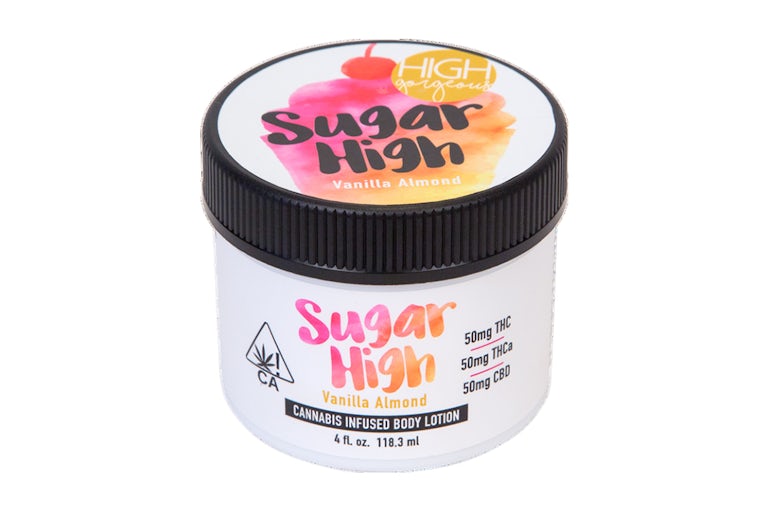 Again, not everyone wants to walk around smelling like a pot plant. Unlike most topicals, Sugar High has a fantastic vanilla almond aroma. Sugar High by High Gorgeous is also gluten-free, cruelty-free, and vegan-friendly
Sugar High provides THC (50mg) and CBD (50mg), and even THCA (50mg). Feel free to slather your body in Sugar High. No one will ever suspect it has cannabis in it. We rank it ass one of the best cannabis products for inconspicuous and effective skin therapy.
The Best Topical For Luscious Lips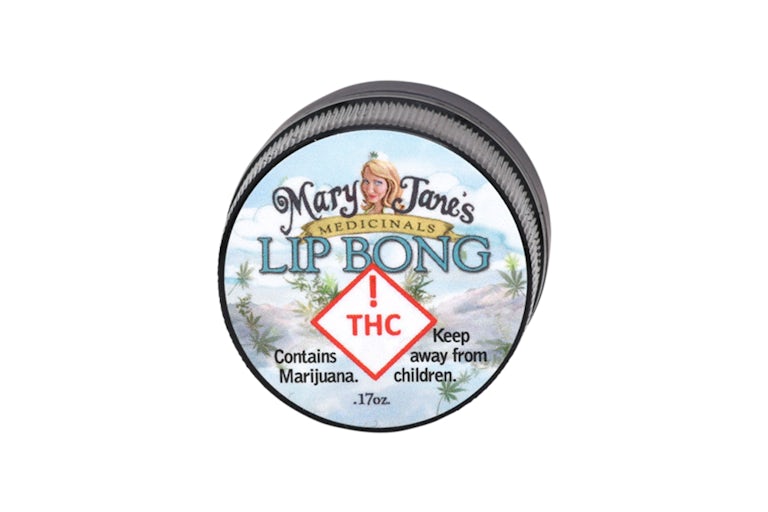 Even your lips need TLC. But that's not the only part of the face that could use a little THC-infused Lip Bong. In addition to moisturizing dry, cracked lips, the light peppermint-scented Lip Bong from Mary Janes Medicinals is the perfect headache reducer. Besides that, it's also an anti-viral and can both treat and prevent cold sores. For quick relief in any of the above areas, Lip Bong is pocket-portable and can be applied on-the-go and at home.
The Best Hemp Cream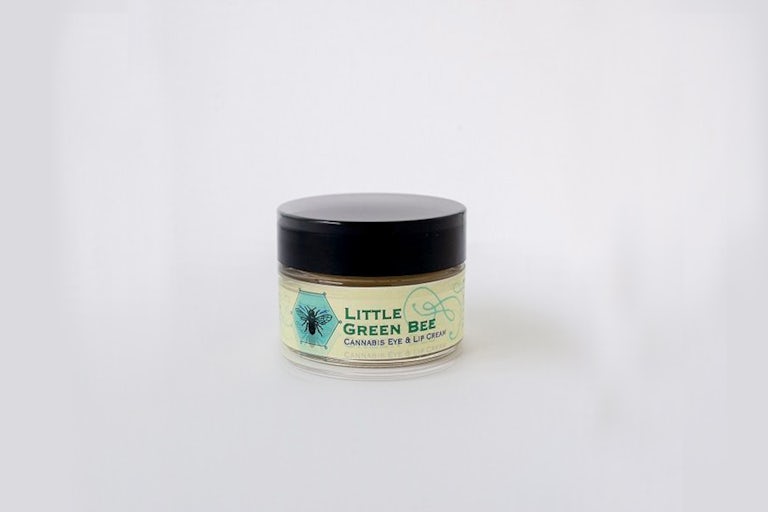 Have fine lines and wrinkles crept onto your complexion? Little Green Bee's cannabis eye cream is one of the best cannabis products for fighting the aging process. Infused with whole plant cannabis extract, a blend of beneficial cannabinoids including THC, THCA, CBD, CBG, and CBC, this cannabis eye cream will keep your skin seemingly smooth, soft, and young. And it works flawlessly on the neck and around the lips, too.
Aside from its cannabis compound variety, Little Green Bee's cannabis eye cream is prepared with essential vitamins C and E and rosemary extract. All are age-fighters in their own right. Moreover, it has shea butter, one of nature's greatest anti-inflammatories. Use twice a day, once in the morning and once at night, for the best outcome.
The Best Hemp Cream for Sleep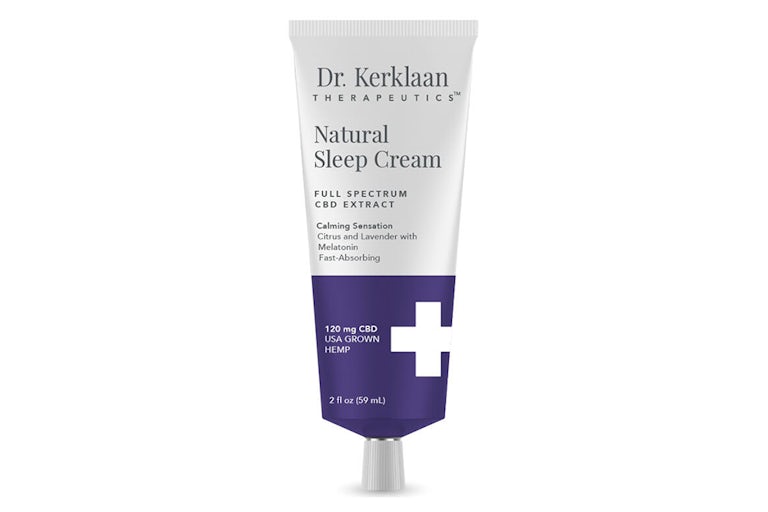 Sleep affects not only your mental well-being but also your physical health. When you're not getting enough of it, your body's organs, including your brain and heart, among many others, cannot function as actively as they should. If you've been feeling all sorts of sleep deprived lately, then Dr. Kerklaan Therapetuics' Natural Sleep Cream, one of the best cannabis products for proper rest, could be what gets you back on track. Infused with 90mg of THC and 30mg of CBD, the Natural Sleep Cream can be rubbed onto the forehead, temples, and neck for a prompt headache, inflammation, stress, and anxiety relief, as well as on the legs to alleviate restless leg syndrome and muscle tension. All are common causes of sleep interruption, but by incorporating this cannabis-infused cream into your nightly routine, you may finally be able to catch up on those missing zzzs.
The Best CBD Lube
If weed lube isn't legal in your state, then you can still save your sex life with CBD lube. CBD lube is just like THC lube in that it can help users achieve multiple orgasms, and heightened libido. It's especially great for anal sex if you struggle trying to make it past the first few inches, and  makes masturbation even more fun than it already is.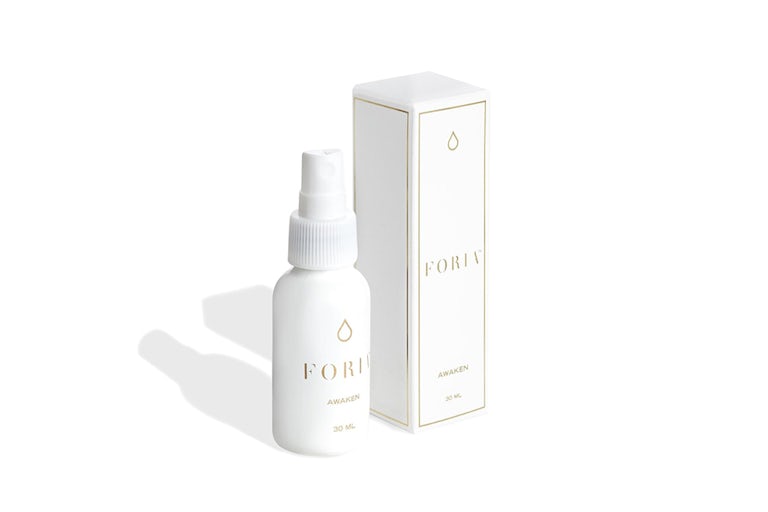 You've heard all about using weed lube to enhance your sex life, but has anyone told you about CBD lube? One of the best cannabis products for getting you in "the mood" is Awaken by Foria Wellness. Awaken is made using eight all-natural, plant-based aphrodisiacs, including full-spectrum hemp oil, and that's it. It also contains zero traces of THC, meaning it's legal to ship around the world.
Whether you're experiencing dryness and discomfort downstairs, or are overly tense, Awaken will loosen you right up for a night of endless orgasms.  It's edible too. The only downside to this game-changing product is that it can only be used with oil-friendly toys, diaphragms, and condoms. That means no latex. Other than that small drawback, consider Awaken to be "a keeper."
It might not turn you into a Rico Suave, but this product will surely take your sex to the next level. Knob Polishis indeed what it sounds like, a lubricant, infused with 100mg nano-emulsified CBD, that's designed to put the fun back in the bedroom. Aside from making things wet and wild in the sheets, Knob Polish lifts you up, turns you on, and delivers intense, longer-lasting orgasms. And unlike most weed lube you see today, it's safe with latex, so you don't have to worry about any plus signs, double lines, or other doodles that can't be "undid," and silicone toys as well, for the firm believers in foreplay.
The Best THC Lube
Some of the best cannabis products are designed to rekindle the missing spark in your sex life. From delivering endless orgasms to making anal play more relaxed and bearable, THC-infused oils, lubes, and suppositories are where it's at if you're tired of boring sex,  want to crank the heat up a notch or ten, or maybe even explore a little. A few of them will get you high, others won't, but if one thing is guaranteed, it's that they will always get you off.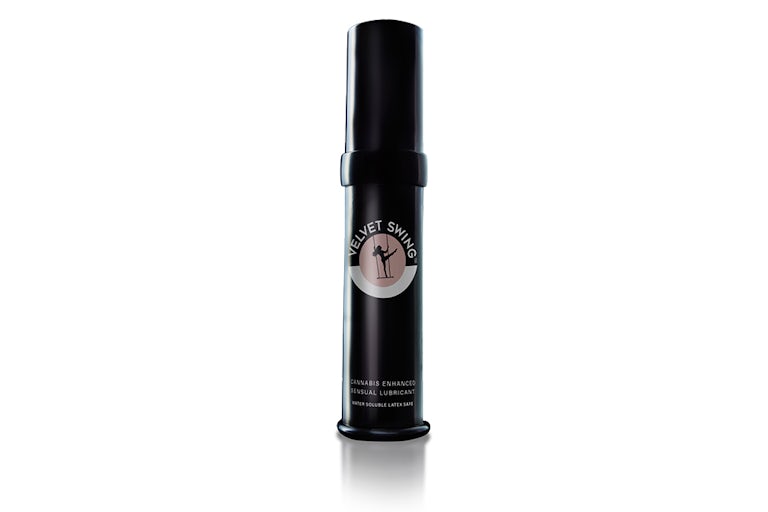 If you're not getting turned on like you used to, and hard, long orgasms are few and far between, then one of the best cannabis products for sexual satisfaction is Velvet Swing. Most weed lubes on the market can't be used with latex, but with Velvet Swing, you're in the clear, meaning you can stress less about having any plus signs or double lines show up on a pregnancy test. Infused with 100mg of THC and 33mg of CBD, if you lather on enough Velvet Swing and consume it orally or use it during anal, then it might even get you high. Oh, and it's water-soluble too, so you're also free to use it with all your favorite toys.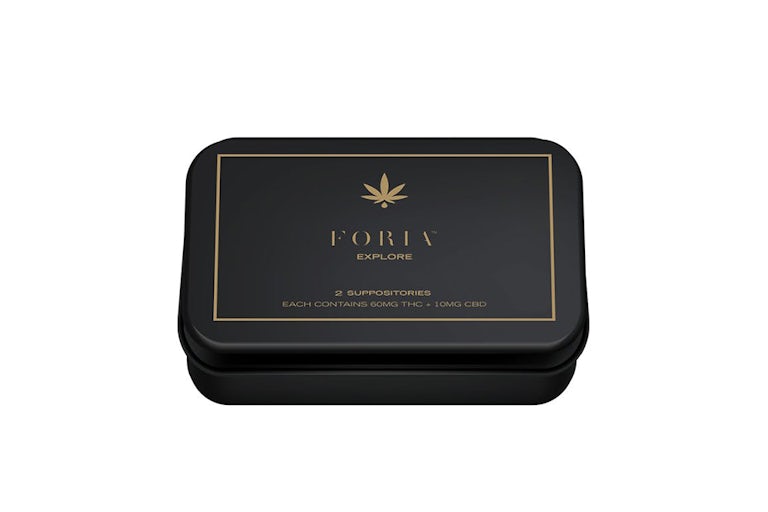 Anal sex, especially if you're new to it, is not the most comfortable thing in the world. That's why a lot of times, people never get to experience what it's honestly like for fear that it will hurt too much, even though they would love to try it. Foria Explore, one of the best cannabis products for the anal curious, is just the thing you need to make you feel relaxed enough to give it a go.
Foria Explore is an anal suppository that's infused with both 60mg of THC and 10mg of CBD. With the help of these two cannabis compounds combined, your pelvic muscles will be loosened, and you'll feel less pain, allowing deeper penetration and double the pleasure. Head high not included.
Quim Rock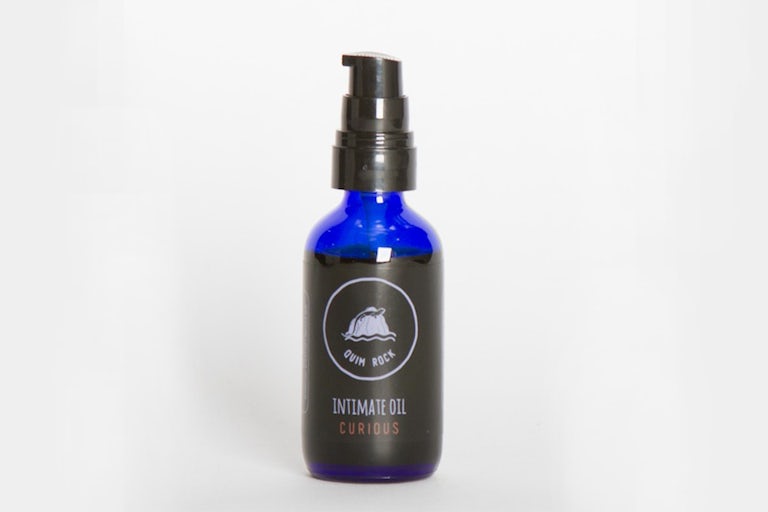 To reap intense orgasms and protect your vagina at the same time, one of the best cannabis products is Quim Rock. Quim Rock, available in Curious and Sensitive, is yet another THC-infused intimacy oil. However, what sets this particular one apart is one of its ingredients is tea tree oil, a natural anti-fungal, and antiseptic that can fight off UTIs and yeast infections. And since Quim Rock brings you better orgasms and more of them, which are shown to increase immunoglobulin levels in the body, you're also less likely to catch a cold or virus with this sensual oil.
The Best CBD Makeup
Beauty gurus should have at least one CBD-infused product in their collection. From mascara that makes your lashes longer to lip gloss that makes your lips more luscious, CBD can enhance any look.
The Best CBD Mascara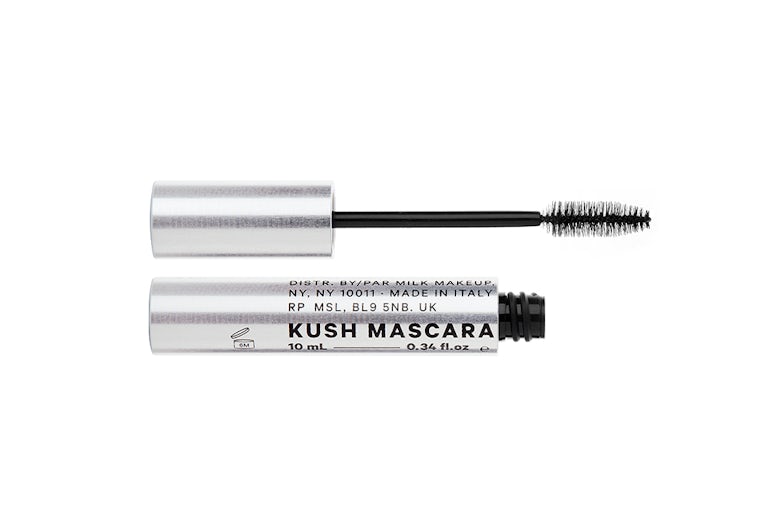 Right when you thought you understood the full potential of CBD, Milk Makeup comes out with a CBD-infused, vegan mascara that is making major waves in the beauty industry. Now, globby lashes are a thing of the past. KUSH High Volume Mascara by Milk Makeup is a must-have when it comes to long, voluminous lashes.
KUSH High Volume Mascara contains hemp-derived CBD oil, which gives it a creamy texture and conditions your lashes, allowing for a more seamless application and an even more comfortable removal process.KUSH High Volume Mascara's brush is full, but not too broad,  preventing clumps. Also, the brush features a tapered tip, which makes it easier to touch up the tiny, hard to reach lashes in the corner of your eyes.
The Best CBD Lip Balm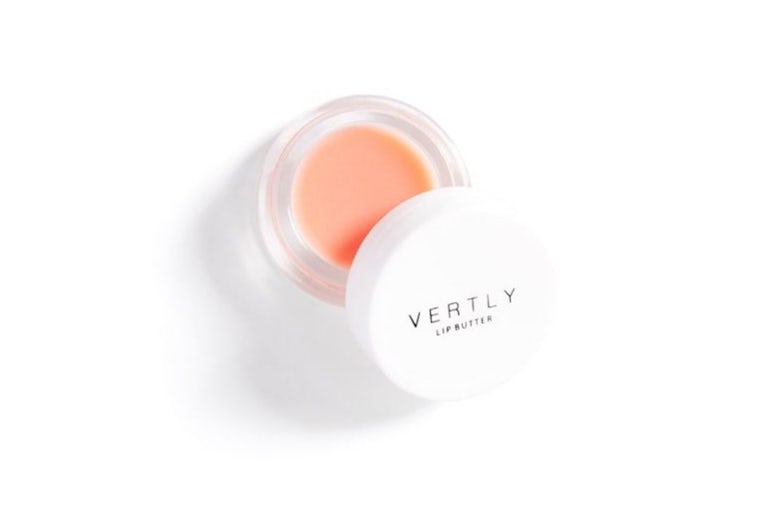 Put down the Carmex and embrace a lip balm that will do your lips some actual justice. Available in peppermint and rose scents, Vertly's lip balm is one of the best cannabis products for nourishing, restoring, and protecting your lips. The hemp-derived CBD-infused lip balm by Vertly doesn't just smell better; it tastes better too. But not to worry, if you "accidentally" ingest a little, you're safe. Each batch is made with organic, food-grade ingredients, including kokum butter, coconut oil, shea butter, cacao butter, and jojoba oil.
Privy Peach
Lips without lip gloss are like toenails with no polish (dull and incomplete). With the right gloss, you can make your lips pop and complement your look of the day. One of the best cannabis products for colorful, shiny lips, is Privy Peach's CBD-infused lip gloss line. Apart from smoothening out dull, cracked lips, these lip enhancers come in three gorgeous and tasty shades- cherry, watermelon, and orange- and add an extra special touch whether you're rocking a plain face or going glam.
The Best Weed Drinks and CBD Drinks
If you've found that edibles are too overpowering, then try out THC and CBD infused beverages, also known as drinkables. Although they are ingested orally, drinkables are very different than edibles. They have a fast reaction time, and their effects don't last nearly as long. For inexperienced users, social cannabis users or consumers looking for a new smokeless way to enjoy cannabis, drinkables are ideal.
The Best Cannabis-infused Sodas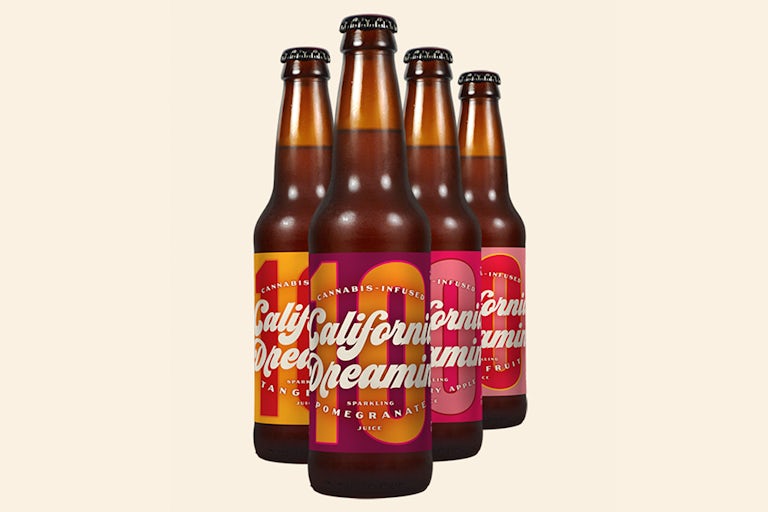 If you are looking to crack open some cold ones with friends, look no further than California Dreamin' cannabis sodas. California Dreamin' comes in four refreshing flavors- Pomegranate, Grapefruit, Tangerine, and Cranberry Apple. Each bottle contains a light dose of 10mg of THC. For the health-conscious consumers, fear not, these infused sodas are all-natural and are made only using fruit juice, carbonation, and of course, cannabis.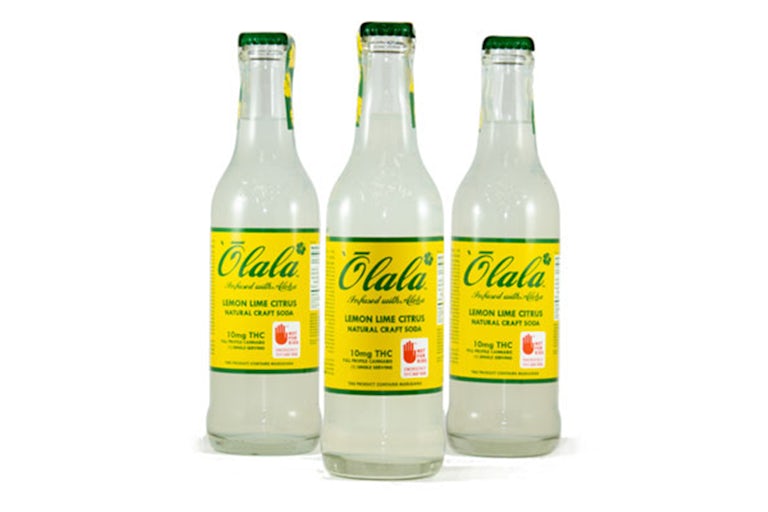 For paradise in a bottle, look no further than cannabis-infused sodas from Olala. The Olala line consists of the 2017 Dope Cup Winner Orange Cream Soda, Fruit Punch, Classic Cola, Lite Cola, and Lemon Lime Citrus. To top it off, they offer as high as 250mg doses of THC for cannabis enthusiasts with high tolerances. Olala also offers THC doses of 10mg, 30mg, 50mg, and 100mg.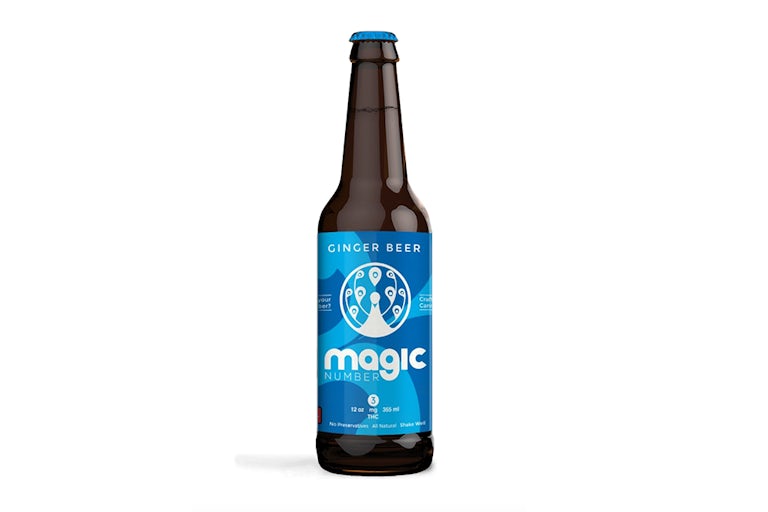 From camping trips to backyard barbecues, one of the best cannabis products for every occasion is Magic Number's Ginger Beer. Both craft-brewed and cannabis-infused, Ginger Beer is far from ordinary. It contains pure cane sugar for a slight caramel taste and Peruvian ginger. The water it is made with is derived from Oregon, the state known for having some of the freshest waters on earth.
Magic Number Ginger Beer doesn't contain any alcohol, but you best believe it'll get you feeling right.  There is a wide variety of THC doses available, including 3mg, 10mg, 25mg, and 50mg so that you can customize your high. Be sure to sip slowly and take your time, though. You might not feel the effects right away, but as the saying goes "good things come to those who wait."
The Best THC Almond Milk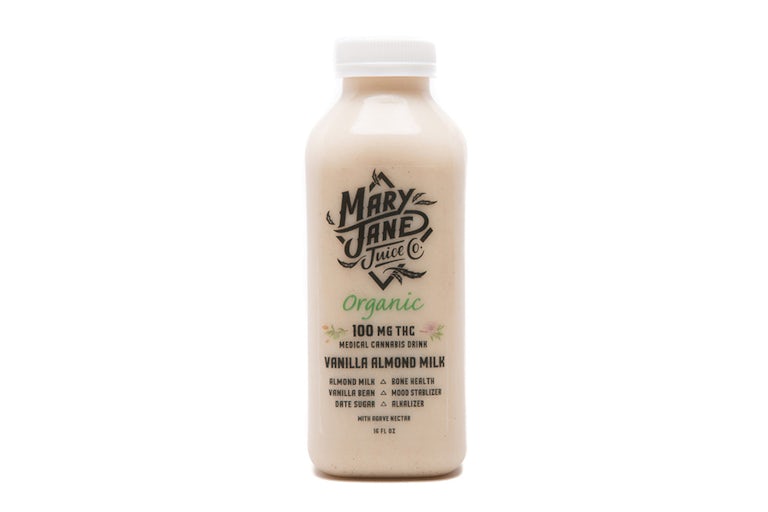 Mary Jane Juice Co. is giving "wake and bake" a whole new definition. If you want to take your bowl of cereal to the next level,  this infused, and organic Vanilla Almond Milk from Mary Jane Juice will start your morning off on a high note. The almond milk, in particular, is excellent for bone health, while the vanilla bean acts as a mood stabilizer, and the date sugar neutralizes acidity. Each bottle is infused with 100mg of THC.
The Best Cannabis-Infused Apple Cider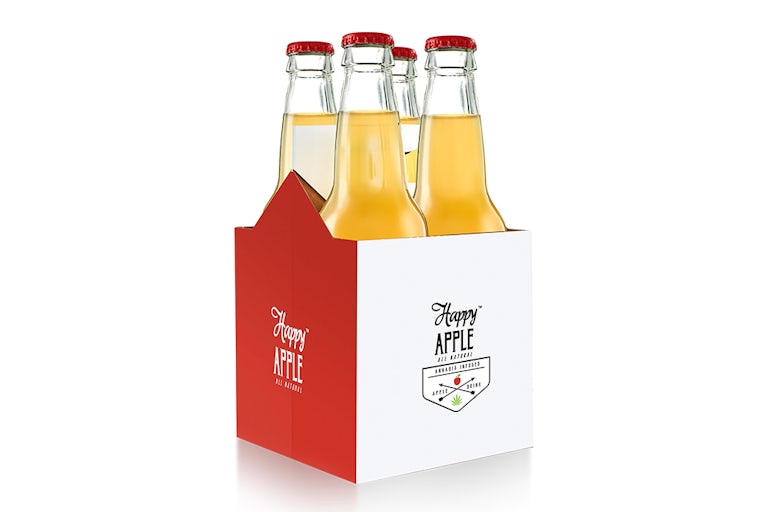 Washington is home to the juiciest red apples in the country. The state is also home to a variety of award-winning cannabis strains (for example, the Blueberry weed strain). Combine both into one drink, and you have Happy Apple. Happy Apple is a sparkling apple cider for adults, and is best served all-year round.
On humid days, you can crack open Happy Apple fresh out of the ice bucket. When winter hits, it can also be heated and poured into a mug for a cozy pick-me-up. Available in 10mg, 50mg, and 100mg THC per 12-ounce bottle.
The Best CBD Drink For Wellness
VYBES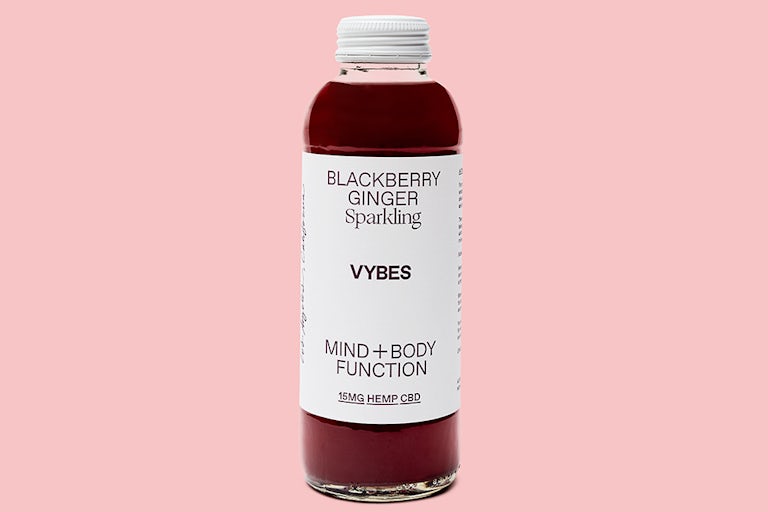 For calming the mind,  and relieving stress, VYBES cannabis-infused drinks are our go-to. Each VYBES is beautifully packaged, full of antioxidants, and has 15mg of organic hemp CBD.
There are a variety of refreshing flavors to choose from including Blueberry Mint, Peach Ginger, and Strawberry Lavender. Whether it's after yoga, or a brutal workout at the gym, drinking a VYBES is a great way to keep your mind and body in sync. VYBES also come in packs of 12, so there's plenty to go around.
The Best CBD- Infused Water Flavoring Drops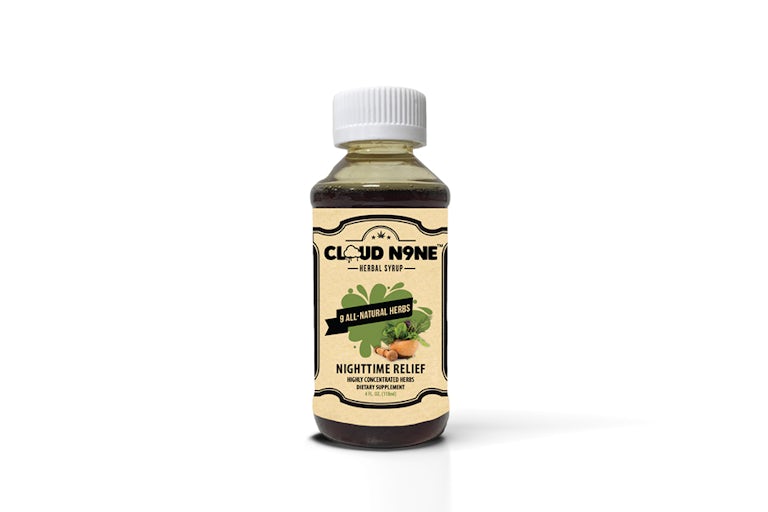 This CBD-rich syrup is available in a wide array of flavors like Green Apple, Cherry Bomb, Grape, Blueberry, Watermelon, Strawberry, and Bubble Gum. Cloud N9ne Syrup also has an unflavored version Nighttime. After sipping, we were overcome with a relaxing body buzz that felt like lounging on the clouds. Cloud N9ne Syrup doesn't get you stoned, as it doesn't contain any THC. The syrup is just composed of CBD, and 9 other all-natural herbs.
The Best Weed Wine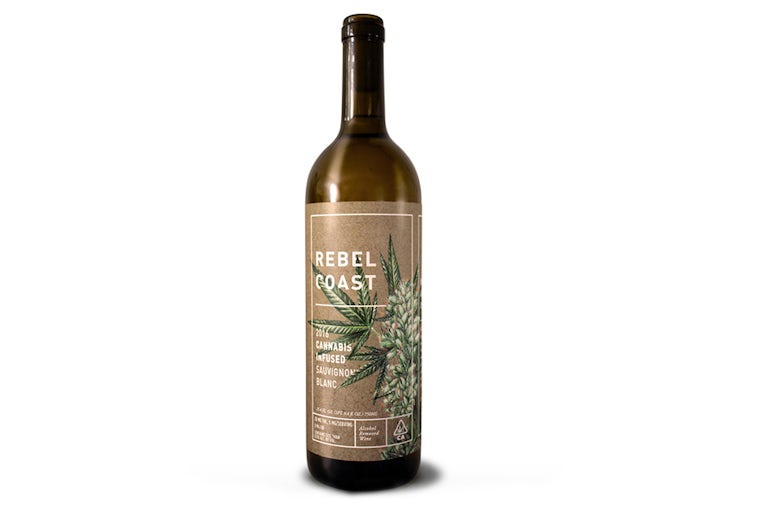 Wine o'clock now begins at 4:20. Rebel Coast THC-infused wine boasts the same qualities you love about a California Sauvignon Blanc. It's citrusy, acidic, crisp, has a clean finish, and goes fabulously with a cheese plate. Each bottle of Rebel Coast contains 20mg of THC instead of alcohol, which amounts to about 5mg per serving. It also has fewer calories than regular wine.
The Best Weed Elixir and CBD Elixir
The Most Potent Weed Elixirs
If you want to get your daily dose of THC on-the-go, Dixie Elixirs beverages have a wide array of flavors including Cherry Limeade, Fruit Punch, Half & Half, and Berry Lemonade, and Root Beer. Most of Dixie's Elixirs pack 100mg of THC, but 200mg options are available as well in select markets, for those that can handle double the dank. Each bottle has a child-resistant dosing cap.
The Best Weed Elixir for Low- Dosage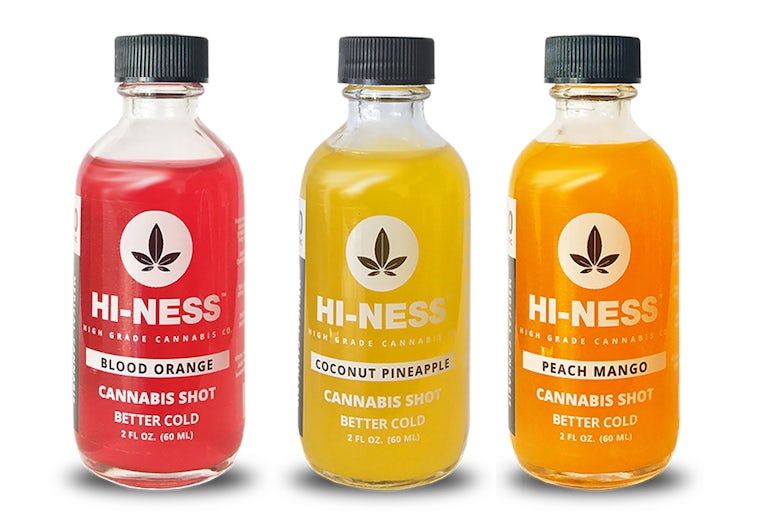 The fastest way to ingest cannabis surely has to be HI-NESS.  Each shot only has 10mg of active cannabis in it, which makes it easy to work up your buzz slowly. They come in three fruity flavors: coconut pineapple, peach mango and blood orange.
The Best CBD Elixirs
+cbd- Dirty Lemon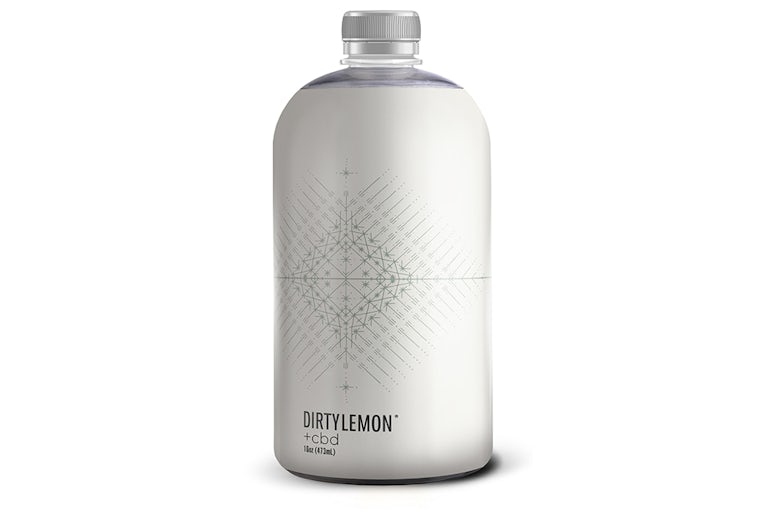 For full-body relaxation, mild euphoria, and clear-headedness, it gets no better than +cbd. Inspired by the beloved strain "Pineapple Express," beauty beverage brand Dirty Lemon has released an exclusive CBD elixir to give your health and well-being a boost. It's lovely on the outside alright, but it's what's in the bottle that counts. Besides 20mg of full-spectrum CBD, this fruity tropical drink is made with only a gram of sugar and 15 calories, along with pineapple juice, organic lemon juice, pink Himalayan sea salt, l-theanine, and other tantalizing, healing ingredients.
Aurora Elixirs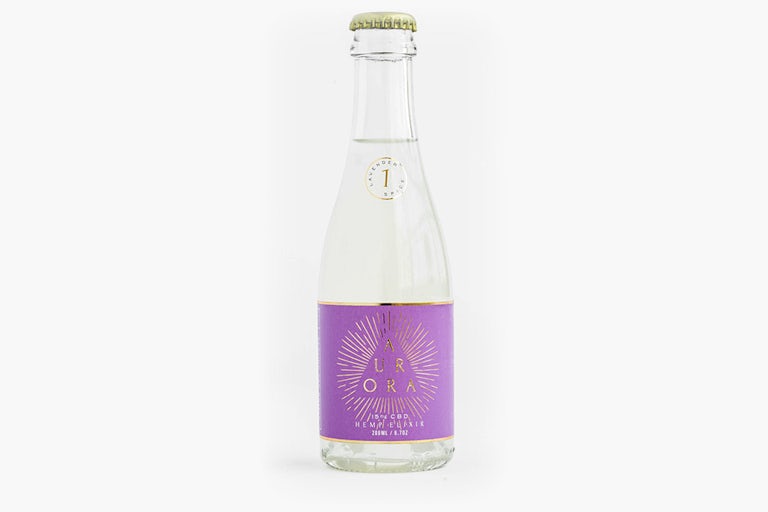 Aurora Elixirs is one of the best cannabis products for achieving a transcendent and sensual CBD experience. Each tonic, available in Lavender Spice and Grapefruit Rosemary, is infused with 15mg of CBD, in addition to other natural, essential ingredients. Whether served over ice or blended into your go-to cocktail, Aurora Elixirs, with their subtle, balanced aromas and flavors, are a refreshing way to enjoy your favorite cannabis strains without getting high.
The Best Cannabis Lemonade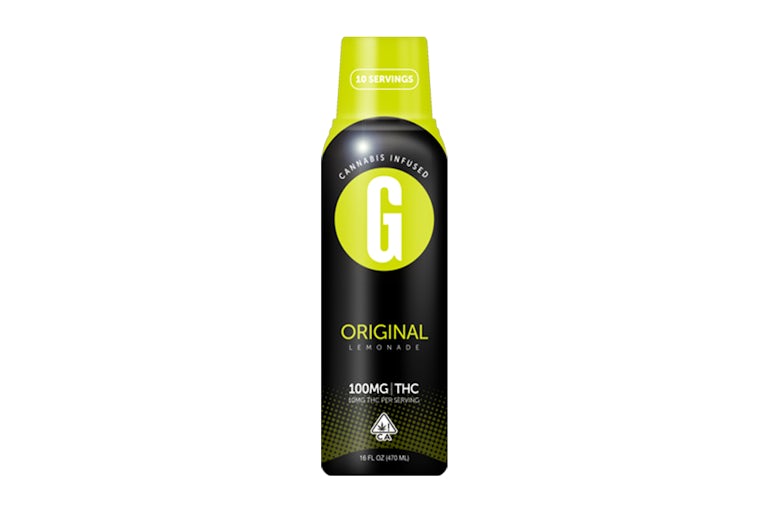 When life gives you lemons, mix them with THC, add ice,  and brace yourself. The best cannabis products for cooling off and getting lifted during the summer months is G Brand Lemonades. These lemonades are infused with 100mg of the highest quality Liquid Gold Cannabis Oil and come in every flavor of lemonade imaginable. They come in discreet packaging and are easy to guzzle, so they are perfect to bring along to the beach, or park.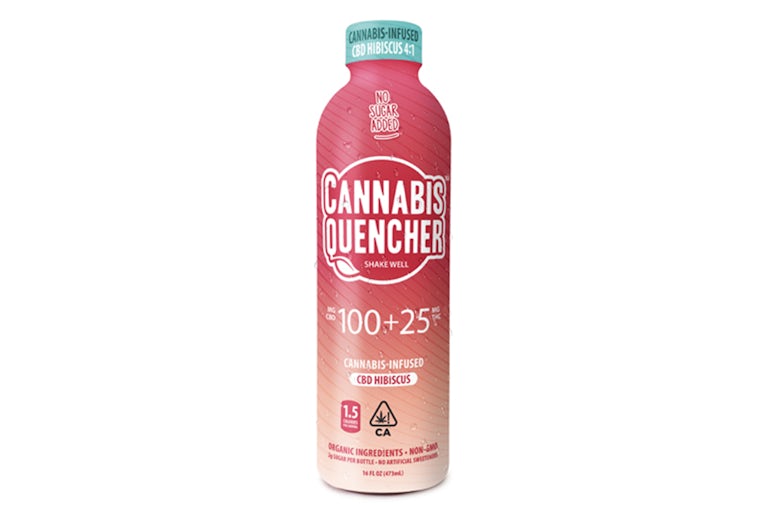 If other medicated lemonades don't seem to be cutting it, then meet your new main squeeze. Cannabis Quencher lemonades are one of the best cannabis products for chilling out on a hot, humid day. Thanks to their dosage variety, you decide your limits. For a light buzz, there's a delicious 25mg THC-infused Strawberry Lemonade, which also comes in a 100mg bottle if you can handle it. Or, for  a sweet twist on a throwback, there's also a 100mg THC-infused Old Fashioned Lemonade
The Best Weed Edibles and CBD Edibles
Some of the best cannabis products come in the form of baked goods. Their effects won't hit you right away, but when they do, you'll experience a high that's unlike anything you've ever felt from smoking. Since edibles take anywhere from 30 minutes to over two hours to kick in, the general rule of thumb is to start off slow. That way, you don't get stuck with a racing heart, or a severe mix of paranoia and anxiety.
Fortunately, there are a delectable diversity of edibles available in today's market, and not all of them come in extremely high doses, nor do they all get you high. There are CBD edibles, too.
The Best Weed Chocolate and CBD Chocolate
The Best CBD Chocolate
Not Pot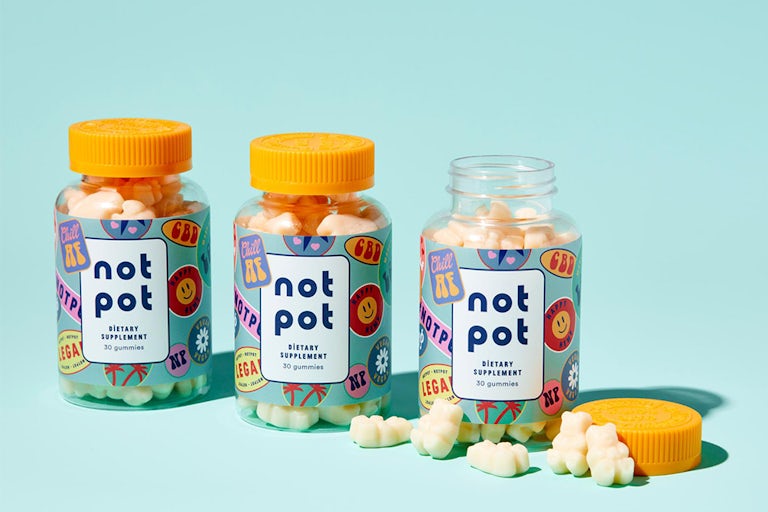 To quote a great mind, "chocolate is cheaper than therapy, and you don't need an appointment." But if you really want to save money on therapy sessions, you need Not Pot's CBD Chocolate. Of all the best cannabis products, Not Pot's chocolate hearts are the sweetest, most convenient way to medicate with CBD. Its blend of ingredients, aside from calm-inducing CBD-rich hemp oil, include raw cacao to lift your spirits, and ashwagandha, an ancient herb known for fighting stress. And for an extra, delicate pinch of sweetness, there's also maple sugar, a low glycemic sweetener that's natural and won't throw off your blood sugar levels, or make you "hangry."
Not Pot is the kind of chocolate you're welcome to nibble on before bed, and that's just another reason why it's one of the best cannabis products. In fact, it'll probably give you the best sleep you've had in a while. In addition to that, Not Pot goes amazingly with a warm bubble bath, if ever you need the perfect, mini oasis to escape a hectic day. No matter what you pair these CBD-infused hearts with, you're bound to achieve solace from these fun-sized confections.
The Best Dairy-Free CBD Chocolate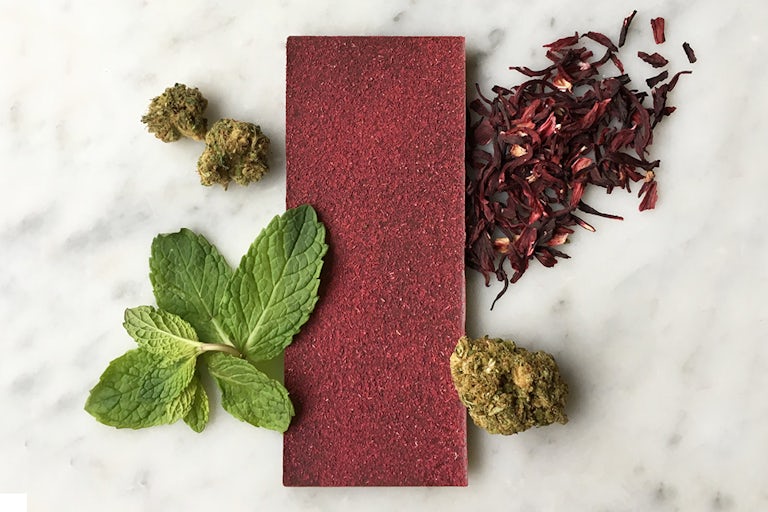 CBD edibles are the best cannabis products for folks that prefer smokeless consumption methods. Moreover, they don't sneak up on you in the worst way like an edible packed with THC but still, provide relief and make for one tasty treat. One of the best CBD edibles around by far is the non-GMO, dairy-free CBD Salted Chocolate Bar by Leif Goods. Not only does this guilt-free delight offer a delicious combination of sweet and salty with its 66% organic, rich dark chocolate and charcoal-infused Black Diamond Flake Sea Salt topping, but also 100mg of CBD and a super-low dose of THC for ultimate relaxation and pure bliss.
The Best Weed Chocolates
A chocolate bar by itself is satisfyingly delicious, but infuse it with THC and or CBD, and you get a semisweet medicinal treat that you can't buy just anywhere. One of the best cannabis products for getting a sugar high you won't want to come down from is Kiva Bars from Kiva Confections. From Ginger Dark Chocolate to traditional Milk Chocolate, the Kiva Bar flavor varieties are endless. Each contains either 100mg of THC or 100MG of both THC and CBD, depending on the type of chocolate.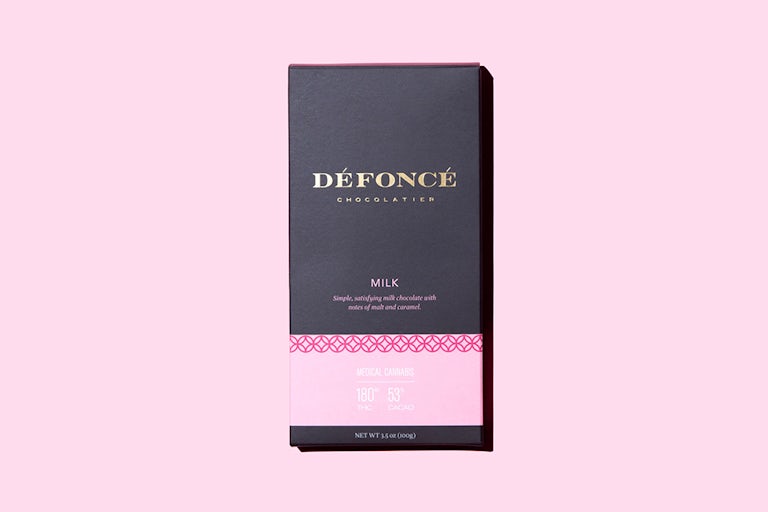 The best cannabis products award for well-balanced sweetness goes to Défoncé Chocolatier's chocolate bars. Along with a broad range of flavors, including Vanilla, Matcha, Coffee, Milk, and more, these bars offer a manageable 90mg dose of THC and variable percentages of high-quality cacao. After just one, you'll wonder what you ever saw in Hershey's.
The Best Weed Chocolate For Ethics
Cannabis 4 Cause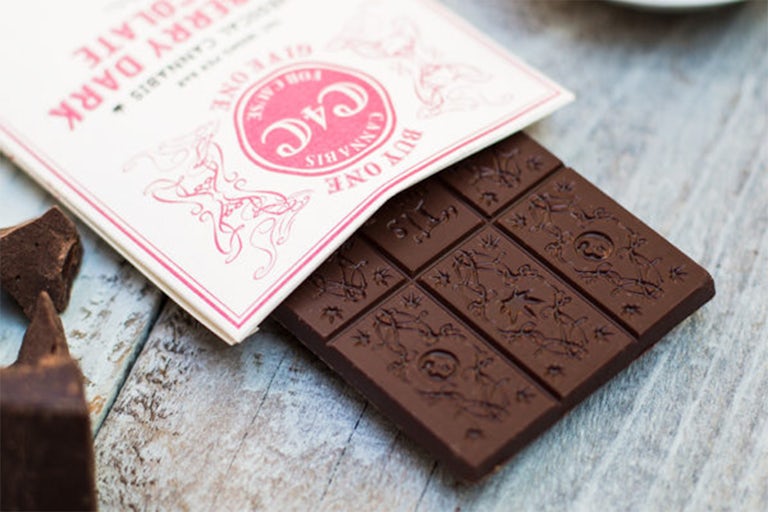 The best cannabis products are the ones that keep on giving. Cannabis 4 Cause doesn't just provide 180mg of cannabis oil and "fair-trade, traditionally grown, antioxidant-rich cacao to the consumer," but also medicine for cancer patients in need. For each infused chocolate delicacy you buy, a patient receives a 10mg dose of cannabis oil at no cost. With Cannabis 4 Cause, potentially saving a life is as effortless as choosing between four flavors- Dark Chocolate, Sea Salt Dark Chocolate, Raspberry Dark Chocolate, Mint Dark Chocolate- and indulging. That's what makes Cannabis 4 Cause the most beneficial, and flavorful, chocolate bars to hit the edible market.
The Best Weed Cookies and CBD Cookies
The Best Weed Cookies For Variety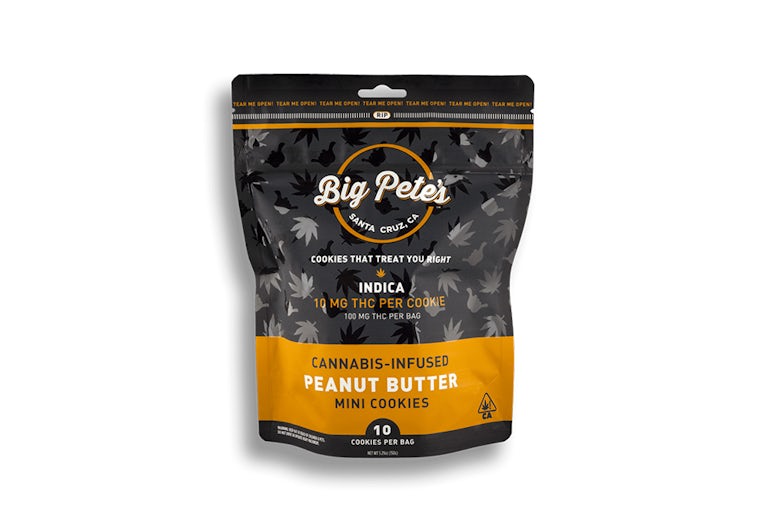 The best types of self-indulgence start with C (cannabis and cookies). Put the two together, and you have a treat that's irresistible.
When it comes to one of the best cannabis products to fill your adult cookie jar up with, you can find all the baked goods you could ever want at Big Pete's Treats. They've got lemon cookies, peanut butter cookies, cinnamon sugar cookies, and of course, good old-fashion chocolate chip, in packs of ten. Not to mention, a decent selection of THC and CBD doses, including 5mg and10mg, and Sativa/Indica options as well.
The Best CBD Cookies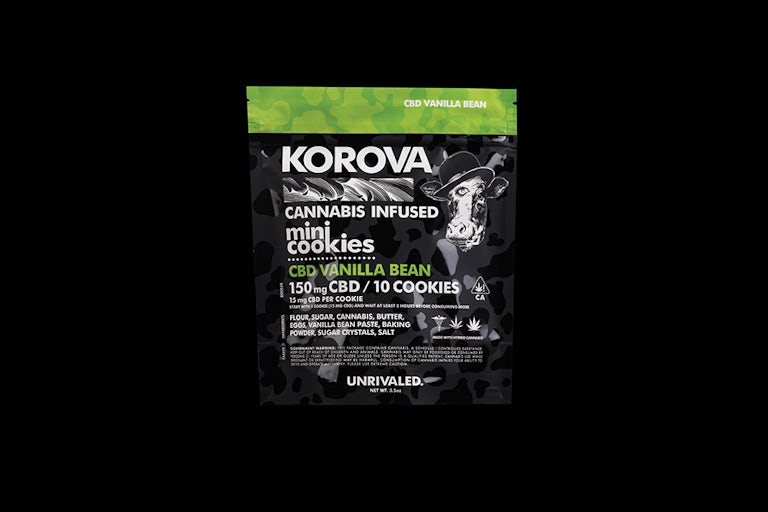 One of the best cannabis products for the adult cookie monster is Korova Edibles CBD Vanilla Bean Mini Cookies. And since there's 150mg of CBD per package, you don't have to feel bad about hiding them from your kids. Even if you don't finish all ten cookies in one sitting, each pack is resealable, so you can always save them for later.
The Most Potent Weed Cookie
A baked good that gets you baked is deserving of any weed enthusiast's attention. One of the best cannabis products smoke-free consumers is Kaneh Co's THC-infused cookies. Although their THC dose is consistent at 100mg per package, you do have the freedom to decide among their nine mouthwatering flavors, which include everything from Confetti to Chocolate Crunch. But good luck picking just one.
The Most Beautiful Weed Cookie
As if mint cookies weren't already tasty enough, they now come drenched in white chocolate, covered with green sprinkles, and packed with 75mg of THC. Sweet Jane Edibles' White Chocolate Mint Cream Cookies are one of the best cannabis products for consumers that love infused-sweets, and not a lot of explanation is needed as to why. Just looking at them is enough of a sales pitch. Besides the fact that they're yummy and medicinal, they can always be saved for later thanks to their lovely and decorative resealable bag.
The Best Weed Brownies and CBD Brownies
The Best Weed Brownie For Taste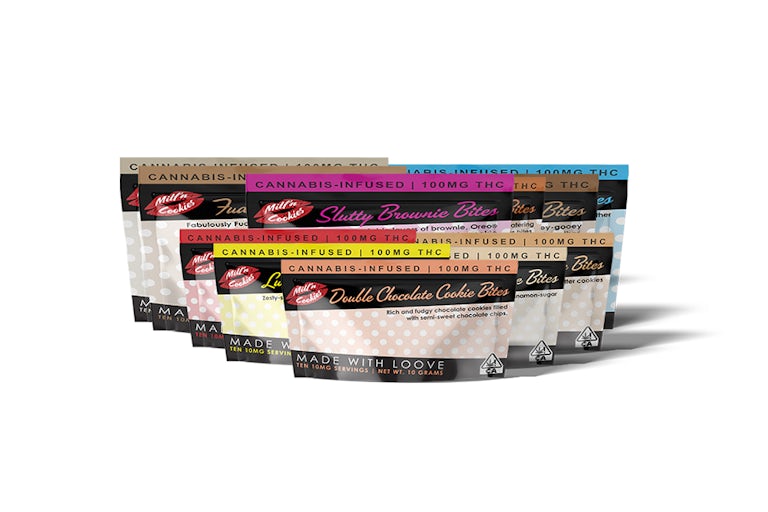 There's no shame in wanting a sexy, weed-friendly dessert every once in a while. For one of the best cannabis products for sweet, sensual indulgence, feast your eyes on the Slutty Brownie Bites from Milf 'n Cookies. These mouthwatering miniature brownies feature chewy chocolate chip cookie crust, along with everyone's favorite cookie the Oreo and 100mg of THC. Serve them with a glass of milk on the side for sheer ecstasy.
The Best Weed Brownie For Accurate Dosage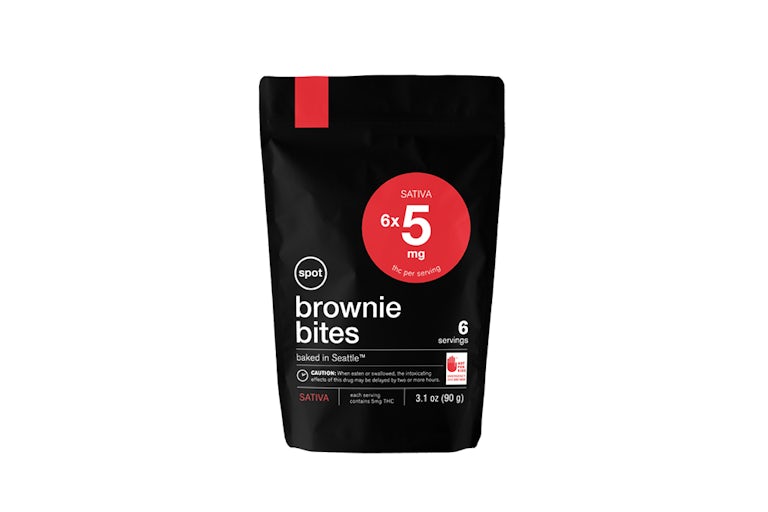 For fun-size weed brownies, SPOT brownies are spot on. With every mini chocolate square, you know precisely how much THC is going into your body, and what type of experience you're going to get. That's because, with SPOT edibles, you can tailor your edibles experience according to how you want it.
SPOT Brownie Bites are undoubtedly one of the best cannabis products for ultimate buzz control. Aside from choosing your cannabis type, you get to pick your potency as well. There's Sativa, Hybrid, Indica, and CBD strain types, each of which delivers unique effects of their own. Also, there's equal the selection of doses, which include 5 and 10mgs of THC, along with 1:1 and 3:1 ratios of CBD and THC. When it comes to edibles, it doesn't get more specific than that.
The Strongest Weed Brownie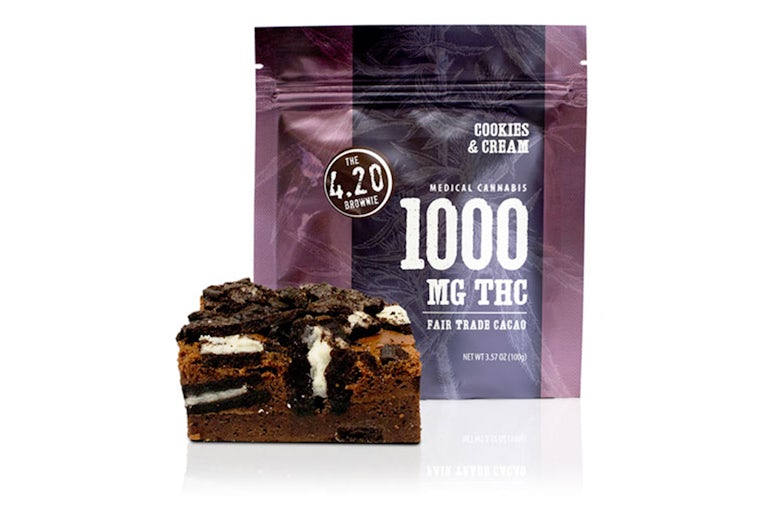 If you want a weed brownie that packs one hell of a punch, then it doesn't get much more potent than the Cookies & Cream 4.20 Brownie. When it comes to sinking into the sofa and feeling relaxed and carefree, this brownie from Venice Cookie Company is the ultimate comfort food. That's mostly because it contains an astounding 1000mg of THC, which is a ton of weed for even an edible. With that said, newbies might want to steer clear of this scrumptious dessert. As for the experts, well, it may just be what you need to get a mind-boggling high back in your life.
The Best Weed Brownie For Low-Dosage
CBD Double Fudge Brownie- The Goodship Company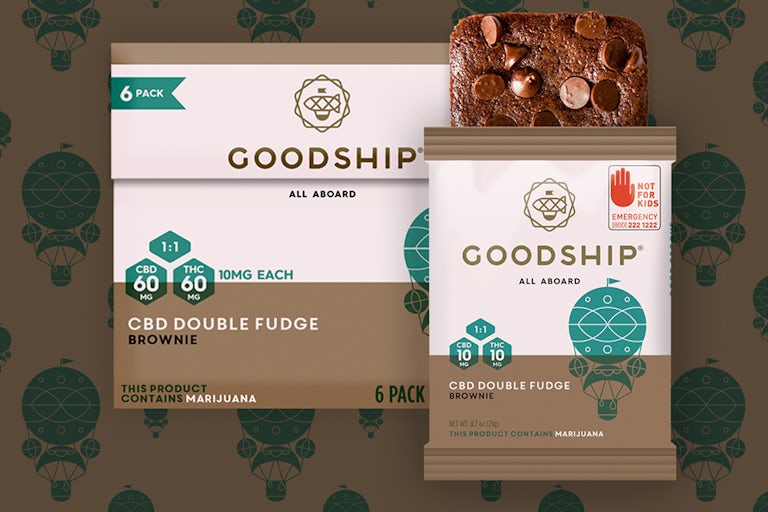 CBD and THC go together like milk and brownies, and speaking of which, the Goodship Marijuana Company's CBD Double Fudge Brownie has an even dose of both and goes even amazingly with a cold glass of calcium. Along with 10mg of CBD, the CBD Double Fudge Brownie contains 10mg of THC per every fudgy, chewy baked good. It doesn't come overloaded with potency like a lot of weed brownies, but instead, produces a clear-headed, upbeat buzz with a sense of focus, making it the better daytime dessert. And the better-for-you dessert too as each Double Fudge Brownie is made using the most all-natural, sustainable ingredients in Washington, including non-GMO corn syrup, canola oil, and locally-sourced flour, to name a few.
The Best Weed Brownie For Healthy Eaters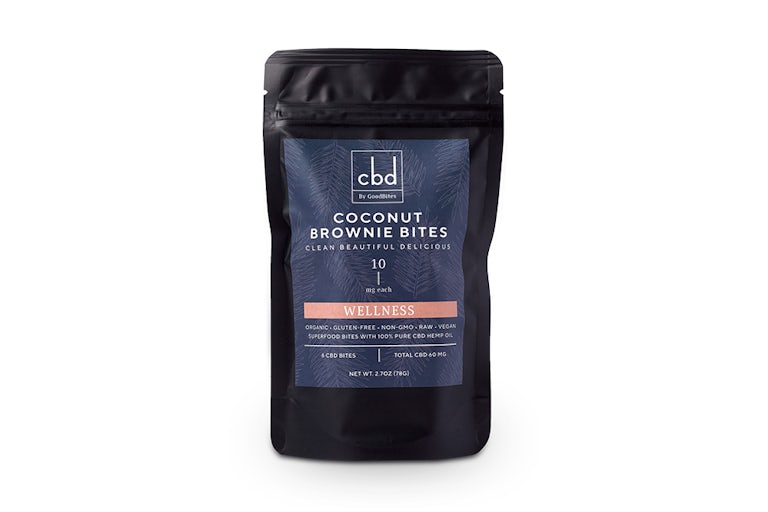 For a nutritious brownie, Coconut Brownie Bites is the best shame-free snack, especially for wellness enthusiasts. Crisp on the outside, chewy on the inside, Coconut Brownie Bites combine cacao and coconut, and other organic ingredients, for a deliciously rich edible delicacy. But the Coconut Brownie Bites aren't just natural. They're also gluten-free, non-GMO, vegan, and raw. With 10mg of CBD per bite, when you don't have time to meditate or strike a yoga pose, Coconut Brownie Bites are there to provide mind and body relaxation quicker than any other part of your daily wellness routine.
The Best CBD Gummies and Weed Gummies
Medicated gummies are some of the best cannabis products for monitoring your high. With a wide range of dosages, customizing your intake of THC or CBD is both easy and delicious.
The Best Weed Gummies For Accurate Dosage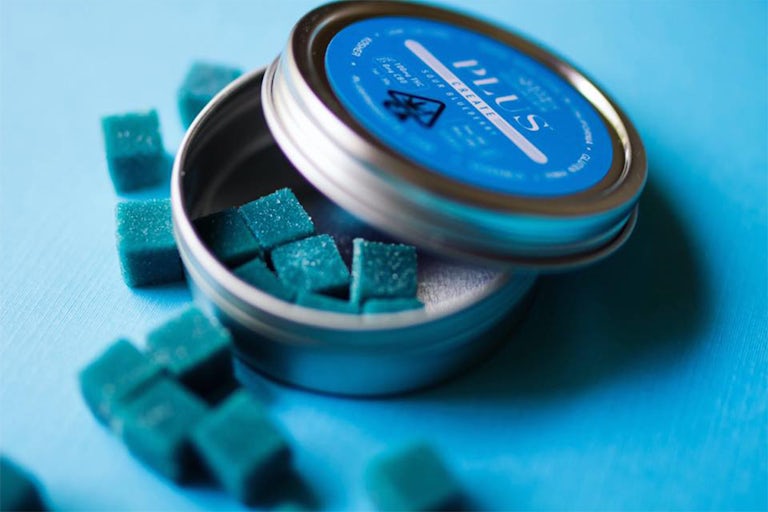 Each PLUS gummy has a specified amount of THC and or CBD, eliminating the guessing games that often come with edibles. Not to mention, they're positively scrumptious and come in two flavors, Blackberry & Lemon Indica and Sour Watermelon Sativa, on top of three limited-edition flavors, Rose & Vanilla, Sour Blueberry, and Rainbow Sorbet. Since PLUS gummies are low in calories and are comprised of all-natural, gluten-free, kosher ingredients, they're not bad for you either. And they're sourced using only top-shelf flower, not that mid-grade junk.
The Best CBD Gummies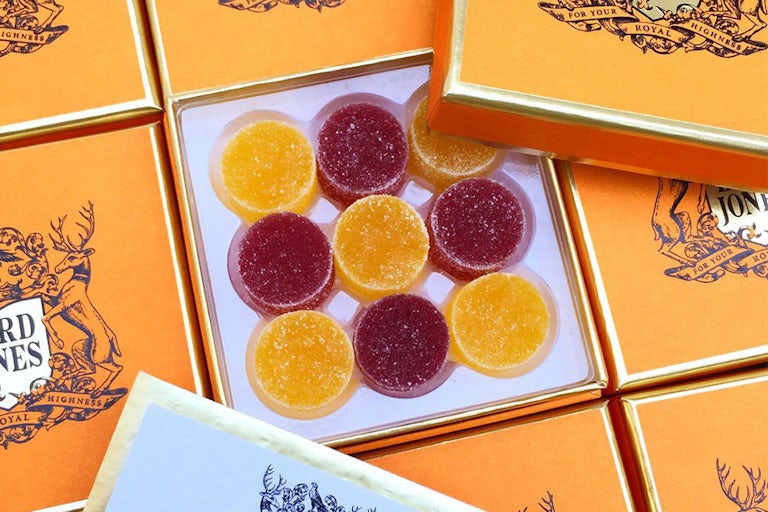 If CBD-infused chocolate isn't your thing, then satisfy your sweet tooth with guilt-free luxurious gummies from Lord Jones. These all-natural, old-fashioned gummies are one of the best cannabis products for stabilizing the mood and keeping anxiety at bay. Even those God-awful period cramps don't stand a chance against these delicacies. They're high in CBD, 20mg per gummy, to be exact, and are both tasty and buzz-free. Even better, they contain no artificial colors or flavors and consist of just four other simple ingredients: sugar, citric acid, and gelatin.
The Best Weed Gummies For Flavor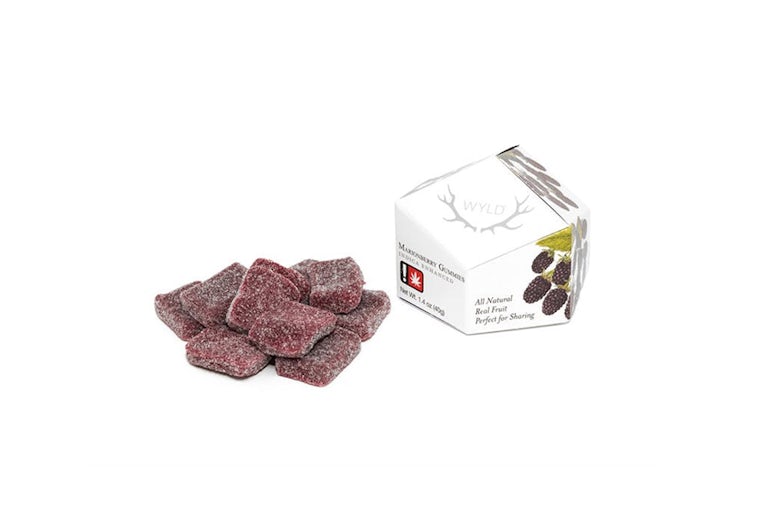 Precious medicine deserves pretty packaging, and that's what you get with WYLD gummies. From the time you open the box to the moment the gummies hit your tongue, WYLD gives a colorful edibles adventure from start to finish. Whether you need to recline after a long, productive day or could use a pick-me-up, WYLD gummies are the best cannabis products either way.
For a boost of get-up-and-go, WYLD has their Raspberry Sativa-enhanced gummies, which carry 50mg of THC. And for some serious R & R, there are Marionberry Indica-enhanced gummies, which also hold 50mg of THC. Or, if you want the best of both experiences, there's the Pomegranate 1:1 THC: CBD-enhanced gummies to choose from as well. All are made of real fruit and will provide the sweetest satisfaction you desire and require.
The Best Weed Gummies For Getting Baked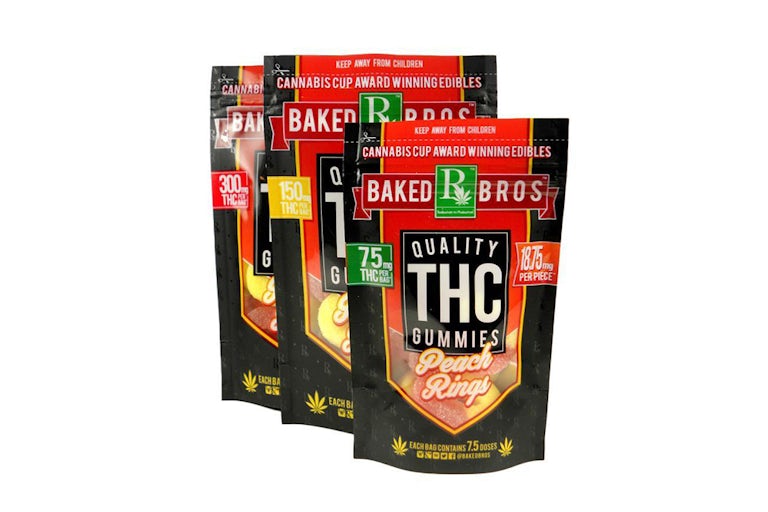 Baked Bros Medicated THC Gummies are the OG's of the cannabis gummy game. Their Sour Kush Kids gummies,, won Best Product at Denver's High Times Cannabis Cup during 2014. Two, some users say Baked Bros gummies provide as much release as smoking the herb. There is also a mixture of flavor possibilities, from Sour Gummy Worms to Peach Rings, and hash oil doses too, which include 75mg, 150mg, and 300mg.
The Best Weed Candy
The Most Innovative Weed Candy
Half Lit
It's no wonder why Half Lit is one of the best cannabis products. Unlike most lollipops, no part of a Half Lit sucker goes to waste. Its stick contains cannabis seeds, and if you plant it into the ground horizontally once you're done with your lolly, you'll have yourself a pot plant to call your own.
The Half Lit lollipop gets its name honest. It comes in the shape of a half moon and possesses 10mg of THC, which is perfect for those that can't handle a full-on high. Available in six melt-in-your-mouth flavors- Lit Lemonade, Hot Mama Mango, Lunar Lavender, Pineapple Paradise, Watermelon Wonderland, Calming Caramel Acaí- Half Lit lollipops are yet another product that keeps on giving. Plus, they're organic, vegan, non-GMO, gluten-free, dairy-free, nut-free, and free of artificial dyes.
The Best Weed Candy For Medicinal-Use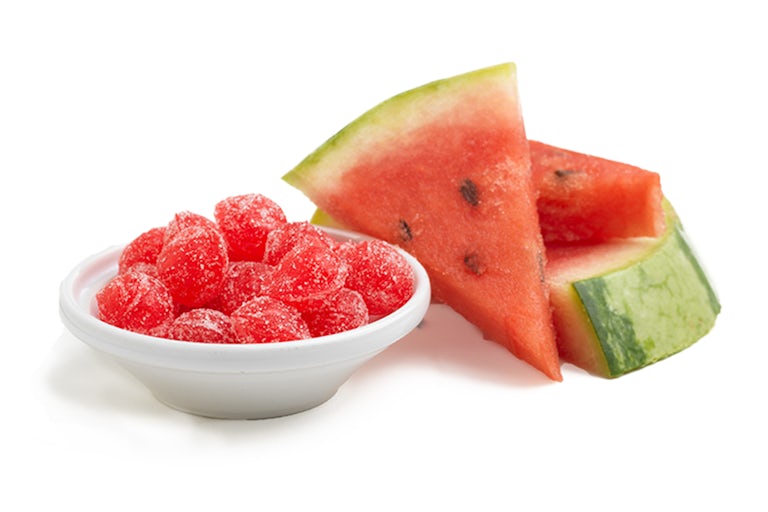 If you have a sore throat or are merely looking for a more convenient way to receive the therapeutic qualities of THC, Altai's Soothers are the best cannabis products for medicating with edibles. They come in a discreet metal tin, making it accessible to store, protect, and carry them on-the-go. Also, there's a fair selection of tasty, comforting flavors available, from Cherry Vanilla (Indica) to Watermelon (Sativa) to Lemon-Honey (Indica). Each comprises 10mg of THC, or 2.5mg a pop, and are gluten-free to boot.
The Best Weed Candy For Flavor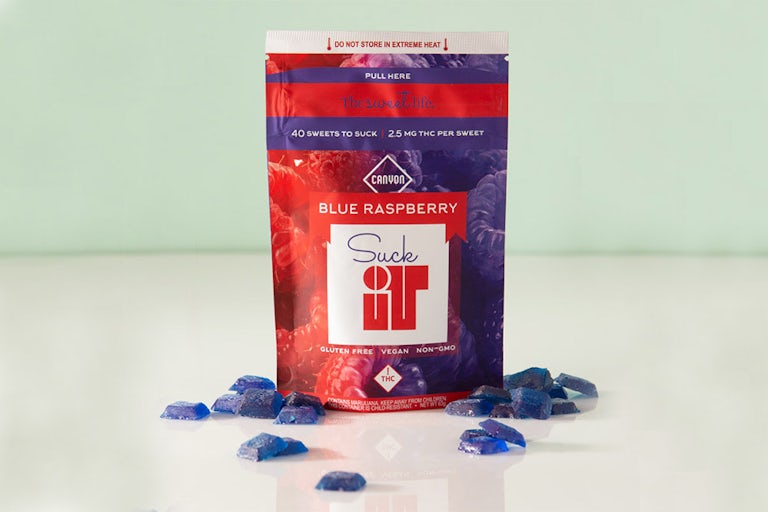 In case you've been waiting for the perfect opportunity to tell someone to suck it, well, here's your chance. SuckIT edibles are made to suck. And they're one of the best cannabis products for taking your time to get buzzy. Each hard candy, available in nine fruity flavorings -Fruit Punch, Blue Raspberry, Strawberry Lemonade, Strawberry, Sour Lemon, Sour Watermelon, Sour Apple, Citrus Medley, Boysenberry- has just 10mg of THC, meaning you can judge for yourself if you're pleasingly high, or not high enough. Also, every package comes with a child-proof lid to keep the rugrats at bay.
The Best Weed Candy For Microdosing
Mojjos- Green Revolution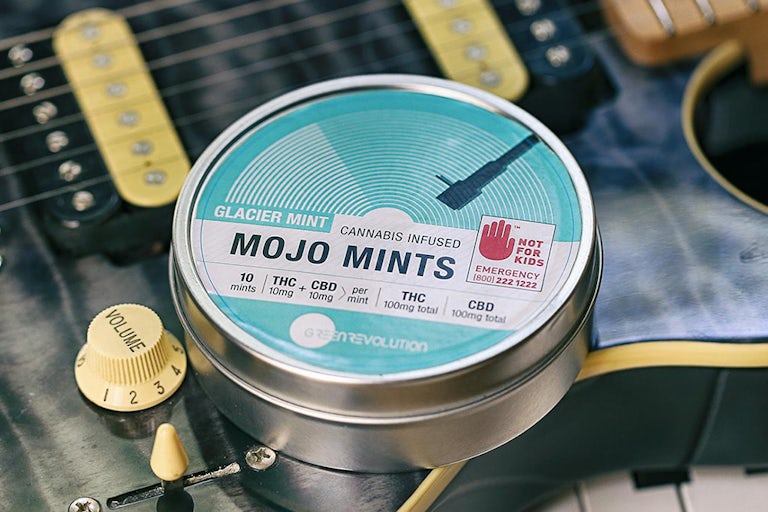 Mojjos by Green Star Cannabis is music for your taste buds, especially if you're into microdosing edibles. They're perfect for sharing, and also make for a fantastic sidekick when you need relief on-the-run. Each cannabis-infused candy, available in Tangerine and Pink Grapefruit flavors with 10 mg THC and 2 mg CBD, and Blood Orange and Lemon Ginger with 10 mg CBD and 2 mg CBD dose, is fast acting and long-lasting. And you get ten individually wrapped candies per snazzy record-inspired container.
The Best Cannabis Edibles For Foodies
The Best CBD Spices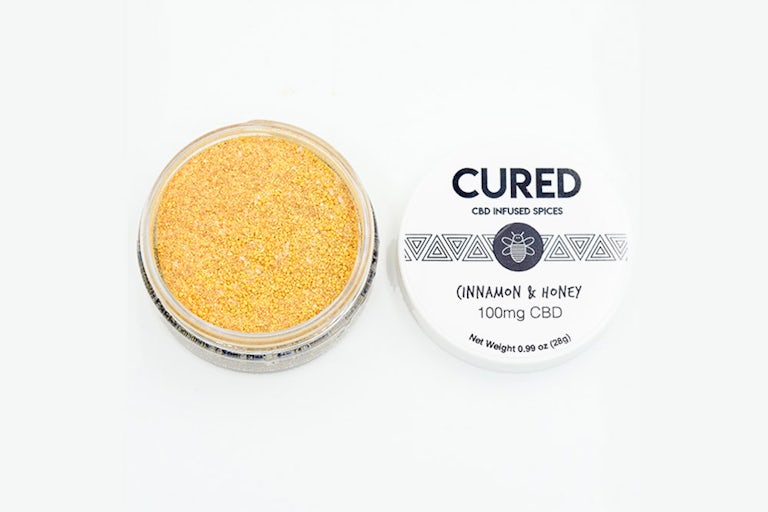 Lotions and oils aren't the only way to reap the benefits of CBD. If you love to cook, then one of the best cannabis products are Cured Nutrition's CBD Infused Spices. Whether you're throwing some chicken breasts on the grill or making homemade waffles, there's a CBD spice to make it that much tastier and rewarding.
Cured Spices come in five flavors-Smoky BBQ, Cinnamon & Honey, Roasted Garlic & Lemon Pepper, Peanut Butter Chocolate, and Blackening- and each contain 15mg of CBD per teaspoon. Although they're used the same way as any other spice in your cabinet, what sets CBD spices apart is that they are capable of delivering the variety of benefits that CBD is praised for, from reduced stress to nausea relief. And in a scrumptious and unique fashion at that.
The Best Cannabis Soup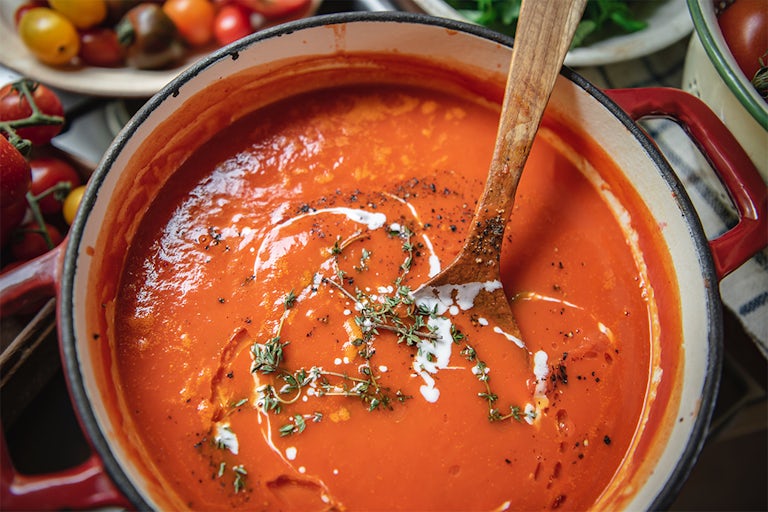 Not all edibles are sweet and sugary. Plenty of the best cannabis products come savory, like this Tomato-Basil Soup Mix from American Baked Co. In like manner of Cambell's Soup on the Go, you can relish this delicious soup anywhere. All you need to do is add water and mix. And yes, it's every bit of mm-mm good.
You won't find THC a bowl of Cambell's soup. But with the Tomato-Basil Soup Mix, you get 10mg. That's not a bunch, but more than sufficient for a blazing good time. And it'll make for a warm camping companion during the chilly seasons.
The Best Cannabis Nuts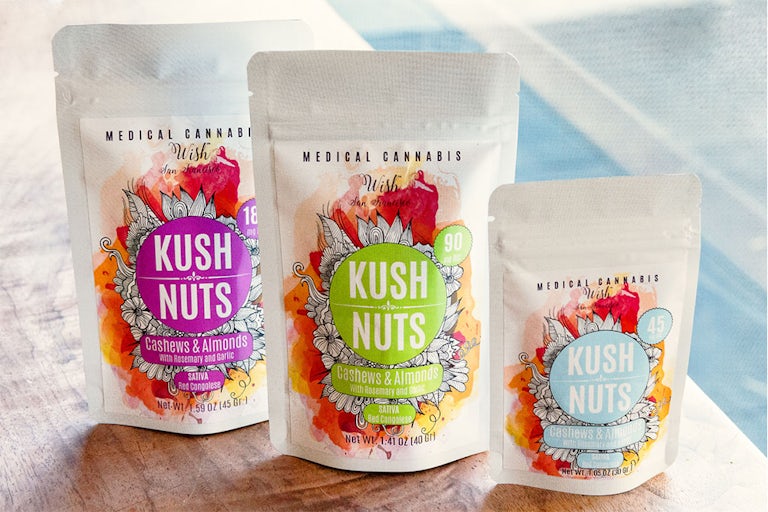 For an edible, that's savory and hearty, no need to look further than Kush Nuts. Kush Nuts is one of the best cannabis products for people that are nuts over cashew and almonds, and of course, ganja. Up for grabs in three THC dose varieties, 45mg, 90mg, and 180mg, Kush Nuts are a tasty blend of all the above, plus olive oil, rosemary, garlic, and sea salt. And they're also strain-specific, so you know what flavors and measure of potency you're getting with every handful.
The Best Cannabis Popcorn
Medical Cannabis Popcorn- Yummi Karma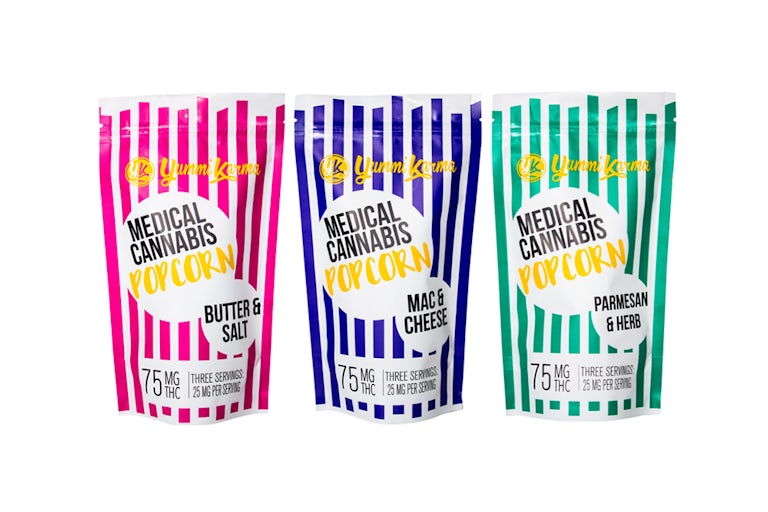 For Netflix & chill days and lazy nights in, one of the best cannabis products is Yummi Karma Medical Cannabis Popcorn. They aren't saddled in butter and salt the kind you get at the movies, but they do come with 75mg of THC per bag and a high dose of mellow. Not to mention, all three flavors of Yummi Karma medicated popcorn, which are Mac & Cheese, Parmesan & Herb, and Butter & Salt, are evenly savory. Each bag is resealable.
The Best Cannabis Oil For Cooking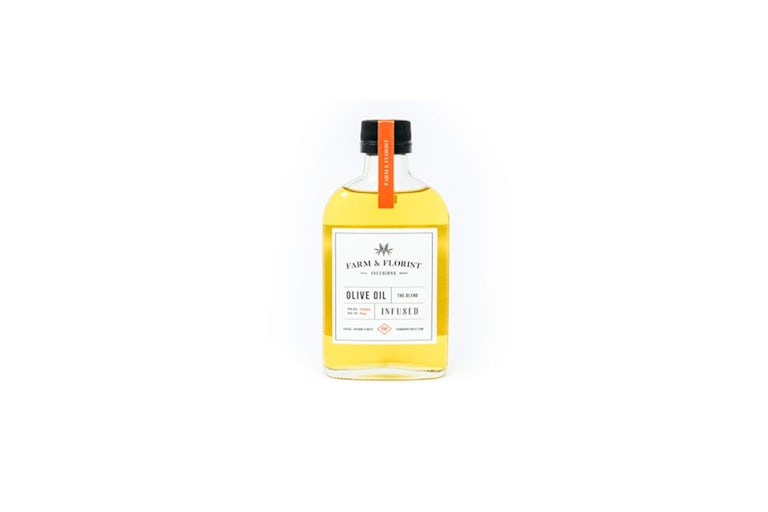 Farm & Florist's THC Olive Oil is the pinnacle of human achievement, and also one of the best cannabis products for weed chefs. From sizzling stir fry to salad dressings to pasta, this THC Olive Oil will enhance all sorts of appetizers, entrees, salads, and sides. For every bottle, there's 360mg of THC, amounting to 9mg a teaspoon. If not incorporated into your favorite meal for the extra kick, then this infused-olive oil is also satisfying solo as a dip for fresh bread.
The Best THC-Infused Jam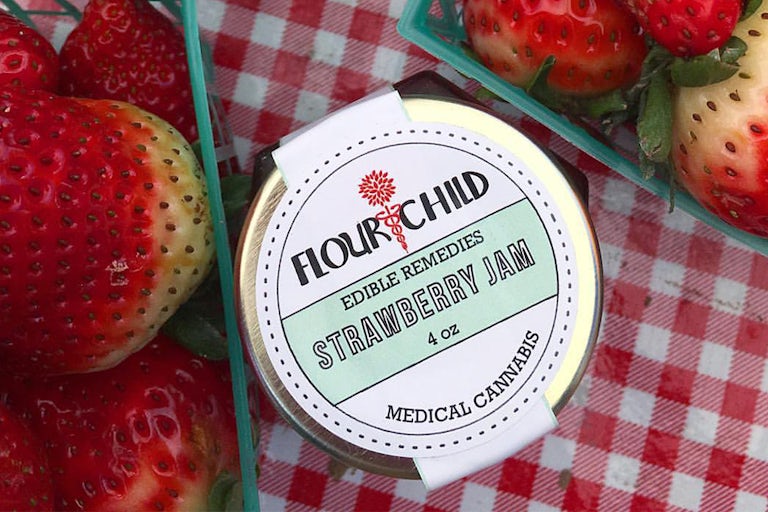 There's a lot you can do with jam, but with THC-infused jam, you can do so much more. One of the best cannabis products to add to BBQ sauce, toast, ice cream, and everything you could ever dream of is Flour Child's seasonal jam. In every small batch, there's fresh fruit, which varies according to the season, acquired from local farms that use organic and sustainable pesticides. Furthermore, each jam is strain-specific, and per teaspoon, you get 2.5mg of THC and 7.5mg per tablespoon. If that's not a picnic must-have, then what is?
The Best THC Peanut Butter
Peanut Budder- Mystery Baking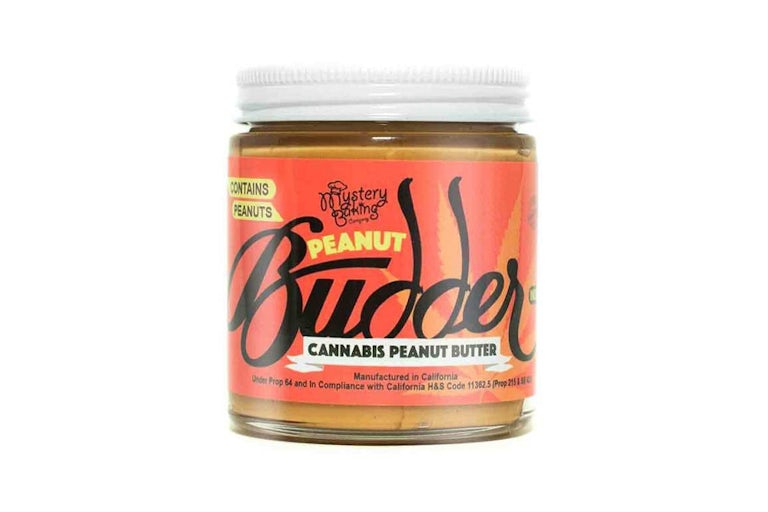 What could go better with jelly than Peanut Budder? Not a jar of Jif, that's for sure. If you want to change the way you eat pb&j, then Mystery Baking's THC-infused peanut butter is one of the best cannabis products for turning a classic into a game changer. Each jar contains 100mg of THC to make your sandwiches all the nuttier. But you're not just limited to one type of lunch. You're welcome to grab a spoon and have at it as well. Or, you can always spread it over your morning waffles for a buzzy breakfast.
The Best THC Almond Butter
Medicated Almond Butter- AKANA WESTING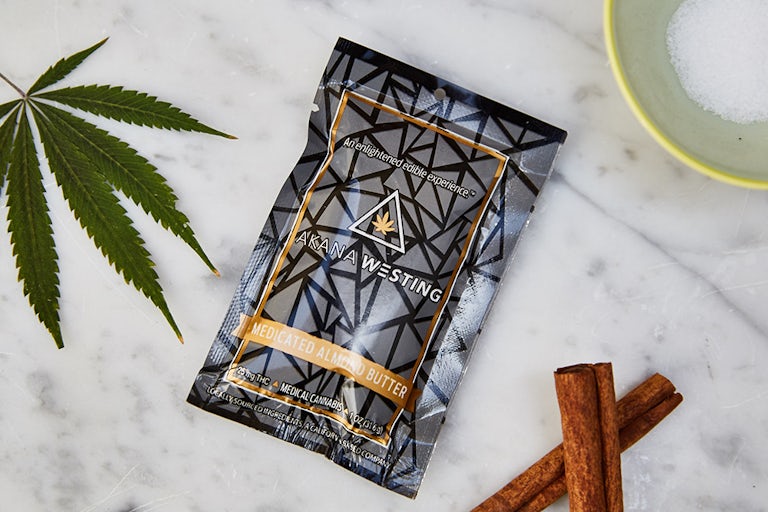 To load yourself up on protein, vitamin E, and an abundance of micronutrients, both before and after a workout, AKANA WESTING's Medicated Almond Butter is just the wholesome boost you need. Between the sea salt, raw honey, California cannabis-infused almonds, and the dash of cinnamon, it's one of the best cannabis products for mixing into a delicious smoothie, spreading over graham crackers, or just eating with a spoon. Not to mention, you can buy it by the jar, which holds 100mg of THC, and in GO-Packs, with 25mg of THC, for tasty and accessible relief on-the-go.
The Best Cannabis Fruit Snacks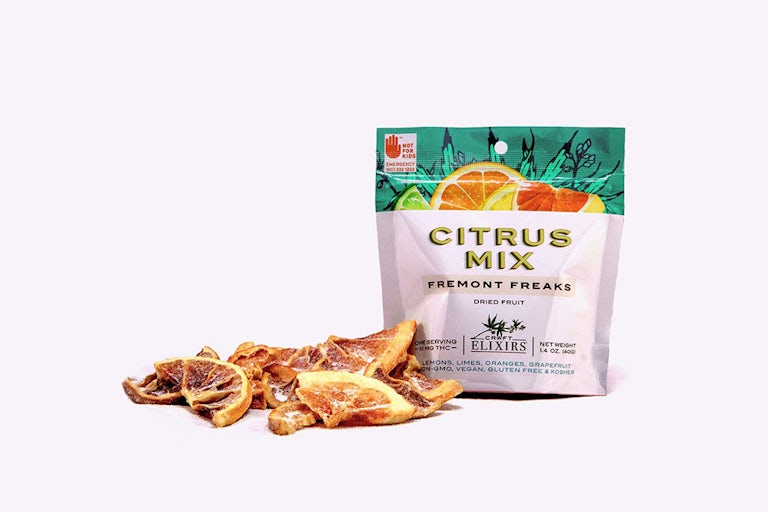 If you're new to edibles, then one of the best cannabis products to start with is Fremont Freaks by Craft Elixirs. Every delicious piece of dried candied fruit has just 1mg of THC, and because their infusion is alcohol-based, the effects can be noticed after only an hour. That makes managing your buzz easier, and your edibles experience less frightening all around. Available in Pineapple & Chocolate, Citrus Mix, and Apples & Cinnamon, Fremont Freaks are also artisan-made, low-calorie, discreet, and perfect for sharing.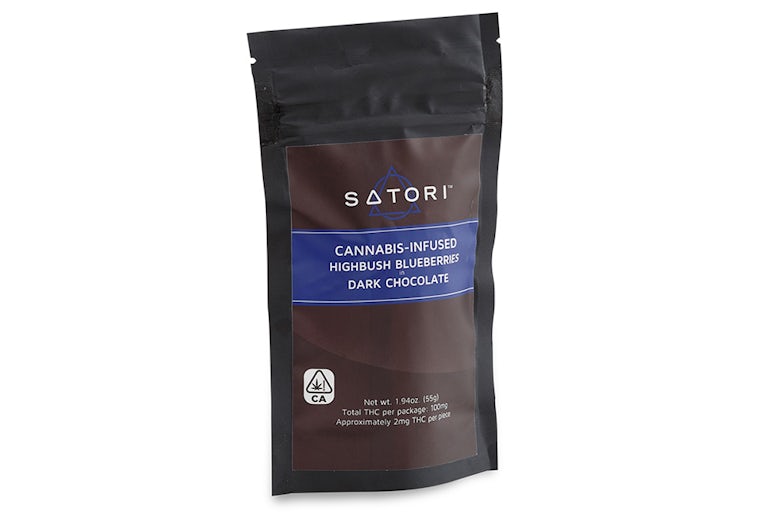 Chocolate and fruit go together as amazingly as cheese and crackers. Speaking of chocolaty fruit, meet one of the best cannabis products, High Bush Blueberries in Dark Chocolate from Satori. This bite-size snack combines high-quality ingredients, including 100mg of highly potent cannabis oil, real anti-oxidant packed blueberries, and Cacao Fino de Aroma, the most highly sought cacaos in the whole world. For a partially-sweet, medicated edible that's not too over the top, High Bush Blueberries couldn't be more ideal. And they come inside of a resealable package, making them fit for traveling.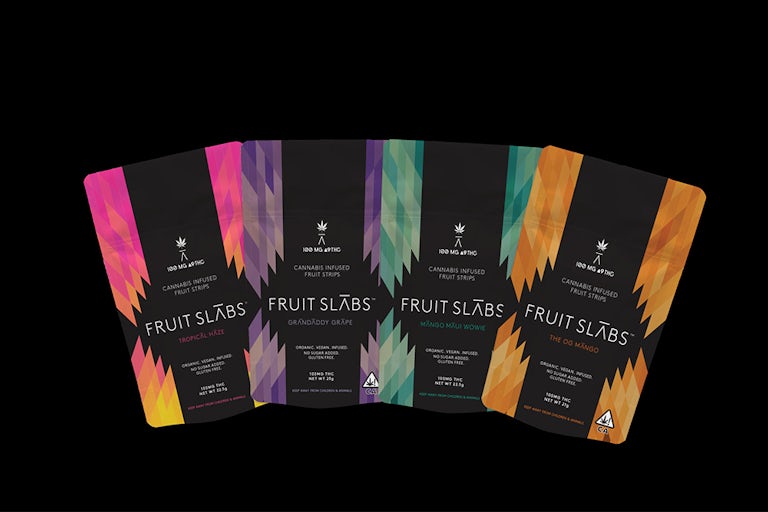 Fruit is nature's candy. Couple it with the world's most valued plant cannabis, and that's what you call a match made in heaven. One of the best cannabis products for a balanced snack, ideal for health-minded individuals, is Fruit Slabs. These all-natural fruit leathers consist of 100% organic fruits and vegan ingredients and are a great alternative to sugary edibles. Moreover, all four sugarless flavors-Tropical Haze, Grandaddy Grape, Mango Maui Wowie, The OG Mango-accommodate a consistent 100mg dose of THC.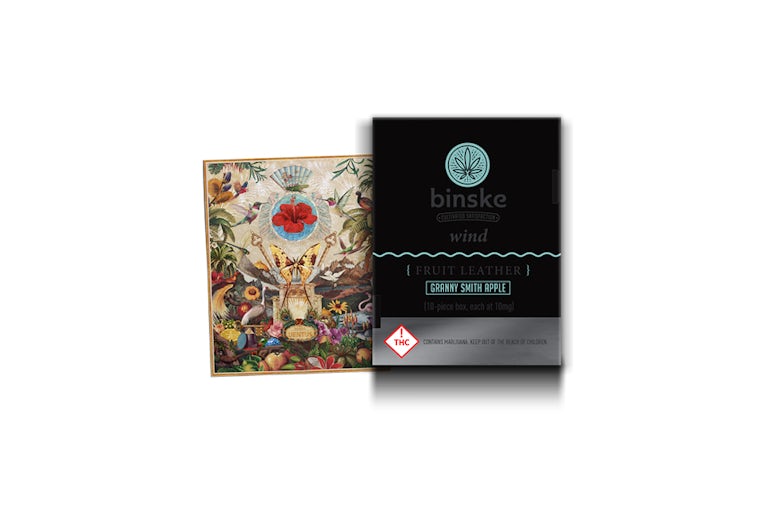 Binske Fruit Leathers are edibles with a magical history. Available in Wind and Earth, these fruit leathers contain fresh fruit sourced from organic farms residing in the same countries where they first originated. The Wind fruit leather is made with granny smith apples from Australia and is known for being sacred to ancient Greek goddesses including the famous Aphrodite. Legend has it that apples are connected to passion, beauty, ambition, and immortality.
The Earth fruit leather is made with strawberries from France and is considered to be an aphrodisiac. In Roman mythology, this particular fruit is also the symbol of Venus, the goddess of love. As for the ingredients, both Earth and Wind are all-natural with no preservatives. Also, they contain a delicate 10 mg dose of THC per leather, making them a healthy and light replacement to excessively sweet edible candies.
The Best Weed Butter Machine
When cooking with cannabis butter, the options are unlimited. You can add weed to just about any dish, just like salt and sugar. If you love to cook, cooking with cannabis butter will take your culinary skills to the next level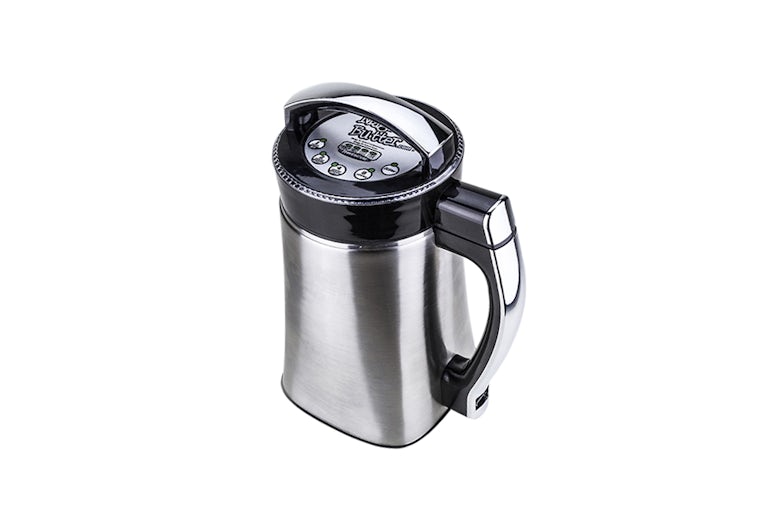 If you don't have access to edibles, don't trust today's products, or want to make your own batch from scratch for a dinner party or what have you, then the MagicalButter Machine is the kitchen appliance you need alongside your Keurig, Crock-Pot, and all those other contraptions. The MagicalButter Machine makes weed butter at the press of a button. The only thing you do is add the butter and the weed, and presto! You have cannabis-infused butter that can be used to turn any dish or appetizer into an edible.
Aside from weed butter, the MagicalButter Machine can create tinctures, topicals, cocktails, and more. There's an enormous collection of MagicalButter recipes on their website, and on ours, too. You can make shrimp stir-fry, hemp seed eye cream, and everything under the sun in little time and with minimal effort. This device is more versatile than the Instant Pot.
The Best Weed Stash Jars
The manner in which you store your weed has everything to do with how long it will last, how good it will taste, and its overall effectiveness. From space cakes to shatter to dry herb, storing all forms of cannabis the correct way is essential to getting the best experience from each every time.
The Best Flower Stash Jars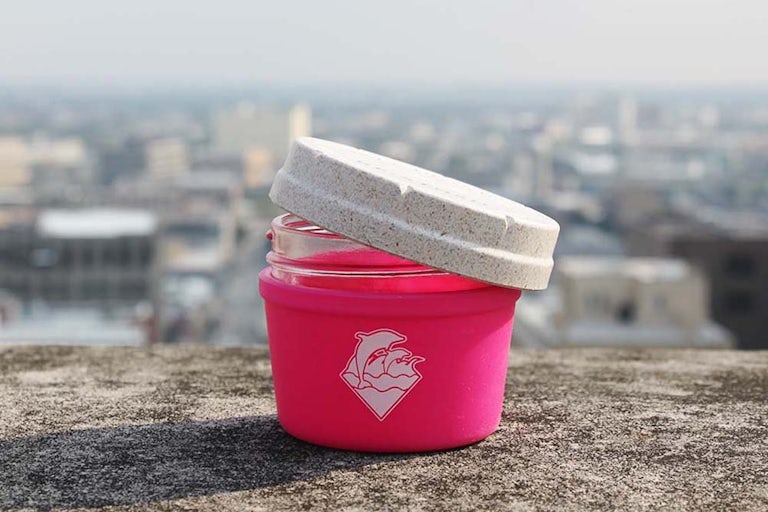 A regular mason jar is airtight, which is a necessity when it comes to storing cannabis, but your buds are still exposed to light. Like air, light can degrade the quality of your stash by converting THC, the psychoactive compound in cannabis, into CBN, aka cannabinol, which is non-psychoactive. Of course, it's not all about getting high, but for the highest potency per bud and the most desirable effects, the best cannabis products for your supply of sticky-icky should be not only airtight but also dark. The Re:stash jar is a notable example.
The Re:stash jar, available in many sizes and styles, is the ultimate glass mason jar for weed and the most sustainable method of cannabis storage around. It has a patent-pending child-proof lid, comprised of 30% farm waste, and is wrapped in a silicone koozie to shield your stash from light and regulate its temperature, another vital factor in adequately storing cannabis. Also, the Re:stash jar is smell-proof, so you need not worry about anyone catching a whiff of dank at any point.
CVault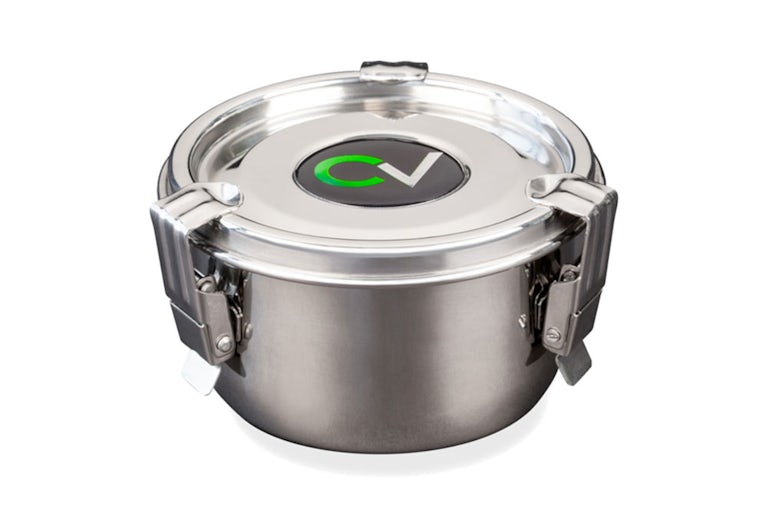 One of the best cannabis products for storing anything from an eighth to two pounds of the dry herb is CVault. CVault is the complete method for maintaining weed stashes of all sizes. Using 2-way humidity control, the container itself along with its complimentary Boveda/Humidipack, CVault blocks light from coming into contact with your flower and sustains the ideal temperature/moisture level for keeping it in the condition in which you bought it, sticky, potent, and fresh. Additionally, CVault has a secure, airtight lid, and is smell-proof, stackable, and easy to tuck away. With all those features together, your cannabis supply is guaranteed to stay protected and last for up to a year.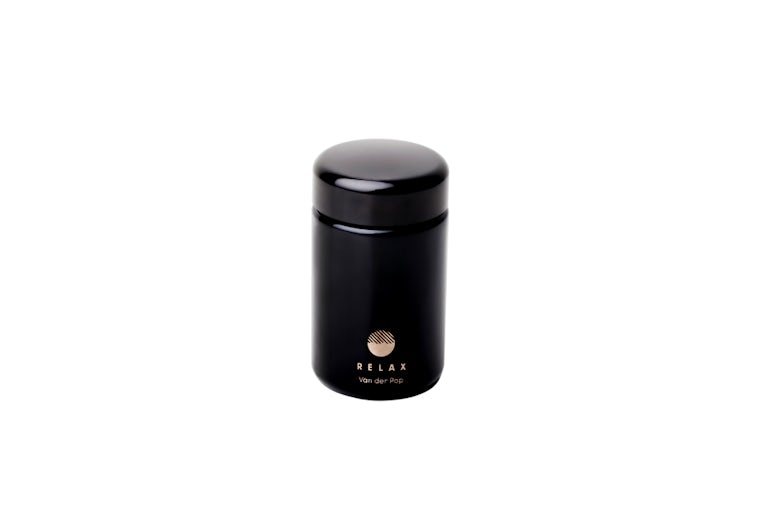 Whatever mood you're in, or want to be in, there's a strain for it. So why not keep your favorite strains of weed organized with the best cannabis products for storing beautifully according to disposition? From sleep to sex to party to laugh, Van der Pop stash jar, available in 30ml and 100ml, have luxurious space ready for practically every mood-inducing strain (like Skywalker OG strain for relaxing) and stash size. Apart from shielding odor and preventing spills, these stash jars are built of German Miron violet glass that, according to the company, "allows non-harmful UV rays penetrate with extraordinary effects." Not to mention, they maintain freshness for as long as 12 months.
The Best Concentrates Stash Jar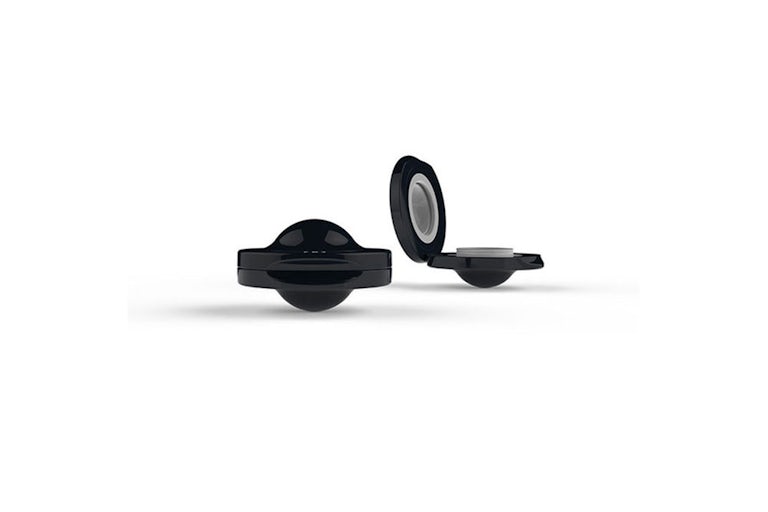 Storing your concentrates can messy and stressful. Their stickiness makes it super challenging to remove them when ready for use, which is why you need something anti-stick like the Saturn by Rodawg. The Saturn is one of the best cannabis products for storing waxes and oils because it features a silicone interior and a recessed lip, making it simple to save and extract up to two grams of sticky substances. Plus, it's smell-proof, airtight, compact, and has a striking design that's as aesthetically pleasing as it is practical.
Concentrate Storage Container (3 Pack)- Auric Gold 79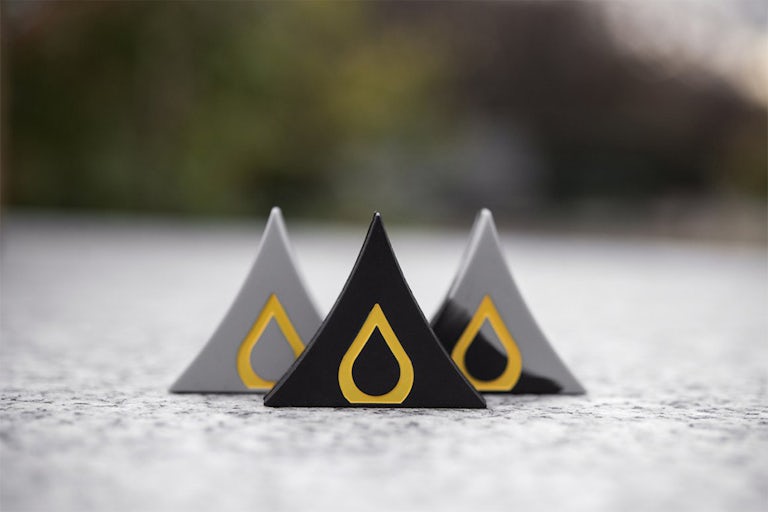 For artistic and secretive concentrate accommodation and organization, one of the best cannabis products is Auric Gold 79's concentrate storage containers. From waxes to oils, these non-stick, 3-part silicone containers guard and organize all kinds of concentrates. Moreover, they're reusable, and heat resistant up to 450 degrees Fahrenheit, and are dishwasher-safe, microwave-safe, and freezer-safe as well. Plus, they are petite in size, so you can readily toss all three containers into your back pocket or purse or stash bag at once for smooth transportation.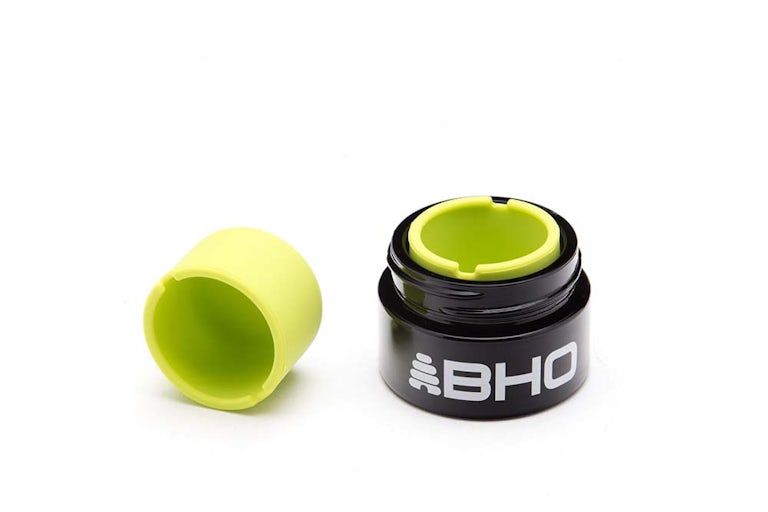 Usually, there's always a little bit of sticky substance leftover in your storage jar. With the DabDish Pro by 420 Science, one of the best cannabis products for dabbers, however, you can conserve every drop of up to two of your favorite concentrates props to their rounded lip made for simple wiping. All you need is one of 420 Science's small or large concentrate jars and a dabber, and you're all set. The DabDish Pro, available in small and large, even comes with a resting area for your dabber so that you don't make a mess with it elsewhere. And it's dishwasher-safe and heat-resistant up to 500 degrees.
The Best Edibles Stash Jar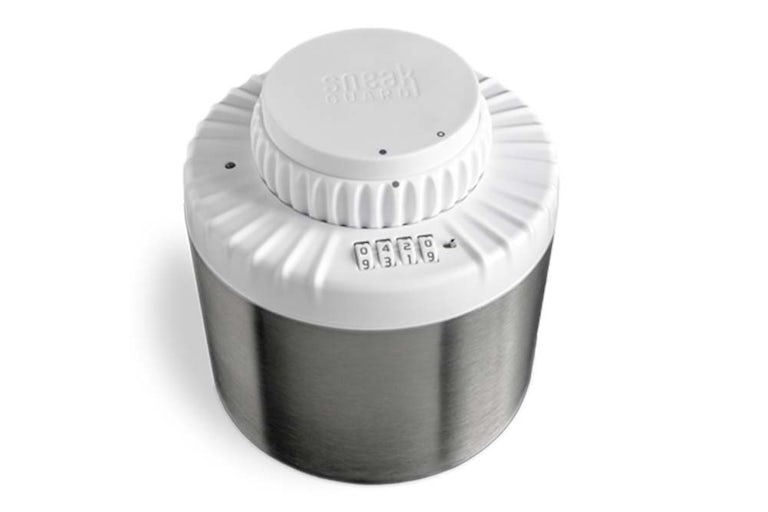 The primary concern with edibles is having them end up in a child's hands or a pet's mouth. Weed-infused candies, cookies, cakes, brownies, and all other types of edibles look just like regular goodies, so it's easy for a child or fur baby to mistake them for something mom or pop bought from the store or whipped up themselves. That's why it's important to keep them locked up so that kids, pets, and even house guests don't get ahold of them, and so that they stay fresh, tasty, and potent at the same time.
One of the best cannabis products for safeguarding adult snacks is SneakGuard. And it doesn't just keep kids and pets and meddlesome visitors away with its four-digit locking mechanism, but also light and air as it's double-insulated, vacuum-sealed, and air-tight. That gives it the capability of holding the ideal temperature for storing edibles as well, securing their value, effects, and everything else that makes an edible great. And to add a finishing touch, the SneakGuard features built-in humidifier protecting your stash from undesired moisture, bacteria, and mold to boot.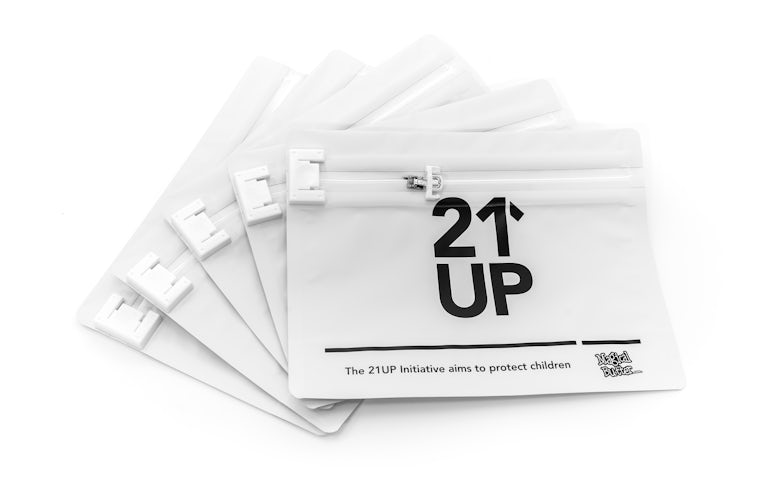 For edible storage that's dependable and sends a clear message that its contents are for adult's only, but is also low-key, look no further than MagicalButter's 21UP Exit Bags. From fat, chewy fudge brownies you baked yourself using none other than the MB Machine to a handful of weed-infused lollipops you bought from your local dispensary, 21UP Exit Bags come in a assortment of sizes and are one of the best cannabis products if you're looking to upgrade from a useless ziplock bag to something safer.
21UP Exit Bags have an easy to use thumb pressure slide lock that satisfies today's childproof standards for locking, re-sealable, cannabis, food safety requirements. Accidents happen all the time, especially when you have kids, but at least with 21UP Exit Bags, you have one less mishap to stress over, and the entire family, along with your delicious weed-infused treats, stays safe in more ways than one.
The Best Weed Travel Kits
Travel kits for weed are as necessary as suitcases for a comfortable 420-friendly travel experience. They keep your cannabis and cannabis essentials organized. Of course, they aren't as large as a suitcase, but they keep all of your tools safe, odor-less and out of sight.
The Best Weed Travel Kit For Smell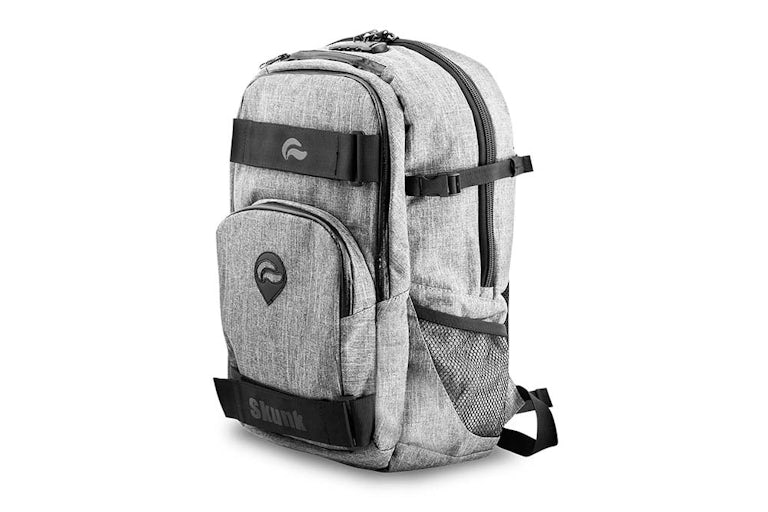 Not saying you should travel with a duffle bag full of weed, but in case you ever need to, Skunk Bags are your safest bet. Skunk Bags are 100% smell-proof, so whether there's a crowd of people or a couple of passersby, Skunk Bags will keep your supply concealed from all wondering eyes and sniffing nostrils. On top of that, Skunk Bags are weather-proof, meaning you could dance with your Mary Jane outside during a tremendous downpour and it would still be dry and cozy.
In addition to Skunk Bags' duffle bags, there are backpacks, cross bodies, travel packs and more with the same features, as well as zippered storage and pockets. Some Skunk Bags also come with a combination lock as a bonus to keep your herb that much more protected. And to further lower suspicions, each Skunk Bag resembles regular luggage on the outside, making them discreet through and through.
The Best Weed Travel Case For Organization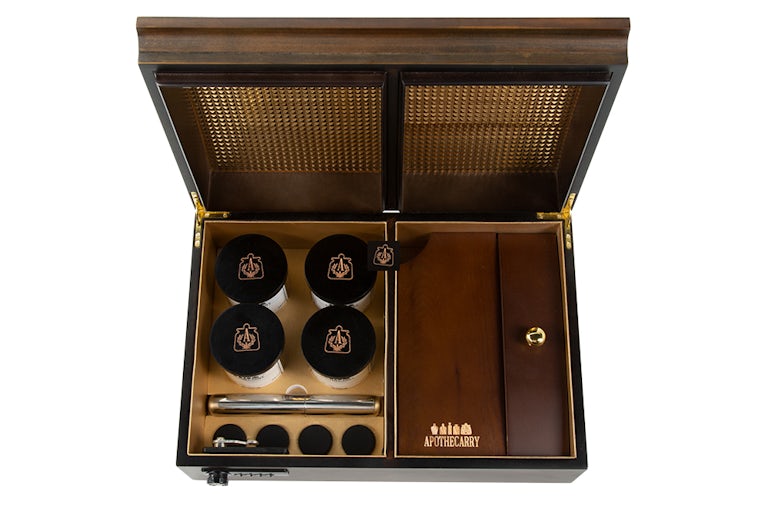 Anything you could need to store your beloved concentrates, flower, and paraphernalia you get with the Apothecarry Case. Available in a dark brown and dark/black stained finish, the Apothecarry Case is one of the best cannabis products for keeping all your weed essentials organized and safe. Aside from a four digit key lock, this all-inclusive stash box comes with four glass jars for your favorite strains, eight humidity control packets, four dab containers, and a travel container for pre-rolls. But wait, there's more.
With the Apothecarry Case, you also get a removable rolling tray, a grinder with a kief catcher, a nook for tools and papers, and a pocket for holding pipes and vapes. Also, it features a vegan-friendly leatherette interior with high-density foam. Thanks to this luxury, every precious weed-friendly valuable you store inside the Apothecarry Case, including your best glass, will stay protected at all times.
The Best Weed Travel Case For Women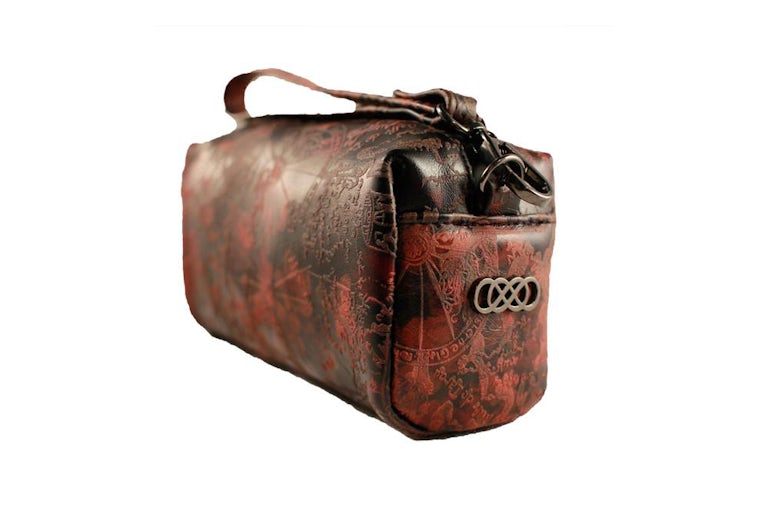 Your everyday purse isn't all that accommodating for your pipe or your pot. That's the same place your car keys, wallet, and other necessities go, so not only will it makes a mess, and potentially damage your possessions, but it will also leave everything reeking of weed. That's why you need a pretty pot purse, or more specifically a stash bag, like the Jenny from Erbanna.
The Jenny, available in a Steam Punk Map and Twisted Elf design, is one of the best cannabis products for discreetly and fashionably toting your Mary Jane and accessories around town along with your other essentials. Since it's odor-proof, the smell of dank will never leak out, and it features a lock, two inside pockets, and waterproof zippers for the extra protection. Moreover, the Jenny has a detachable wristlet so you can use it not only during the day but also for a night out.
The Best Weed Travel Case For Those On A Budget
AlphaPuff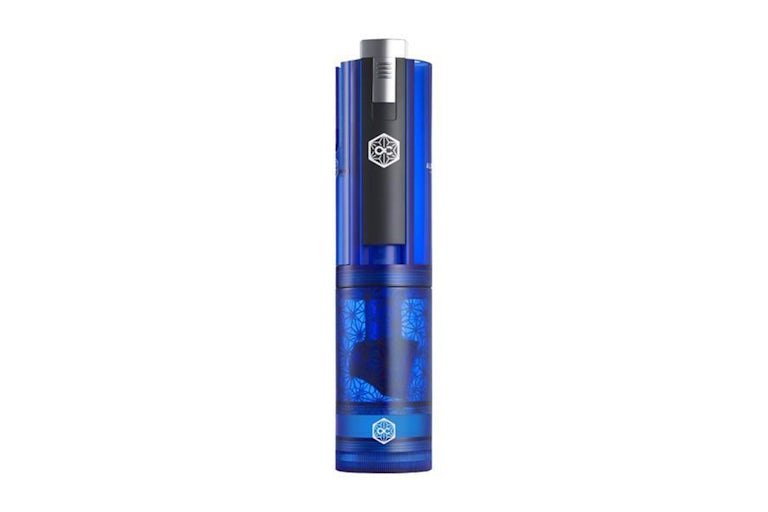 One of the best cannabis products for traveling far and wide or even close by with your weed and weed-related belongings is the AlphaPuff. Anything you need to smoke is right there in one place with the best cannabis travel kit. Besides having a spot to store your flower, along with a separate spot to hold your pre-rolls, the AlphaPuff comes with a magnetic grinder, space for your papers and filters, a cleaning tool, and a refillable TurboTorch lighter.
With all that you get, it's no surprise why the company declares the AlphaPuff the all in one smoking kit. But believe it or not, that's not even it. The AlphaPuff can also transform into your very own portable water-pipe. Talk about a sweet deal.
The Best Rolling Papers
If you love your joints and blunts, then you need the best papers and blunt wraps for creating the perfect smokable masterpiece. Paper has a lot to do with how your joints and blunts will taste and burn.
The Best Joint Papers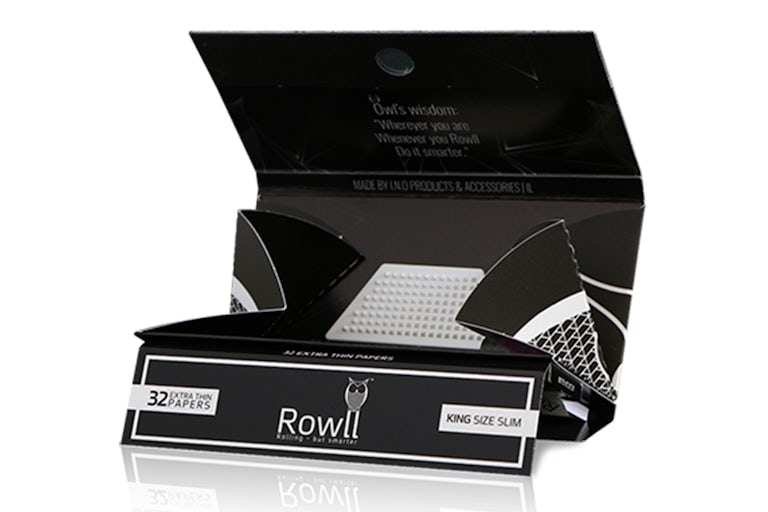 Wouldn't it be nice to have all the tools it takes to roll the perfect pearly J all in one place? Well, thankfully, you won't have to google "how to grind weed without a grinder" anymore if you get the Rowll Case: a small, convenient travel compact that comes with the works. Not only does the Rowll Case hold 32 extra thin rolling papers, but also a grinder, aka the Rowller, a funnel for smooth, error-free joint rolling, and 32 filter tips, all inside a little case featuring magnetic sealing. Since it's no more substantial in size than your typical pack of papers, you can slide the Rowll Case into your pants pocket, your handbag, or stash bag. It's safe to say that rolling paper airplanes on-the-go is officially painless, thanks to one of the best cannabis products for the bustling J smoker.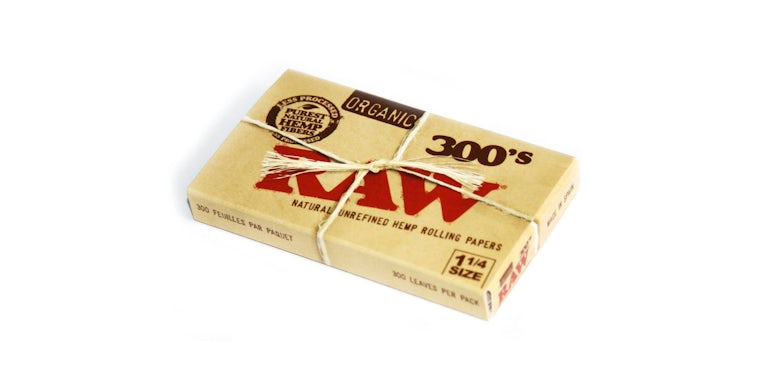 Honestly, when it comes to the best cannabis products for rolling fatties, baby Js, and everything in between using the all-natural route, you can never go wrong with RAW, especially if you like to taste the weed. Aside from being eco-friendly, RAW rolling papers are chemical-free and unrefined. Not to mention, these hemp papers are thin and burn slow and even, with very little ash to spare. From king size classics to organic and creaseless, the RAW options are boundless, but they all share something in common, and that's delivering a stellar joint smoking experience, regardless if you're a master or a novice.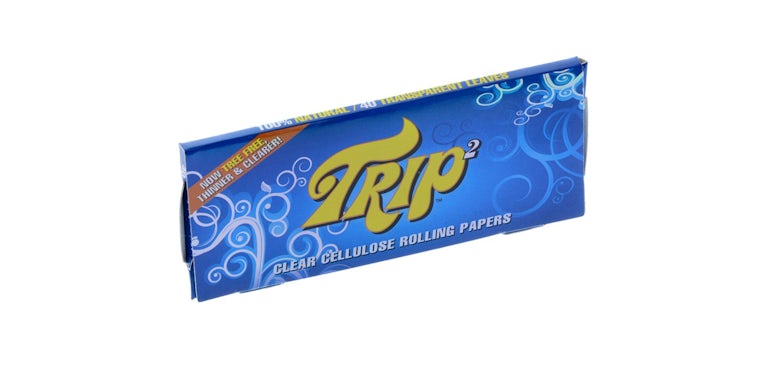 Taste isn't the only thing to admire while smoking a joint. With Trip2 Clear Cellulose rolling papers, you can savor the flavors of your beloved herb and watch it blaze at the same time. Trip2 is one of the best cannabis products if you fancy an out of the ordinary experience from the most classical style of smoking weed. The papers are mega thin, crystal clear, burn slowly and smoothly from start to finish, and are gum free. Plus, they're easy to work with, even for amateurs.
The Best Blunt Wraps
Backwoods and SwisherSweets are a given when it comes to blunt wraps. Here are some blunt wraps that might just change how you roll it:
Shine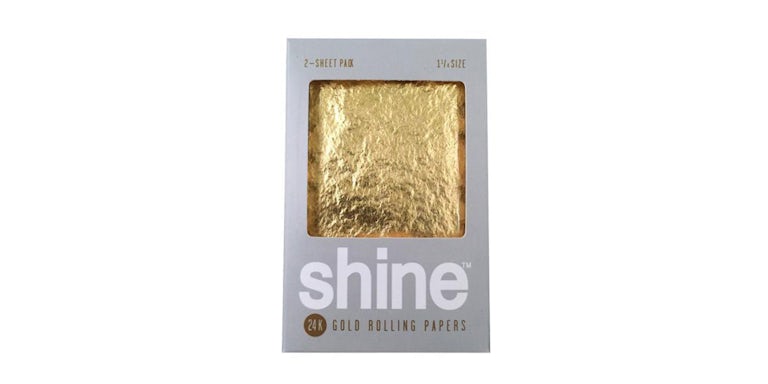 One of the best cannabis products, and the most elegant, for blunt smokers, are Shine blunt wraps. Shine blunt wraps are unlike anything you've ever rolled with before, making them the perfect thing to bust out at a party or special occasion. Made of authentic 24k gold, puffing on a Shine blunt will have you feeling like a bonafide boss even while plucking your ashes, which are also gold. Who knew smoking a blunt could be so lavish, yet affordable?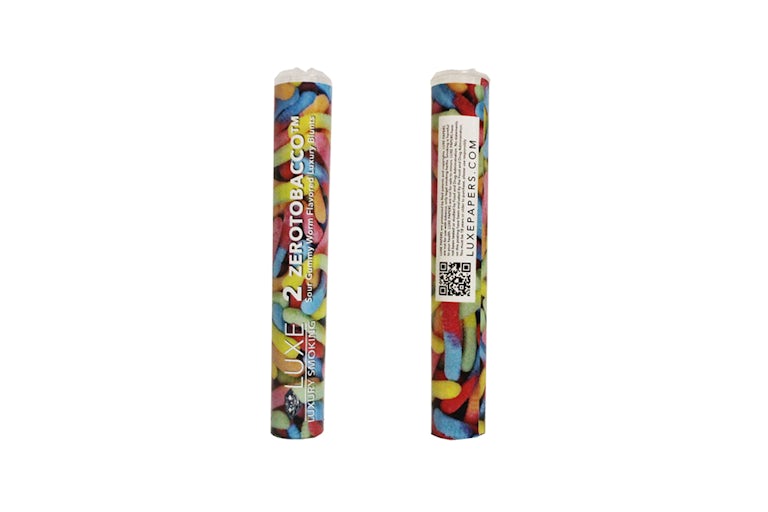 Flavored cigars are nothing new, but if you're getting bored of the same grape, mango, and other fruit flavored wraps that you can buy anywhere, anytime, then spice things up with the ZEROTobacco flavored hemp wraps collection by Luxe Papers. The ZEROTobacco flavored hemp wraps collection is one of the best cannabis products for blunt lovers that want a wholesomer, more luxurious way to smoke an L. They come in rare, delicious flavors, such as sour gummy worm, donut, peanut butter & jelly, and caramel macchiato, and are handmade in Canada using all organic materials, including vegan sugar glue. Also, all wraps are CBD positive and come tucked inside a smell-proof storage container, along with two pre-rolled hemp tips, and burn as slow as any other cigar.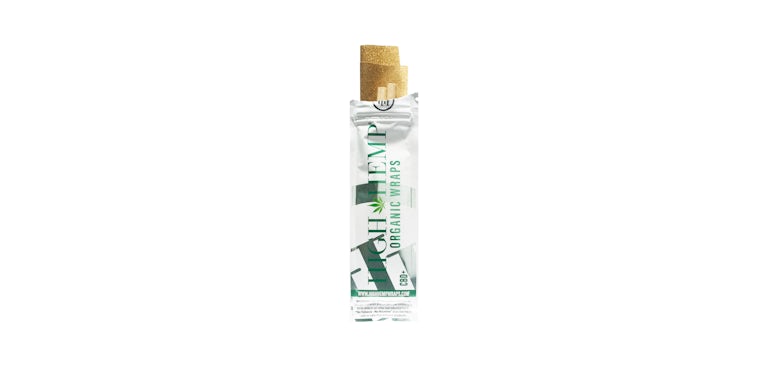 Another one of the best cannabis products for blunt rollers looking for a CBD+ wrap is High Hemp Herbal Wraps. Available in Honey Pot Swirl, Grapeape, Maui Mango, and Hydro Lemonade, each High Hemp Herbal Wrap comes in packs of two and include two filter tips. Not only are they less toxic than regular wraps, but they're also organic, tobacco-free, gluten-free, and non-GMO. But like the majority of blunt wraps, High Hemp Herbal Wraps enable you to take your time and relish the weed smoke thanks to a slow, constant burn.
The Best Cones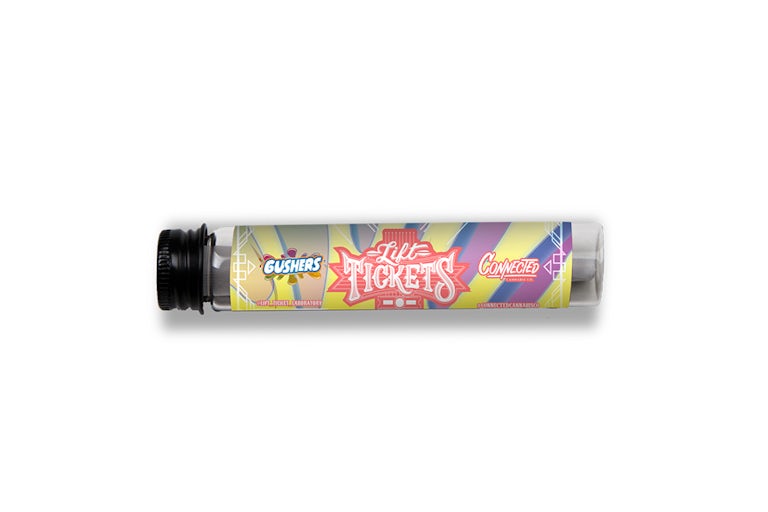 To heighten the flavors and aromas of your favorite strains, one of the best cannabis products is Lift Tickets 710 terpene-infused cones. Lift Tickets cones, available in packs of 10, are designed to mimic some of the dankest weed varieties, including Gorilla Glue, StarDawg, Sunset Sherbert, and more. Although they contain zero traces of THC and won't get you any higher, Lift Tickets cones will make every smoke session sweeter, especially if you love the pure taste of Mary Jane. Besides, anyone can dig them, being that all you have to do is pack them with your best herb and spark away.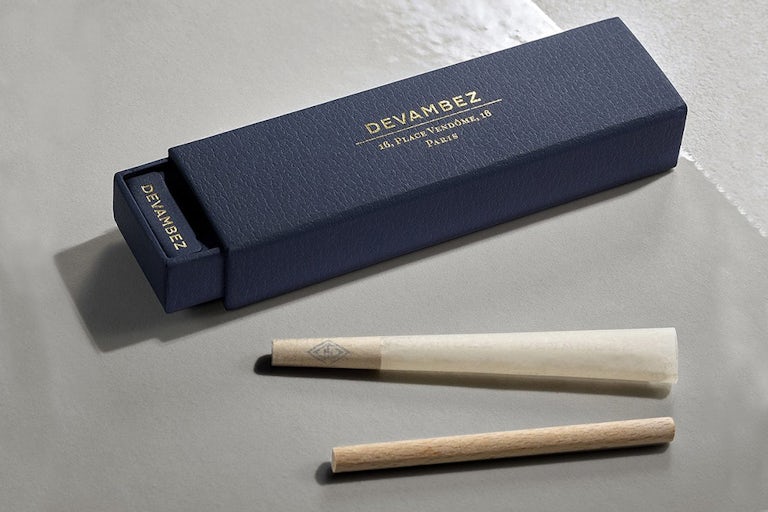 For the most exceptional cone for the finest herbs, one of the best cannabis products is the Vendôme by Devambez. The Vendôme comes bound inside of an elegant blue keeping case. Breaking out this stylish and sophisticated cone, made of organic hemp from La Chanvrière in Bar-sur-Aube, France, is like sipping on an exquisite bottle of wine that you only bring out on special occasions. It's not cheap but is always worth the price.
The Vendôme is ultra-thin and slow burning, allowing you to take your time and savor the moment from beginning to end. Also, it contains neither bleaches or chemicals to take away from the authentic flavors of your flower. Nothing but the purest experience for the true cannabis connoisseur.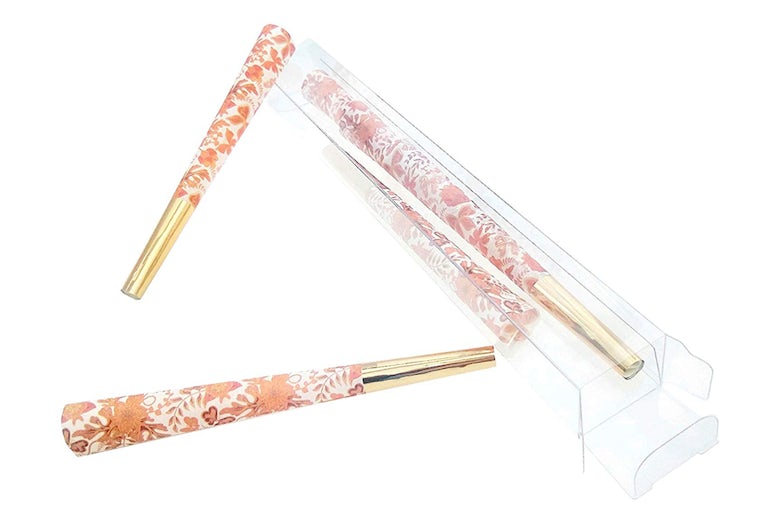 Want a personalized preroll to match your outfit of the day or just something cute to blaze? If so, then Beautiful Burns Designer Prerolls are the best cannabis products for adding flair into your smoking routine. From Unicorn Dreams to Angel Leaf, these pre-rolled cones boast unique and chic designs that don't compromise the fresh, familiar flavors of your herb. Every paper is made of natural palm pulp, along with natural coloring made from edible, tasteless hempseed and soy oils with natural pigments. The burn is genuinely beautiful too. Not to mention, slow and clean.
The Best Pre-Rolls
Pre-rolls are cannabis "cigarettes" that are packaged and ready to smoke. For those who don't know how to roll, are too busy to roll, or too lazy to roll, pre-rolls are a time and effort saver.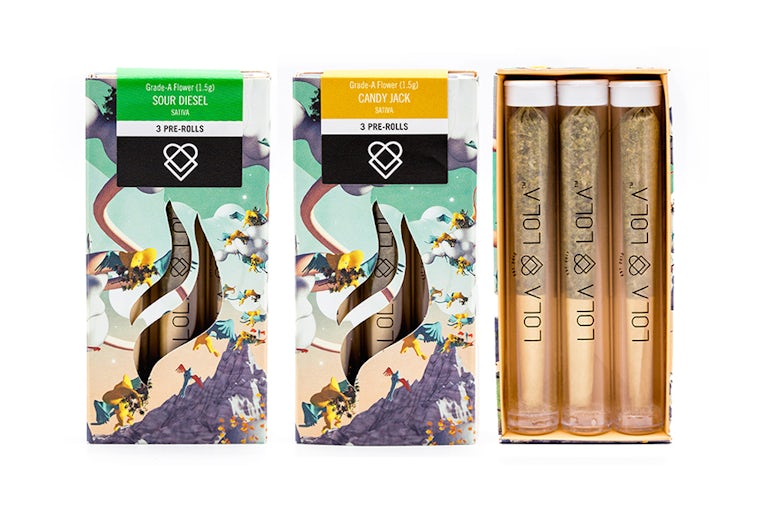 Clean and stylish packaging isn't everything, but in Lola Lola's case, it's the perfect glimpse of what's in store with their original pre-rolls. Lola Lola original pre-rolls are rolled in bleach-free paper with zero chemicals or additives and packed with authentic bud only, no stems, seeds, or bottom of the bag crumbs. From Sour Diesel to Candy Jack, the original pre-rolls come complete with .5 g of your favorite strain in sets of three neatly placed inside a fresh, custom matchstick-style slide box for ultimate discretion and pizzazz.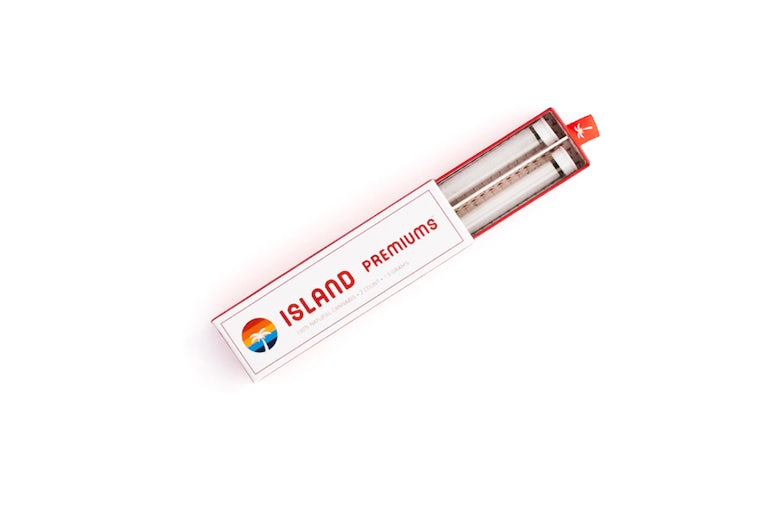 Island Premiums are pre-rolls made for adventure seekers. From skateboarding on the boardwalk to biking to exploring far and wide, these pre-rolls, available in packs of two and six, are designed to be brought out with ease at any moment. Handcrafted using custom, king-size, filtered hemp tubes and packed with premium, 100% natural, artisanal cannabis flower, with THC contents ranging from 12 to 18%, Island Premiums are paradise rolled up. Even if you're not anywhere close to an extravagant destination, journeying to bliss of the island-life can be done with a spark of a pre-roll.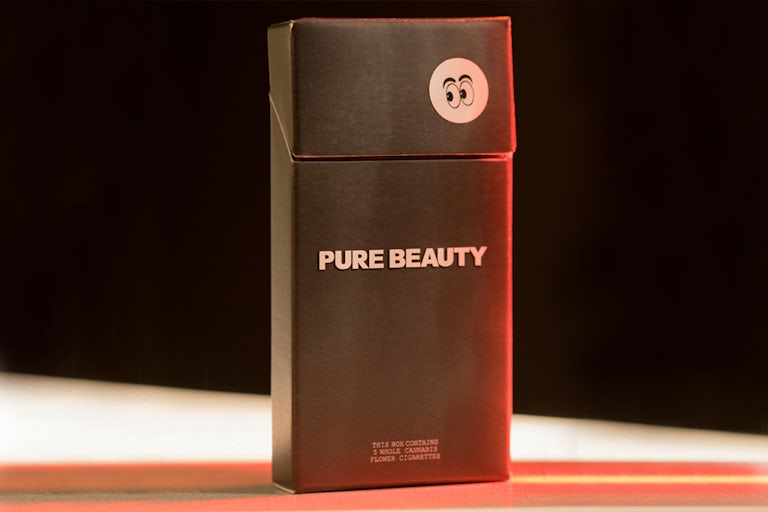 LA's Pure Beauty pre-rolls are chic joints stuffed with potent, top-of-the-line flower. Whether you're reading a book or busy with the daily grind, Pure Beauty joints are convenient for the loungers and the hustlers. On every pre-roll, you get a cheeky pair of eyes to remind you not to take life too seriously and have a sense of humor. Available in sets of three and five, and in a variety of strains, these lovely smokes rest inside of a discreet, millennial-pink box, but you can find them in beautiful black and white packages as well.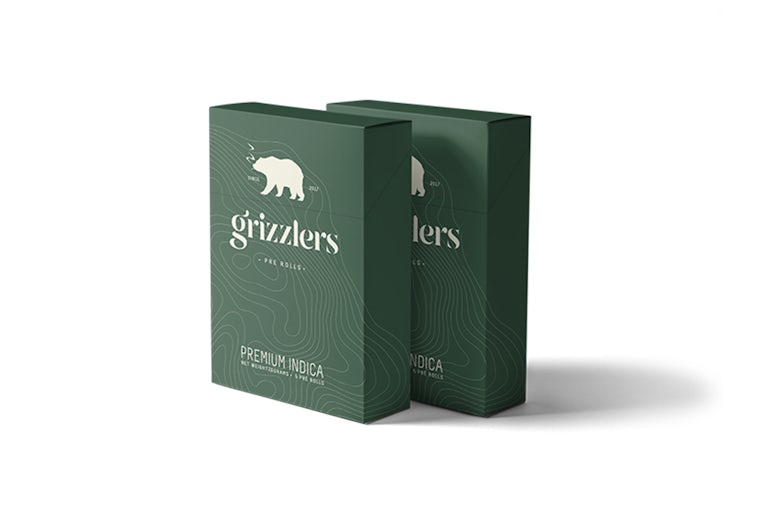 Take the edge off and raise the caliber of your cannabis experience with Grizzlers fine quality craft cannabis pre-rolls. Available in sativa and indica, Grizzlers are strain specific, using only the most exceptional genetics in British Colombia, and will satisfy the true cannabis connoisseur. With each flip-top box, built for convenience and freshness, there are five individually sealed joints. For optimal effects, flavors, and aromas, smoke the pack within five days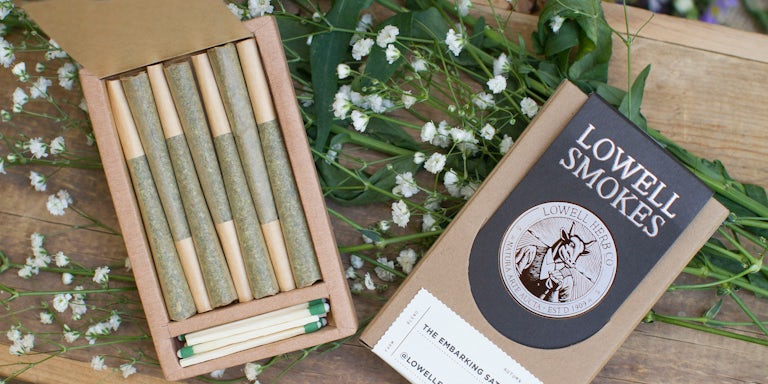 Lowell Smokes are the whole package if you're looking for all-organic, top-tier smokes. Available in sets of 7 and 14, and in sativa, hybrid, and indica blends, Lowell Smokes deliver full flower, no trim or shake. For a peek at what your cannabis experience will be like, these premium pre-rolls' packaging reveals not only the aromas but also the effects and the exact curated mixture. And they even come with matches, so that you're never without a light.
The Best Marijuana Accessories
Marijuana accessories make your smoking routine easier. A weed accessory can be anything from a rolling tray to an ashtray to a clip for your roaches. Each type has its own unique purpose and can lend a helping hand in some way, shape, or form.
Shred Sled With Santa Cruz Shredder- RollaBoards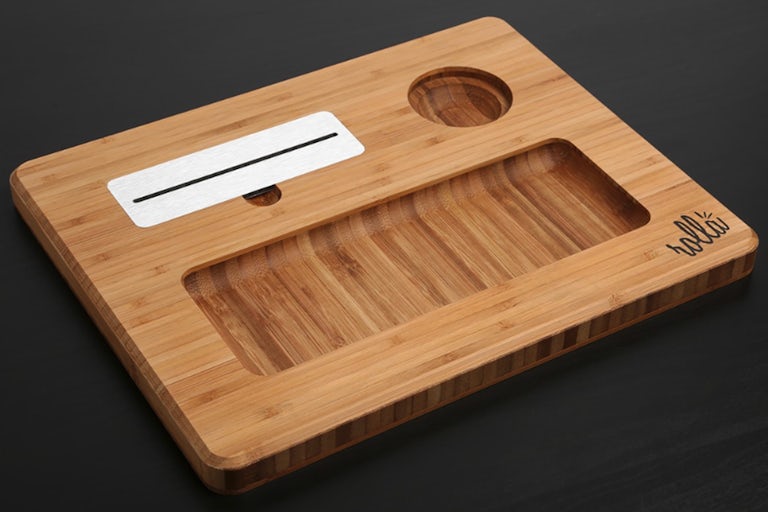 To make rolling more manageable and organized, you need a rolling tray. For the ultimate rolling station, one of the best cannabis products is the Shred Sled and Santa Cruz Shredder combo. The Santa Cruz Shredder is a top-tier 2-piece grinder in today's market for getting your bud in the perfect condition for a smooth roll and a clean burn. Aside from that rolling essential, and a stash spot for it, the Shred Sled, created using 100% organic bamboo wood, comes with plenty of room for rolling, a paper dispenser, and even the papers to put inside it. Plus, it's relatively small in size, so you can effortlessly slide it under the bed, or, set it on your closet shelf until you're ready to roll again.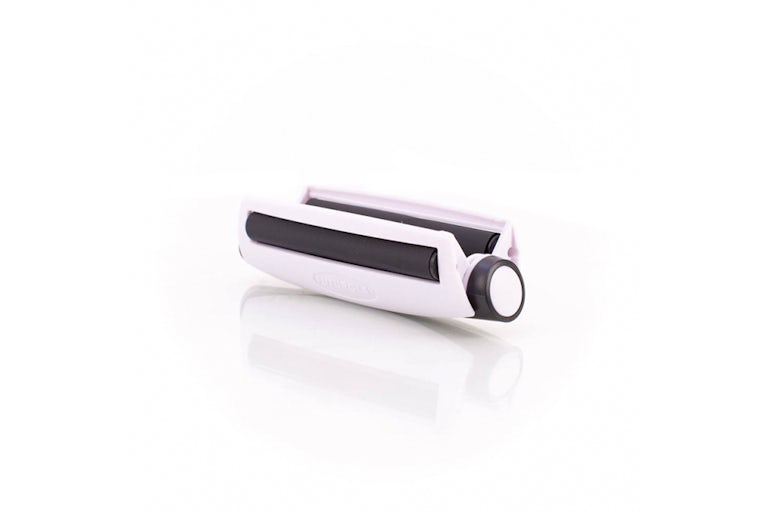 Unfortunately, not everyone has the hands or skill to roll a perfect joint like Tony Greenhand. But that's okay because that's what rolling machines like the Small Roller by Futurola are for, one of the best cannabis products for lousy joint rollers. The Small Roller won't help you roll anything large and fancy like an AK-47 or a bearded dragon. It will, however, prepare you a joint that's smokable in a jiffy. All that's required of you is loading and licking the paper, adding the filter and herb, and giving the machine a quick spin. It's that elementary.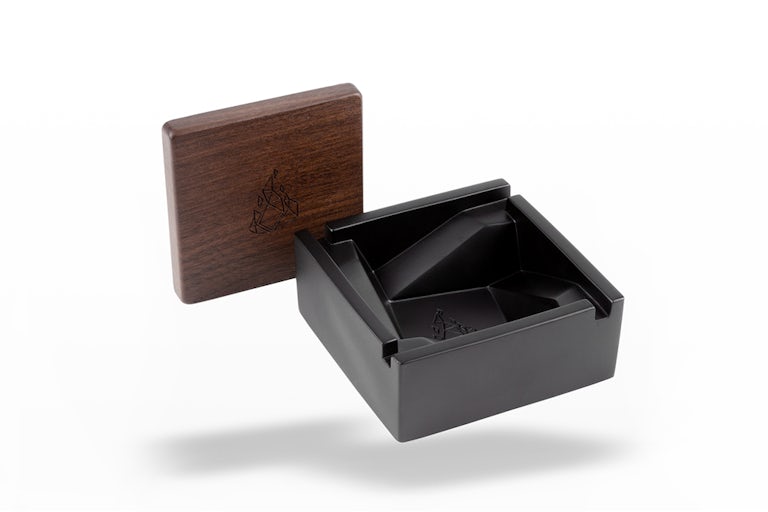 The Briq by BRNT is one of the best cannabis products for putting your joint and blunt ashes. Speaking of joints, the Briq happens to have a discreet joint rest. That way, you have something to hold on to your smoke whenever you need to pause. And to top it off, the Briq features a beautiful walnut wood lid that masks the foul smell of ash and keeps it out of sight. Moreover, it has a polished concrete base that's far more durable and aesthetically-pleasing than ashing into something like a plastic cup, or whatever you can get your hands on at the time.
Triangle Lux Clip- High Society Collection
Savor every inch of your joints and blunts and blaze with grace using the Triangle Lux Clip by High Society Collection. This luxurious clip features a gorgeous 24K gold-dipped design along with a unique sliding mechanism to elevate your smoke sessions. By pulling back the square slide, allowing for the springs to open, you can slide your roach in and push the slider forward to keep it secure. The Triangle Lux Clip also comes with a black ball display that can rest on a coffee table, nightstand, or any flat surface, to hold your smoke when you need to step away.
The Best Grinders
Grinders make for some of the best cannabis products not just because they break up your bud so that you don't have to, and speed up the process, but also because they assure an even burn while smoking and vaping, and make rolling easier to boot. Four-piece grinders collect delicious, potent kief, which can be sprinkled on top of your shredded ganja for the extra punch. There are 3-piece and 2-piece grinders as well, which are straightforward and ideal for newcomers. Not to mention, you have electric grinders that get the job done with a quick press of a button. But regardless of what kind you go for, tearing apart the sticky icky is a snap as long as you have a grinder handy.
The Best Manual Grinders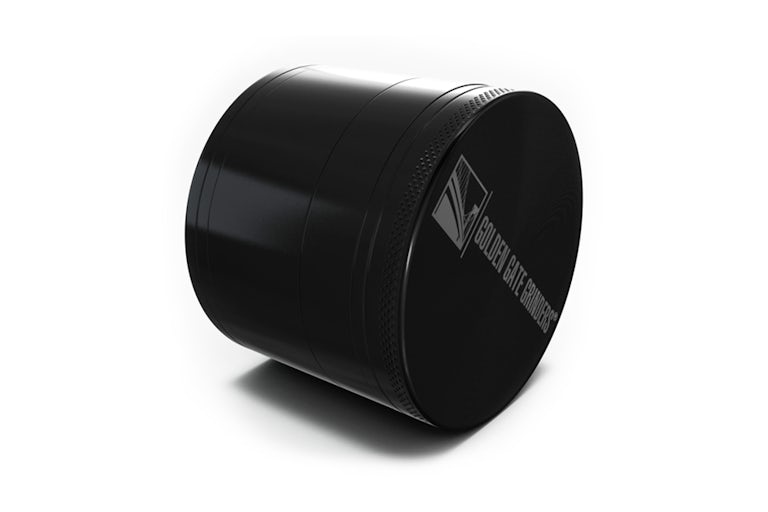 For the most robust grinder that will last you through thousands of smoke sessions, and probably more than that, one of the best cannabis products is Golden Gate Grinders. This 4-piece grinder, available in green, black, and silver, is constructed of aircraft grade aluminum and is as powerful as it is durable. It features a magnetic top that keeps your herbs secure until your ready to put them to proper use, in addition to two scrapers for accumulating kief. Moreover, it's as silent as a lamb while in use and won't draw in any undesired attention.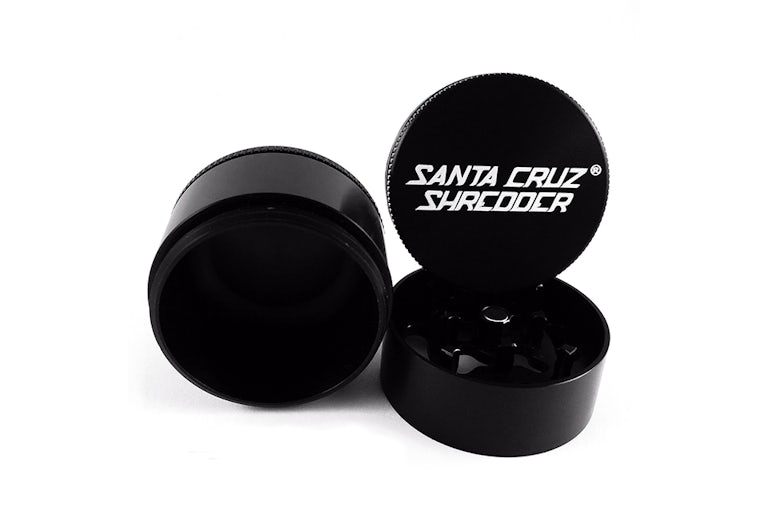 Santa Cruz Shredder grinders are one of the best cannabis products for shredding stubborn herbs, but they're also pricey. That's all the more reason to go for their small 3-piece grinder, the more affordable choice. It doesn't catch kief, but it is made of high-quality medical-grade anodized aluminum, comes in an assortment of colors from rasta to teal, and will endure a lifetime of use. Furthermore, it features rare earth magnets to seal in freshness and odors and is easy on the hands, which is a plus for those who have hand or wrist pain. There's a concealed stash spot inside too, to hold leftover weed so that you can save it and spark it later.
2-Piece Titanium Grinder Medium- Space Case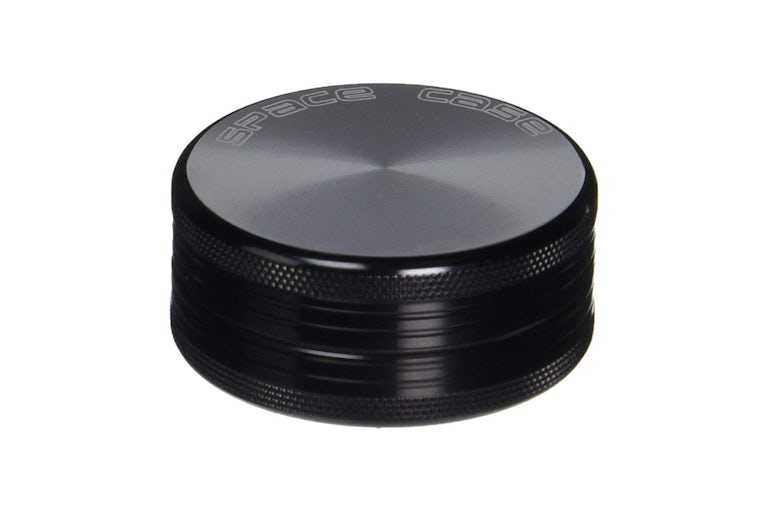 If you want an inexpensive grinder that doesn't have bells and whistles, then one of the best cannabis products is the Space Case 2 PC Titanium Grinder. Aside from being easy to use, this Space Case grinder doesn't need any cleaning. Moreover, it's sturdy, scratch-resistant, and comes backed by a lifetime warranty. If you stay on-the-move, the 2-piece Space Case is the perfect purse or pocket grinder to carry with you, being that it's so small it won't take up much room. Its only downfall is it doesn't gather kief.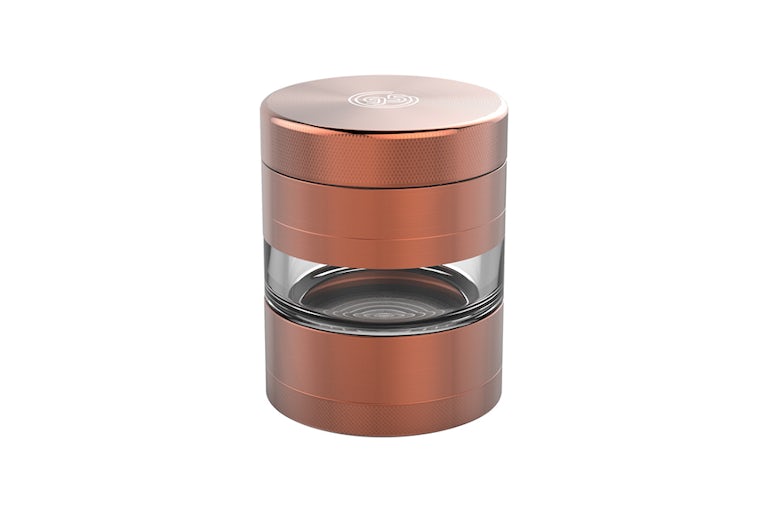 9to5 Grinders are a luxe line of military grade aircraft aluminum 5-piece grinders. Available in Copper/Rose Gold, Gunmetal, Champagne Gold, and Matte Black, these grinders feature a clear body, a magnetic lid, a removable stainless steel pollen catcher, and razor sharp diamond teeth. In fact, you get not one, but two grinders per product, as the middle jar is removable and makes for a fantastic travel grinder.
The Best Electric Grinders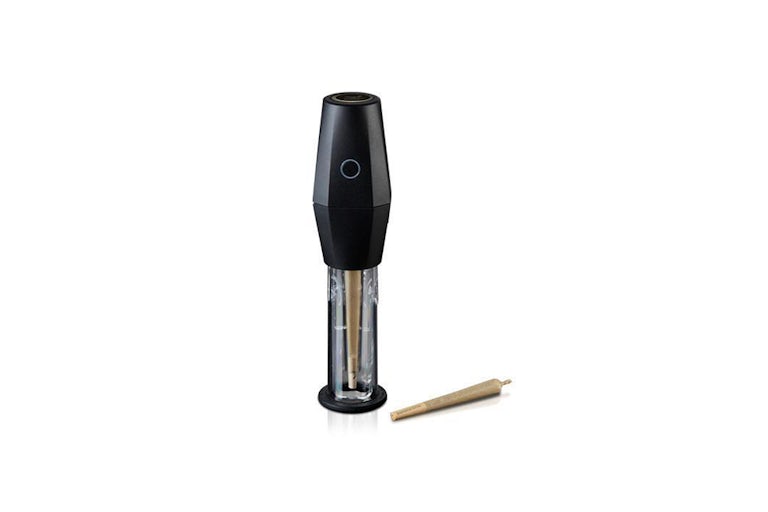 If you're amazed by grinders that get your herbs ground and fluffy with the press of a button, then hang on to your hats because OTTO is about to blow your mind. OTTO by Banana Bros is the world's first smart electric grinder that features Smart Miling Technology and utilizes Artifical Intelligence to rip apart every variety of weed nug, including those loaded with stems and seeds. It can tell when it needs to change its speed, pressure, and direction according to the bud, all on its own.
OTTO can also help you out in the rolling department. Using the included O-Tube sachet and cone holder, after shredding your stash, OTTO will automatically drop it into a cone, which is detachable if you want to use the OTTO for grinding and storage purposes. It comes with 20 Banana Bros Premium cones, a 4-in-1 cleaning tool, and a charger cable too, in addition to an O-Funnel for smooth herb dispensing, a measuring cup, a Snap Cap for sealing aromas and freshness while not in use, and finally, a tube for storing your doob.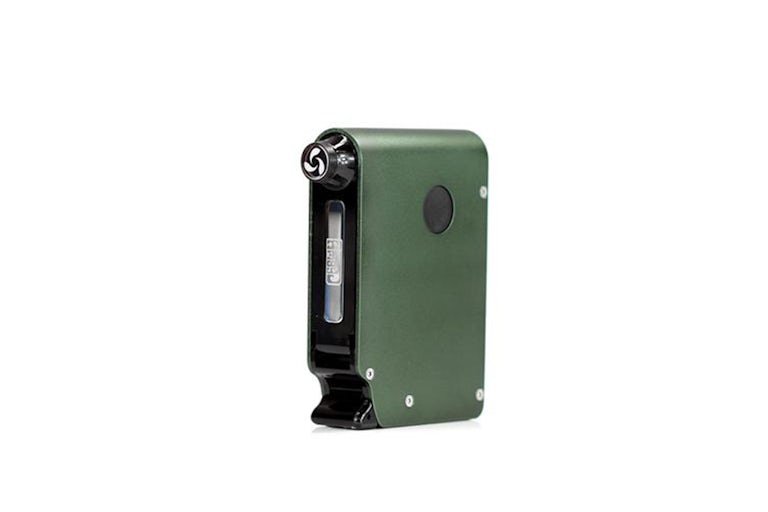 To make rolling and packing bowl on-the-go spill-free and painless, meet the Chewy 2.0. The Chewy 2.0, available in Cool Grey and Dark Green, is small enough to fit in the palm of your hand, so you'll have no problem sliding it into your back pocket or handbag, but it's also durable and compact, making it the ideal electric travel grinder. It's also one of the most powerful herb shredders of its kind. On a single 9v battery, the Chewy 2.0 can fill up to 3,000 bowls using up to 3 grams of bud at a time, just by pressing a button. And it's consistent, so each grind is equally fluffy and perfect thanks to shredding blade technology.
The Best Pipes On The Planet
Pipes offer a simplistic, but satisfying way to smoke cannabis in its natural flower form. You can discover them in various shapes, sizes, and designs, and they're made of all types of different materials from plastic to glass. There's a lot about pipes that give them uniqueness, so it's rare that you'll ever spot the same one twice. But for the most part, each kind, from bubblers to steamrollers, is straightforward enough to be mastered from the first hit, making them one of few cannabis consumption methods fit for all levels of experience.
The Best Ceramic Pipes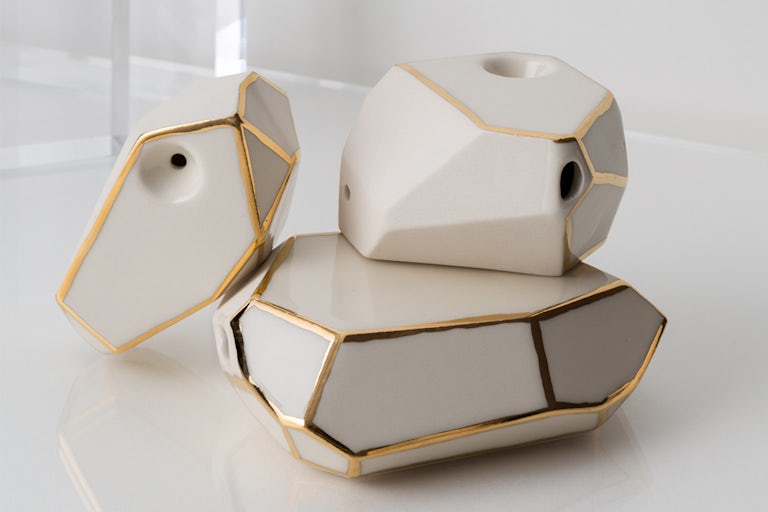 The GeoPipe is designed to bring a new angle to your smoking routine. Made of porcelain, the GeoPipe, available in three sizes and an array of colors, is such an aesthetic apparatus that it looks almost as chic resting on an end table and it does in action. Every GeoPipe is beautifully handmade and unlike any of the others, making it one-of-a-kind. Moreover, it features a glazy bowl and interior for easy, breezy cleaning and unglazed faceted sides for a non-slip grip.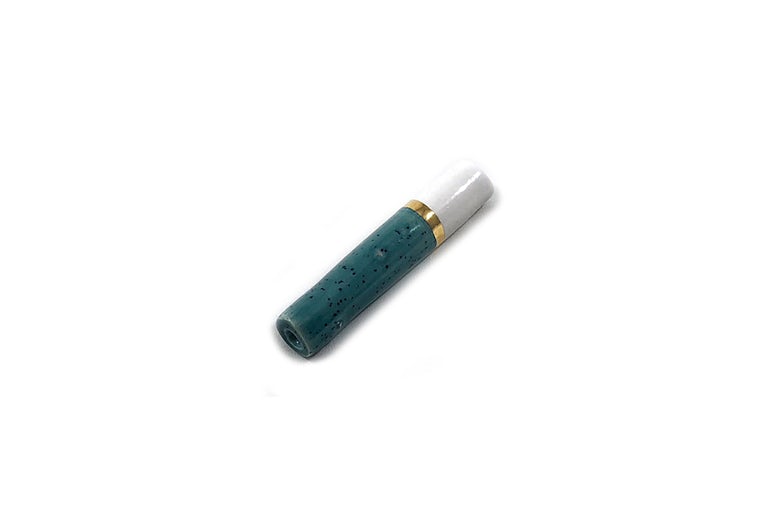 For short and sweet puffs of Mary Jane, check out these pretty and petite one-hitters from Elevate Jane. From teal to black with 24k gold accents, these chillum pipes are available in an assortment of styles and are tiny enough to slip into your pocket, purse, or stash bag. Whether you need a quick puff of herb before heading out the door or just a drag to lift your spirits, Elevate Jane one-hitters are not only easy to pack but also provide an easy hit, which is convenient for on-the-go smokers and those who believe that less is more.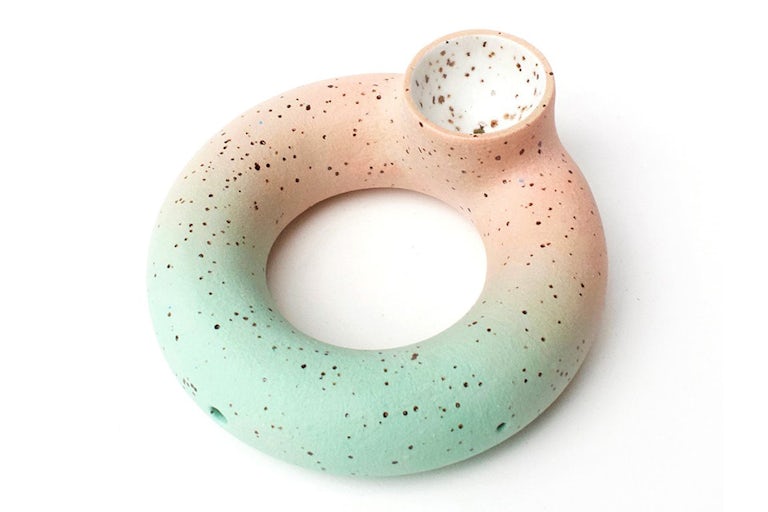 For something gorgeous and different, the Ring Pipe by Lindsey Hampton is as unique as it gets. Available in a pink and blue ombre fade, the Ring Pipe comes in the shape of an O and is sure to turn heads while you light up and exhale beautiful O-rings. When not in use, the Ring Pipe makes for eye-catching tabletop decor. And since Ring Pipes boast a unique, creative design, no one will be able to tell it's pot paraphernalia.
The Best Glass Pipes
The Bubbler- The Jane West Glassware Collection by GRAV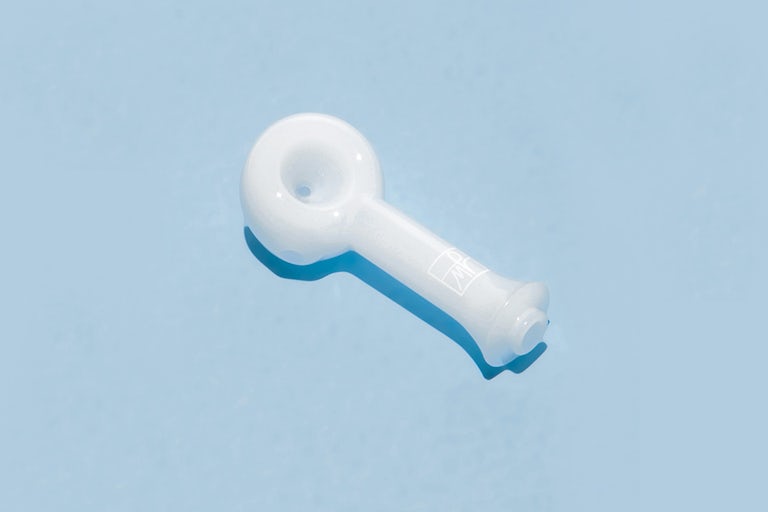 If there's one beautiful bubbler you need in your glass collection, it's the Bubbler from the Jane West Glassware Collection by GRAV. Along with a functional design, this bubbler flaunts elegance and sophistication. With water filtration for smooth draws and an ergonomic mouthpiece for added comfort, the Bubbler, available in Mint, Cloud, Emerald, and Cobalt, delivers a polished smoking experience. And it brings flair to any room just by being up on display.
The Twisty- 7pipe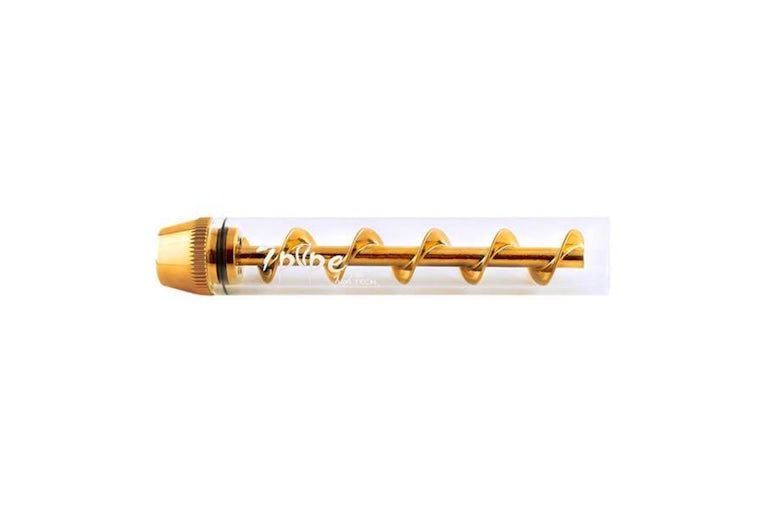 The Twisty by 7pipe is giving the blunt a makeover and in more than one way. Not only does it's clear glass and gold twist design make it more captivating than a wrap, but it also ditches the need for tobacco paper altogether and therefore produces cooler, purer smoke. The Twisty is available in a mixture of styles, including the Girlfriend Combo, the Mini, the Slim, plus more, some of which can hold up to four grams of herb. Moreover, it operates the same way as a blunt, only not as messy (so you don't have to learn how to roll a blunt properly).
To get your smoke sesh started with the Twisty, you slide out the golden screw, fill the tube with flower, twist and push the screw back in counterclockwise, and light it up. Like a blunt, the Twisty stays lit. And there's ashing involved too, which is just as effortless as plucking ashes from a regular blunt.
To ash this glass blunt, you turn the screw clockwise, dump, and keep puffing away. The cherry is infinite. However, you can also use the Twisty as one-hitter if you let the smoke to go out after taking your drag.
Smoked Glass Steamroller- Marley Natural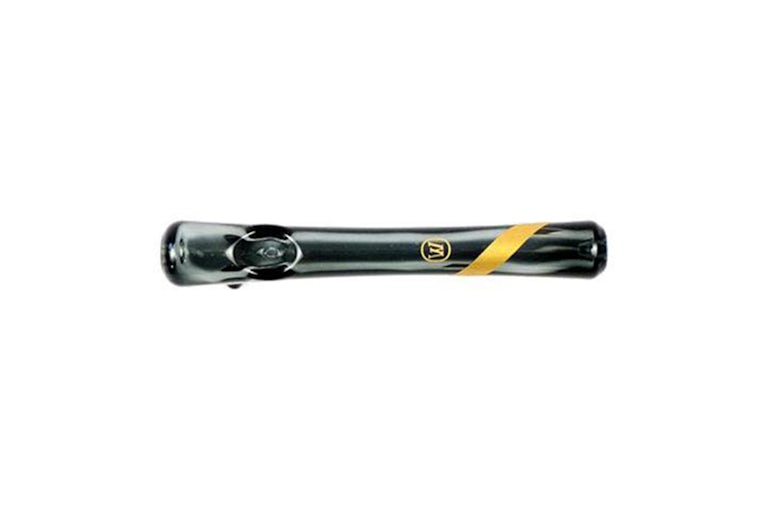 Steamrollers look soft on the outside, but they sure do produce beautiful draws. The Marley Natural Smoked Steamroller is no exception. What more beautiful way to smoke than to smoke like a Marley? Aside from featuring a modern design that consists of black and gold accents, this steamroller puts on the most dazzling show when it comes to the hits. By packing the thumb-press bowl with your favorite herb, giving it a spark, and covering the opposite end from the mouthpiece with your hand, the Marley Natural Smoked Steamroller will fill up with milky white smoke from beginning to end, which will then force its way into your mouth all at once upon release of your hand. As a result, you get superbly lit, and it doesn't even take but a few seconds.
The Best Metal Pipes For Durability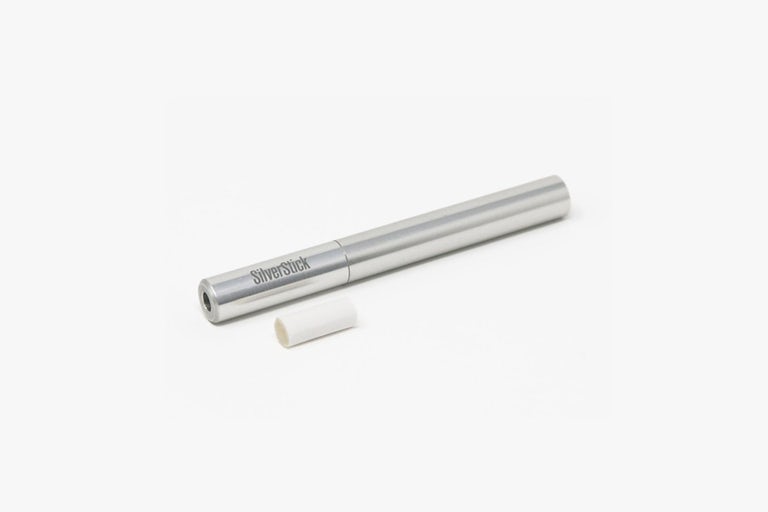 One-hitters only pass one small hit at a time, but smoking is smoking, so it's still not all that great for you. That's what makes the SilverStick a standout pipe amongst the others. The SilverStick, available in Large and Slim, is made of ultra-durable aircraft-grade alloy and comes with 15 cotton filters to absorb tar and block hot residue, providing a clean smoke experience for all. In addition to that, the SilverStick features a smell-resistant end cap to lock in the dankness. It's the perfect device to take on-the-go when you need a swift puff of herb as it's discreet, easy to pack, and cleaning is painless.
Genius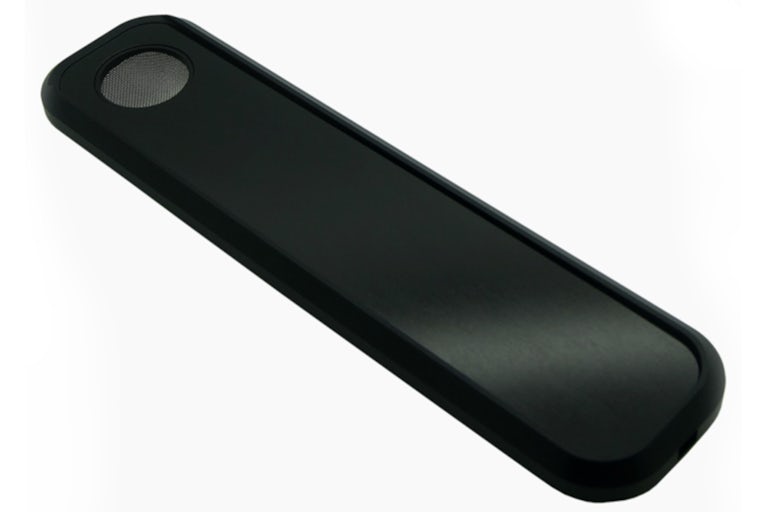 Glass pipes are prone to shattering into a million sharp pieces, but Genius is practically indestructible. Comprised of anodized aluminum, no matter how many times you drop Genius, this immortal pipe is going to bounce back without a scratch. Genius, available in a collection of styles, is also less harsh than most pipes. That's because it utilizes patented dimple technology, which just so happens to be used by NASA, to filter 95% of toxic and resins to create cooler, cleaner draws. On top of that, Genius is made up of three sliding magnetic parts that not only make cleaning a breeze but also packing and preserving your herb. Combine all these features, and you have the ultimate travel piece.
Bud Bomb Pipe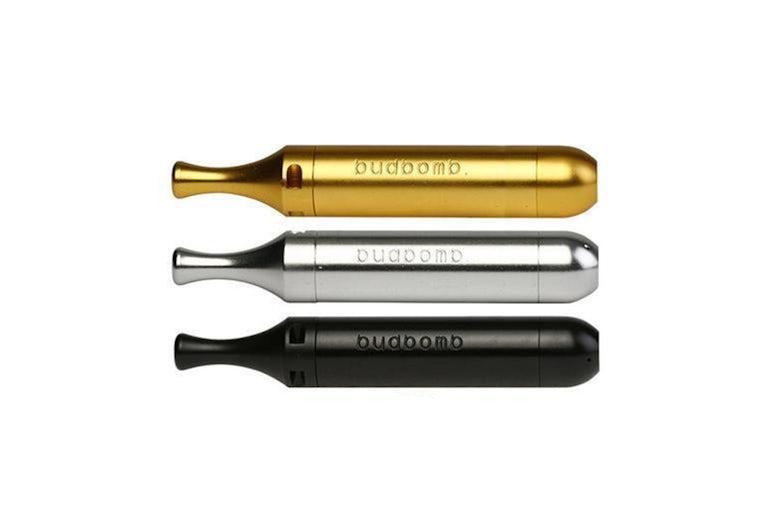 The Bud Bomb Pipe, for a metal piece, produces some of the coolest, refreshing puffs. That's because it features an internal cooling system, which filters smoke for purer draws. For double the freshness, try putting the Bud Bomb Pipe in the freezer before putting it to work. Speaking of putting it to work, the Bud Bomb Pipe, available in Gun Metal, Metallic Gold, and Silver, is both easy to load, hit, and clean thanks to its four detachable parts. And its unique, and compact design makes it a more inconspicuous tool to use on the move as opposed to the standard bowl. That, and the fact that it's practically indestructible.
The INDA Pipe Necklace- INDA Creations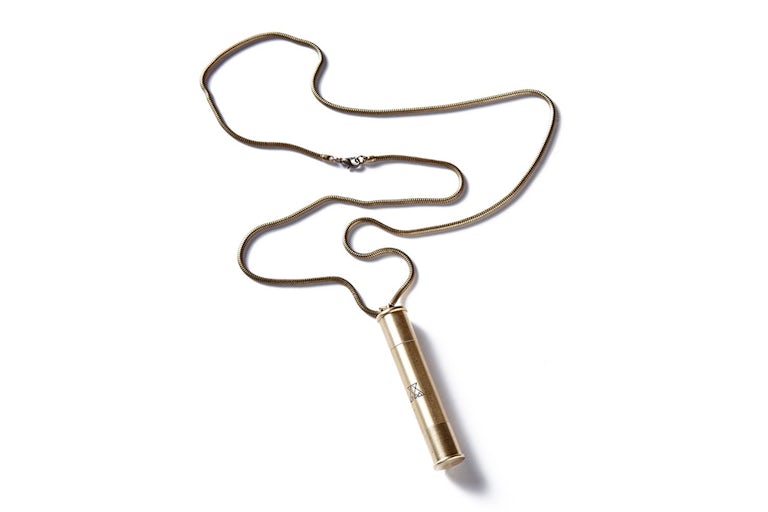 For a fashion-forward pipe that you can wear around your neck, the INDA Pipe Necklace is a chic accessory and a smoking device all in one. To transform this vintage brass snake chain necklace, also available in stainless steel, into a functional and portable healing aid, you merely unscrew the two end caps, pack your herb into the chamber, and spark the packed end. Just like that, you can take in fresh puffs of ganja whenever you're in need.
The Best Silicone Pipes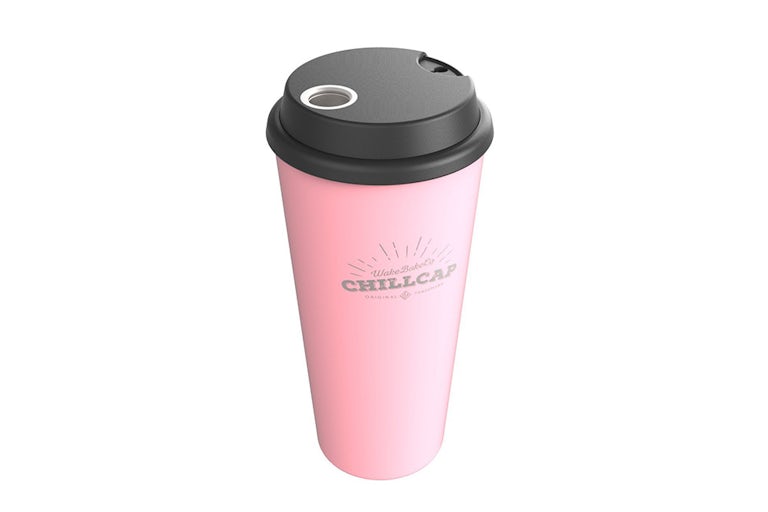 Coffee and weed together is a divine combination. How genius would it be to create a coffee cup lid that has a spout for sipping and a bowl for smoking? Pretty smart, and that's why WAKEBAKE Co. created the CHiLLCAP, a food-grade heat-resistant silicone top that fits most regular size cups, and consolidates the two tastiest things on earth, weed, and coffee. When you're not guzzling down your favorite cup of Joe or inhaling your favorite herb, all you have to do is twist the top to cover both the bowl and spout to keep it hidden. Talk about the best and most discreet wake and bake companion ever.
The Best Bongs On Earth
For bubbly tokes, massive cloud creation, and more, bongs are a classic way to smoke. Like pipes, the diversity of bongs is enormous. Bongs can be made from many materials like high-quality borosilicate glass, ceramic or flexible acrylic. Moreover, there are bongs with features, like an ice-notch to hold ice cubes to make every hit that much smoother, and percolators for additional filtration and enhanced flavor.  Some bongs don't come with bells and whistles, but they can still deliver impeccable draws nonetheless. So, stop looking for homemade bong ideas and buy one of these amazing products:
The Best Ceramic Bongs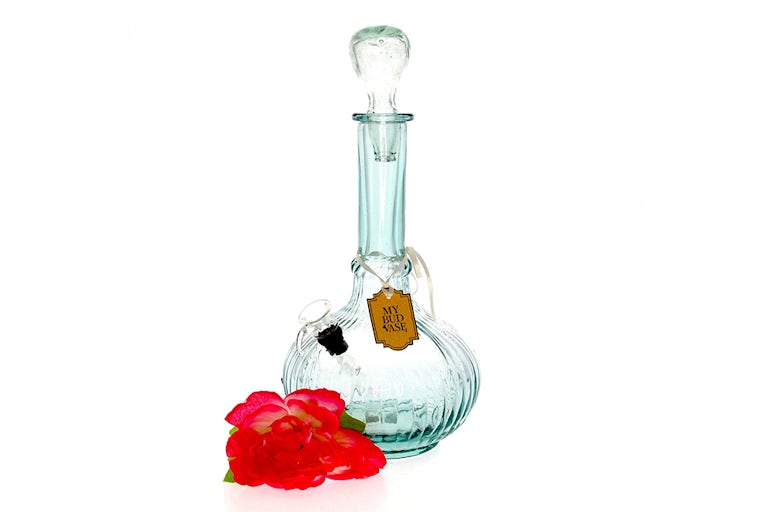 For a bong that doesn't look anything close to a bong, but rather a beautiful vase for roses, sunflowers, and more, feast your eyes on My Bud Vase. My Bud Vase bongs are ornamental vessels transformed into smokable apparatuses using a downstem and bowl. They come in a gorgeous array of designs, all of which combine functionality and style for a refined smoking experience. When you're not lighting up your beloved herb in a My Bud Vase bong, it makes for a decorative accessory to your bedroom, living room, or virtually any room of the house and comes with a faux flower poker for disguise. Even if it's a themed space, there's a My Bud Vase bong to match and make it pop.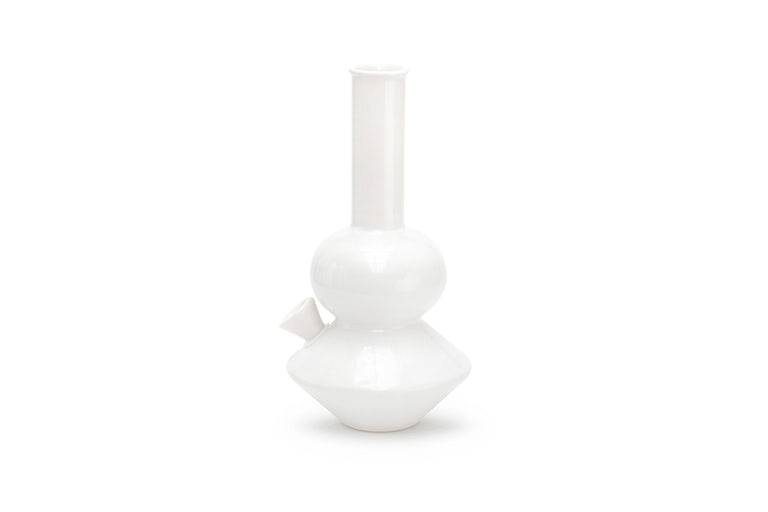 With Summerland Ceramics, every smoke session feels like paradise. If you've caught a shot of a classy ceramic bong on Instagram, then it probably came from Summerland Ceramics. But these pieces aren't just for show. They're perfectly functional and rip like a dream.
Summerland Ceramics has three styles of bongs, including Chongo, Pleasure Point, and Land Yacht, which all are available in a classic white, Terra Cotta, Stoned, Marble, and Black finish. Each product is made by hand, so no bong is the ever the same as the other. Moreover, they're designed using food-grade, lead-free glaze, and ceramic, and a high-grade silicone grommet, so clean hits, and airtight carbs are always guaranteed.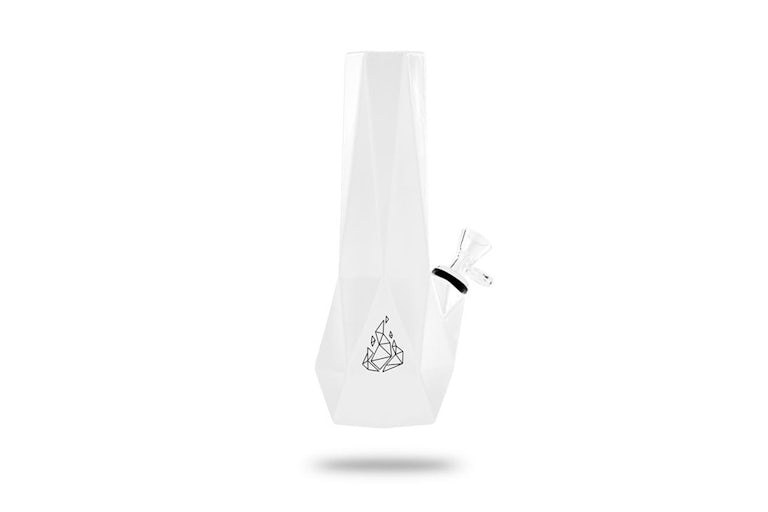 There is no bong on the market like the Hexagon by BRNT and its artsy, aesthetic self. Handcrafted of ceramic, along with a glass downstem and bowl sealed with silicone, the Hexagon is a fully functional and stunning piece. Available in bold red, white, and black hues, this standout bong is a conversation sparker, a room enhancer, and an impressive smoker all in one.
The Best Glass Bongs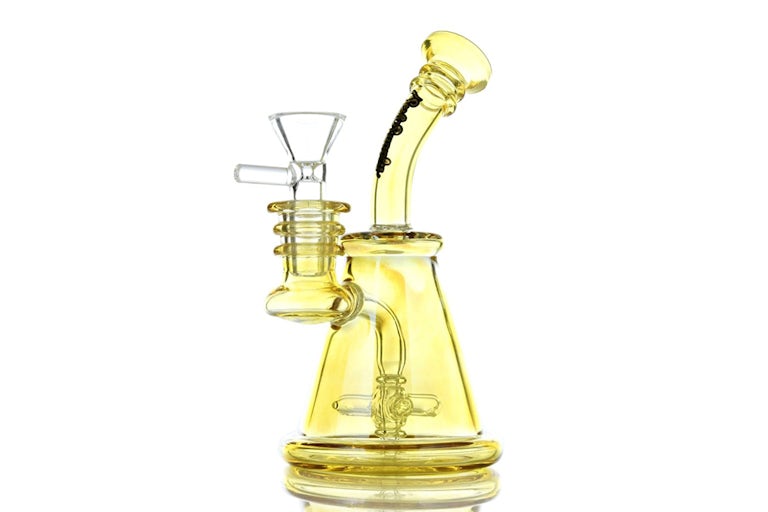 Sesh Supply is a bong manufacturer that's produced some real winners. Their Nymph Propellor Perc, in particular, came in second place for Best Glass at the 2018 NorCal High Times Cannabis Cup. Aside from that beaut, Sesh Supply has several other collection-worthy glass, from 17-inch tall bongs with heavy percolation to portable mini-rigs that are perfect for daily drives. And even though they're all top-performers, every piece is budget-friendly.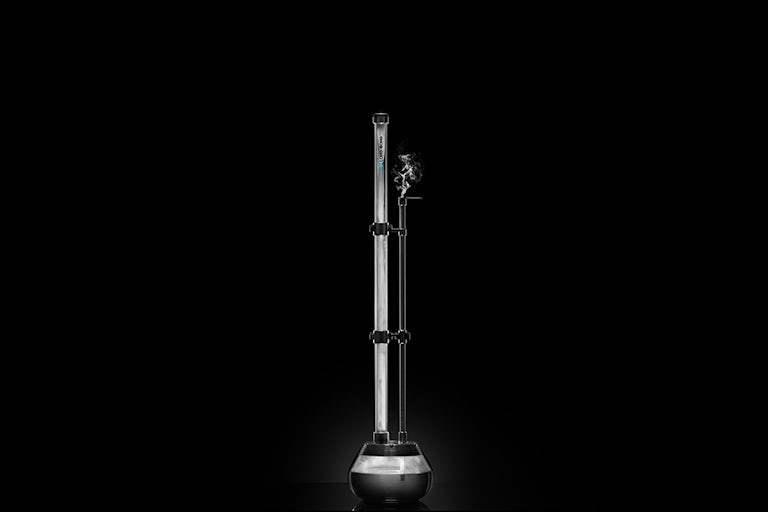 Stanley is the biggest bong in the world. It stands like a monster at just under five feet, so you might even need a step stool to take a rip. When you're not wowing your friends with this towering beast, it comes with anti-odor cover lids so that you can display it proudly without a stench. It's also demountable, meaning cleaning this crazy long bong is surprisingly swift and easy, and you can pack it up and put it away if need be.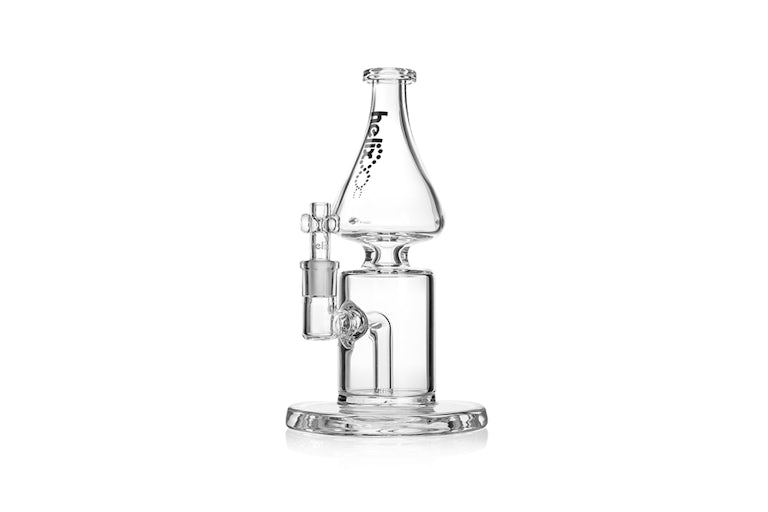 You may not have the Seth Rogen Gravity Bong, but you can get THIS! GRAV is a famous bong brand in the cannabis community. Their enormous selection of devices, which include everything from tall bongs with glycerin attachments for ice-cold hits to short dual-function waterpipes that you can smoke flower and dab from in unison, deliver robust and smooth smoking experiences. GRAV is also the creator of the Gravitron, a clean and classy gravity bong made entirely of glass. Any GRAV bong you go with, you're in for a five-star treat.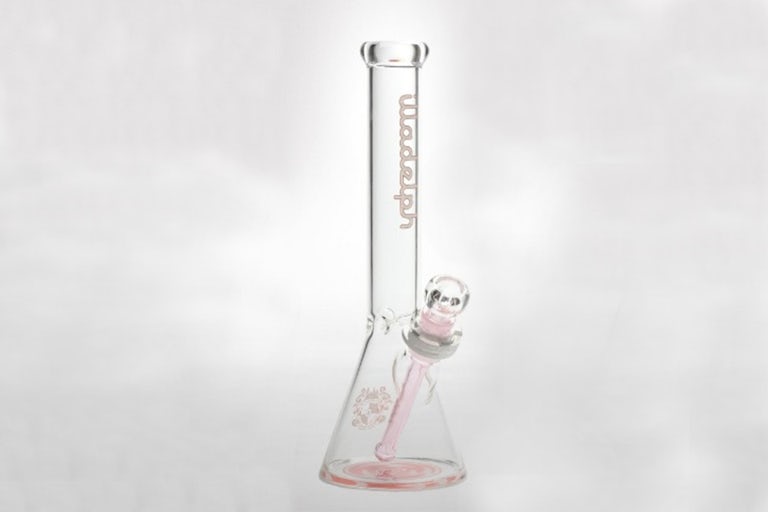 For bong aficionados that want to take rips from works of art, you can find some phenomenal smoking masterpieces at illadelph Glass. Their line of high-end bongs possess all kinds of features that will impress recreational and medical users alike. In fact, illadelph Glass was the first company in the water pipe industry to introduce the coil condenser, a detachment filled with freezable gel for maximum cooling. Other notable illadelph Glass features include a multihole bowl for the evenest burn, optimal percolation, and more.
Elevate your favorite pastime with the Heir Waterpipe. The Heir Waterpipe, formerly known as Aura, is the better, classier version of the traditional bong. Its design consists of a glass body, an alumina ceramic top with an intuitive grip for comfort, and a large, easy loading stainless steel bowl. Each of the three parts is removable for simplified cleaning. Moreover, its downstem is extended to create colder, cleaner hits.
The Best Silicone Bongs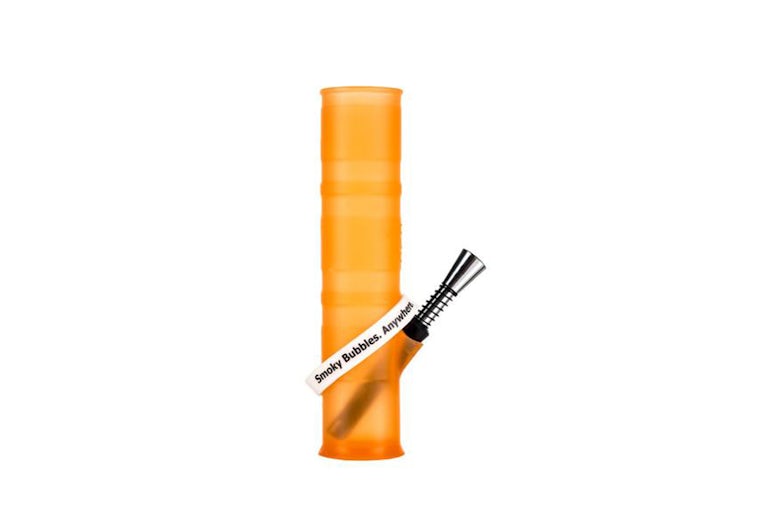 Roll Uh Bowl was made for the traveling cannabis connoisseur. Whether you're going out of town or hitting the mountains for an epic nature sesh, Roll Uh Bowl is the bendable BPA-free, grade VI platinum cured silicone bong you need for action, adventure, and exploration. No need to bring your best glass bong along for the journey and risk breaking it. If you drop Roll Uh Bowl off a cliff, into the water, or anywhere at all, it'll still be in one piece.
Roll Uh Bowl comes in two sizes, the Original Roll Uh Bowl, and the Big Roll Uh Bowl, and in a variety of colors as well, including Glow In The Dank. The Big Roll Uh Bowl is 12-inches tall but is just as travel-friendly as its shorter, 8-inch predecessor. It features a suction cup base so that you can stick it anywhere and enjoy big, bubbly hits on-the-go, along with an alloy bowl and a composite downstem.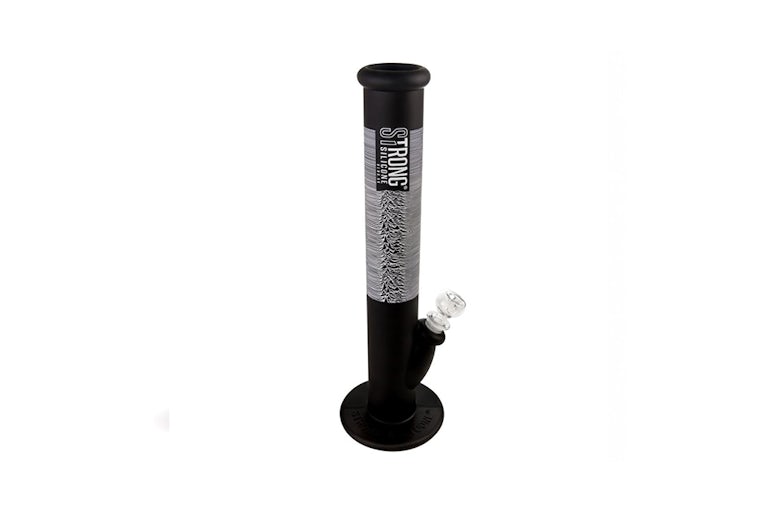 Strong Silicone bongs are great for all of life's adventures, regardless of how wet, bumpy, or rough they may be. These bongs will bend thanks to their flexible nature, but they'll never break as they're made of BPA-free, food grade durable silicone. They also come in an array of colors and designs, from red to Starry Night, and feature a glass bowl and downstem for tasty tokes. But for those action-packed days, you can opt for the METALFORM bowl, which is indestructible and sold separately.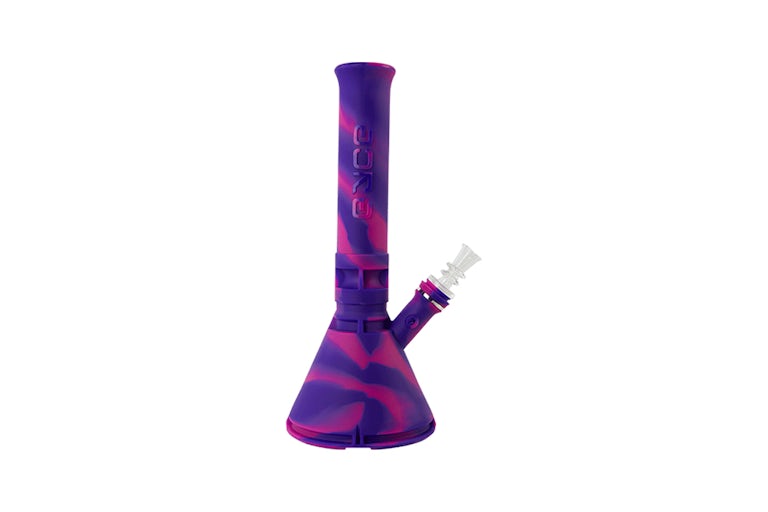 The platinum cured silicone Eyce Beaker isn't bendy, but it is crazy sturdy and comes with all sorts of bonus features, some of which are hidden within the device. Not only do you get a magnetic ring lighter holder and a steel poker tool, but also a secret rolling tray and storage container to conceal the goods. This solid bong, available in a mix of funky colors, also has an ice catcher, where you can drop in some ice cubes to make smoke cooler, as well as a borosilicate glass downstem and bowl to keep hits of flower fresh and delicious.
The Best Dab Rigs
Dabbing is one of the most potent cannabis consumption methods. Enthusiasts take a small ball of wax, oil, or another type of cannabis concentrate, and place it on the nail of a dab rig or eRig, a torchless, electronic dab rig, which is heated to extreme temperatures to vaporize the chosen substance. Usually, cannabis concentrates contain high amounts of THC, ranging anywhere from 50 to over 90%, so all it takes is a pinch to feel the effects, which are far more intense than what you get from dry herb. However, CBD dabs are also available for those who want instant relief without the high.
The Best Mini Dab Rigs
The Spaceship- Famous Brandz Snoop Dogg Pounds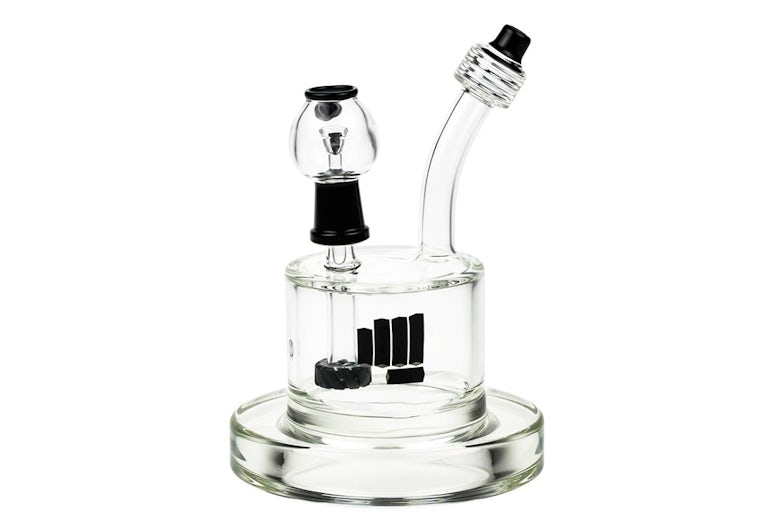 Take a ride on the high side with the Spaceship by the one, the only Snoop Dogg. This mini rig, available in white, green, and black, packs a mean punch for its size and features a bent neck and narrow mouthpiece for relaxing draws. Moreover, it has a ruffled percolator that cleanses and cools each hit, making vapor extra tasty. Plus, it comes with most everything you need to get dabbing, including a nail and dome, a quartz bucket, and a glass tool.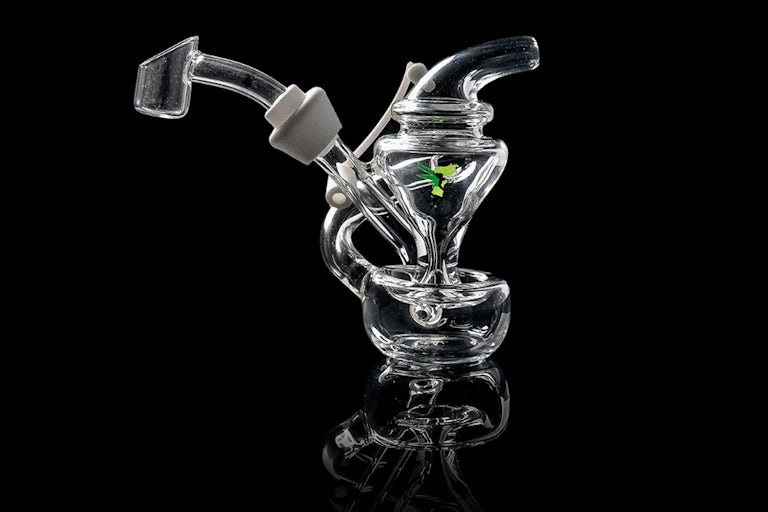 For huge rips at your fingertips, dab along with the Merlin Rollie Glass Bubbler and Mini-Rig. This little piece comes complete with a custom-made quartz banger, a carb plug, and a banger clip. Though it is as small as a Christmas ornament, it produces enormous hits that are wicked smooth. Featuring a recycler system, the Merlin Rollie Glass Bubbler and Mini-Rig swishes smoke through the water vigorously to cool and disinfect hot, harsh vapor. You might be tempted to pull hard with this tiny rig, but there's no need as it as the same potential as full-size rigs.
Circuit Rig- Grav Labs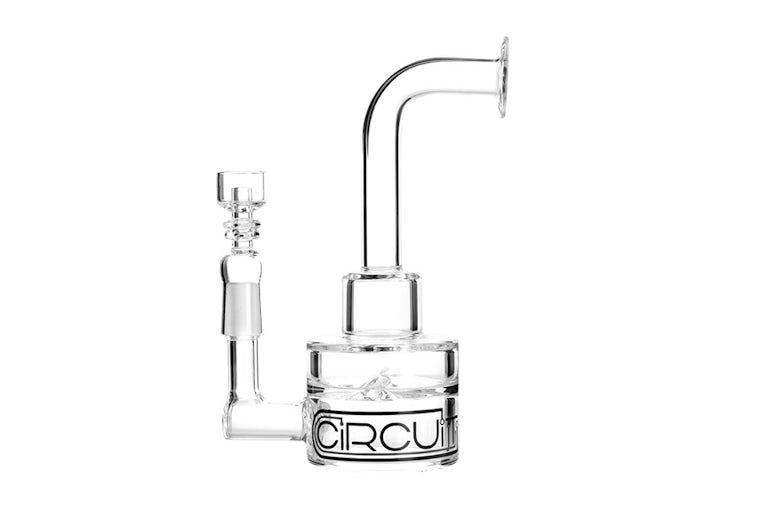 The Circuit Rig is one-of-a-kind with its two-layer filtration system. While taking a dab from this pint-size rig, water continuously rotates through its two stacked chambers, producing cold, filtered hits with a ton of force. But not so much power that you get splashback. The Circuit Rig features a sharp bending mouthpiece to deliver hard hits without a mess.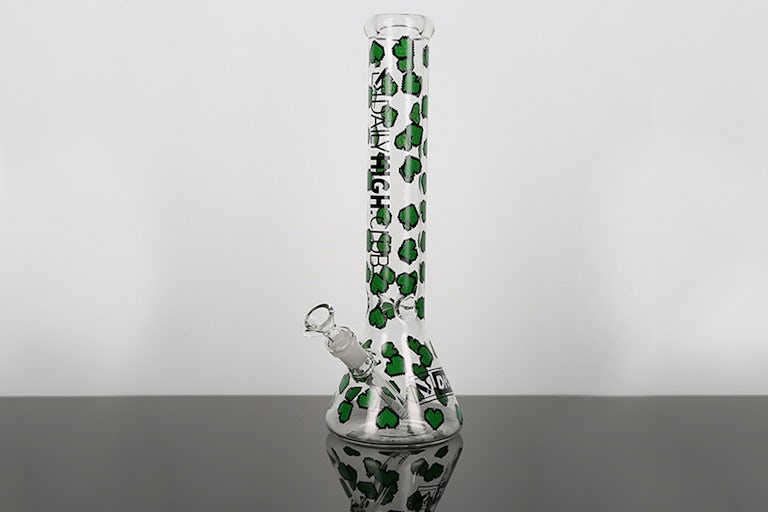 For new glass delivered to your door monthly, Daily High Club has gorgeous, high-end dab rigs. The rigs come in a $30 monthly subscription box, along with other accessories, meaning you get a brand-new rig for cheaper than what you would normally pay, plus you get something extra. It's always something completely different, too. In the past, they've released a rig that looks just like a pink sprinkled donut, a champagne glass-inspired rig, and a bunch of other uniquely designed devices, as well as celebrity and cannabis influencer collabs.
The Best Full-Size Dab Rigs
Higher Standards Heavy Duty Rig- Higher Standards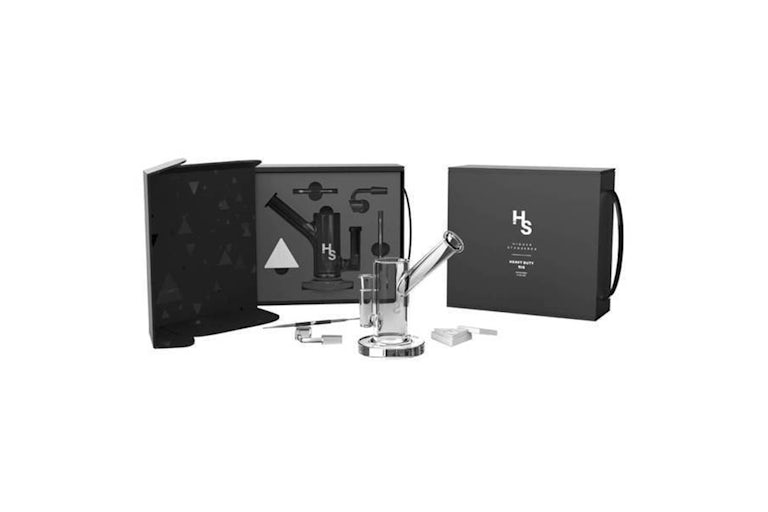 The Higher Standards Heavy Duty Rig is explicitly designed for dabbing connoisseurs. This rig, built out of premium medical-grade borosilicate glass, keeps the flavors of your cannabis concentrates pure by eliminating undesirable tastes and odors. To further preserve taste, it also comes with a quartz banger that's capable of withstanding the hottest temps, letting you catch a punch of every flavor note.
Another notable feature of the Higher Standards Heavy Duty Rig is its airtight chamber, which seals the vapor path to deliver direct, full-strength hits. It has a diffused downstem, too, designed for supreme water filtration and smooth, comfortable pulls. You get the whole setup in a neat collector's case, along with two metal dab tools and a wax container.
Jade East Dab Rig- Famous Brandz Cheech & Chong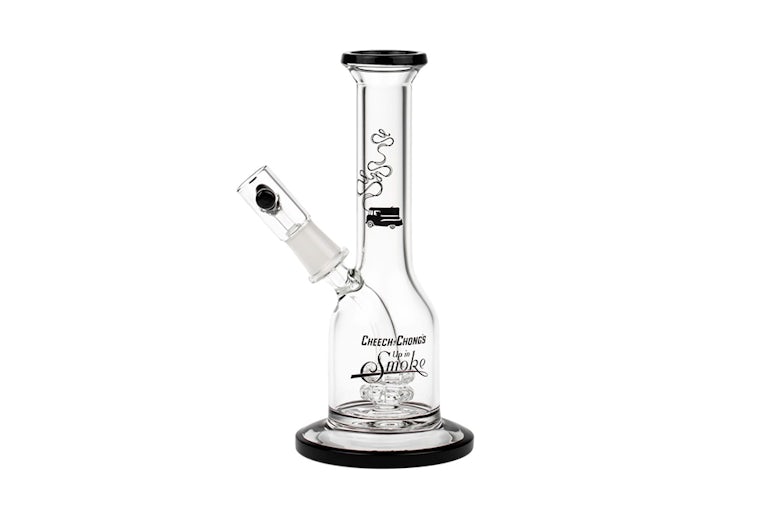 The Jade East dab rig is a product of Cheech & Chong, the best stoner duo of all time. Inspired by the character from the stoner classic Up in Smoke, Jade East features a double-tier showerhead perc connected to its built-in downstem to cool off and filter hits, making them more smooth, pleasant, and full of flavor. Moreover, the Jade East, available in black, pink, white, green, and blue accents, has a two-handle vapor dome for easy removal, a stable circular base, and comes with a glass nail.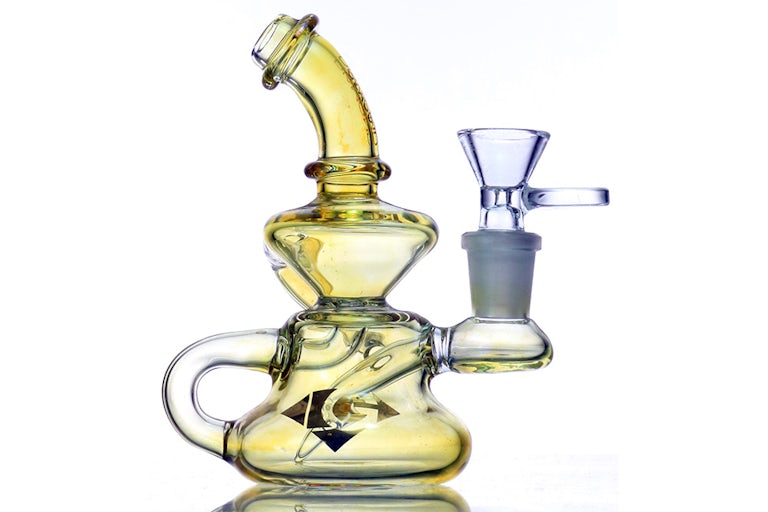 Diamond Glass has an insane collection of dab rigs. From ninja turbine percolators to built-in spikes that serve as a poker tool, these pieces boast a range of unique features and are made of high-grade scientific glass. Not only can they chug, but they're also durable and will last a lifetime. Big or small, Diamond Glass rigs produce fat and creamy rips bursting with flavor. And they're not high on the price, either.
The Best eRigs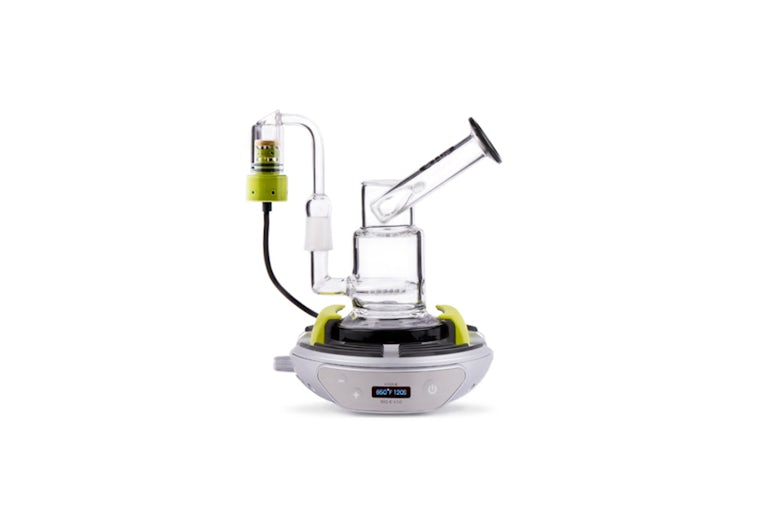 The most intimidating part of dabbing is firing up the torch and aiming it at the nail in preparation for a dab. Take that hazardous step away, and you have a revolutionary rig, the Big-E Rig. The Big-E Rig, featuring built-in storage, all-ceramic heating, and quartz glass, can reach 750 degrees Fahrenheit in just 90 seconds by pressing a button. Both powerful and battery-run, the Big-E is good for up to 25 sessions, or two hours of non-stop dabbing. It also has plus and minus buttons for temperature control to give you the freedom to choose between high-temp and low-temp dabs, and essentially customize your experience.
The SWITCH- Dr. Dabber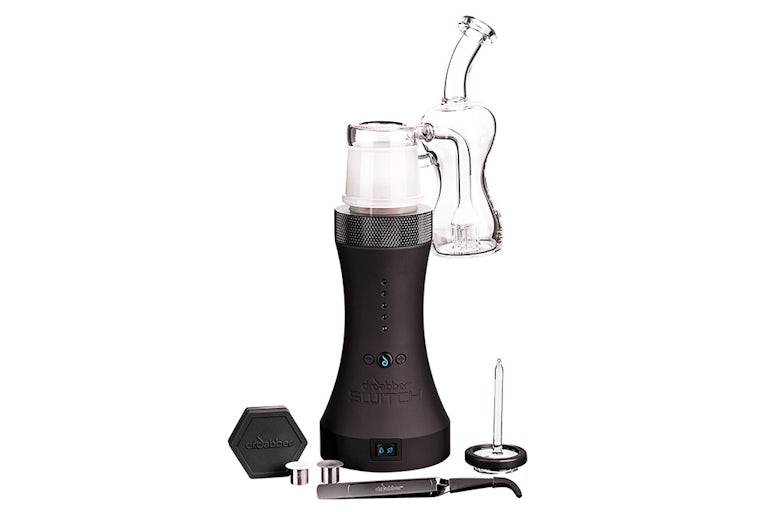 The Dr. Dabber SWITCH is the coolest high-tech eRig on the planet. Featuring 25 calibrated heat settings and five simple profiles, along with a colorful light display, the SWITCH offers an exciting, easy, and customizable dab experience that's torch-free, delivered to you in just four to six seconds. On a full 60-minute charge, the SWITCH provides 150 uses, but you can get numerous good hits on a single use. Not to mention, the device comes inside of a nifty box packed with all the essentials, including a carb cap, storage container, tools, and a variety of induction cups.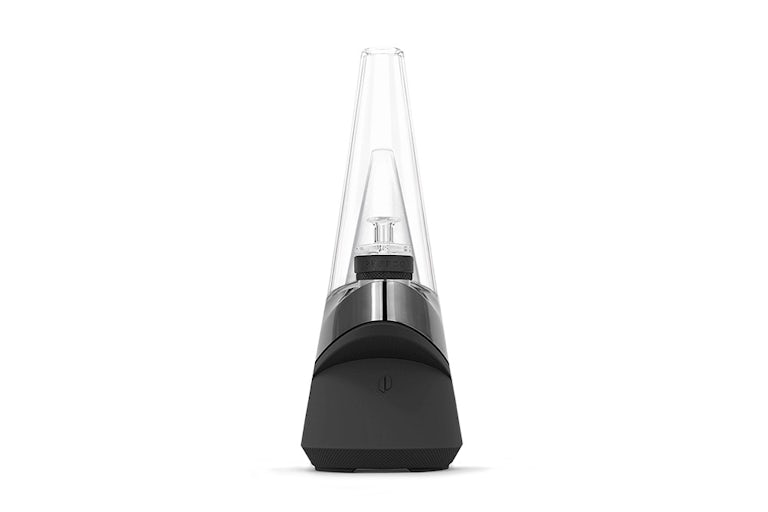 There's an eRig with smarts, and they call it the Peak. The Peak, comprised of handblown glass, delivers everything you could ever want while dabbing, from optimal flavor to maximum dosage to cleanliness. On a full two-hour charge, the Peak gives 30 dabs that only take 20 seconds to heat on average, with four unique settings available for the user to select. Also, it's a package deal and comes with cleaning swabs, a loading tool, a carrying case, a carb cap, an extra ceramic bowl, and a micro USB cable and supercharger.
The Best Vaporizers For Weed
Vaporizers involve inhalation but release vapor instead of smoke, which is not only better for you but smoother and tastier, too. That's because vaporizers don't continually burn your herb. Alternatively, they heat what matters most, the green, preventing harsh hits and ashy flavors. Furthermore, vaporizers keep a low profile and are less obvious than smoking. There is a smell to them, but it doesn't linger as long as smoke and isn't as odorous.
The Best Portable Vaporizers
PAX 3- PAX Vapor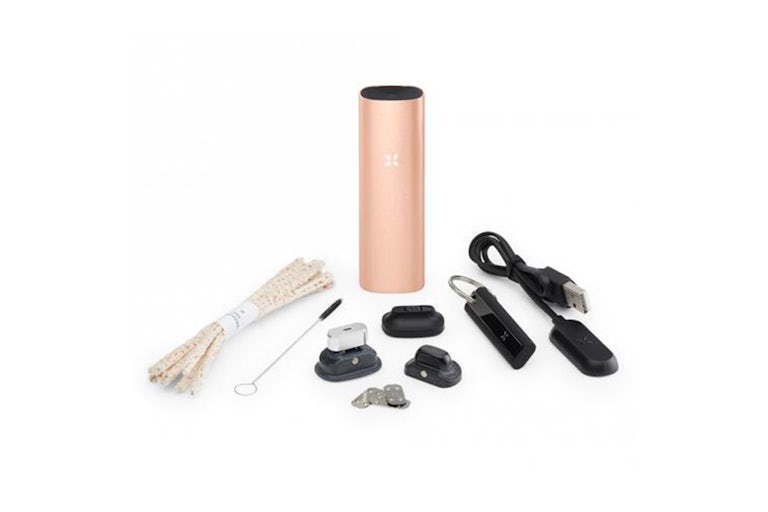 Compatible with all your favorite flowers and extracts, the PAX 3, available in teal, black, rose gold, and silver matte finishes, and gold and rose gold gloss finishes, is a portable conduction vaporizer that lets you have it your way. In just 22 seconds, the PAX 3 heats up and makes a soft vibration to indicate that it's ready for action. It offers 60+ temperature settings, LED lights that display its heating status and battery life, 8 to 10 sessions per charge, and even a Bluetooth app. Also, it comes with a ton of accessories, like a half-pack oven lid that makes the most out of less weed, screens, and a multi-tool.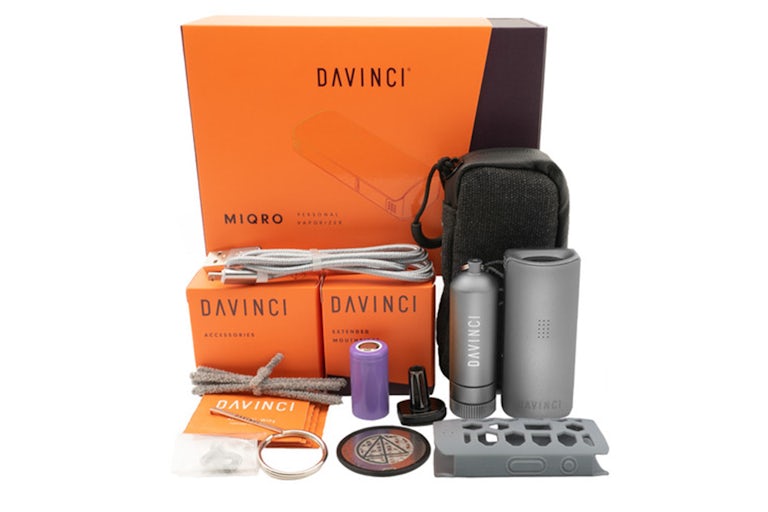 The DaVinci MIQRO, available in Amethyst, Rust, Cobalt, Graphite, and Onyx colors is a portable, dry herb vape that utilizes conduction and convection heating. Featuring a complete zirconium ceramic air path, just like its larger predecessor the IQ, this vape produces the purest and most flavorful vapor. Aside from its exquisite taste, the MIQRO has a removable battery and even comes with an extra to ensure uninterrupted vaping. It also provides precise temperature control and SMART PATHS, allowing you to dictate each session and customize it to your liking. And you can adjust its oven by 50% so that you can use less weed but still get your desired dose.
Firefly 2- Firefly Vapor
The Firefly 2, available in Jet Black, Zebra Wood, Oak, Black, Blue, and White, is a portable convection vape that wastes no time or weed. Featuring on-demand heating, the Firefly 2 is ready to draw as soon as you press its button. And when you release, the heat stops automatically, preserving any weed you have left, along with its phenomenal flavor. The Firefly 2 is also fit for concentrates and flower, meaning you can switch it up when you're in the mood for something new. Furthermore, it has a sleek, lightweight body, so it's nothing to slip in and out of your pocket.
The Best Desktop Vaporizers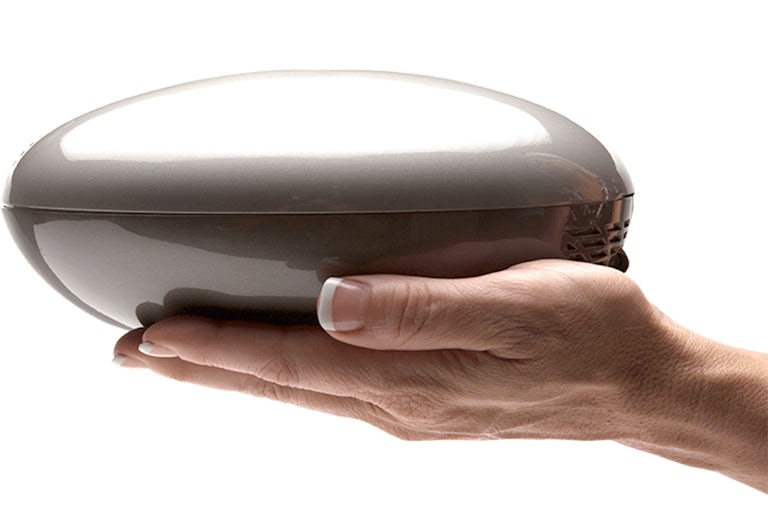 The Herbalizer is a convection-style desktop vape that is as sharp as a tack and is compatible with dry herbs, concentrates, and oils. The Herbalizer has a magnetic bowl for easy loading, an LCD display with a smart user interface, and auto-dimming and usage sensing features. It also has built-in hidden storage and precise temperature control. Besides, it's a stylish desktop vape, and it gives you a variety of ways to consume, including whips, balloons, and freestyle, which is just breathing in the vapor in the air. Every Herbalizer comes with a steamroller attachment, too, giving you yet another inhalation option.
Volcano Digit- Storz & Bickel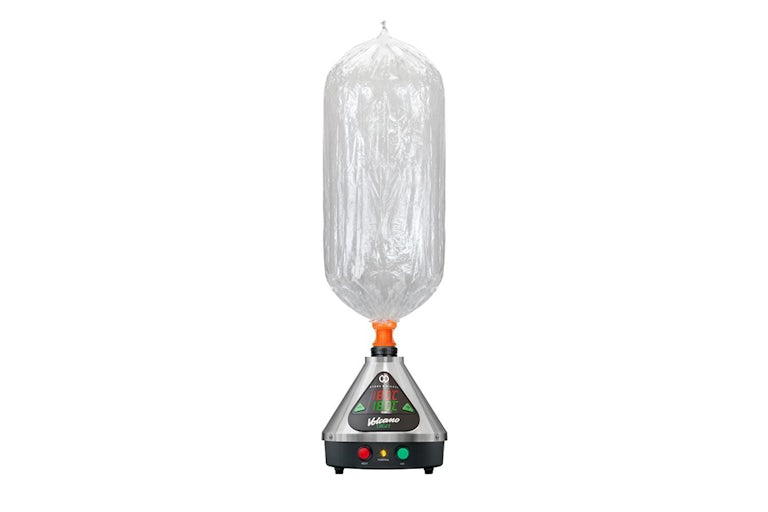 The Volcano Digit, compatible with flowers and oils, is an easy to use desktop vape with an easy valve system and convection heating. It's also fun to use. The Volcano Digit takes balloons, which fill up top to bottom with vapor by pressing a button. Once inflated, the balloons can be detached and inhaled wherever you please. In fact, you don't have to breathe it in all at once. The balloons will hold vapor for up to 8 hours, without compromising flavor or purity.
Extreme Q- Arizer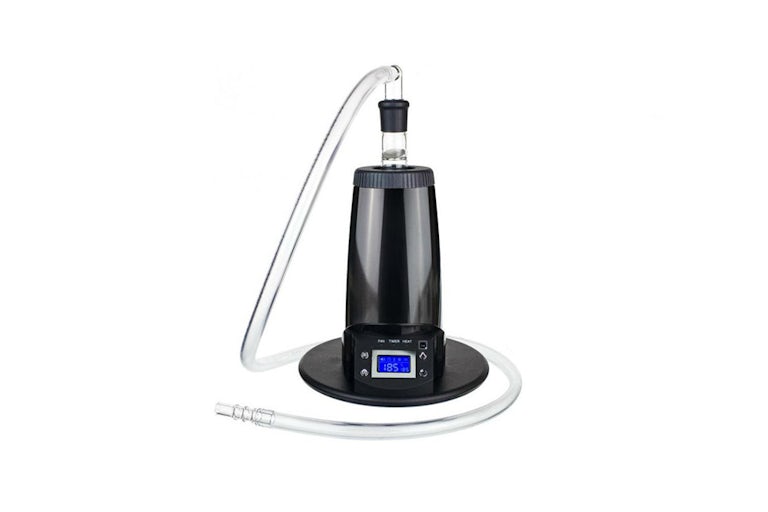 The Arizer Extreme Q offers convection heating, along with ceramic and glass heating elements, for a clean and tasty vaping experience. It's one of the most versatile desktop vapes when it comes to how you consume and what you consume. In addition to flower, the Extreme Q works with oils, too, thanks to its included glass aromatherapy dish, and it comes with whips and balloons. Plus, you get a remote control, which allows you to control the device from a distance.
The Best Vape Pens
Vape Pens are convenient pre-filled devices that dispense specific doses of THC and or CBD with a quick press of a button. They don't have any fancy features or add-ons like high-tech vapes, but they do make life as a cannabis user easier all the way around. Not only is there no constant loading and dumping needed with vape pens, but they're also great for consuming on-the-go being that they're so lightweight and thin. If you want to work a little less hard for a sweet vape sesh than you do with say a smart vaporizer like the DaVinci IQ, or try these devices as CBD inhaler to quit smoking, vape pens are the best way to go.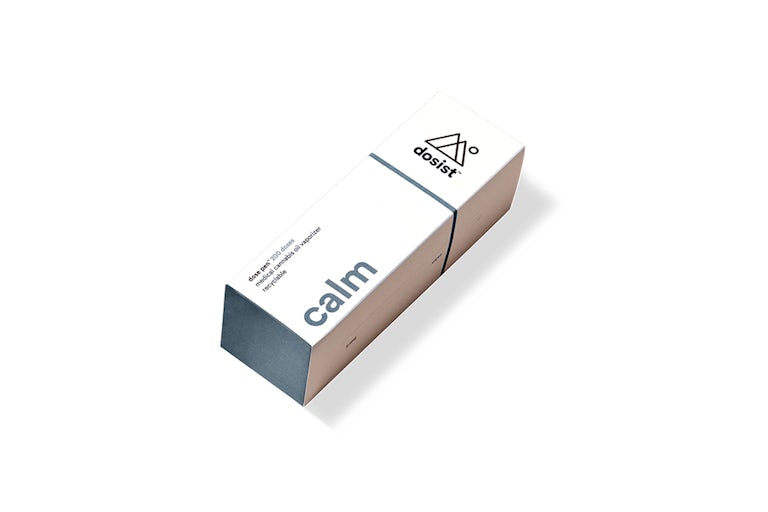 Melt away stress easily and instantly with Calm By Dosist. Calm by Dosist is one of the best cannabis products for anxiety sufferers as well as CBD consumers looking for a consistent form of relaxation. It's a small, portable vaporizer pen that delivers the perfect amount of CBD, a calming terpene blend, and a tiny bit of THC to achieve a peaceful state of mind and body.
Each formula and dose by Dosist is precise, so you always know what to expect from this product. Not to mention, every pen is recyclable. Once you use up all 50 or 200 of your doses, you can return your used pen to Dosist and get $5 off your next one. That's right; some of the best cannabis products, such as this one, can also help you save money. You know what they say, "a penny saved is a penny earned."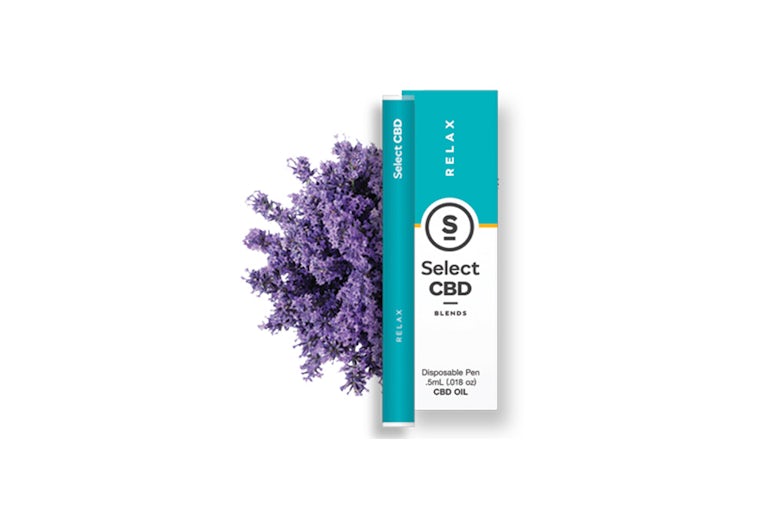 From focus to relaxation to revivability, one of the best cannabis products for all the above is without a doubt Select CBD Vape Pens by Cura Wellness. Select CBD Vape Pen are disposable, travel-friendly, and contain an exact dose of .5 grams of CBD oil, which delivers about 2.5mg – 5mg per puff. Along with CBD, Select vape pens also feature fractionated coconut oil, as well as your choice of essential oil, including cinnamon, peppermint, grapefruit, lemon, spearmint, peppermint, and lavender for an extra burst of flavor and benefits. And to further maintain the delightful blends, Select vape pens use air-tight ceramic core cartridges. That way, the temperature stays balanced, providing a pure, refreshing taste with every hit.
Whether it's daytime or nighttime, the Highlighter by Bloom Farms is useful for releasing pure, potent CO2 oil with ease at any time. With the discreet and stylish Highlighter, you won't get a nose full of weed aroma, but the mouth full of tasty terpenes and all-natural cannabis flavors makes up for it. Infused with 50 to 70% THC, the Highlighter, available in Rose Gold (CBD Hybrid), Anytime (Hybrid), Nightime (Indica), and Daytime (Sativa), gives a consistent vape pen experience with no surprises. Moreover, the refillable pen is so easy to use that you could puff on it blindfolded.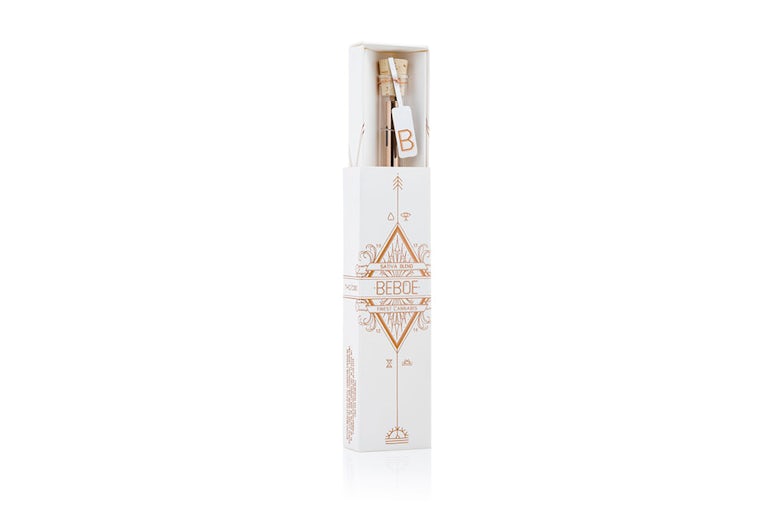 For a delicate puff of inspiration to put you on your toes in the afternoon when you need it most or a smooth hit to help you wind down on the couch at the end of the day, Beboe's vaporizer pens and mini pens are a day and night means of getting you to where you need to be. The Downtime indica blend is the best cure for Sunday stress and jetlag, while the Inspired sativa blend is the Monday motivation you could seriously use to start your work week off on a high note. Each Beboe blend contains the finest cannabis ingredients for the most beautiful vaping sessions. Also, they are available in the Mini with a 250 mg dose of oil, as well as the regular-size vape pen with a 400 mg dose, both of which can be recycled at your local Beboe carrier.
Other articles you can be interested in:
How to Send Crohns into Remission?
3 Surprising Things You Can Do With Cannabis Leaves