What's bossier than puffing on the dank rolled into the perfect pearl? If you haven't felt a little badass while kicking your heels or sneakers on the table and sparking a J, then you've been using the wrong papers. Rolling your herb with shoddy papers is like sipping champagne from a Dixie cup, cheap and awkward. To both look and play the part of the king or queen of Kush, you need to smoke on something high-end, like 24K gold joints.
Regardless if you're rich or poor, you can afford 24K gold joints
While a 24K gold doobie sounds like something only Snoop Dogg would be able to enjoy, you don't have to be on a rapper's salary to be that lavish. Shine 24K gold papers are for everyone, no matter if your kitchen cabinets consist of Ramen noodles and off-brand everything. As long as you have the dank and a couple of papers dripping in gold, you're not just a boss. You're the boss.
The experience of smoking on a golden joint isn't at all what you would expect. Despite consisting entirely of hemp paper drenched in pure edible 24K gold, Shine papers taste nothing like metal. They're surprisingly smooth, believe it or not, with just a hint of sweet. And they burn nicely to boot.
From start to finish, Shine 24K gold joints deliver luxury right at your fingertips. In fact, when you pluck the ashes, your ashtray will be looking rich as well. That's because the gold stays on the ashes, aka "the gems." But sorry, those golden flakes are a rare delicacy you can't pawn, in case you were thinking about it.
To smoke like a king, you need to get your Shine on

Shine 24K gold papers are more expensive than Zig-Zags and Tops, so they might not be all that affordable to smoke on the daily. But when it comes to special occasions and smoke sessions with the squad, 24K gold joints are the life of the party. In fact, they are the party. Even if it's a typical Thursday, if you have weed and Shine papers, then you have a reason to celebrate.
Rappers like 2-Chainz and Tyga can agree that 24K gold joints are the best way to burn, especially when you have an image to uphold. Or, you know, just want to feel like a bonafide G. Back in 2014, Tyga invested 5 million bucks in Shine with faith that the brand would be a hit. And it was. In 2015, 2-Chainz featured the 24K gold papers in an episode of his GQ web series "Most Expensivest Shit," where he and Dr. Dina used them to roll and smoke the world's most expensive weed.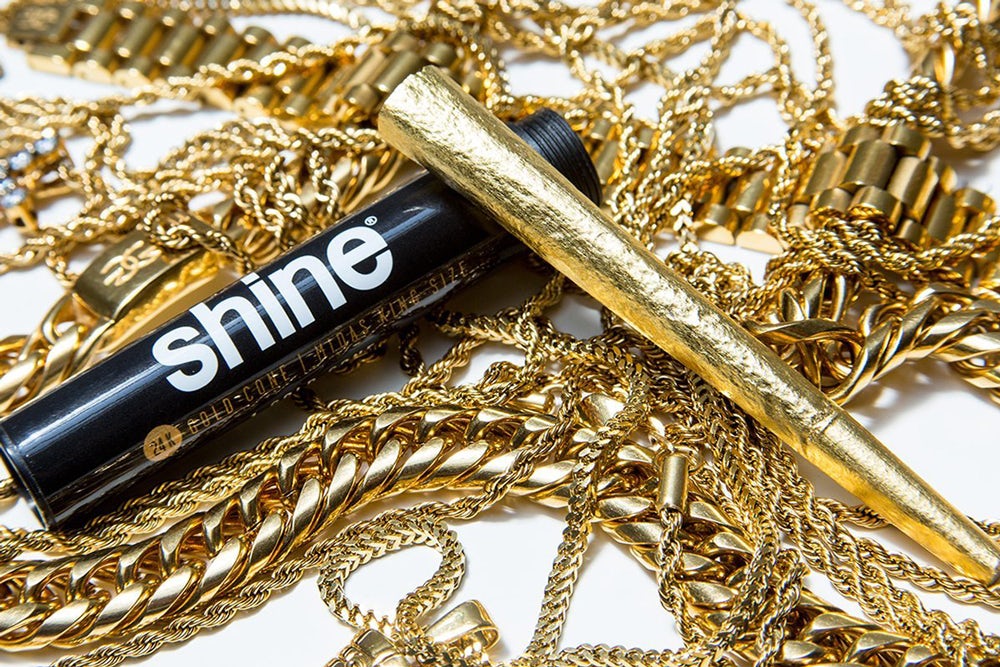 From cones to joint papers to blunt wraps, Shine has a variety of upscale products, all of which deliver a golden smoking experience at a low cost. Folks like Tyga and 2-Chainz might have to work their way to the top. But as for you, you can merely smoke your way to boss status props to Shine. Or at least look the part anyway.