If you haven't tried a stoner box subscription yet then it's your loss. Weed-themed subscription boxes offer the convenience of having your smoking essentials delivered straight to your door. From papers to grinders and even custom-made glass, these boxes contain all sorts of surprises for herb enthusiasts, and it's always something different every month. You could say it's like Christmas time for stoners; only it's a lot more affordable as subscription boxes come at a variety of costs to match any budget.
For the month of March, subscription box company Daily High Club, who has partnered with weed YouTuber Custom Grow and your favorite stoner Tommy Chong in the past, is teaming up with B-Real, aka Dr. Green Thumb, so you can get high just like him. Aside from being the lead rapper in the hip-hop group Cypress Hill, B-Real is an active member of the cannabis industry. Dr. Green Thumb is the inventor of Phuncky Feel Tips, one of the hottest smoking accessories around; he runs his own weed-friendly online TV channel, Breal.Tv, and even has his own strains.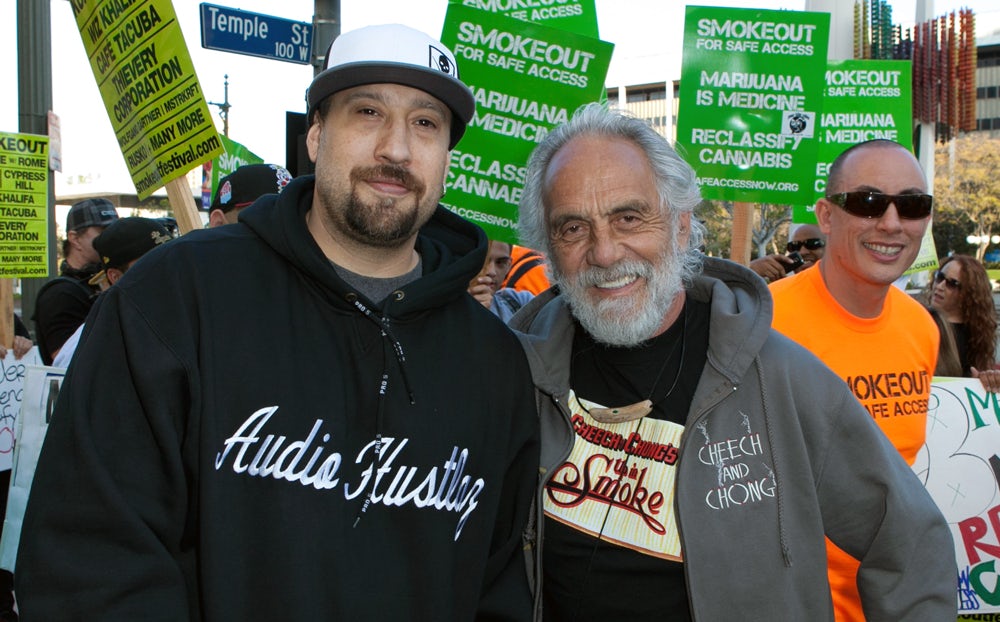 The B-Real subscription box is full of goodies, all of which are designed to ensure a "fresh and funky" sesh. The first is Dr. Greenthumb's Prescription Pill Dry Pipe, custom-made by Daily High Club and the doctor himself. Aside from large packs, this high-quality, pill-shaped pipe provides epic rips.
What else did the doctor order you might ask? B-Real's personal favorite rolling papers, of course. Elements 1 1/4 Papers are doctor approved not only because they're all natural and made from rice and sugar, but also because they burn nice and slow with almost no ash, except for the sugar gum that turns into sweet, delicious caramel. March's subscription box also comes with Elements Perforated Tips to make rolling a breeze.
Next in the B-Real x Daily High Club March subscription box is a clipper lighter for sparking your beloved buds. Unlike regular lighters, clipper lighters are refillable, reusable, and built to last. In fact, smokers can get up to 3,000 lights using the "eco friggin friendly" clipper. You'll never need to drop a dime on another lighter from the gas station again.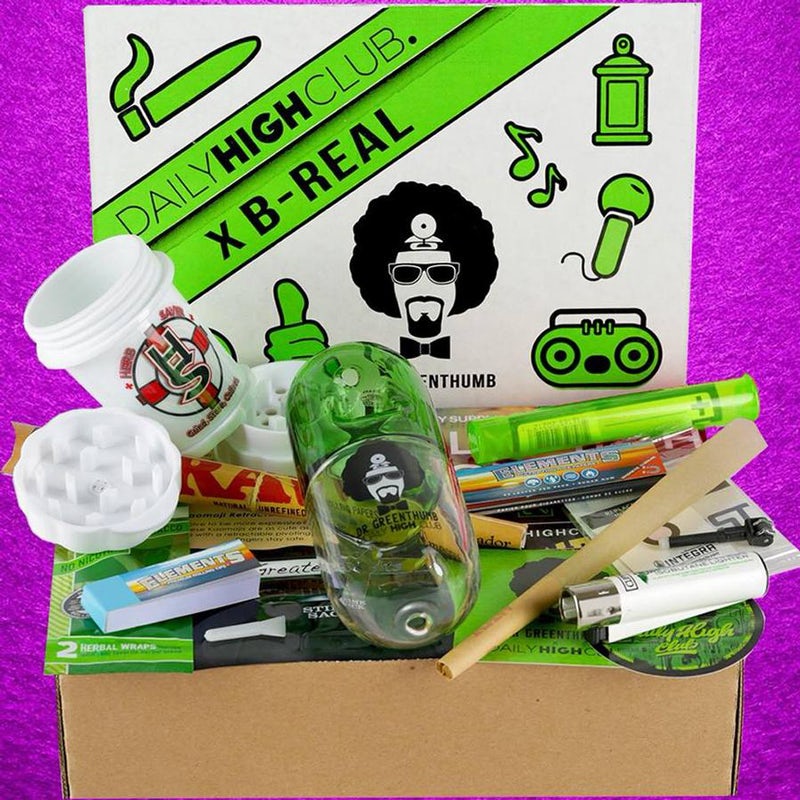 The B-Real box wouldn't be complete without a grinder: The Herbsaver Grinder, to be more specific. It can shred your herbs, fluff them up, and keep them fresh until it's time to re-up again. This large and in-charge grinder even comes with a pollen catcher featuring a friction fit removable screen for easy cleaning and even easier replacing. Toss in an Integra Boost 2 way humidity regulator, which is also inside the March box, and it'll boost the life of your precious stash so you're never smoking dry buds.
If you and your fellow stoner homies want to all throw in on a RAW Emperador Cone, the B-Real x DHC subscription box has that too. Or, if you don't want to share, you can smoke it yourself like B-Real the boss would.
In addition to the weed essentials listed, the extra-special Dr. Green Thumb-themed box from Daily High Club comes with Kush Hemp Wraps, made entirely of hemp and absolutely no tobacco or nicotine; a Buddies Tube for holding pre-rolls; and a Stink Sack "Loud Pack," a cassette tape-shaped bag for bud that will provide you with the greatest hits.
So, there you have it herbivores. Now that you've gotten a sneak peek of the B-Real x Daily High subscription box, you can head on over to DHC's website and sign up to get $80 worth of products for just 30 bucks while it's still March. That way, you'll have some badass B-Real-themed smoking supplies before 4/20 rolls around.