When it comes to how to store dabs, it depends entirely on how long you plan to keep the sticky-icky on deck. Although the method in which you store your favorite waxes, oils, and concentrates may not seem like a huge deal, when you fail to do it the right way, you're causing more damage than you can imagine. Over time, dabs will lose not only their potency if they aren't stored properly, but also their effectiveness. Not to mention, the flavors and aromas that make cannabis concentrates so irresistible are also harmed in the process.
Learning how to store dabs is essential to keep the mind-blowing highs a coming. Luckily, it doesn't take a rocket scientist to ensure your concentrated forms of cannabis remain in tip-top shape and mighty potent for days and even months. Here's our straightforward guide on the best ways to store dabs for the short-run and the long-run.
How to store dabs for short periods of time
If you only plan on dabbing your cannabis concentrates for a few days or up to a week, then a silicone container, like the EDIT Collection Silicone Concentrate Jar, is perfect. In addition to being cheap, silicone containers are non-stick, making it easy to remove and enjoy your stubborn, sticky waxes. Not to mention, they keep your concentrates clean and intact. That way, you don't lose any of that precious, valuable THC.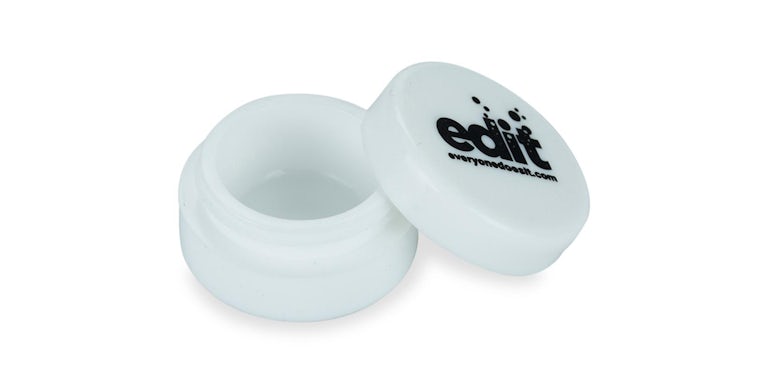 The process on how to store dabs for short periods of time doesn't end with a silicone container, though. To further extend the quality and effectiveness of your concentrated forms of cannabis, you need to find a cool, dark place to store the container itself. The reason being is that you don't want sunlight and humidity breaking down the beneficial cannabinoids found in your product. The same goes for air.
Silicone containers aren't all that air-tight, which is why they're only designed for short-term use. But by wrapping your dabs in parchment paper before stashing them inside a silicone container, you'll help keep the sticky-icky that much more fresh. And potent to boot.
How to store dabs for extended use
The longer you wish to keep your waxes, the more imperative it is to take the necessary steps to preserve them. For the best way on how to store dabs for anywhere from one to four weeks, wrapping your concentrates with parchment paper and placing them inside a sealed food bag is a must. Then from there, you'll need to put the sealed food bag into an air-tight container, such as a CVault Storage Container. And of course, find a cool, dark place to put it. 
While CVault Storage Containers are designed for dry herbs, as long as your concentrates are protected by parchment paper and a sealed food bag, there's no reason why you can't stick them inside one. Just leave out the complimentary humidity pack. Plus, it doesn't hurt to have a reliable, air-tight container to store both waxes and flower on hand. Unlike clear mason jars, sunlight and air have zero access to CVault Storage containers. Which again, can ruin the quality of your favorite herb, no matter the form. 
If you're attempting to store dabs for as long as six months to a year, some say a freezer will do the trick but proceed this method with caution. Freezing cannabis concentrates the wrong way can expose them to additional moisture and humidity. As a result, they'll produce overly harsh smoke when dabbing, which is the last thing you want. However, by taking the same steps as above, or even better, using a vacuum-sealer, before placing them in a freezer, you can potentially avoid those risks.